How to create James Martin's Cheesy Texas Meatballs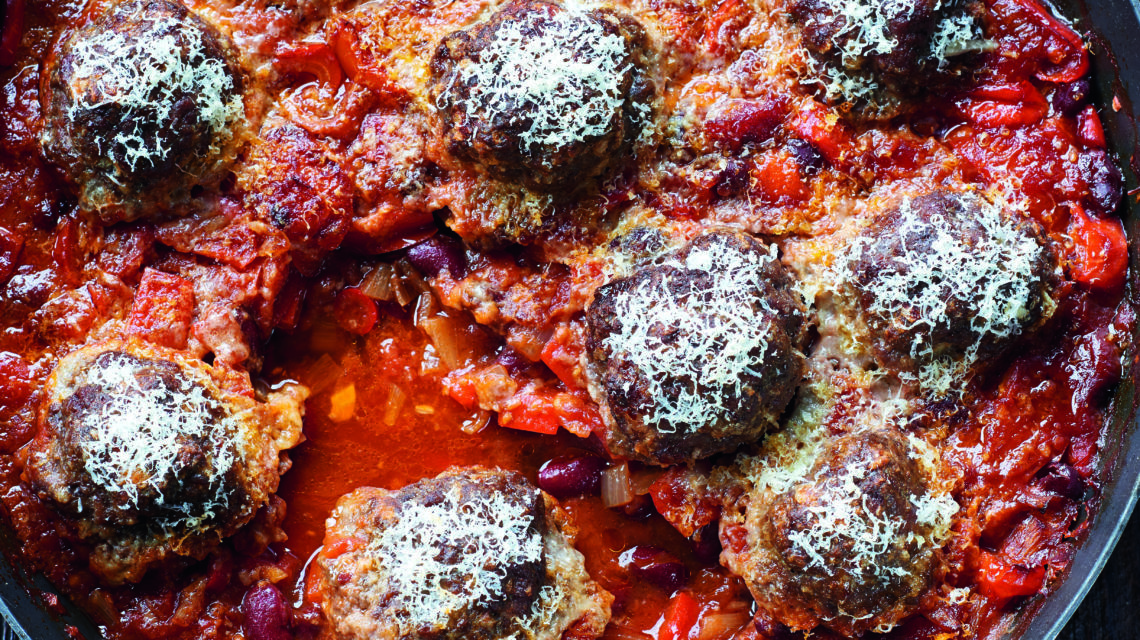 Cheesy Texas Meatballs
2 tablespoons olive oil
1 onion, finely diced
8 garlic cloves, crushed
2 red peppers (bell peppers), deseeded and diced
6 tomatoes, quartered
400g (14 oz) tin chopped tomatoes
400ml (1 ¾ cups) filter coffee
4 tablespoons dark brown sugar
2 tablespoons black treacle
100ml (1/2 cup) tomato ketchup
4 tablespoons red wine
vinegar or 2 tablespoons Worcestershire sauce
1 red chilli, sliced
3 star anise
1 teaspoon dried oregano
2 teaspoons smoked paprika
400g (14 oz) tin kidney beans, drained
1kg (2 ¼ lb) lean minced (ground) beef
2 tablespoons panko breadcrumbs
1 medium egg
1 medium egg yolk
1 tablespoon Dijon mustard
sea salt and freshly ground black pepper
200g (7 oz) Cheddar cheese, finely grated
Heat the oil in a large casserole dish and fry the onion and garlic for a few minutes.
Add the peppers and stir in then add the fresh and tinned tomatoes, coffee, brown sugar, treacle, tomato ketchup, vinegar (or Worcestershire sauce), chilli, oregano, spices and kidney beans.
Bring to the boil and simmer for 10 minutes. Put the mince into a large bowl
Add the breadcrumbs, egg and egg yolk and mustard, and season well.
Mix everything together thoroughly. Divide the mixture into 12 and shape into balls. Remove and discard the star anise from the sauce and taste and adjust the seasoning of the sauce.
Drop the meatballs in and gently simmer for 5–10 minutes, turning occasionally.
Once the meatballs are cooked, sprinkle a pile of the grated cheese over each meatball and place under a pre-heated grill for a couple of minutes until bubbling and golden.
Recipe © James Martin
No visit to Austin would be complete without a trip to Allens Boots. Everybody (and I mean everybody) wears cowboy boots in this town, even businessmen, with their suits. But if you want to get dressed up as a real Texan, take your credit card with you, as cowboy boots range in price from $15 to $15,000!
After a spot of shopping, we visited another Austin institution – Torchy's – to try their meatball tacos.