Food review: Breakfast at vibrant hub Foodstory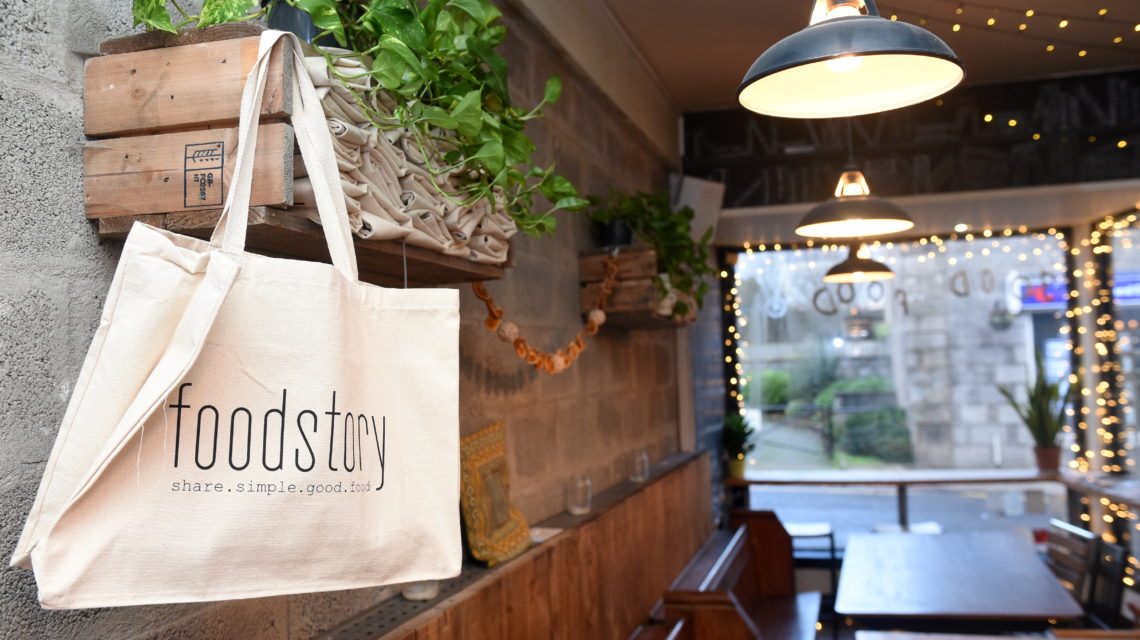 Built from the seeds of a successful crowd funding campaign, Foodstory has cemented itself as one of the best vegetarian and vegan cafes in Aberdeen.
A champion of encouraging individuals to reduce their plastic waste with their zero-waste store upstairs above the cafe, the environmentally friendly business is a popular pit stop for a hot beverage, breakfast, lunch or dinner.
Focusing on vegetarian and vegan food, as well as a gluten-free offering, Foodstory is a busy haven providing good-quality coffee and delicious food.
Spying a picture of their pancakes on Instagram one night, I texted my friends to arrange to meet them for breakfast in the morning.
Catching up the next day at 10.30am, the place was packed. After a small wait, we grabbed a table at the back of the busy cafe and took sanctuary, piling our coats and bags onto a spare stool.
It's a quirky place with lots of second-hand and recycled wooden furniture, with a few armchairs thrown in for good measure.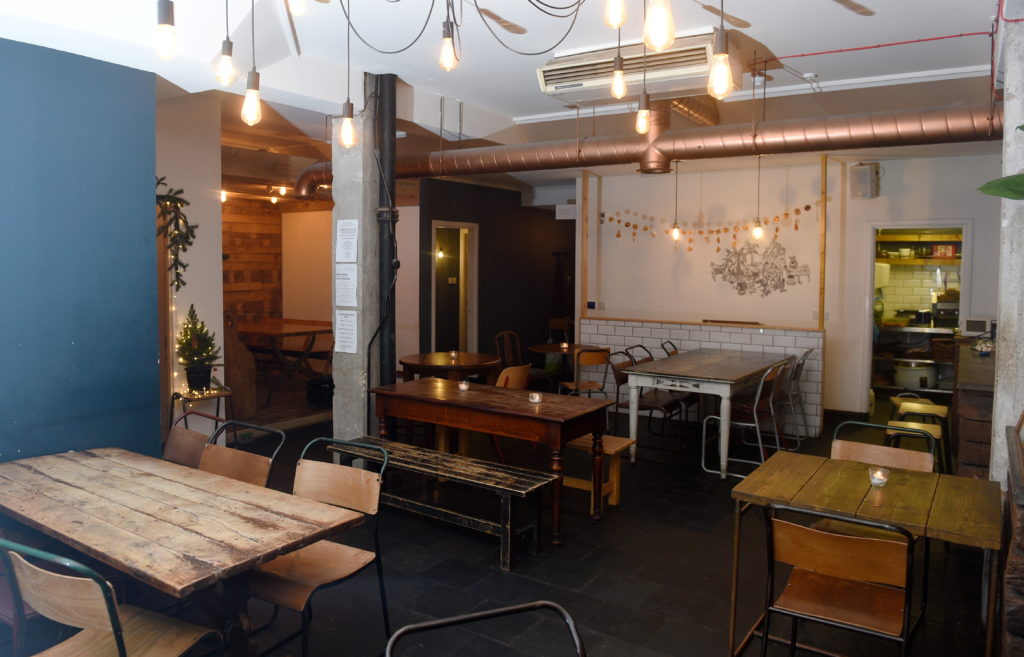 There's a stripped-back feel to it, and a real energy of promoting zero waste, or minimal waste at the very least. And lots of greenery can be found nestled alongside a variety of unusual and intricate accessories.
You order at the counter, so after deliberating, a friend and I wandered over to place our order.
I'd considered the pancakes, but caved at the last minute and ordered the sourdough with avocado, adding goat's cheese and Portobello mushrooms.
My friends ordered the super food granola bowl and the peanut-butter pancakes as well as a round of fragrant teas and a coffee.
It didn't take too long for the two tea pots to arrive, both served on wooden boards with teacups.
The Bollywood chai was a spicy black tea with a pungent smell and taste of cinnamon and aniseed.
There was a smokiness to it and a nice, fresh zest from the ginger. It was pleasantly warming and had beautiful floral notes. It was like Christmas in a glass.
My Moroccan apple and mint tea came with a five-minute brew time and had sweet notes from the honey and agave. It was super refreshing and the minty tea had an apple sweetness to it.
The mint leaves used in the tea had been hand picked from the allotment the team at Foodstory use, which I enjoyed reading about on the menu.
Bitter, the coffee was served piping hot and my friend topped it up with a little splash of milk to give the dark liquid a milk-chocolate profile.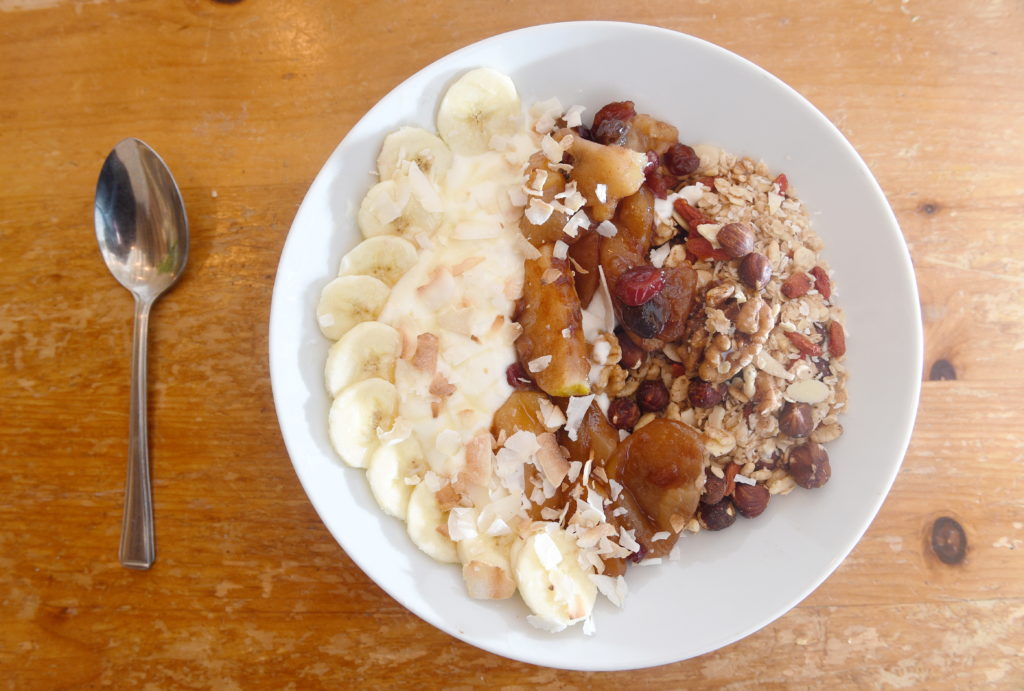 Arriving one dish after the other, the super food granola bowl was up first.
A beautiful array of colour, the bright-white organic dairy-free yoghurt was parted with a sea of dark-red berry compote and met with a heap of toasted coconut, oats and pumpkin seeds.
Lightly drizzled with natural syrup, the natural sugars balanced out the slightly sour-tasting yoghurt. Chai seeds were scattered across the bowl, and the chopped banana sat on the other side of it in a crescent like the moon.
Mixing it all together it was a wonderful way to start the day.
The peanut-butter pancakes looked even better than they did on the Instagram post I'd seen.
Three fluffy pancakes came drizzled with natural syrup and with a whole lot of deliciousness on the side.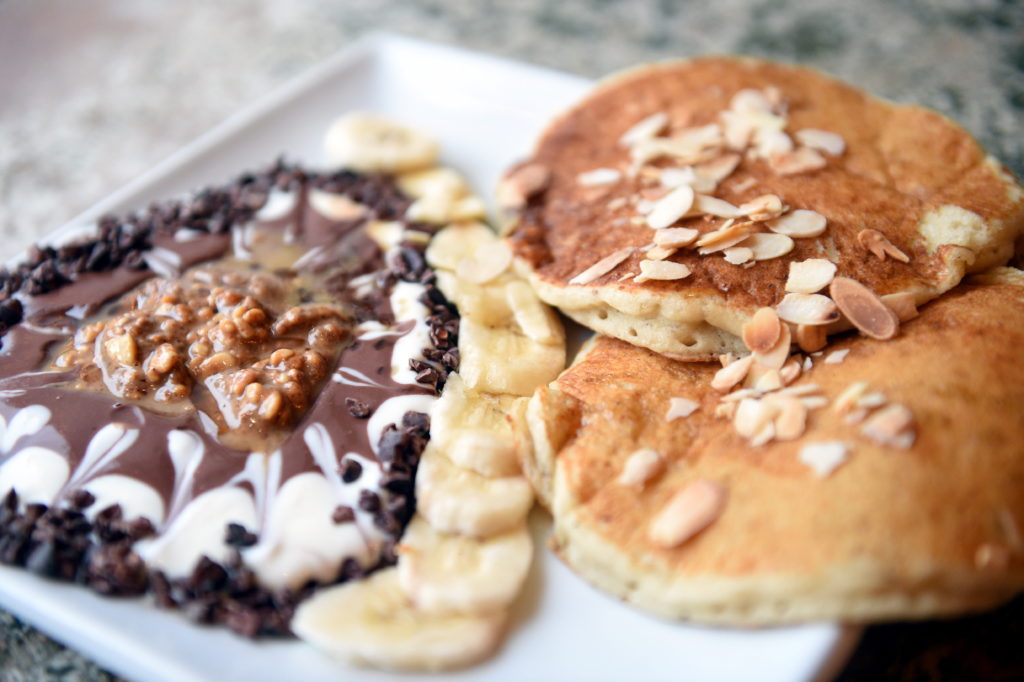 From a row of perfectly sliced banana to a mound of natural yoghurt which was topped with a big splattering of nut butter and then finished with toasted coconut, almond flakes and cocoa nibs, it was the ultimate breakfast.
I was nervous I'd made a terrible decision changing my mind to the sourdough. However, made in-house, the bread was extraordinary.
Soft and bouncy, it was toasted and then consumed by a whole avocado, which sat upon it.
The goat's cheese sat on the side, as did two juicy Portobello mushrooms and a small helping of peppery rocket. The dish was lovely, albeit a little dry, and I gave up half way through the cheese as it was so dense and sticky that I decided to finish off the vegetables and bread instead.
The toasted seeds on top provided a little crunch to the dish, which I enjoyed.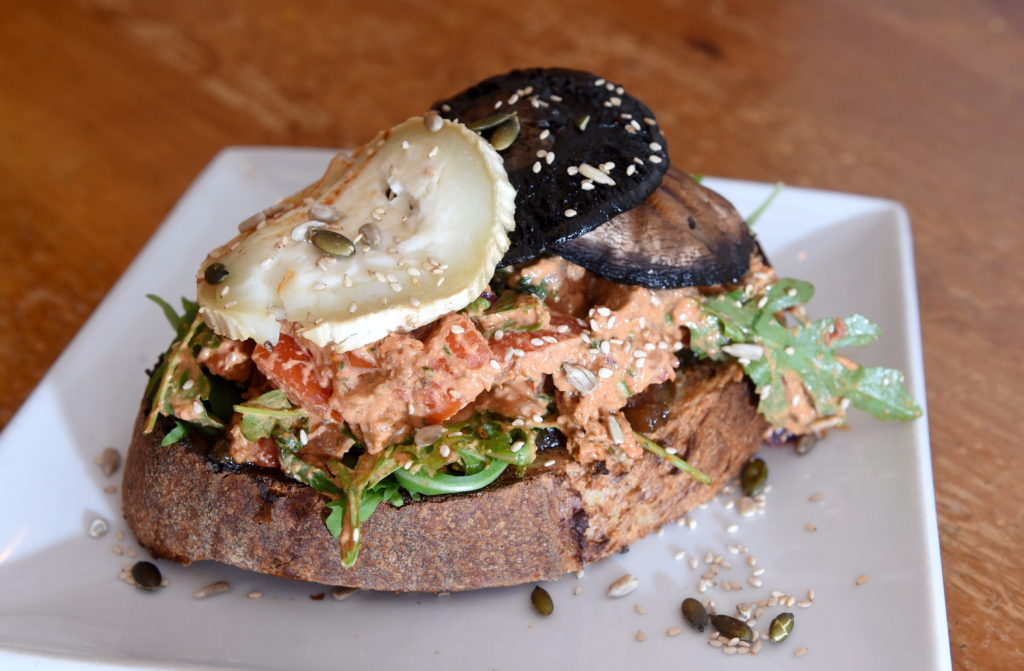 Helping ourselves to the self-serve water, I waited as my friends polished off their breakfast.
A few coffees and cups of tea later, it was after lunchtime and thoughts of something sweet had taken over. I needed to try one of those tasty- looking cakes I'd spied earlier at the counter.
A slice of homemade vegan chocolate cake and a carrot cake made its way to the table and we all tucked in. The chocolate was, in my opinion, much more superior and was utterly delightful. Packed with flavour and topped with chocolate frosting, it was exactly what I needed.
Finishing up the last of our hot drinks, we waddled out of the cafe and decided to go upstairs to the zero-waste shop.
After a good rake around, we left with a few bits and bobs, including some of that delicious homemade bread.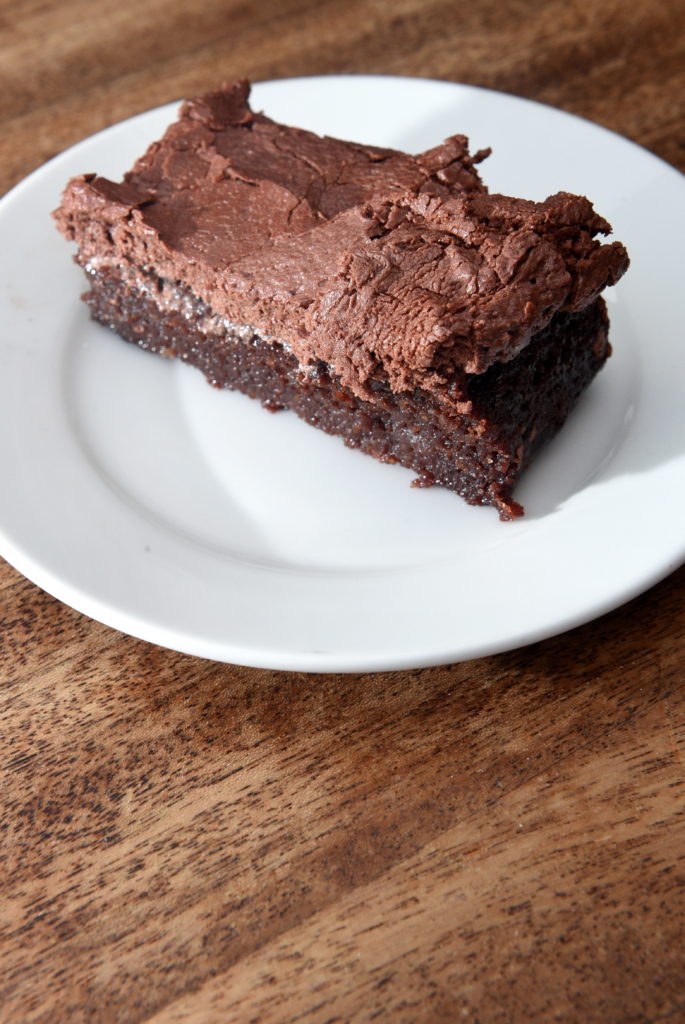 The Verdict
Foodstory is a vibrant independent cafe and is a real hub of activity.
Providing mainly vegetarian and vegan food, it's definitely worth checking out. As someone who eats meat, I wasn't fazed by the menu and, if anything, it inspired me to be more adventurous with the vegetarian dishes I cook at home.
Good food and good people, there's not much more you can ask for.
The upstairs shop is a welcome addition to the Aberdeen scene, and the fact it is zero waste is excellent. So many people were filling tupperware and old bottles, showing us just how easy it can be to do our part.
All in all, it was a very pleasant experience and one I look forward to repeating again.
Address: 13-15 Thistle Street, Aberdeen
Price: £34.70