How to create James Martin's Bourbon Pecan Tart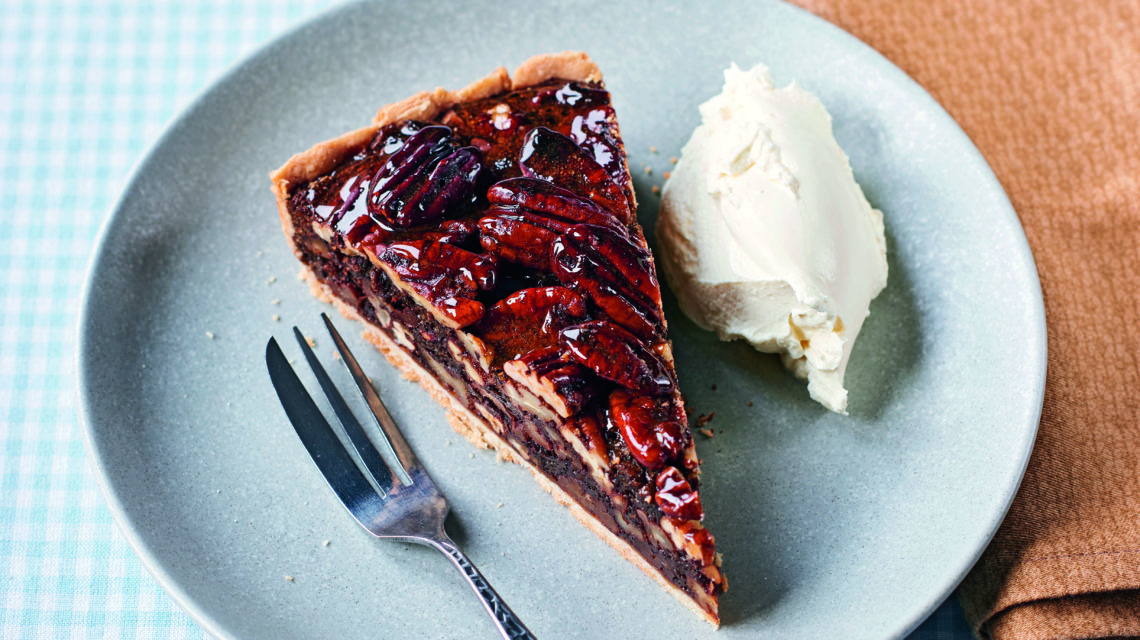 Bourbon Pecan Tart
250g (1 ¾ cups plus 2 tablespoons)
plain (all-purpose) flour, plus extra for rolling out
125g ( ½ cup plus 1 tablespoon) butter, diced, at room temperature
1 medium egg, beaten
4 tablespoons butter
100g (3oz) treacle
4 medium eggs
175g (¾ cup plus 2 tablespoons) caster (superfine) sugar
1 teaspoon ground cinnamon
6 tablespoons bourbon whiskey
500g (1 lb 2 oz) pecans
Double cream or vanilla ice cream to serve
To make the pastry, put the flour into a large bowl, add the butter and rub in using your fingertips until the mixture resembles breadcrumbs. Pour the egg into the middle of the mixture and stir in well, then lightly knead the mixture to bring it together.
Add 1 tablespoon of water if the mixture feels a bit dry and doesn't come together into a smooth dough.
Shape the dough into a disc, wrap in clingfilm (plastic wrap) and rest in the fridge for 20 minutes.
Lightly flour a clean work surface then roll out the pastry into a large circle, around 2mm (1/ 8 in) thick. Keep turning the pastry every time you roll it to keep the shape even
Use to line a 26cm (10in) fluted loose-bottomed tart tin, 3cm (1in) deep. Line the tin with the pastry. Press into the flutes and edge of the base of the tin, then leave the remainder hanging over the edge. Preheat the oven to ı60°C/325°F/gas mark 3.
Make the filling. Put the butter and treacle into a small pan and heat gently to melt the butter. Stir together. Take the pan off the heat and cool a little.
Whisk the eggs and sugar together in a large bowl until mixed well then pour in the cooled butter mixture, cinnamon and bourbon and stir everything together.
Put the tart tin on a baking sheet. Spread the pecans all over the tart case, then pour the filling over the top. Bake for 35–45 minutes until the filling is firm.
Once cooked, cut all the overhanging edges off the tart using a sharp serrated knife. Cool the tart until warm, then lift the tart out of the tin and transfer to a plate.
Cut the tart into slices and serve with cream or ice cream.
Recipe © James Martin