Aberdeen Restaurant Week: Three-course dinner menu @ Italian eatery Da Vinci's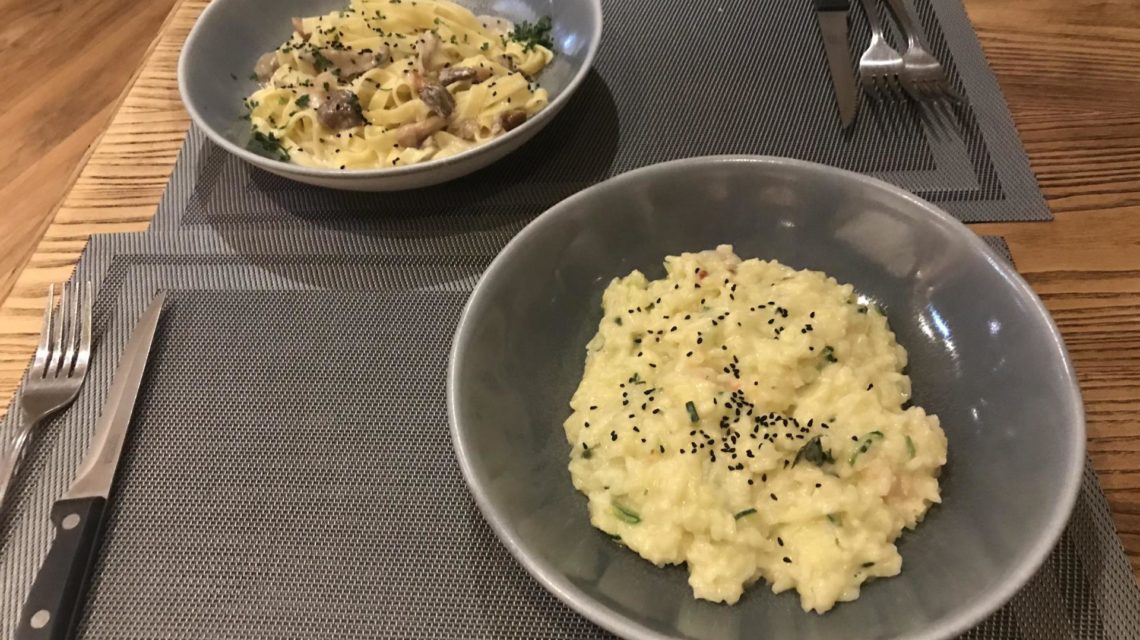 Alford Lane is one of those quirky streets in Aberdeen that makes you feel you're walking away from the Granite City into something a bit more rural and secluded.
These days it takes you into the heart of the Italian countryside – or at least a large painted frieze on the wall of Da Vinci's restaurant, that's all lush greenery and rolling hills.
That rustic theme runs through the dining room, with its white plastered walls and barrels called into service as tables for two dotted around. It's a welcome break from the grey November chill and now has the added bonus of offering a special £20 menu as part of Aberdeen Restaurant Week. Well, fortnight as it is.
My wife and I both have a liking for Italian cuisine – and for bargains – so checked it out with an early evening meal.
The first thing that impressed us – beyond the considered Covid-19 precautions and the friendliness of our waitress – was the range on offer for this special menu.
No fewer than eight starters, eight mains, and eight desserts. If you can't find something on their that tempts you, then you're not doing it right.
---
The Food
We set off on our culinary journey with a classic dish for my other half, the crostini toscano – or homemade chicken liver pate with toast for the monolinguists among us. It was an excellent example of how to do this dish properly. Rich, smooth and lush, the pate had a depth of flavour that made you want to pile it high on the toasted bread. The caramelised onion added tang – and an unexpected hit of spice, giving it cinnamon/nutmeg notes. All very yummy.
I decided to set off into pastures new with a starter I've never seen, let alone tried. Olive ascolane was billed as breaded and fried meat-stuffed green olives. And that is exactly what I got. There were seven of these little flavour bombs resting on a bed of baby spinach. The crumb coating had real crunch and took a hefty bite to get through to the interior that offered up a meaty burst, tempered with the saltiness of olives. They were excellent for tantalising the taste buds, but were on the dry side. A wee dip of aioli or some tomato relish would have been welcome.
Our empty plates were swept away and in no time at all the mains were arriving.
My other half decided to go veggie (plenty of vegetarian and vegan options) with the mushroom tagliatelle. A pretty-looking dish, with its chunky porcini nestling amidst ribbons of pasta, the first taste revealed the truffle oil billed on the menu was front and centre. If you prefer your truffle notes to be subtly in the background, this might not be the dish for you. That said, the plentiful mushrooms were wonderfully meaty and the tasty cream sauce complemented them and the spot on al dente pasta nicely.
Meanwhile, I had decided to hit up the prawn and fresh courgette risotto. It came just the way I like, the Arborio rice was perfectly cooked, the sauce thick and subtly flavoured with wine notes. The prawns themselves were big, sweet and very moreish. A wee sprinkling of black pepper and this was a dish to savour.
Now, I'm not the biggest fans of dessert. My sweet tooth setting was dialled down sometime back, making me more of a cheese and biscuit person.
However, when you see an Italian custard-like dessert with Amaretti biscuits, rum and coffee, it would be rude to decline. And I'm glad I went for the Bonet. For a kick off, this dessert was pretty as a picture, all swirls and sprinkled coconut with a scattering of crumbled biscuit. The centrepiece was a puck of intense dark, sweet goodness, with notes of coffee, chocolate and a hint of rum. It went down a treat, especially when combined with the creamy blooms adorning the plate.
Meanwhile, more sweet goodness was happening across the table with the tiramisu, all mascarpone, coffee and soaked-Savoiardi biscuits.
The desserts were a high note to round out our wee trip to the sun-kissed food of Italy.
---
The Verdict
A lovely space offering a rich range of dishes for all tastes with an exceptionally-priced menu for Aberdeen Restaurant Week. Get along and try it out.
Address: 1 Alford Lane, Aberdeen AB10 1YB
Aberdeen Restaurant Week promotion: Da Vinci is serving up a three-course dinner offering for £20.