Aberdeen Restaurant Week: Menu review @ The City Bar & Diner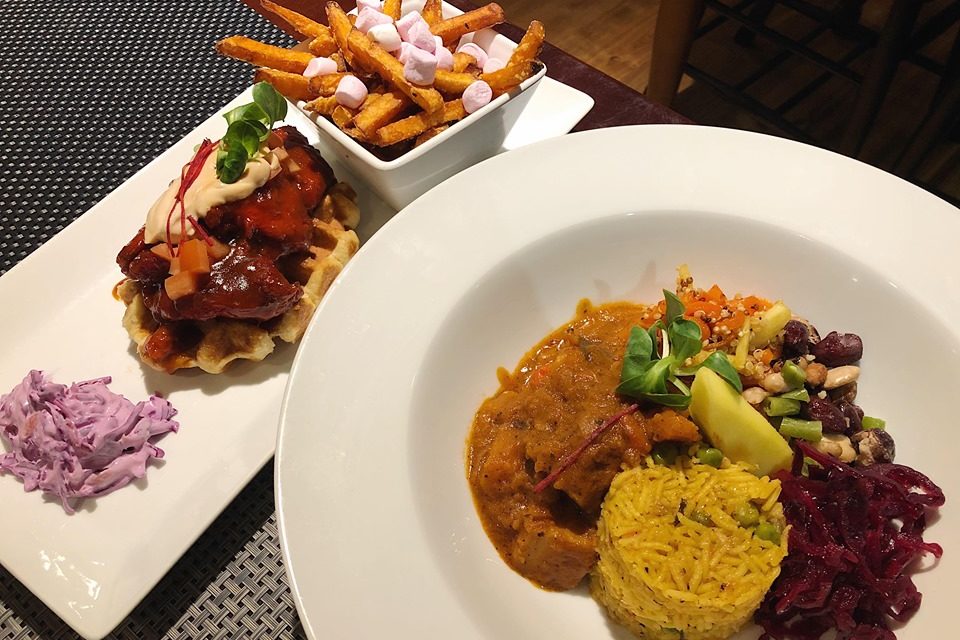 The City Bar & Diner at Aberdeen's Upperkirkgate is, in my opinion, one of the north-east's hidden food gems.
Nestled just off Union Street, the eatery, which serves up an eclectic mix of dishes with worldly influences, was on the top of my list to try out this Aberdeen Restaurant Week.
With a bespoke menu for the week-long event, I struggled to pick out which dish to try for each course with all of them sounding so appetising.
Heading along to sample the ARW menu I decided to bring my sister along for moral support – and of course so I could try her food, too.
It was a blustery night on the Wednesday evening we'd decided to pay a visit and our booking was at 5.30pm – an early dinner for me.
Greeted by the lovely manager Polly, she took us to our seats and fixed us a drink – a Diet Coke for me and a big glass of H2O for my sister.
The Food:
Having already snooped at the menu online, we fired away our order and patiently waited for the goods to arrive.
My sister opted for the tandoori crumbed halloumi with watermelon and pomegranate, whereas I tried out the vegan cashew and truffle pate with plum chutney and crispy toast.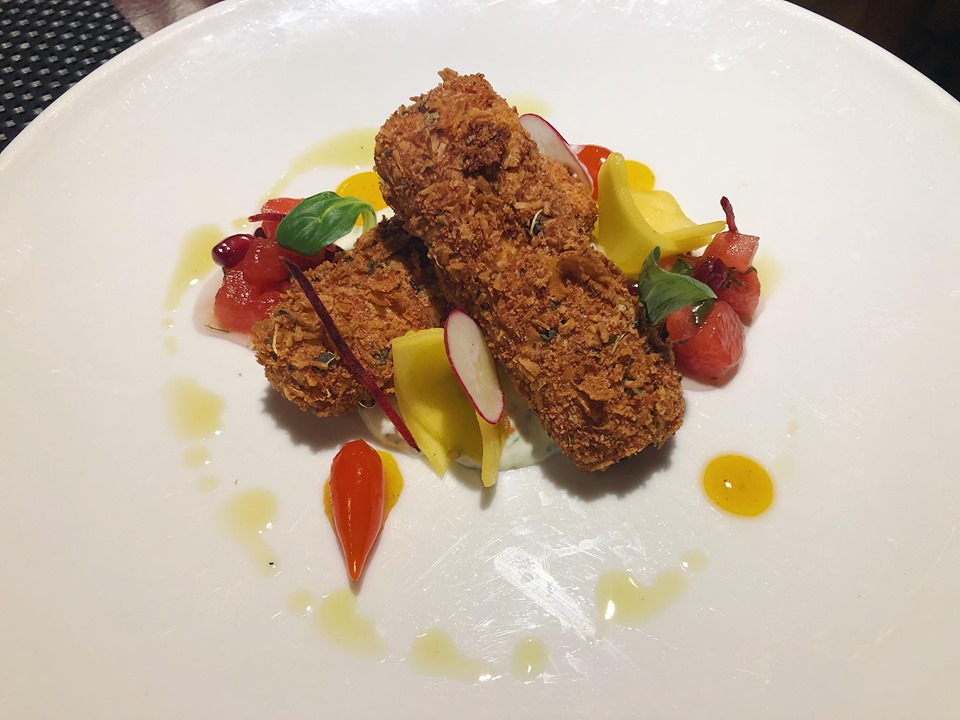 The two deep-fried strips of halloumi were well cooked and weren't too salty either.
The battered coating had hints of spice bringing those tandoor flavours into the mix and had lots of Indian spices throughout. It was lovely and crispy on the outside, with the softer cheese hidden within.
Served with slices of fresh mango, the fruit brought a whole new flavour profile to the dish which sat on a small dollop of mint yoghurt – cooling the warming flavours of the spices.
My sister loved the watermelon and pomegranate salsa too, and appreciated the innovative thinking behind using fruits to make a condiment she is used to associating with tomato. Starting off sweet and juicy, it finished with an after kick of pure chilli deliciousness.
Although my pate looked very different, I was equally as impressed with the dish as my sister was with hers.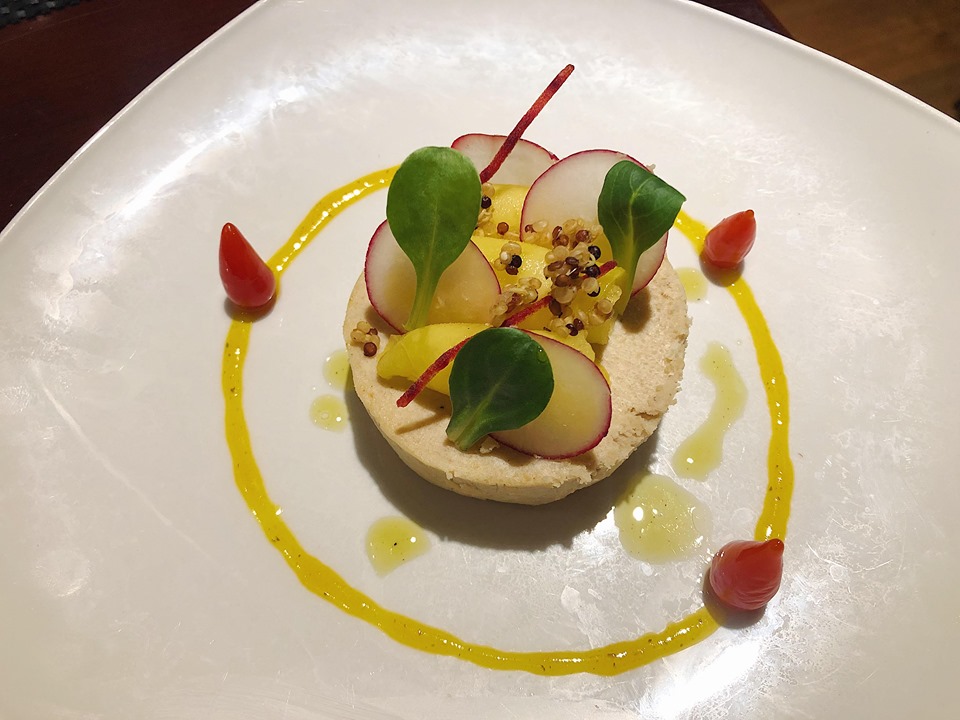 Boasting the most insane truffle flavours, the smooth consistently made it super easy to spread, and it become even more easy to spread as the room temperature took hold.
The chef had taken inspiration from foie gras for the dish, emulating the same experience you would have, but with a vegan spin which I loved.
Served with small thin slice of toasted baguette bread, the yellow plum puree dotted around the outskirts of the plate was sweet and very tasty. It too came with thin slices of mango.
For anyone who loves truffle, this dish is a must.
For mains, my sister decided to go with the wackier dish of the four – the BBQ fried chicken with waffles, sweet potato chips an marshmallows.
As soon as it arrived you could smell the sweet scent of the main course.
My sister tucked into it with no hesitation, admiring the sticky pink marshmallows which had started to melt all over the sweet potato fries to form a sticky mound.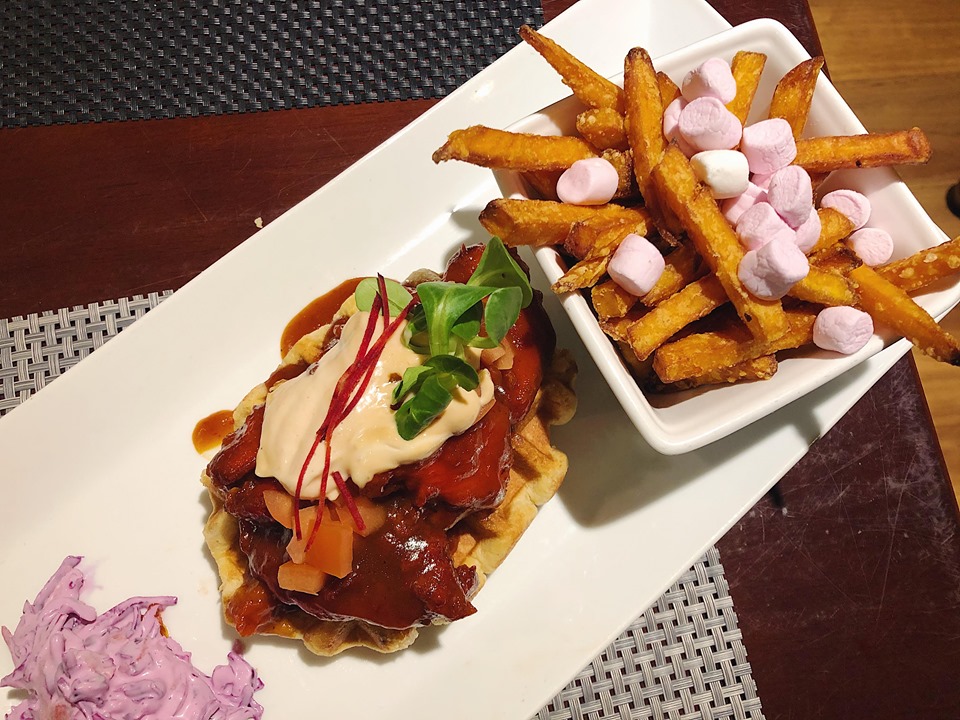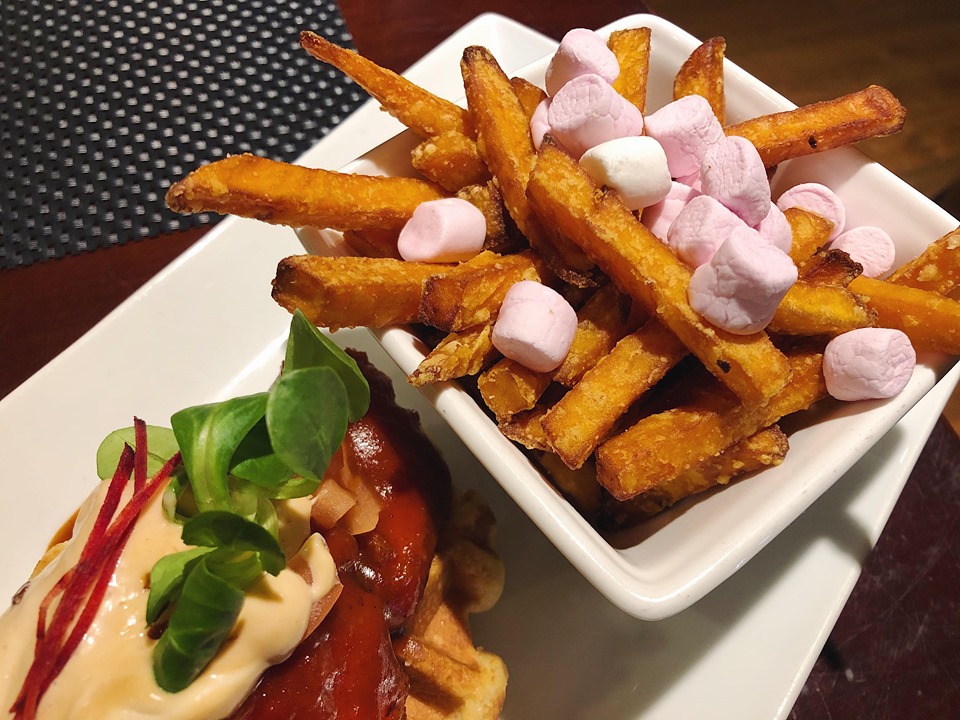 Smothered in a rich BBQ sauce, the chicken pieces were succulent and tender, ripping apart easily. The waffle itself was a hefty size and was incredibly sweet. Crisp on the outside and soft and fluffy within, it was a big eat and came topped with a spoonful of mayonnaise, too.
It also came with a helping of pink creamy coleslaw on the side to help balance out those sweeter notes and flavours, which it did.
Her last words before finishing: "I can't believe how well it works".
My vegan Caribbean soul bowl with jerk jackfruit curry brought a rainbow of colour to our table.
There were chopped green peas, every bean imaginable with all shapes, sizes and varieties within, aromatic rice with peas, spiralised carrot and pineapple which had almost been shredded after, pickled red cabbage – it was an explosion of colour.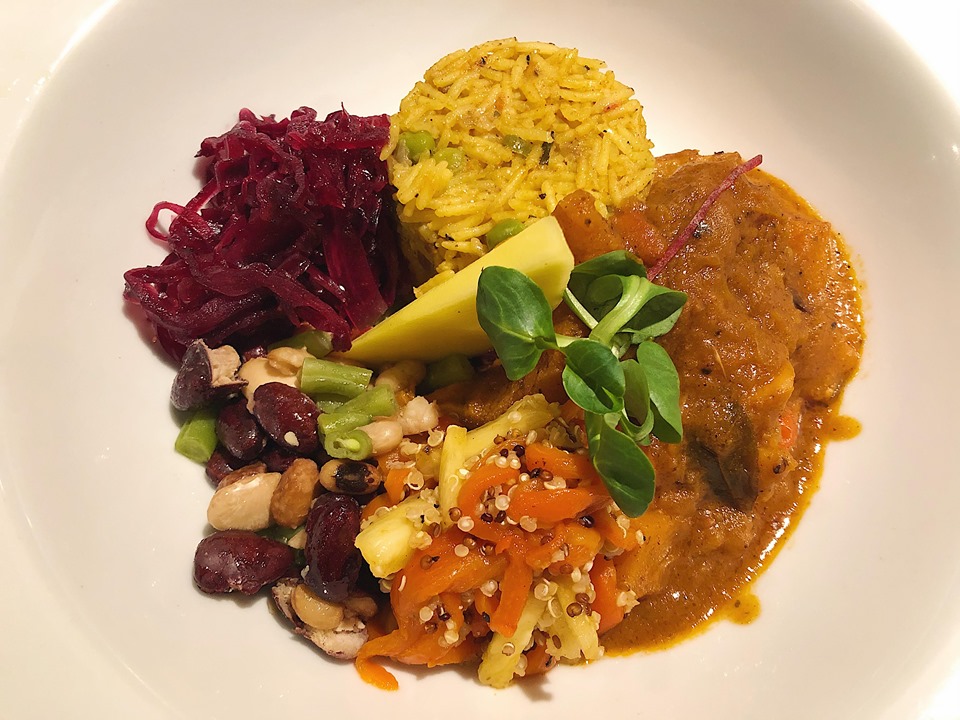 The bright purple pickled cabbage was intensely acidic, clawing back at those spicier curry flavours the jackfruit now had. The beans were great and added texture to it, as did the juicy pineapple, which was a good addition to the mix of vegetables and fruit featuring – with it being a Caribbean dish of course.
The curry itself wasn't spicy, more tangy, and the jackfruit was cooked beautifully. It pulled away easily and the sauce had a nice heat to it, not too hot and not too mild. Small chunks of sweet potato featured in it as well, and every mouthful was just fantastic. This is one dish I know veggies and vegans will love.
Asking for a break for dessert, Polly alerted the kitchen to our status. Full, but willing to push on for the good of food.
Taking another drinks order, we both kept it light with a refreshing glass of water.
Desserts arrived a mere 15 minutes later. Just looking at them, I was glad we'd pushed to try the final course.
Sticky ginger pudding with boozy bananas and vanilla ice cream for her, and vegan silken tofu and chocolate brulee with berries for me.
The marshmallow and passionfruit cheesecake also wouldn't have gone a miss either, if I'm honest.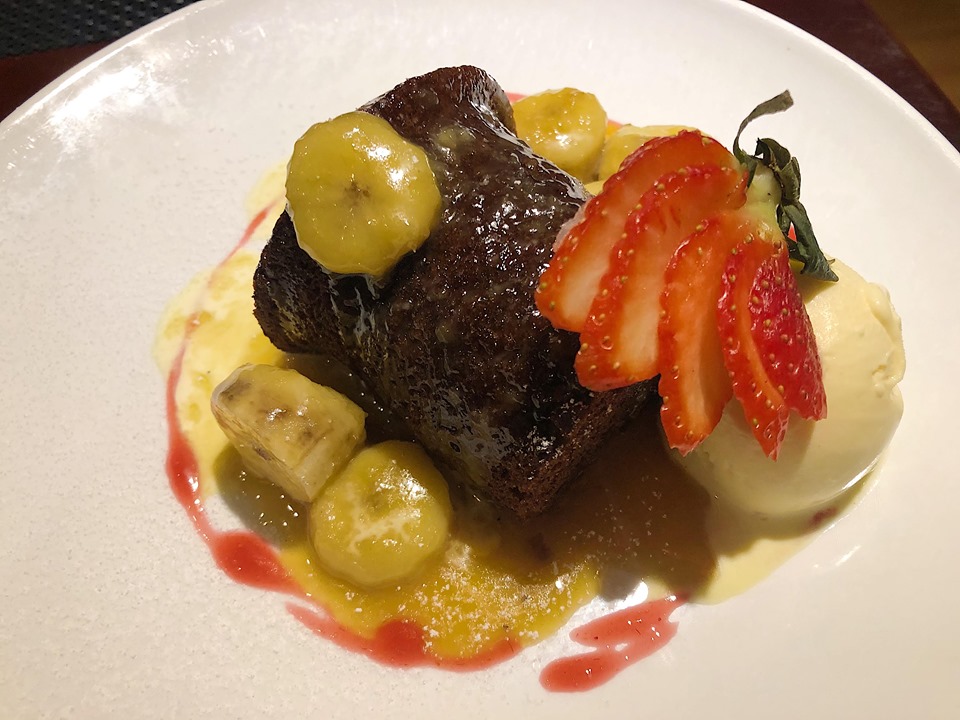 First up for the taste test was the ginger pudding.
Packed with ginger, the super soft cake was cooked to perfection. Light and fluffy, it didn't collapse when we tucked into it and held its shape with poise. The cooked bananas were rather boozy and were full of flavour.
But it was the toffee sauce which sold it for the both of us. Thick and insanely good, we could have poured it over any dessert and it would have instantly upgraded it.
The tofu and chocolate brulee didn't look as I have envisioned, but my goodness did it taste good or what.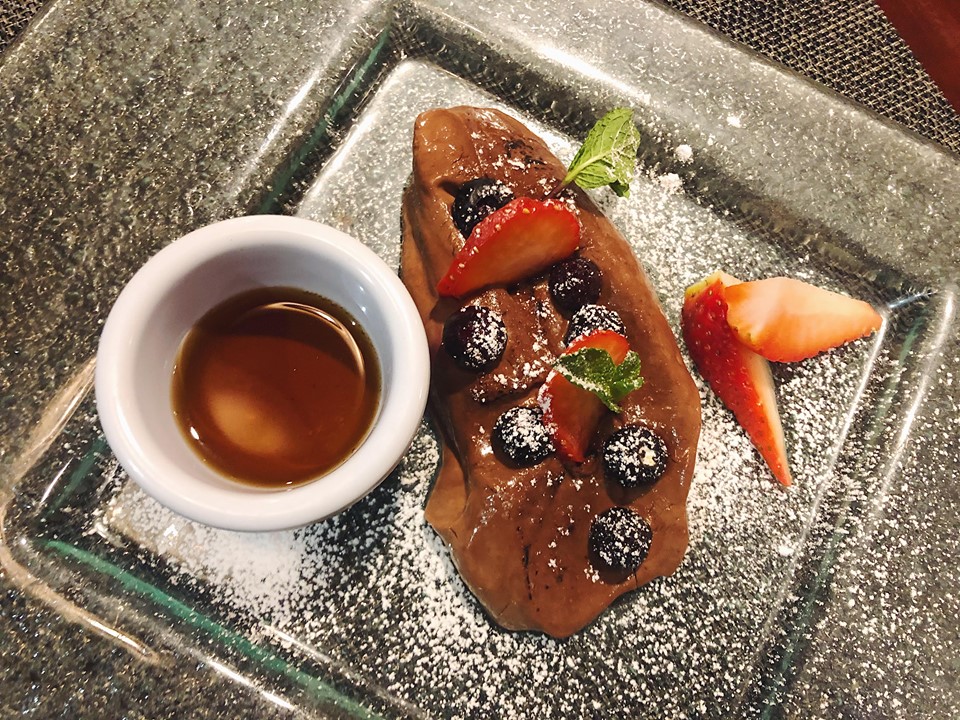 With rich cocoa chocolate throughout, the sharp bitterness of it was perfect.
Served with a bold maple syrup on the side, the sweet sauce balanced out the bitterness of the dark chocolate. I couldn't believe it was tofu as it was soft and tasted almost like a mousse instead of a brulee-style dessert.
Topped with blueberries and icing sugar that had melted into them, on top there was also chopped and sliced strawberries on the plate, too. The fresh fruit really complemented it.
We even ended up pouring some of the leftover maple sauce on the ginger pudding.
The Verdict:
If you're looking for a menu that boasts a range of dishes you won't be able to get on The City Bar & Diner's main menu, then this week is your week.
All about experimenting with flavours and bringing a different outlook on traditional dishes to the table, each plate served up from the eatery was packed with creativity.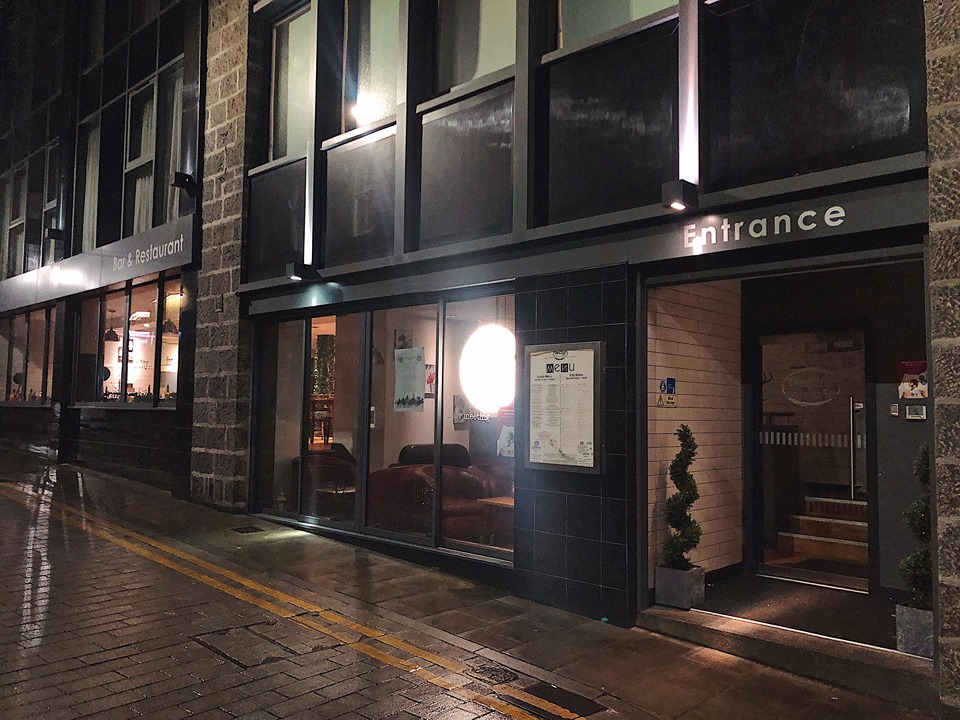 Address: 37-39 Netherkirkgate, Aberdeen AB10 1AU
Aberdeen Restaurant Week promotion: Three-course dinner menu for £20. Click here for the menu.