Aberdeen Restaurant Week: Menu review @ Melt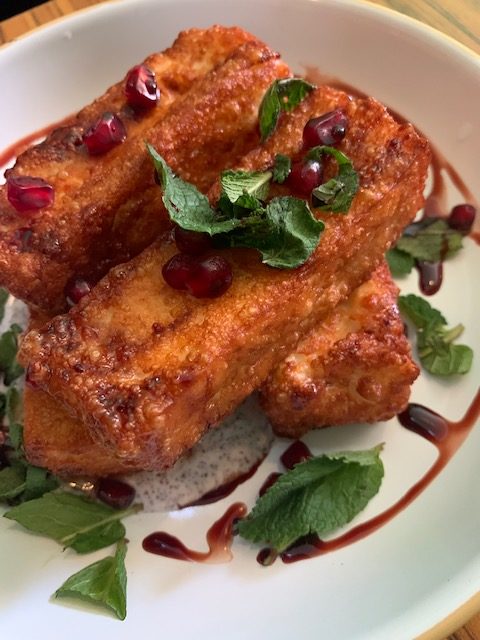 Aberdeen's Melt describes itself on its website as "two floors of cheese heaven". And that, it most certainly is.
Having devoured many a delicious toastie served up from Melt's former home on Holburn Street, I had no qualms visiting the grilled cheese eatery which has now grown and expanded to become a restaurant on the city's Belmont Street.
I knew I was guaranteed a good feed – especially after browsing Melt's Aberdeen Restaurant Week menu which is running until Sunday. I decided I'd go all out and try out the three-course £20 menu – it had me at halloumi.
Clearly a popular choice for hungry foodies, I was relieved I'd booked a table when I arrived at Melt on a Saturday afternoon. My table was booked for noon but already the restaurant was busy with fellow cheese-lovers.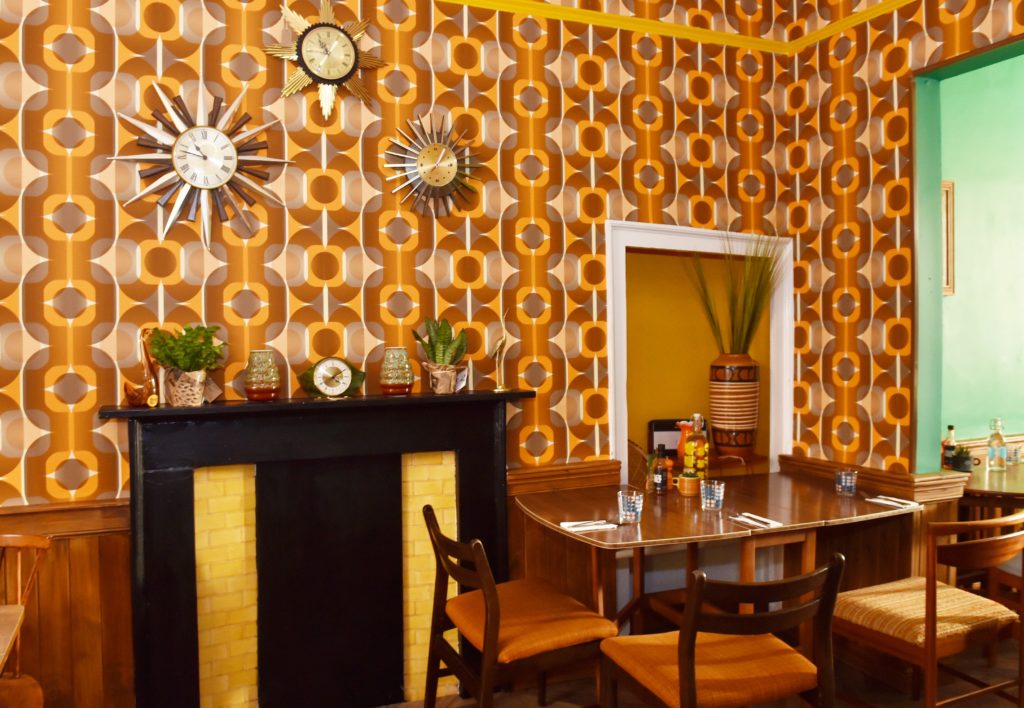 Dressed head-to-toe in 70's-themed decor, Melt is a shrine to the era with bold mustard and brown printed wallpaper hanging in one section, and a daring jungle green shade painted on the walls in the other.
Wooden tables and chairs added to the 70's vibe and an abundance of greenery added pops of colour left, right and centre.
A friendly member of the Melt team greeted my lunch date and I, seating us in the rear section of the restaurant where a vintage wicker peacock chair caught my eye, bringing back fond memories of the one my own mum used to own many moons ago.
The Food
Three equally tasty options were available to pick from the starter selection on the £20 menu. Nothing was going to keep me from ordering the halloumi fries, and as well as picking those, I also chose to order the macaroni cheese – not all for me, of course, as there was more than enough going to share both dishes with my fellow foodie.
It felt like no time at all passed before the starters were promptly served – which I was glad of because I'd been daydreaming about my trip to Melt all week.
No hesitation, we both dug straight into the thick slabs of grilled halloumi which were topped with fresh pomegranate and mint, and served with pomegranate and a Sumac yoghurt. Beautifully presented, the halloumi tasted even better than it looked. And it looked good.
As I cut into the Cypriot cheese, I swirled it around the plate, soaking up the Sumac yoghurt which hid underneath. The combination – which I'd never tried before – was spot on and now I will forever crave it. The slightly salty, creamy halloumi was complemented by the yoghurt's tangy taste which wasn't quite as zing or tart as lemon juice, but still added a real unusual pop of flavour. Balanced by a burst of sweet pomegranate and refreshing mint, I could have devoured the dish again and again.
Although the halloumi was a clear highlight already, the classic macaroni (which is available vegan) was also a real winner. You can never beat a comforting serving of the pasta dish, and it would certainly be even harder to beat the rich, creamy taste of Melt's mac and cheese.
Gooey cheese wrapped itself round the curves of the pasta pieces, topped with an ever-so-slight crispy top layer. The dish was a fair size and I would recommend sharing it as it could quite easily have filled me up as a main course.
Deciding not to polish off the mac and cheese completely so we had a little room, we eagerly awaited our mains as we continued to gush over the heavenly halloumi.
Keen to try out Melt's burger offering, my lunch date opted for the blue cheeseburger served with pickles and fries.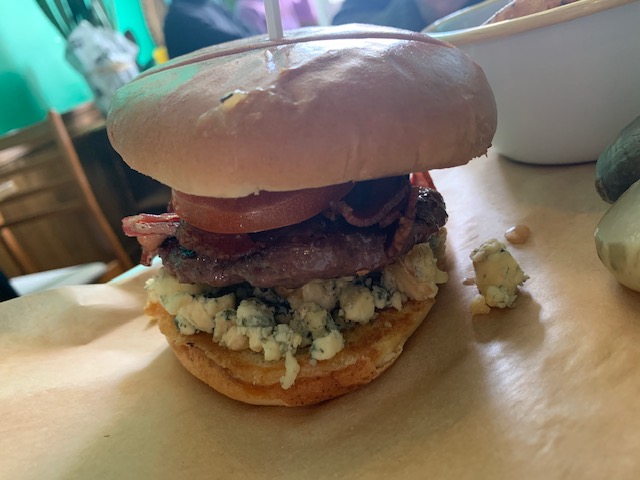 The generous-sized dish proved to be a struggle for him after the filling starters, but nevertheless, he gave it a go. Tenderly cooked, the burger itself was tasty and was teamed with crispy bacon, crumbly blue cheese and thick slices of fresh tomato.
Although a welcome addition to the mix, the meaty taste of the burger and the crisp bacon was overshadowed by the pungent creamy flavour of the blue cheese which spilled from the sides of the bun. Despite the distinct taste, it didn't by any means downgrade the burger which my dining companion happily polished off.
However, the side of fries and large slices of pickle proved to be a little too much of a challenge.
Across the table I was served the only meat-free option on the main menu, the vegan poutine. I would have much preferred a veggie burger as an alternative to the two meaty burgers which were also being offered.
The poutine was tasty enough, if a bit on the stodgy side for some. There's no denying the chunky wedges were perfectly crisp.
Despite being pretty full up, my lunch date and I concluded that there is always space for dessert and we opted to take full advantage of the three-courses available.
We both agreed we loved a cheeseboard but craving something sweet, we decided to order the sticky toffee brownie and mascarpone ice cream and the Biscoff mousse brownie which was served with a coffee.
The thick, gooey toffee sauce draped itself over the slab of chocolate brownie heaven which sat next to two scoops of ice cream. Rich and packed with a chocolate punch, the brownie was by far one of the best I've ever tasted. Accompanied by the to-die-for toffee sauce, well, let's just say I failed to share more than one spoonful of the unreal dish. Although a touch sickly – as most desserts are – I couldn't quite stop myself from hoovering up the lot as the brownie was so more-ish. I was grateful of the refreshing cleanser the ice cream proved to be.
Not quite as generous in rich chocolate flavour, the Biscoff brownie boasted a buttery taste and melted in my mouth as I sampled just a little – I was feeling a touch guilty over my lack of sharing the sticky toffee brownie. Served with a latte, it was an ideal way to finish off what was a very satisfying meal.
The Verdict
I was a fan of Melt when it first burst onto the foodie scene in Aberdeen and now, established as a restaurant and takeaway too, I'm still very much a loyal customer. Even more so, I'd say.
Proving excellent value for money, the £20 deal which is running throughout Aberdeen Restaurant Week is undeniably a real bargain. With generous portions and high quality dishes, diners will quite literally, be taken to that sweet place called cheese heaven.
A must-visit, I would recommend anyone and everyone to take a gander along to Belmont Street this week and try out the offering. Whether it's from the £10 menu (which includes a toastie, soup and a soft drink) or the £20 deal, you're in for a good feed in an eatery that stands out by a sheer mile.
Address: 13 Belmont Street, Aberdeen, AB10 1JR
Aberdeen Restaurant Week promotion: £10 or £20 deal. Click here for the menu.