Aberdeen Restaurant Week: Menu review @ Mac's Pizzeria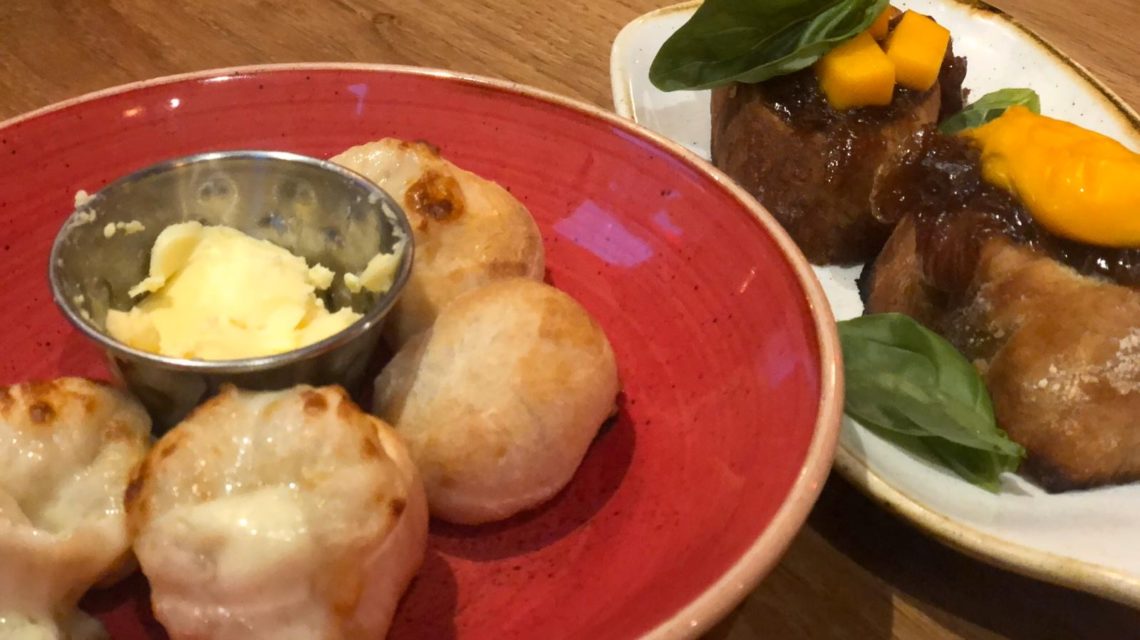 First impressions most definitely count, so after enjoyng a visit to Mac's for a bite a few months ago, I was keen to return for more.
This time I was heading along to try the pizzeria's Aberdeen Restaurant Week menu which is available until Sunday.
Having been away on holiday the week prior, I was looking forward to catching up with my bestie over some Italian dishes.
Situated within The Esslemont on the upper floor, Mac's Pizzeria strikes a good balance between modern and rustic with its shabby chic wooden panel walls, retro-inspired red leather seats and a twinkling canopy of fairy lights – oh, and there's a shiny red moped hung from the ceiling, too.
My friend and I arrived a little early on a Monday evening, straight from a busy day at work which had really worked up our appetites.
Despite our prompt arrival it was no problem as our friendly waitress led us to a table in the middle of the room, by a window that overlooked Union Street.
Drinks ordered, I decided to indulge in the £20 menu which offers three courses. Meanwhile, across the table, my chum opted to stick to the £10 menu which includes a starter and a main – if only I had her willpower.
The Food:
There was little room for debate when it came to ordering my starter for the evening, Mac's doughballs. Loving cheese as I do, I decided to have my doughballs stuffed with mozzarella and they came served with a garlic butter dip.
My friend asked the waitress what the vegan options were and she kindly explained what the chef could do to make each dish suitable to her dietary requirements. She went on to order the garlic infused crostinis with caramelised red onions and vegan cheese.
We'd barely chatted for any time at all before our first course was served up. Piping hot, I started to dig into the golden doughballs I'd ordered.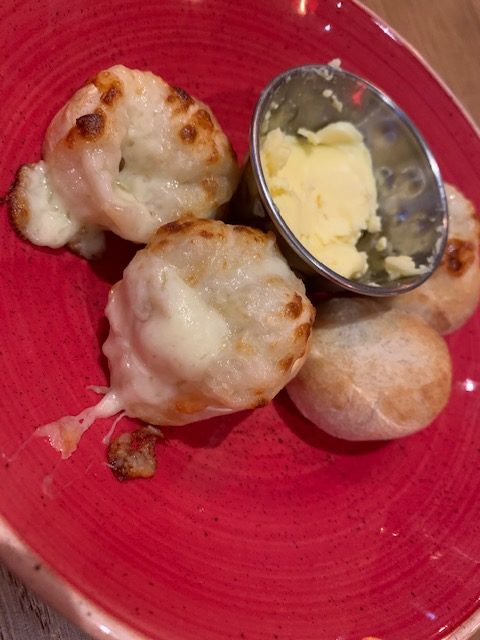 The mozzarella seeped out from within the soft and perfectly baked balls of dough. The creamy cheese was packed in and tasted divine combined with the garlic butter which was served in a wee silver dish. Very more-ish, I could have easily tucked into doughball after doughball.
My friend was across the table polishing off her crostinis which were maybe a touch too brown for my liking, but tasty nevertheless. The dish was simple and light but effective, as the caramelised onions and gooey vegan cheese melted together to create a delicious combination of sweet and creamy flavours.
Next up for my friend was the vedure pizza which was made using San Marzano tomato sauce, vegan cheese, roasted aubergine, peppers, courgettes, balsamic onions, rocket and pesto. Initially there was a little too much rocket covering the generous-sized pizza, so my chum picked some off – job done.
The cheese entwined itself round the small chunks of aubergine, peppers and courgettes which all complemented each other well. The tomato sauce which smothered the base was rich in flavour. Overall, the pizza tasted so fresh, it was clear it had been made from scratch.
I decided to err on the side of caution and stuck to a classica pizza. It boasted the same rich San Marzano tomato sauce as my friend's main, but instead came with Fior Di Latte mozzarella, fresh basil and olive oil. It was quite a challenge to finish off the large dish by myself but I gave it a good go and tucked in.
As fresh as ever, the base  tore apart easily and the mozzarella slid down nicely with the delicious tomato sauce. The pizza was right up there with one of the best I've had.
To finish off my meal I tucked into a millionaire shortbread cheesecake which came drizzled with a zig-zag of chocolate sauce and a scoop of vanilla ice cream. The shortbread base was a good consistency and didn't completely crumble when I sunk my spoon in to pull away a piece. Scooping up all the layers, the flavours of the cheesecakes swirled around in my mouth, the chocolate and smooth, creamy filling complemented each other and it all tasted utterly delicious. The ice cream on the side made a nice addition to the dish, blending well with the cheesecake flavours.
The Verdict:
Mac's is a stunning new venue in the heart of Aberdeen. With stylish interiors and a solid menu, it's hard to go wrong when eating out at the pizzeria. The ARW menu provides excellent value for money – especially with the large freshly-cooked pizzas on offer. Anyone who hasn't yet visited the eatery should most definitely head along to soak up the warm atmosphere over some good food.
Address: 38 Union Street, Aberdeen, AB10 1BD
Aberdeen Restaurant Week promotion: £10 or £20 deal. To view the menus, click here.