Aberdeen Restaurant Week: Five-course tasting menu review @ Cafe Boheme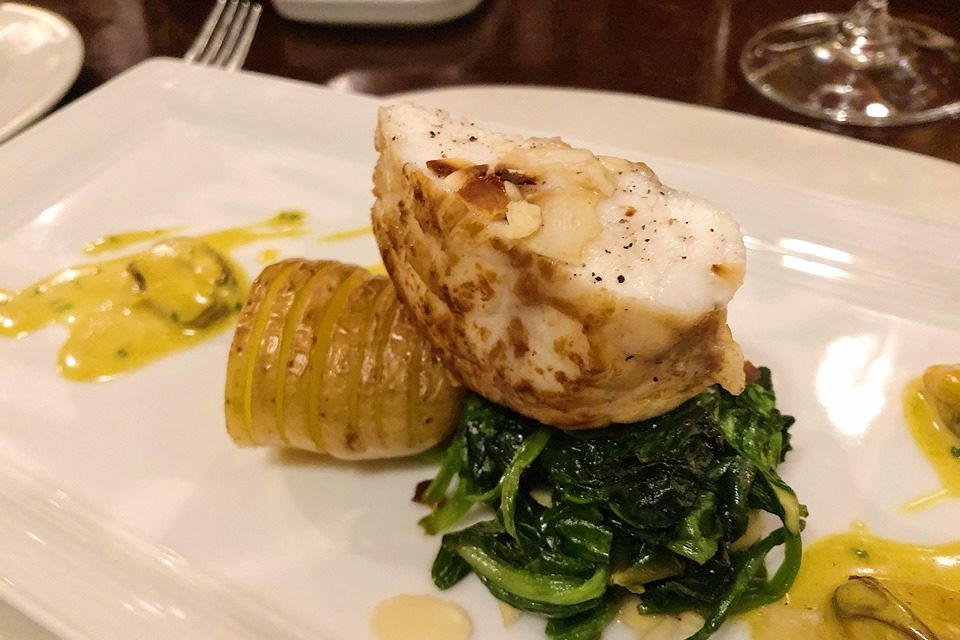 Cafe Boheme is one of Aberdeen's most popular eateries, best known for cooking up classic French dishes with quality Scottish produce.
Taking part in Aberdeen Restaurant Week for the fifth time, the eatery is not just offering the usual £10 two-course lunch or £20 three-course dinner, but it's also serving up a Sunday Jazz lunch and a five-course tasting menu with paired wines, too.
Sampling the latter, I headed down to the eatery on a blustery Thursday evening to try it out for myself.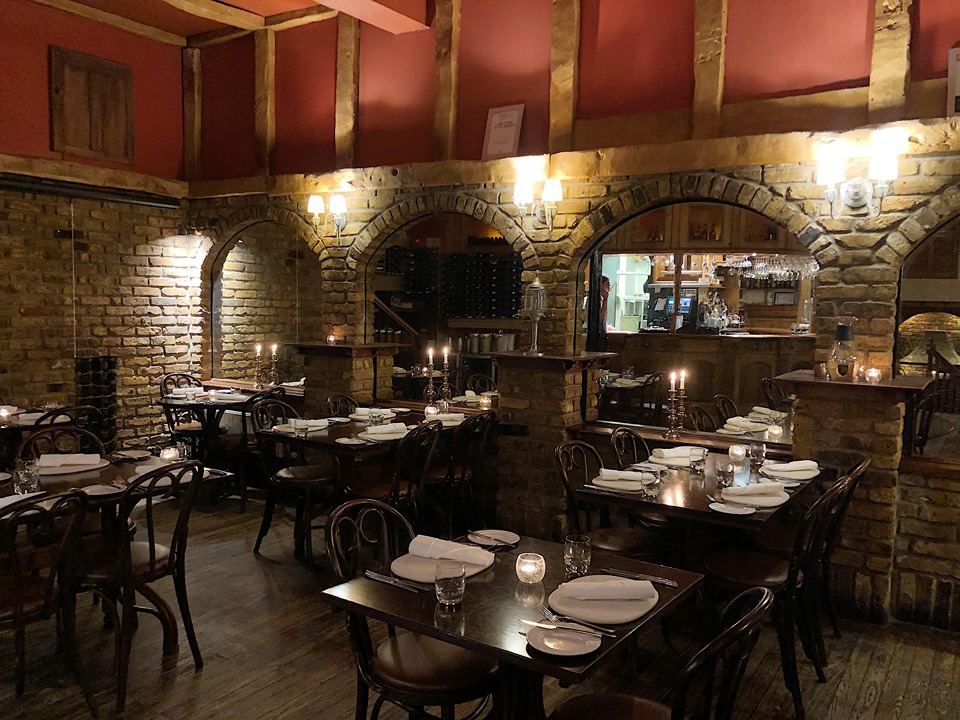 Based on Windmill Brae, the small bicycle out the front of the restaurant gives its otherwise hidden entrance away.
Welcomed by the pleasant staff, we were quickly shown to our table and Gus, Cafe Boheme's own sommelier, walked us through the experience we were about to receive.
Returning to the table shortly after our introductions, he placed two white wines in front of us, informing us about it.
With that, my sister and I toasted to a good night, and got our tasting experience underway.
The Food:
The first course was a stunning Johnshaven lobster bisque with king prawn, caviar and creme fraiche.
The wine pairing, a Vacqueyras Blanc 2018 Chenin Blanc from Rhone, had delicious apricot and mango notes to it. Light and refreshing, it went well with the creamy, smooth bisque.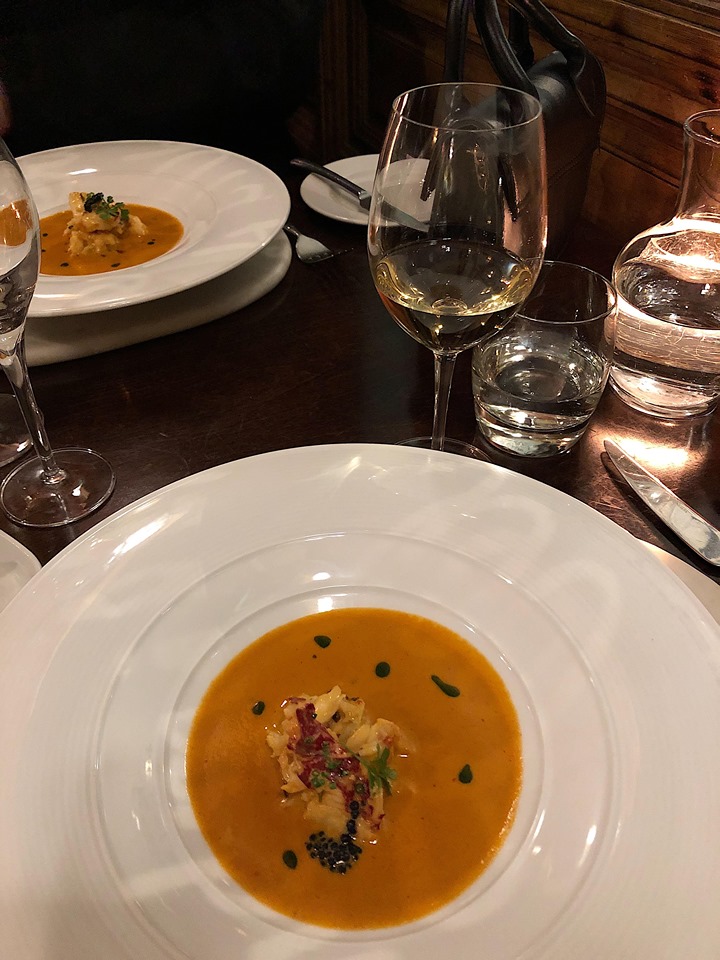 Subtly placed between the lobster and king prawn meat, the caviar may have been hidden from plain sight, but its flavours most certainly were not.
I love lobster and I was delighted my younger dining partner was just as big a fan. Super tender, it melted in our mouths. Fresh, soft and a good portion size for our first course, the meaty lobster and king prawn pieces were divine.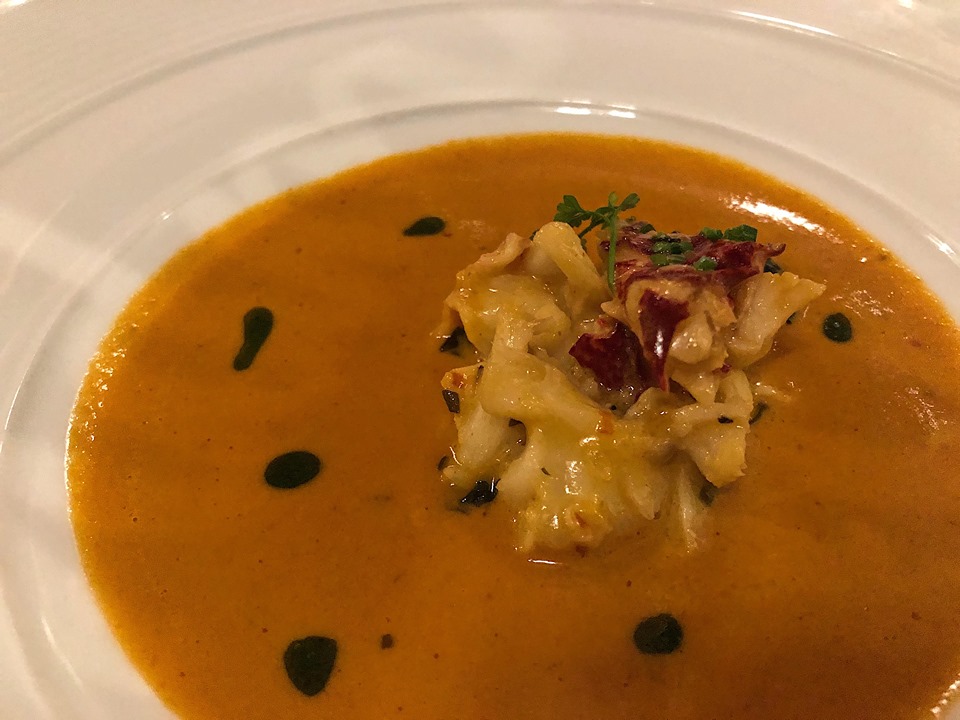 Paul Mair, who is the owner of the restaurant, informed us that the seafood had all been locally sourced and he wanted the dish to showcase Scotland meeting France in the kitchen. Great quality Scottish produce, carefully crafted using French cooking techniques.
The partnership produced a truly beautiful dish.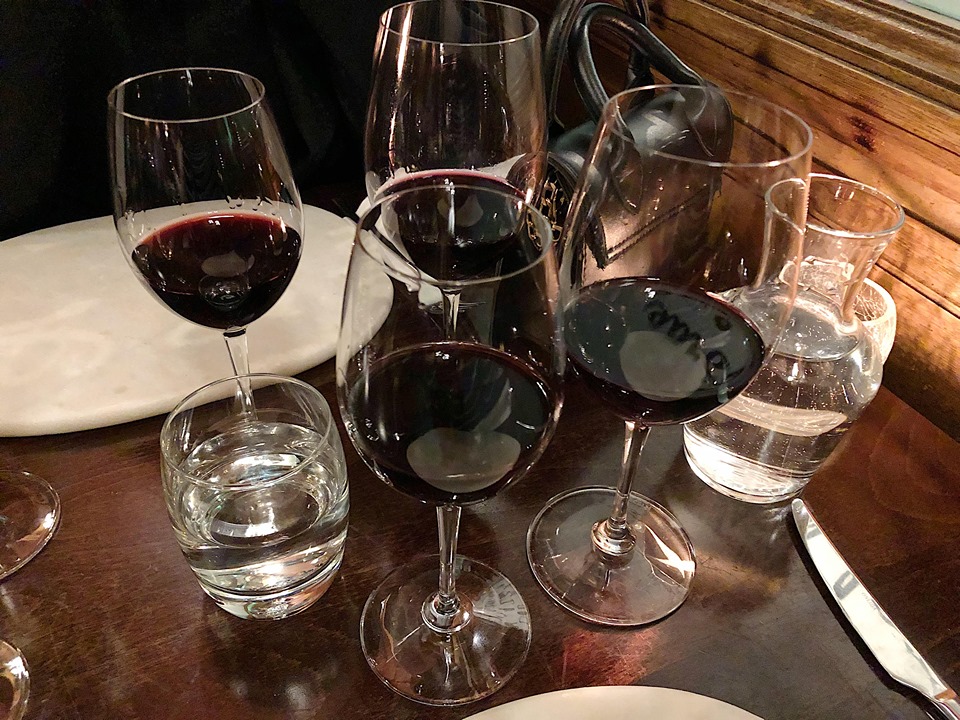 It wasn't long until wine number two arrived.
This time it was a Petit Manseng Sec 2016 from Cabidos. Candied fruits were at the forefront of this wine with a real acidic flavour hitting my tongue. It was punchy and had a bit more attitude to it than the previous. The orange notes of it went incredibly well with the confit duck bon bon which was up next.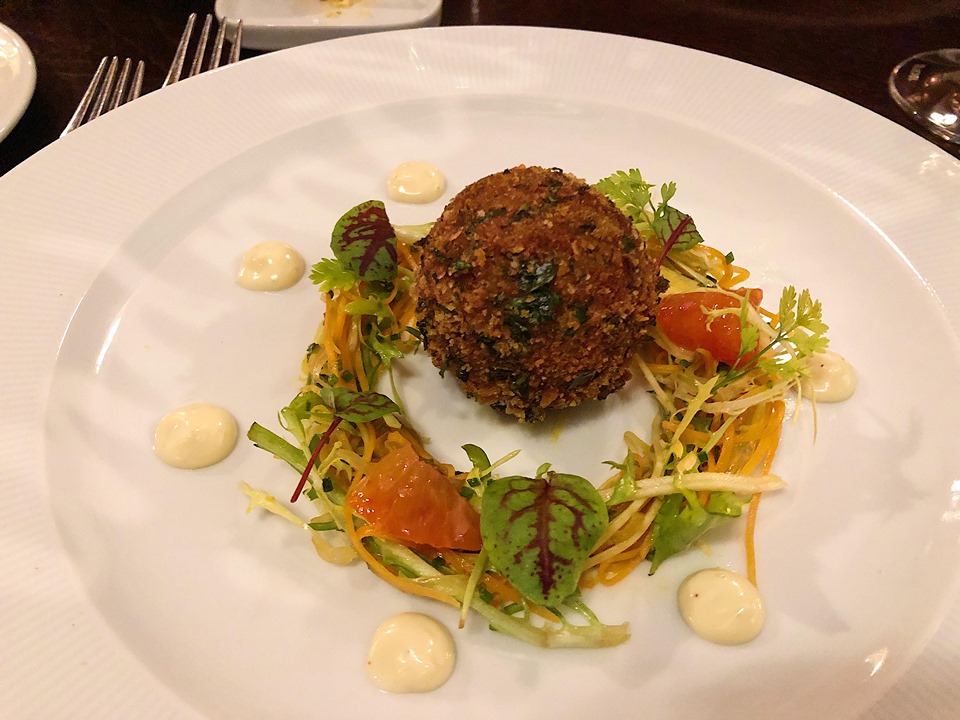 Served with celeriac and carrot remoulade, small blood orange segments and little dots of roast garlic aioli, we tucked in immediately after realising how good it smelled.
Duck leg was used within the crisp bon bon itself and shallots – which had been thinly sliced – had been cooked in the fat of the duck to give them full on flavour.
Paul informed us that the skin from the duck leg is actually used for one of the restaurant's main dishes – meaning every part of it had been used. Sherry wine vinegar had also been added to the bon bon to give it an incredibly rich flavour and the dots of aioli sauce added a beautiful slight garlicky taste to it.
Ready for our third course, wine three was again white, this time a little more oaky and full-bodied. A 1769 Biancu Gentile 2016 from Corsica, it had so much flavour and was the perfect pick to go alongside the monkfish we were having next.
The roasted fish was incredibly juicy, and oh-so meaty. Cooked incredibly well, we both "oohed" and "aahed" over it.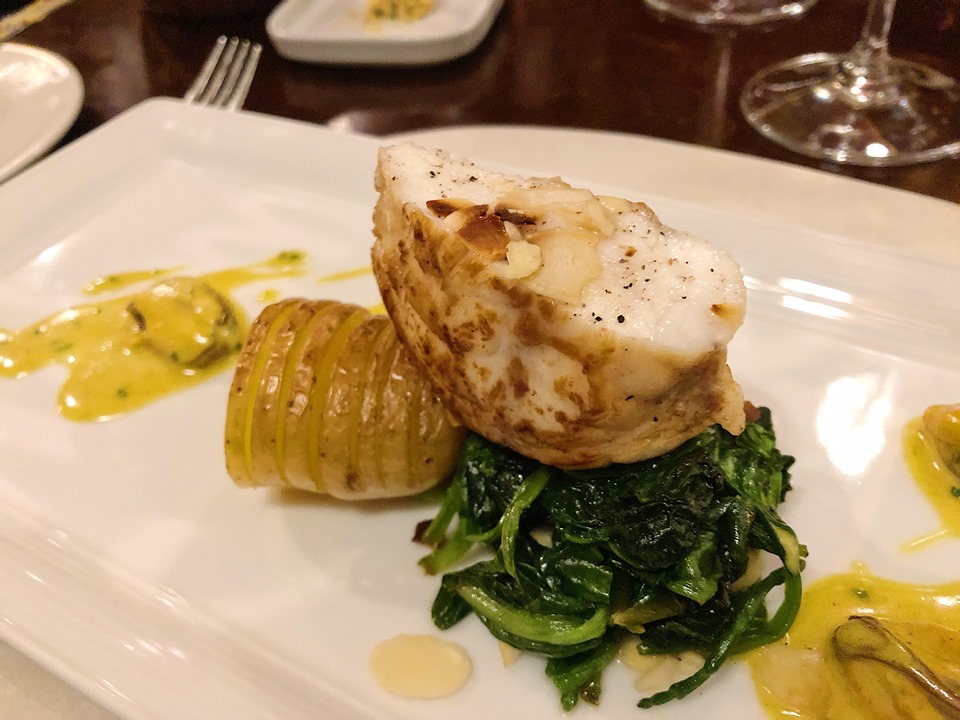 But the showstopper of this dish was without a doubt the mussel mouclade. Described as "mussels mariner's less popular cousin" by Paul, I couldn't get enough of it. Incredibly rich, packed with flavour and a vibrant yellow colour, it didn't just look or smell the part, it tasted it.
The slightly curried sauce itself was to die for. Put it on anything, I guarantee you will love it, especially if you're a seafood fan. Each of the four mussels were cooked perfectly and I cut them up to divide them so I could salivate over them even more.
The hasselback potato it was served with was light and fluffy inside and the spinach was a little more saltier, helping counterbalance those rich flavours from the sauce.
Paul described the dish as "west coast France (the sauce) meets west coast Scotland (the locally caught mussels and monkfish)".
Starting to feel the effects of having three delicious courses, the kitchen helped us pace ourselves and gave us a little breathing room between each course.
Up next was course four. Wine four was the first red of the experience and it was heavy and had a real tannins punch to it. It was oaky, smooth and a little more hard-hitting than the rest. One of those "I'm here" wines…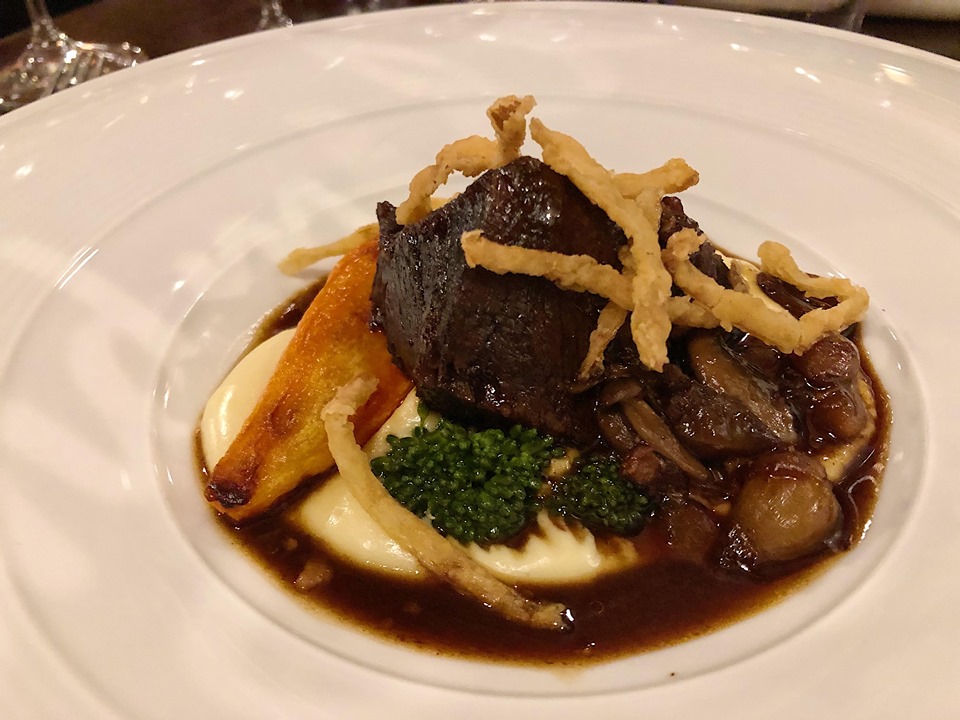 The red wine glazed ox cheek was served with the most truffley pomme puree (a posh mashed potato)  I had ever tasted, not to mention red wine Bourguignon jus and crispy shallots.
The Cabernet Franc 2013 from Hungary paired well with it, bringing forward the rich beef flavours. The meat itself hid the large portion of mashed potato underneath and the shallots added a delicate crunch to the dish. The slightly al dente carrots added a much needed burst of colour to the beige and brown dish, as did the stem of broccoli hidden beneath, too.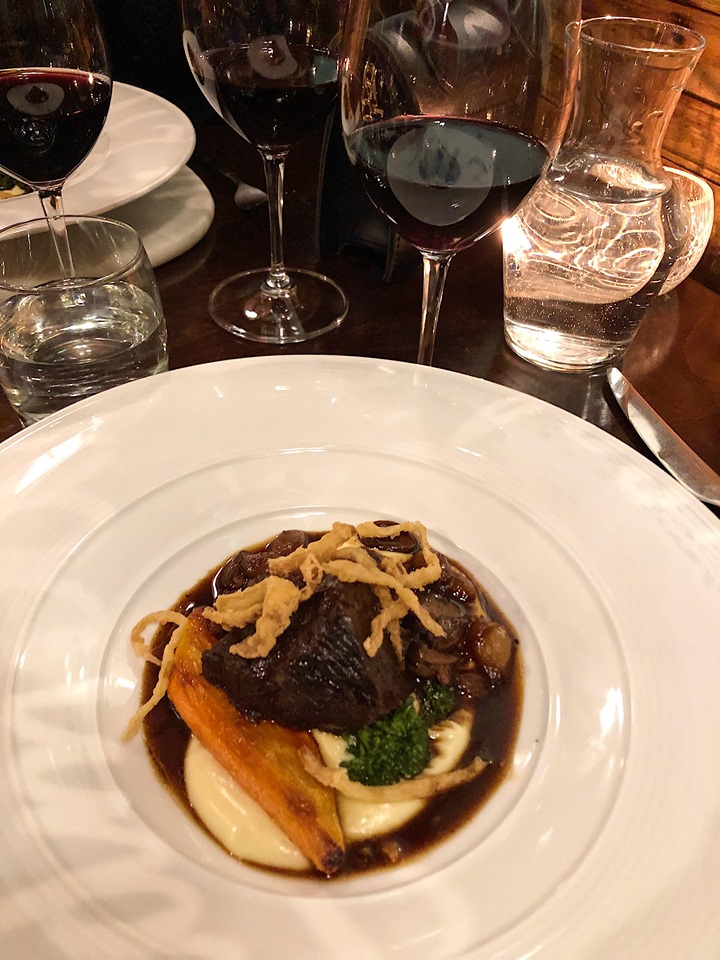 Polishing it off, I was comfortably full by now and my dining partner and I insisted on another short break to let our tummy's settle.
Gus brought us our final wine of the night, a gorgeous red dessert wine Maury Grenat 2015.  Accompanied by a dark chocolate marquis with hazelnut praline, sour cherry ice cream and meringue, this was one plate I could easily have licked clean.
The soft slab of chocolate marquis went exceptionally with the light cherry ice cream. The hazelnut praline was actually a bed of crumbs on which the ice cream sat on, which was then topped with the soft yet slightly crunchy meringue.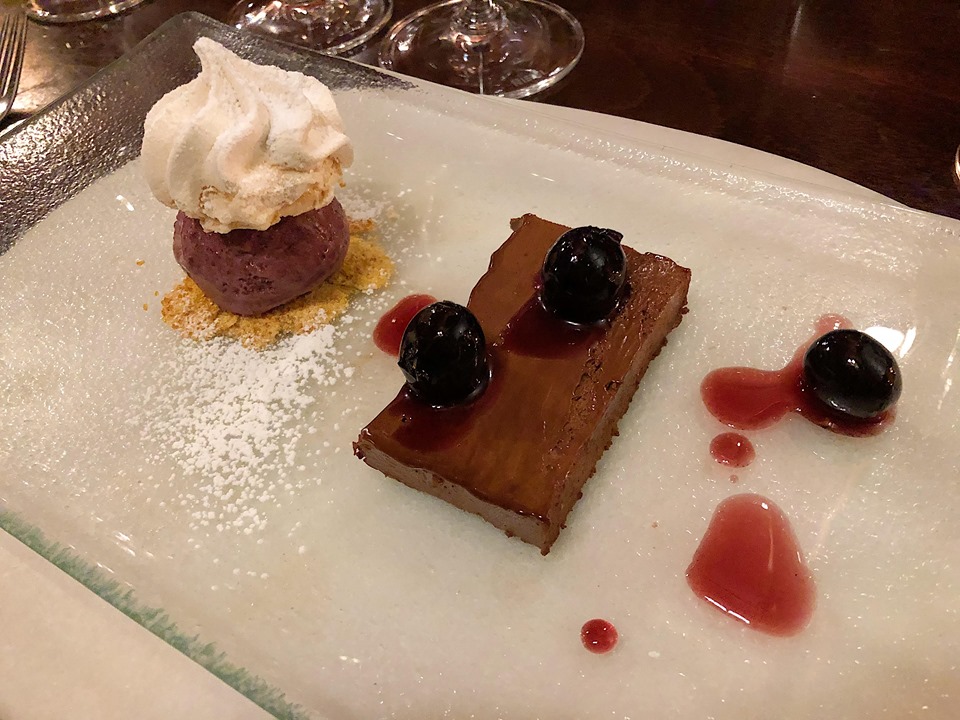 A few rogue cherries – which had been soaked in wine – were scattered on top of the dessert and on the plate, adding a juicy tart flavour into the mix. It took us no time at all to finish it off, and the super sweet, full bodied wine it had been paired with was gulped just as quick.
More than satisfied, we toasted to a great night, thanked the staff for their hospitality and waddled up the road.
The Verdict:
Cafe Boheme prides itself on its high quality dishes and pairs these with outstanding service.
From the moment you arrive to the minute you leave, this is one restaurant which will make you feeling like royalty.
Attention to detail is everywhere. From the cutesy interior, to the stunning dishes which almost look too good to eat, to the presentation and flavours of each wine and the knowledge of staff, the Aberdeen Restaurant Week menu offering almost seems too good to be true at such a steal of a price.
Whether you're looking for a bite to eat over lunch or dinner, fancy tackling the five-course wine tasting, or maybe think the Sunday Jazz event is right up your street, Cafe Boheme has something for everyone.
Address: 23 Windmill Brae, Aberdeen, AB11 6HU
Aberdeen Restaurant Week promotion: Three-course lunch or dinner for £20, a tasting event . Click here for the £20 menu, here for the tasting menu, and here for the Sunday event.