Aberdeen Restaurant Week: Menu review @ Siberia Bar & Hotel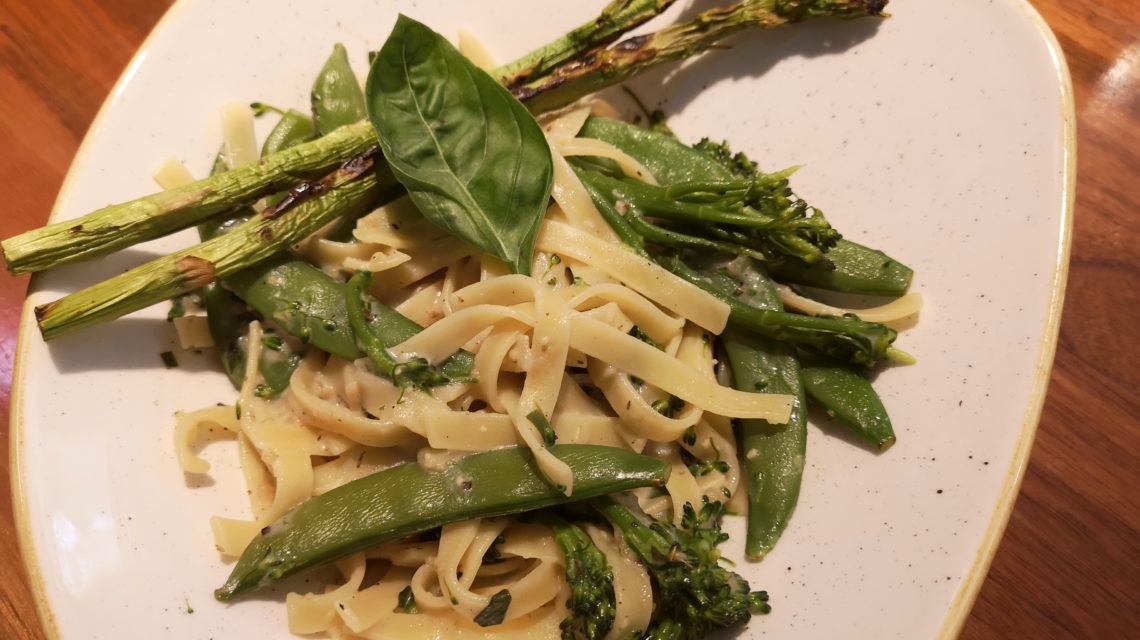 Like most of the student population of Aberdeen, Siberia was a favourite haunt during my university days. A bar of two tales, it was a laidback spot for post-lecture grub and board games, and at the weekends was queued out the door – every good night out started with Siberia's shot menu.
A decade on, Aberdeen Restaurant Week seemed a great opportunity to reacquaint myself with an old favourite. Having graduated from shots to gin cocktails, it was interesting to see Siberia has matured a bit too.
Siberia now has a sports chic, industrial look with a striking mural of Aberdeen's landmark buildings stretching the length of the bar area, but it maintains its comfy, homely atmosphere – and most importantly for my husband, they were showing the Six Nations. The ARW menu perfectly reflects this chilled out atmosphere with non-pretentious, traditional fare at great value with two dishes for £10 or three for £20.
---
The Food:
Within moments, delightful owner Stuart was introducing himself and minutes later the first starter arrived – haddock goujons with tartar slaw. The fish was light, flaky and full of flavour – perfectly cooked with a bit of bite, the crispy batter gave it some extra crunch for good measure. While the accompanying slaw was a twist on the usual tartar sauce – the sweetness of the cream and the zest of the capers along with the cabbage and carrots just gave the dish a bit more oomph than the usual dollop of tartar sauce on the side.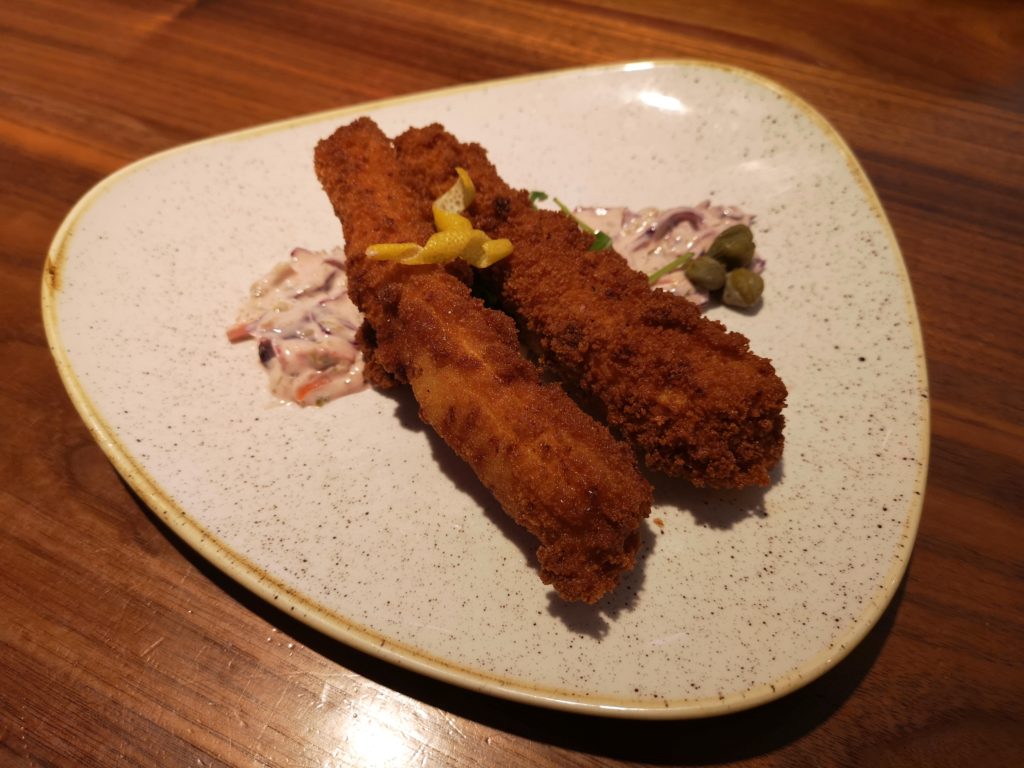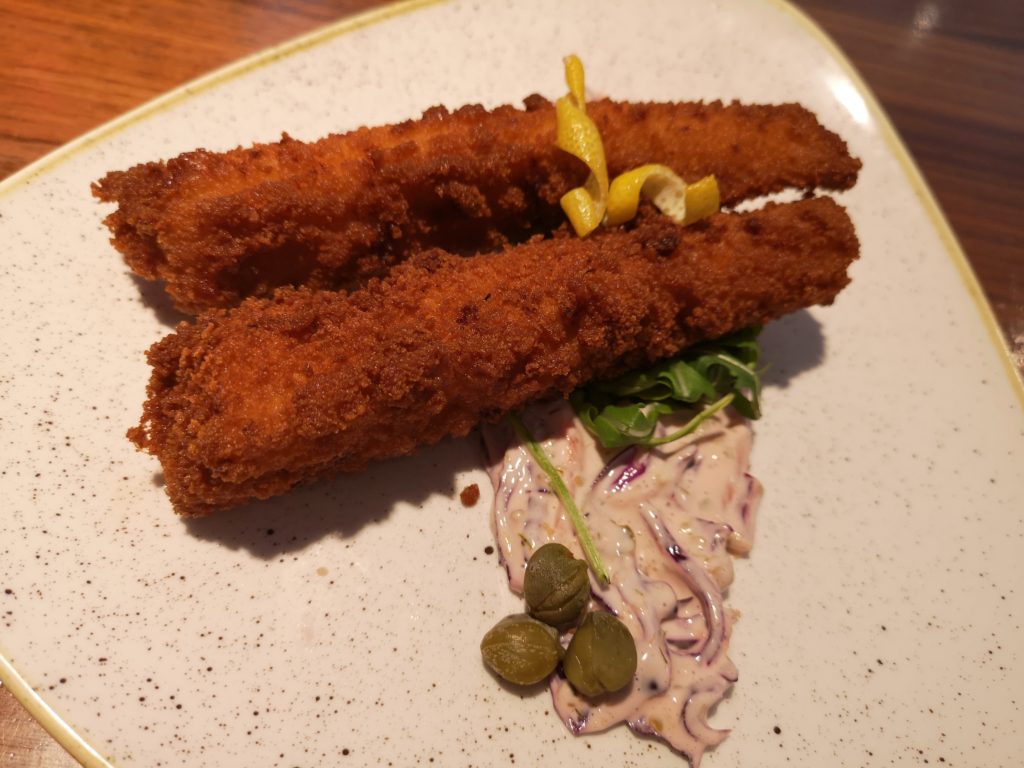 We weren't waiting long for the mains – the friendly staff were so attentive – a steaming dish of comforting beef stew arrived in a neat bowl with veg, and a plump dumpling on the side. The slow-cooked beef was generous and tender, with the right balance of potatoes, carrots, mushrooms and sauce.
The gravy brought everything together with a subtle hint of thyme and a little tang of red wine. It was very much the sort of home-cooked dish your granny would make and the dumpling was a nice addition – perfect for mopping up the remaining sauce.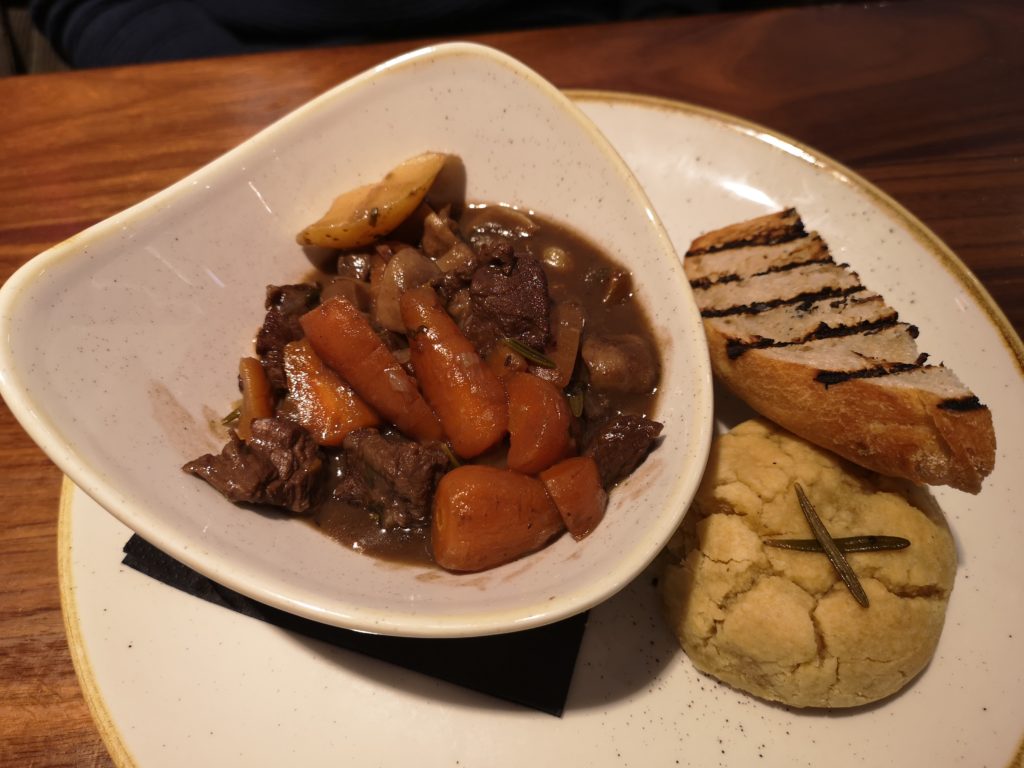 The vegetarian – and vegan – option was creamy pasta tagliatelle with asparagus and broccoli. Dubious as to how a vegan sauce could be creamy, it was pleasantly surprising. The pasta was al dente and coated, but not dripping in, a subtle sauce, with plenty of tender veg adding to the flavour.
The sugar snap peas, broccoli and charred asparagus were a nice, fresh accompaniment to what could have otherwise been quite a heavy dish. Not that long ago it could be challenging to eat out as a vegetarian, without the main option always being mushroom stroganoff, so plaudits to Siberia for catering to vegan diners too.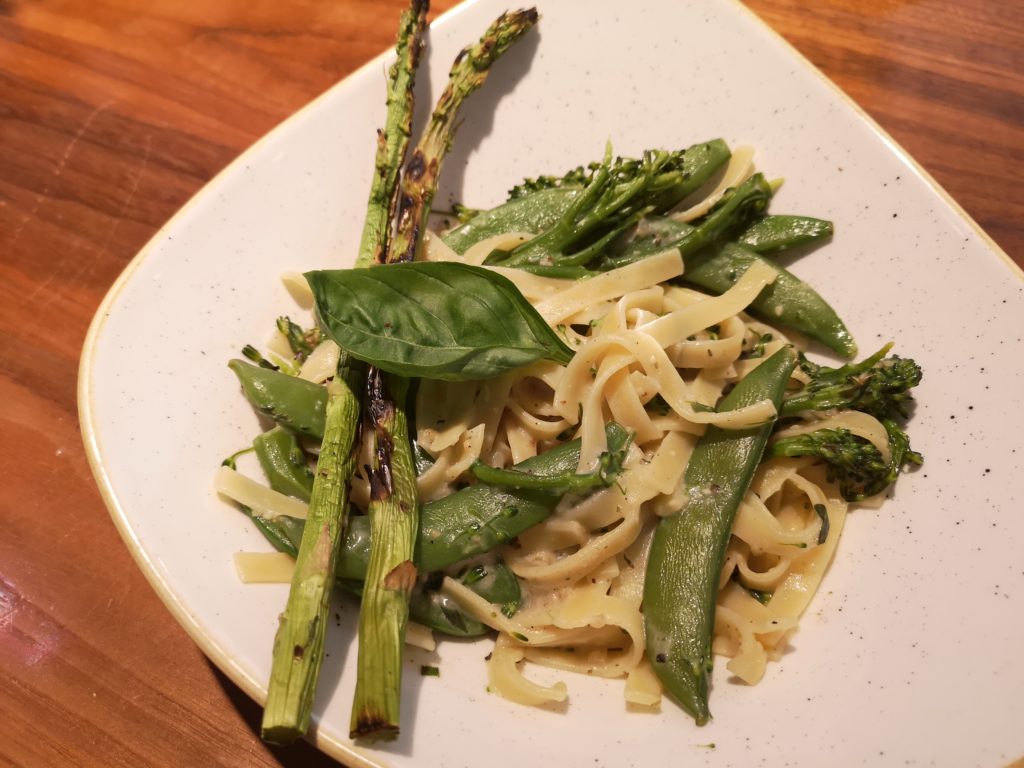 The best is always saved for last. And the crème brulee with a twist was worth waiting for. In fact, the bowl had barely touched the table when a woman from the next booth leaned over, wide-eyed, asking what it was because it looked so delicious. It was so good, in fact, I forgot to take a photo of it… or share it.
It was the kind of pudding you'd happily pay decent money for in a high-end restaurant. Beneath the golden, caramelised sugar top – which broke with the most satisfying crack – was an oozing, warm vanilla custard.
And the twist? A thick layer of rich milk chocolate along the bottom, melted chocolate on top and some tart raspberries. The other puddings available for ARW are probably perfectly nice, but nothing will beat this and if it isn't already on the regular menu, it should be. I ordered a gin bramble, which was packed with lashings of crushed raspberries and was a perfect pairing with pudding.
---
The Verdict:
While Parma violet shots may be a thing of my uni days past, Siberia is definitely still a hot spot for great food and drinks at student prices – and I was happy to see the board games are still there.
Address: Siberia Bar & Hotel, 9 Belmont St, Aberdeen
Aberdeen Restaurant Week menu: Siberia is offering a £10 2-course lunch time menu and a £20 3-course dinner menu.