Aberdeen Restaurant Week: Menu review @ Mackies 19.2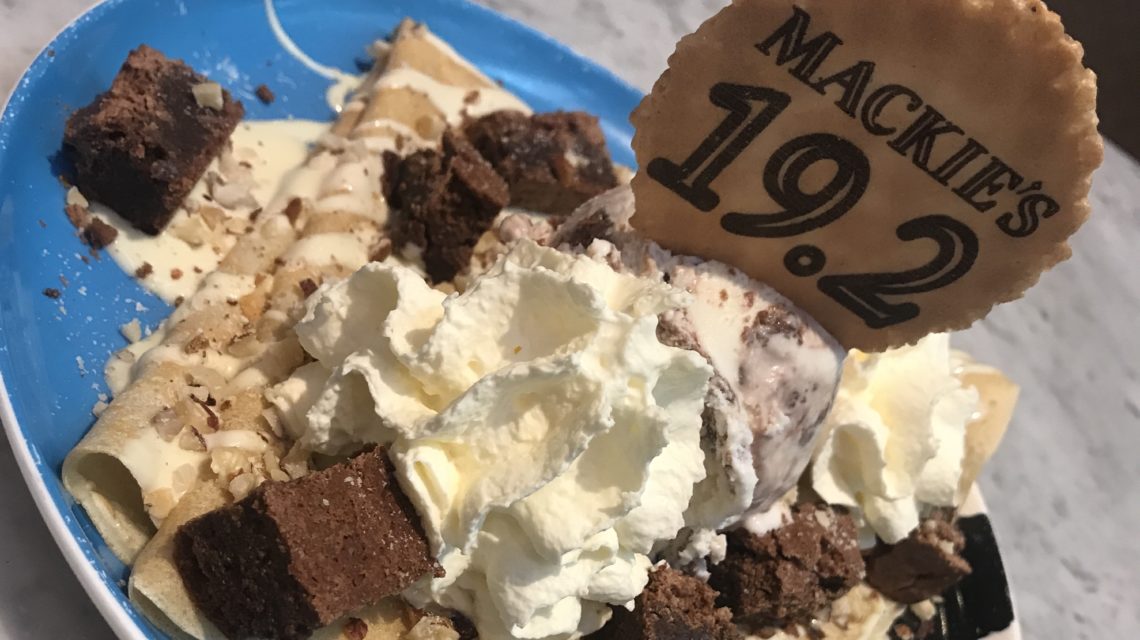 Hi, my name is Samantha and I'm addicted to crepes. No really, I cannot get enough of the thin pancake-type deliciousness that are crepes.
I remember when I first tried them – I was 18 years young, fresh out of school and on a girls' holiday. My love for crepes was so strong that I often found myself abandoning ship, leaving the nightclub and taking myself for a nutella and banana crepe – yeah I'm not a party girl, I'm a foodie girl and proud.
So needless to say, when I saw the Mackie's 19.2 menu for Aberdeen Restaurant Week (ARW), I was all over it. And so was my friend who joined me with no hesitation.
---
The Food:
Offering fantastic value for money, Mackie's 19.2 menu for ARW included two hot drinks and two crepes (sweet or savoury), all for £10.
My friend and I grabbed a table in the corner at lunch time on a weekday. It wasn't too busy inside Mackie's, which is situated at Marischal Square, so we didn't struggle to find a comfy spot near the window which looked out onto Andy Scott's grand leopard sculpture, Poised. We noted the blankets placed on the tables and chairs outside the modern eatery – a nice touch we thought, and practical too because let's face it, Aberdeen is freezing at this time of year.
After browsing the menu, we decided we would order a sweet crepe and a savoury one too so we could share them both. I went over to the counter to order and was greeted by a friendly member of staff who promptly took my order.
My friend and I decided to go for The Italian Veggie and the Brilliant Brownie crepes. I also ordered a Mackie's Honeycomb Hot Chocolate for myself and a chai tea latte for my chum.
The woman behind the till said she'd take our order over once it was ready, and so I strolled back to our table, but not before I eyed up the amazingly colourful array of ice-cream on offer. So many flavours. Drool.
As we waited for our crepes I looked around the eatery which has glass walls all round the exterior making it a bright, light and welcoming place to eat.
After what felt like only five minutes our food and drinks were served all at once. The first thing that struck me was the presentation of the sweet brownie crepe. I could have just face planted into it right there and then. But I resisted.
To start off I took one big slurp of my honeycomb hot chocolate. Then I died and went to heaven. Not literally of course – but wow. I can confirm that it was the best hot chocolate I have ever tasted – honestly. The drink itself actually tasted of creamy chocolate – not the watery, tasteless stuff I've been served elsewhere. No, this literally was like melted chocolate in a cup. And the honeycomb was sweet, oh so sweet. It gave the drink an unusual twist… and crunch.
Meanwhile, my friend was enjoying her chai tea latte across the table which was a nice warming winter drink with its comforting, tasty spices.
Then it was time for the main show. And it did not disappoint. First up was the savoury crepe which was filled with goats cheese, sun-dried tomatoes, rocket and a balsamic vinegar dressing.
The goats cheese was creamy as ever and blended well with sweet tomatoes, balanced out by the tangy balsamic vinegar. It was a good mix of flavours which all complemented each other when I bit into the light as air crepe. Served with some Mackie's crisps, it was a good lunch time option as it wasn't too heavy and I still had plenty room for the sweet treat that was to come next.
The Brilliant Brownie crepe came with a scoop of Brownie Swirl ice cream, topped with brownie pieces, hazelnuts, fresh whipped cream, a wafer and drizzled in white chocolate sauce.
The rich chocolate brownie pieces crumbled in my mouth as I scooped them up with some of the ice cream and the thinly rolled crepe. The hazelnut gave the dish a nice nutty crunch which went well with the chocolate flavours and whipped cream.
---
The Verdict:
The ARW menu from Mackie's 19.2 is excellent value for money. The savoury crepe was a great alternative to a lunch time sandwich as it was much lighter while still tasty and filling.
Meanwhile the sweet brownie crepe was more of a dessert and a perfect way to treat yourself. With the freezing weather at the moment we welcomed our hot drinks.
Mackie's 19.2 is a modern eatery, situated in a vibrant area of the city centre. It's a great place to meet with friends or grab a working lunch with its bright, colourful decor and friendly staff who offered a quick and efficient service.
---
Address: Mackie's 19.2, 7 Marischal Square, Broad Street, Aberdeen
Aberdeen Restaurant Week menu: Two drinks and two crepes (sweet or savoury) for £10.