Aberdeen Restaurant Week: Menu review @ The Braided Fig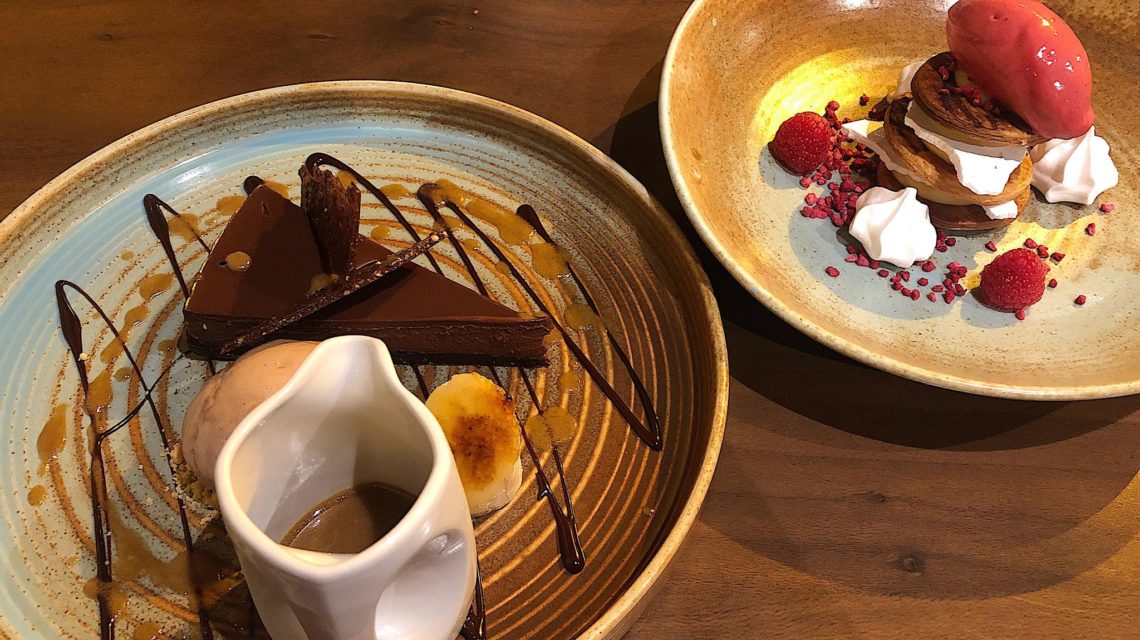 When you first walk into The Braided Fig, you're greeted by the most stunning indoor tree, quickly followed by the lovely staff.
Getting involved in Aberdeen Restaurant Week once again, The Braided Fig is offering a three-course dinner and a two-course lunch for hungry diners looking to try out the venue either for the first time, or for regulars looking to try out something new.
The restaurant was steady for a Friday night, with people coming in for both dinner and drinks. The manager Lucy introduced herself and showed us to our table. Asking for her recommendations, she took our drinks order and quickly returned with our soft drinks.
Using high quality locally sourced ingredients in all their dishes, I was excited about the ARW dinner menu.
We ordered and then it was a case of just waiting for the goods to arrive.
---
The Food:
As recommended and encouraged by Lucy we decided to try out the chicken and thyme butter with freshly made sourdough bread. An additional £4 supplement to £20 three-course menu, the butter was the perfect amuse bouche ahead of our starter.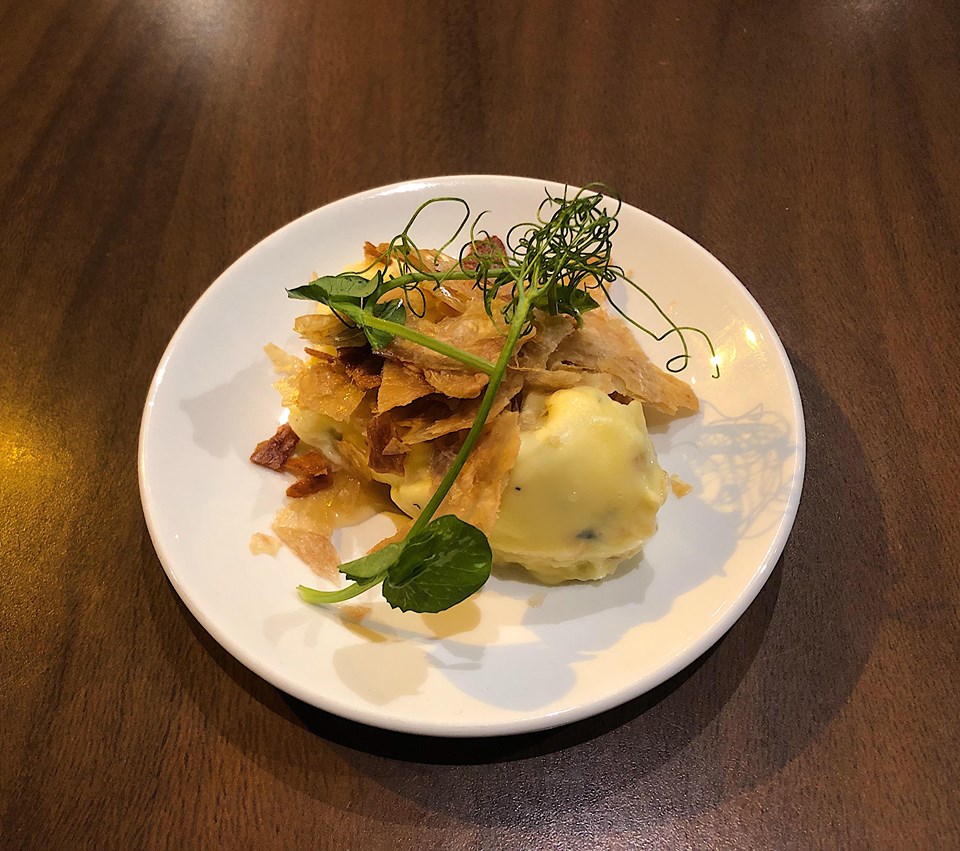 Topped with crisp chicken skin on top which had been crushed into small flakes, the crunchy skin added a rich roast chicken flavour to the flavoursome butter. The butter, made with chicken fat, melted as we spread it on our two pieces of warm sourdough.
Soon after finishing this, our starters arrived.
My sister decided to try out the chicken caesar croquettes which were topped with Parma ham, parmesan shavings and served on a bed of shredded baby gem lettuce. The three croquettes were piping hot on arrival and steam flooded out of them when my sister cut through them.
The thin drizzles of caesar sauce surrounded the crisp croquettes which were topped with a small helping of nutty parmesan shavings. A crisp slither of Parma ham stood upright in between the croquettes and added a nice crunch to the dish.
Inside was the soft creamy chicken which tasted exactly like a chicken pie. She enjoyed them a lot, but was surprised at the size of the starter considering we were sampling three courses.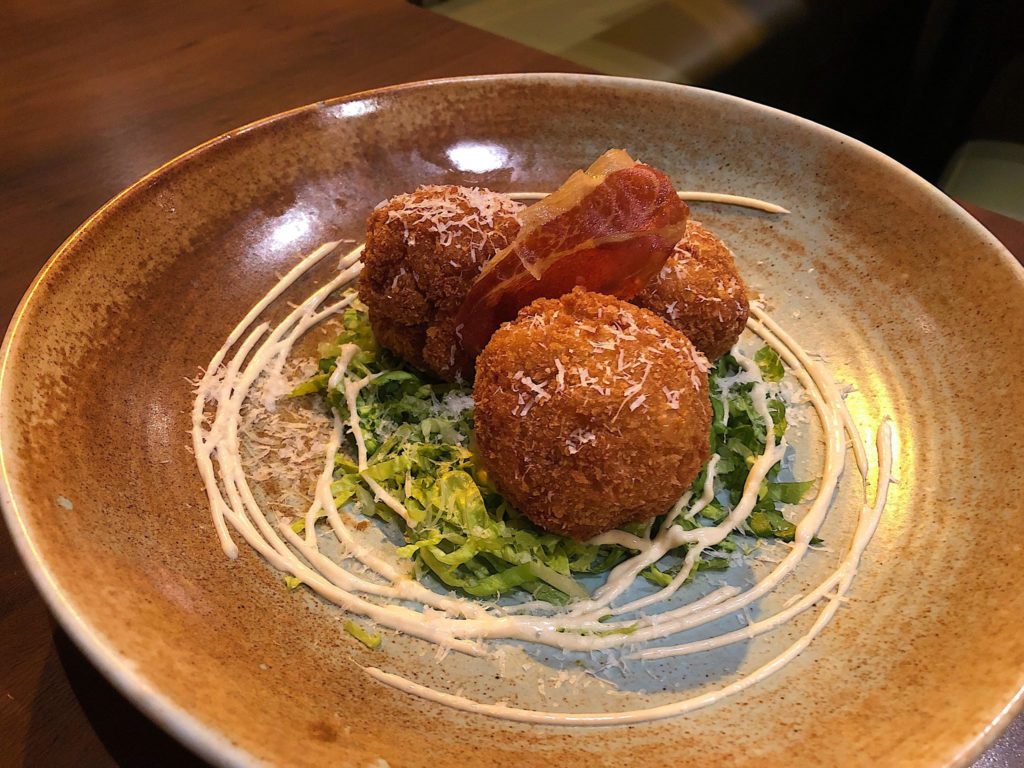 I, on the other hand, opted for the vegetarian popcorn falafel which came served with sriracha mayonnaise. The bite-sized balls of falafel were perfect as a starter and the sriracha mayonnaise was absolutely lovely. Creamy, it had a good kick to it and was a beautiful orange colour.
This was all then complemented by the vibrant shredded green bed of lettuce and chopped tomatoes the falafel sat upon, not to mention the side of additional mayonnaise. It was very tasty but the real signature addition that made the dish taste as good as it did was definitely the sauce.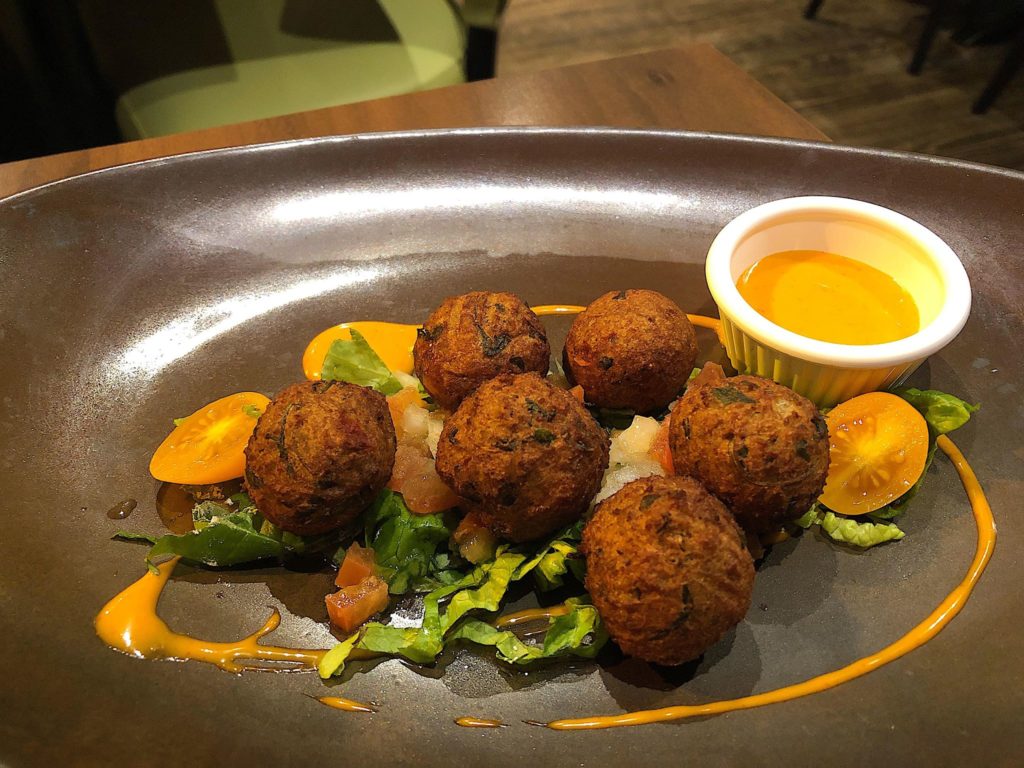 Moving on to mains, we'd decided to try out the pork belly and the seabass.
Both dishes looked beautiful on arrival, with some serious attention to detail given to plating.
The pressed pork belly was phenomenal. Served with a soft yet crisp fondant potato, rich but peppery black pudding crumb sprinkled on top, charred carrot and langoustine tails, the dish was an explosion of flavours. Accompanied by a delicious gravy with an additional jug of it on the side to be added if required, the dish was everything I could have expected and more.
The langoustines tasted extremely fresh and were cooked beautifully, as was the two fatty pork belly slices which were topped with puffed pork scratchings too. It was sublime, and a dish I would order again and again.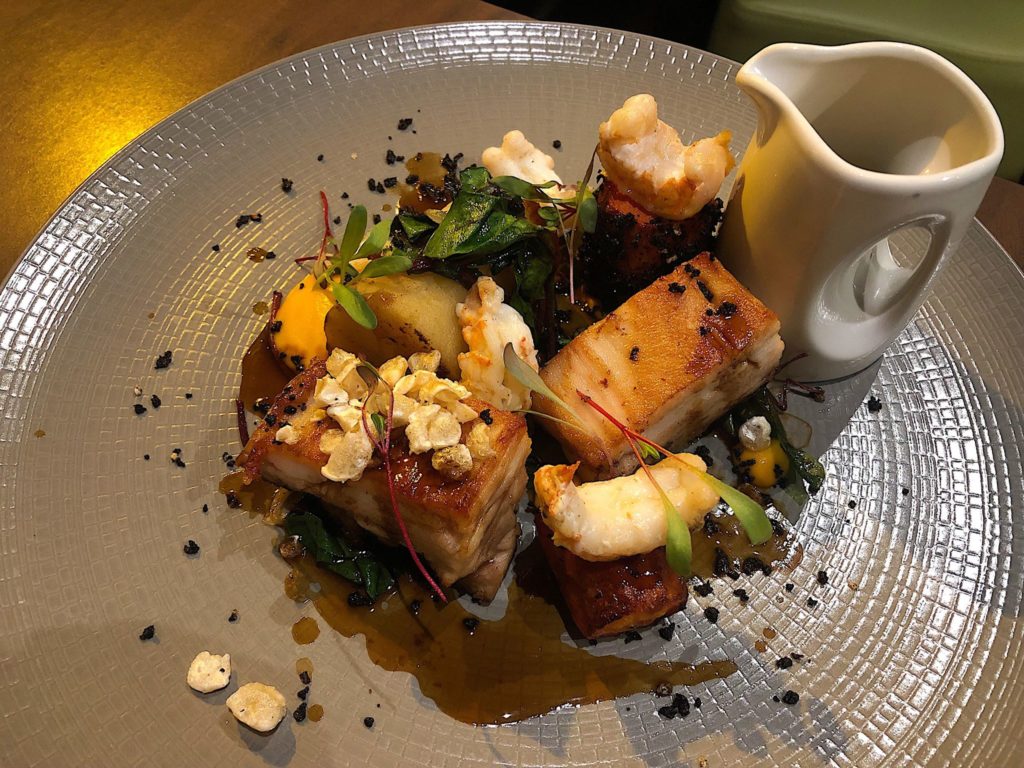 My sister's sea bass was equally as good.
Pan fried, the sea bass was cooked perfectly. It tore apart with every forkful and the crispy skin was packed with flavour. The samphire added to the saltiness of the dish and the celeriac, fennel and chicory brought a fresh earthy herbiness to the dish. Chopped tomatoes added sweetness, while the smoked mussels and tiny prawns added a meaty element to the dish. The mussels were notably appetising and melted in her mouth. Not one to order fish for a main, especially sea bass, my sister was very impressed with not only how good this dish tasted, but how every single element complemented the next.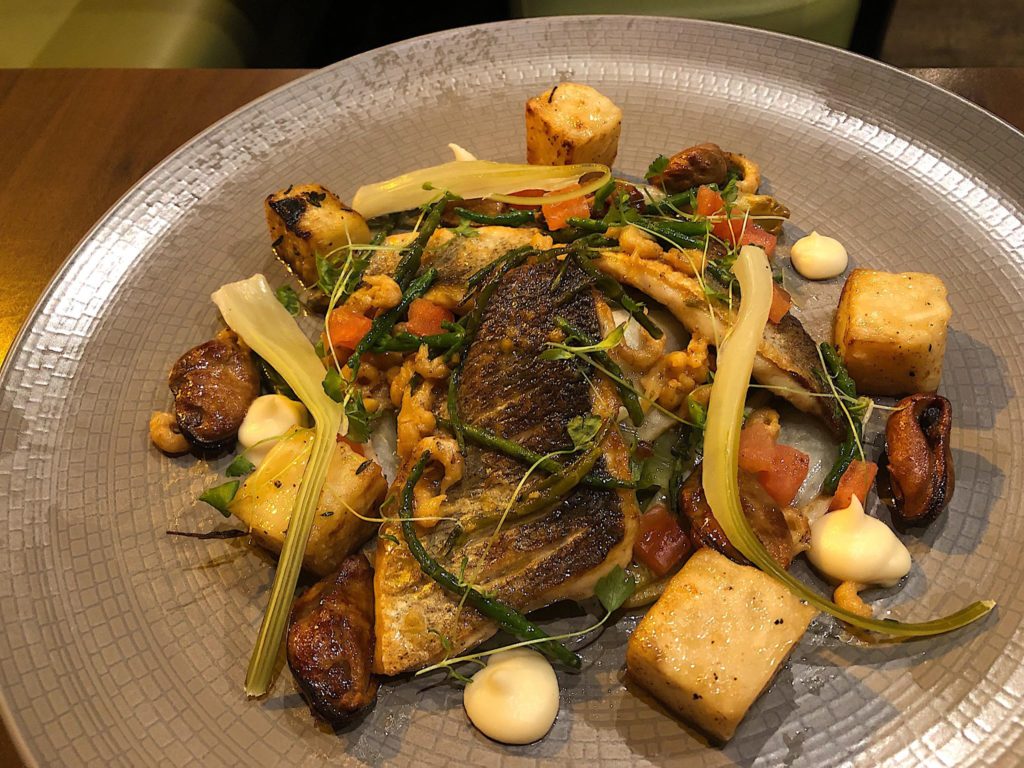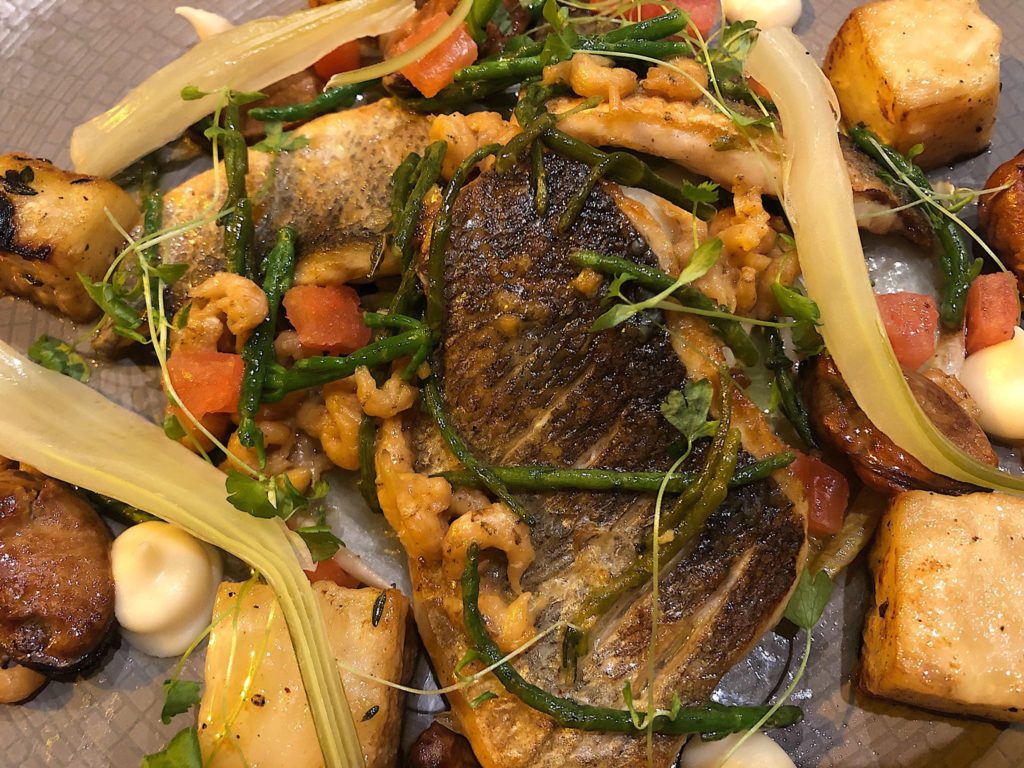 Taking a breather for a while, we decided to order our desserts with their arrival anticipated in another 20 minutes time.
Arriving when they said they would, we were greeted with two works of art.
My chocolate, banana, hazelnut and salted caramel dessert was heavenly. The rich chocolate tart on a chocolate biscuit crumb base was delightful and the Nutella ice cream which sat on a bed of shortbread crumbs was unspeakably good. So good I nearly asked to take a tub home. Two shards of burnt and incredibly sweet caramel were placed within the chocolate tart and the slice of banana – slightly caramelised may I add – was soft and paired well. A jug of warm toffee sauce was served on the side and completed the dish wonderfully.
And vegetarians will be happy to know there's a veggie alternative to this dessert.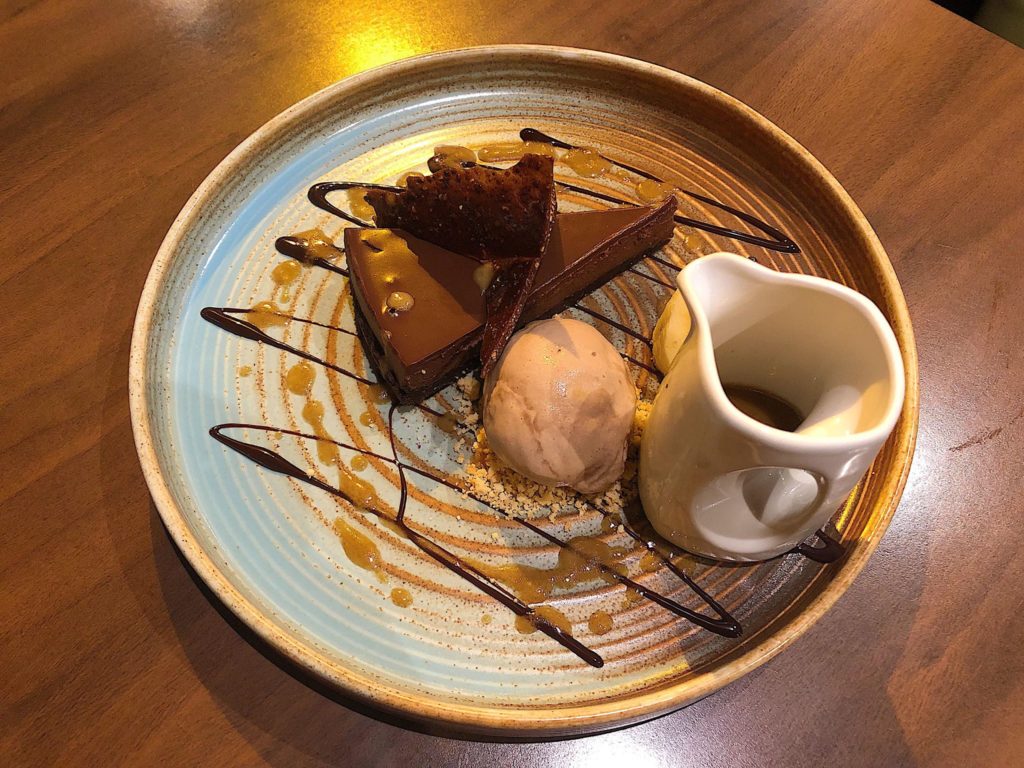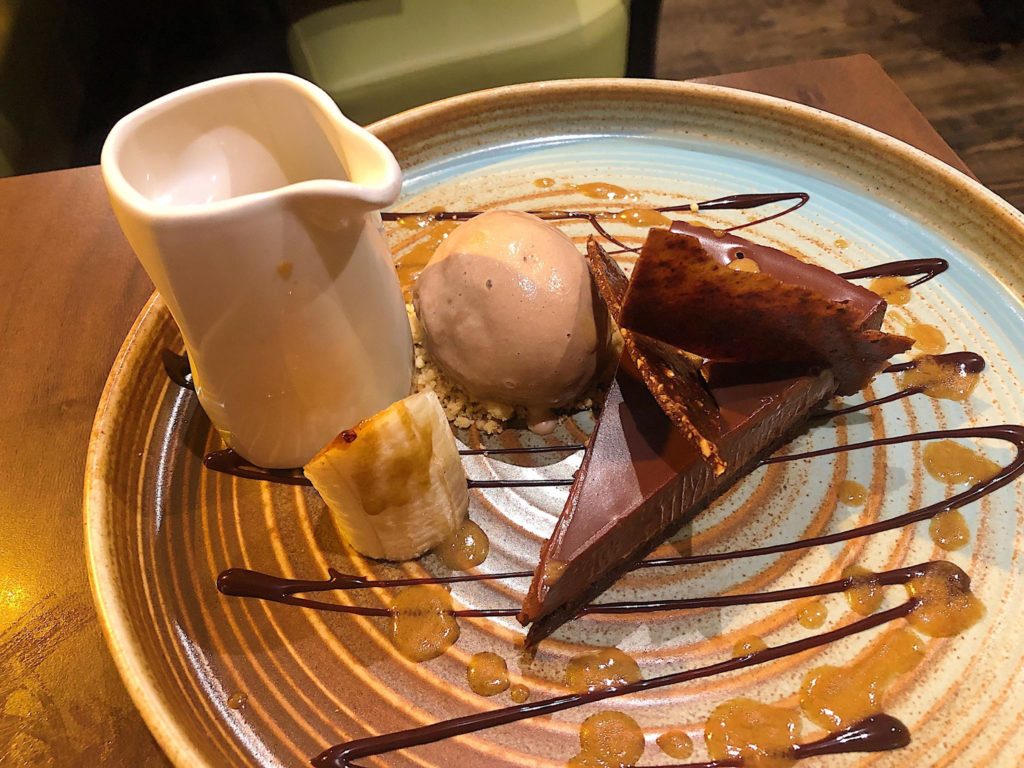 My sister's lemon meringue and raspberry dessert was also a winner. Layers upon layers of crisp filo pastry, crunchy, yet chewy meringue and lemon curd were tacked to create a gorgeous tower. The dollop of raspberry sorbet was sour, but pair that with the other sweet and zesty elements of the dish and it all rounded off rather nicely.
Small specs of dehydrated raspberries and fresh raspberries brought a vibrant pink hue to the dish and made it look all that more appealing. My sister tucked in, but like me, couldn't finish it all off.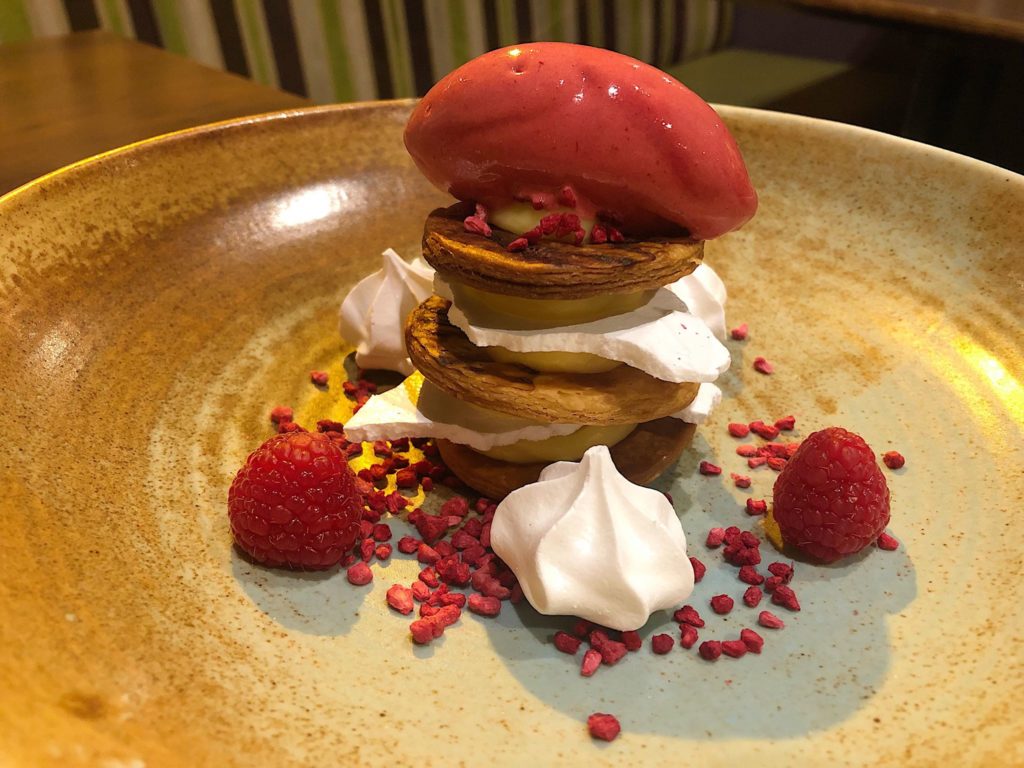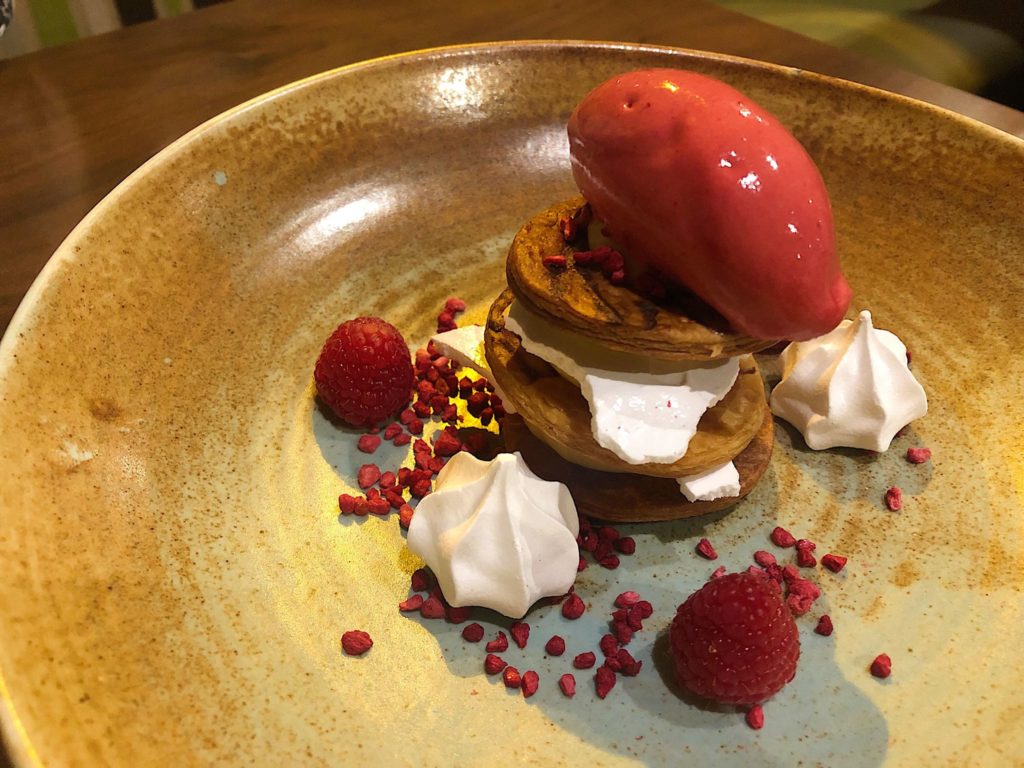 ---
The Verdict:
If you're looking for something unexpectedly good, then The Braided Fig is the place for you. Not only is each dish a work of art, but the food is also divine and the flavours used within each dish are beautifully entwined to create the perfect offering.
With this restaurant, it's what's on the inside that counts, so venture through those doors and be blown away with the culinary talent. Don't let this little eatery fool you, it's doing big things behind those doors.
Address: 39 Summer Street, Aberdeen
Aberdeen Restaurant Week menu: The Braided Fig are offering a £10 two-course lunch menu, and a £20 three-course dinner menu as part of the project.