Aberdeen bar and grill is No.1 for high-quality Scottish cuisine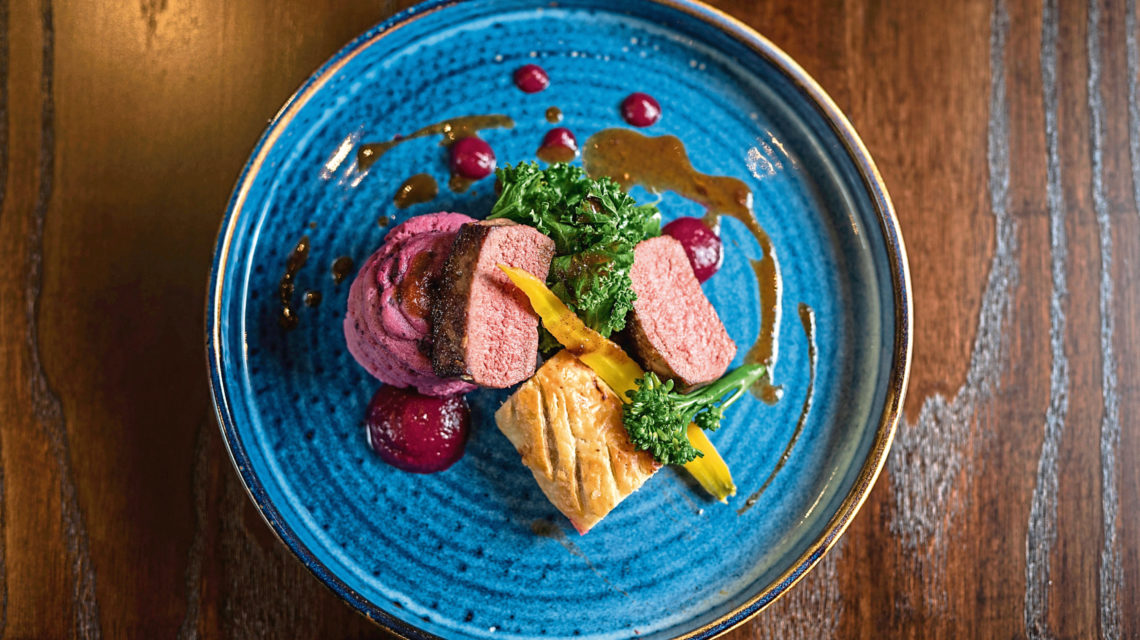 Showcasing an extensive variety of locally sourced produce across its menus, Aberdeen's No.1 Bar & Grill offers foodies luxurious dining and fresh cuisine.
Nestled in the heart of the city at No.1 Queen's Terrace, the stylish venue has been ranked as one of Aberdeen's top restaurants over the years based on its comfortable interiors and delicious dishes.
With its menus never failing to feature a wide selection of high-quality meals – including juicy steaks, burgers and fresh seafood – there are options to suit all tastes and preferences.
Now that autumn is in full swing, it's all about winter warmers for the popular eatery.
And head chef Colin Waddell plays a leading role in creating every mouth-watering menu.
---
So, tell us, what can Aberdeen foodies expect from No.1 Bar & Grill?
---
The food here is all modern Scottish. We showcase a number of dishes across our menus – from beer-battered or breaded haddock and fillet of seabream to the braised beef and catch of the day. We support a huge number of local producers and businesses.
---
That's fantastic to hear. Can you name some of these local businesses?
---
We get daily deliveries from Blue Flag Seafoods directly from Peterhead, McWilliam's are on hand for all our butcher meats, and a small independent company known as Norfood supplies us with dried foods. But it doesn't stop there, we also use Wild Tastes and Braehead Foods. Braehead helps us out a lot because they'll source all the weird and wonderful products we're looking to get our hands on. And our Highland venison loin comes from an estate in Braemar, so our guests can be rest assured that the produce on their plate is as fresh as it can be.
---
In your own words, why is supporting local so important to No.1 Bar & Grill?
---
It's always been our ethos here. There's now emphasis worldwide on using local produce and businesses that are right on your doorstep, which I think is fantastic. We're lucky that there are so many great local producers, whether they're drinks-based or focused primarily on food, in Scotland, so we aim to showcase them in our menus as much as we can.
No.1 is an independent local restaurant as well and the community as a whole is close-knit.
We're all in it together because they show us the same support.
---
That's really fantastic to support the local economy. Now, you previously already worked at No.1, but then you left, before returning. What drew you back in?
---
Well, I started cooking at 21 at the Norwood Hall Hotel in Aberdeen, and stayed there for around two years.
It was after this period that I came to No.1 – when it was under different owners.
Prior to coming back here in August last year, I worked at the likes of Cafe 52, The Marcliffe Hotel & Spa, The Broadstraik Inn and The Milton Brasserie.
But this venue really opened my eyes to food. No.1 has never offered simple or standard dishes, they're always interesting. No.1 Bar & Grill has always taken a unique approach to food, so that was the main driving force behind deciding to come back – its uniqueness.
---
Speaking of unique dishes, how do you go about developing the menus?
---
There are six of us in the kitchen. All of us will sit down as a team and discuss current food trends which have caught our eye.
Then, it's a case of establishing what's in season and taking it from there.
I can't stress enough that it's a team effort when developing the menus here at No.1.
To me, the more ideas put forward – regardless of how bizarre they are – the better.
---
How often are the exciting food menus at No.1 refreshed? And when will you look to produce a – dare we say it already – Christmas menu?
We change the menu every 10-12 weeks because we always aim to move along with the seasons and keep customers interested. We're looking at five to six menu changes every year.
This sounds like a lot but it's important to stick with the produce available as the year goes on because it constantly changes.
We have a set Christmas menu, as well as a full festive menu which we will start serving on November 27. We will also be serving a special Hogmanay dinner and are currently working on the new January menu which will focus on hearty foods, so guests can expect mouth-watering dishes.
---
To find out more about No.1 Bar & Grill, click here.