Food Review: Beach front eatery The Pier a must-visit this summer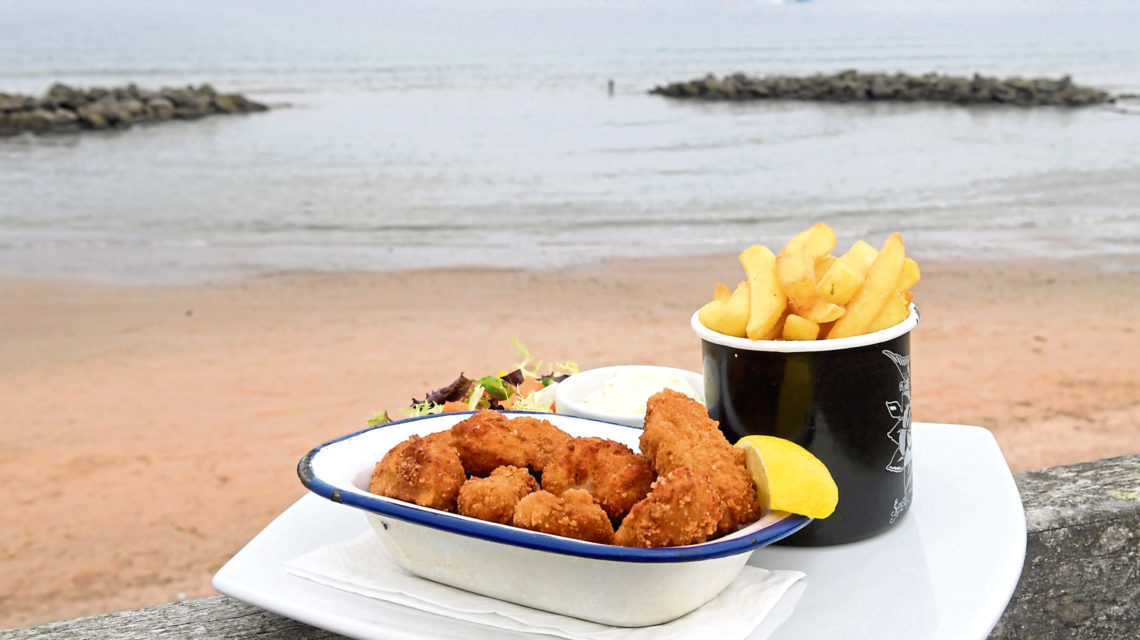 With the great spell of sunshine hitting the north-east recently, like everyone else, I headed to the beach.
Enjoying the warm weather and slapping on the factor 30, what was just going to be a seaside walk turned into a feeding frenzy – and by frenzy, I mean devouring a mouthwatering lunch.
Having walked the length of the promenade to see what tickled our fancy, it was The Pier's varied menu that caught our eye.
Having recently visited with my boyfriend's granny for a slice of cake – receiving her 10/10 "first class" approval – I decided to take my sister along to see if the food was as good as the baked goods we'd tried.
Having re-opened around a year ago following a fire in February 2014, the new joint is as popular as ever. Sitting alongside a number of independent eateries The Pier brings a modern face to the beach front.
It was busy when we arrived and unfortunately there were no seats outside. However, we did manage to bag a seat at the window which was the next best thing in my opinion.
The decor was as far away from its predecessor as possible. Resembling what I could only imagine a gorgeous beach home up north would look, The Pier's ever-so-slightly nautical feel fitted the setting perfectly. Artwork and mirrors lined the walls, as did the big black specials board featuring a bunch of tasty-sounding dishes. Diving into the menu there was plenty of choice. From locally landed fish to lighter dishes including paninis, flatbreads and sandwiches, to juicy burgers and meaty dishes, the menu boasted something for every taste.
Immediately my sister clocked the shakes, so unsurprisingly she ordered one.
Our drinks arrived and my sister's face disappeared as she began to inhale her Kinder Bueno milkshake. I took the liberty of ordering our food as she tucked in.
When she came up for air, I took the opportunity and swiped a sipful. It was creamy and rich and had little chunks of blitzed bueno biscuit in it. The dollop of whipped cream on top was super sweet and definitely more suited to being dessert in my opinion.
---
The Food
It didn't take long for our food to arrive. Sharing, we had ordered the house nachos with pulled pork and the special of black pudding bon bons with sweet chilli sauce.
The nachos were big and could easily have been a main meal. Definitely for sharing, they were covered in melted mozzarella and cheddar cheese and topped with beautiful pulled pork which tore away easily and elegantly. Super stringy, it was difficult not to leave a trail of cheese to my plate. With chopped peppers and tomato throughout the crunchy nacho crisps it was certain they were a top choice.
The homemade barbecue sauce was unbelievable and as well as being doused all over the nachos, a separate jug of sauce was provided. The nachos were also served with a pot of guacamole, salsa and sour cream which could be added at leisure.
The second starter was by far my favourite. The black pudding bon bons were insanely rich and soft on the inside and crisp on the outside. Deep fried, they were full of flavour and the sweet chilli jam which the five balls sat upon – including the crisp salad – was divine. Extremely sweet with a wee kick, the sauce complemented the rich, meaty flavours of the black pudding.
Both dishes were rather filling and you could easily share the nachos between two.
Moving to mains we were both looking forward to a breather. However that was not the case as not long after two massive plates of food arrived.
My sister's scampi looked good and there was a lot of it there – we lost count after 10 pieces. It made for a good choice sitting watching the sea, especially knowing the restaurant sources its seafood locally.
The tartare sauce it was served with was creamy with a strong taste of mayonnaise in it. The fresh lemon that she squeezed over the scampi brought a zesty citrus taste to the dish, further enhancing its flavour. The cup of crispy yet fluffy chips was also very satisfying, but no matter how hard she tried she couldn't finish her main.
My Sailor Jerry glazed steak burger was massive and the patty inside was a real meaty eat. The glaze brought a soft sweetness to the meat and every bite crumbled in my mouth. It was a lot of eating and having upgraded my chips to dirty chips – huge potato wedges cooked and baked with the skin on and then drowned in cheese and topped with fresh spring onion and homemade barbecue sauce – I struggled to polish off half of the meal.
The sweet brioche bun and fresh crunchy salad added different textures to the dish and the stringy cheese from the dirty wedges made for a slightly messy experience, but nothing a few napkins to hand couldn't sort out.
Defeated, we sat facing our meals mortified that we couldn't make a dent in them never mind finish them. The food had been spectacular, and although we'd been keen to try out the warm brownie, it was a no-go for us.
Instead, we went for a long walk along the beach and returned to The Pier later on to grab a Mr Whippy ice cream with strawberry sauce from their ice cream window.
---
The Verdict
The Pier is hands down great value for money when it comes to grabbing a bite to eat down the beach.
Not only does it have a bespoke menu for lunch and dinner, the specials change daily and there's also a varied kids' menu – not to mention the opportunity to just sit outside and enjoy a nice cuppa and a cake.
A fantastic addition to the beach front and one I hope is around for years to come. Definitely worth the visit if you're peckish.
Address: Esplanade Sea Beach, Aberdeen, AB24 5NS
What we had:
Kinder Bueno Shake
Black pudding bon bons
Nachos with pulled pork
Scampi
Sailor Jerry glazed burger
2 x whippy ice creams
Diet coke
Price: £49.65
For more restaurant reviews click here.