Food Review: County pub The Lairhillock Inn is alive and thriving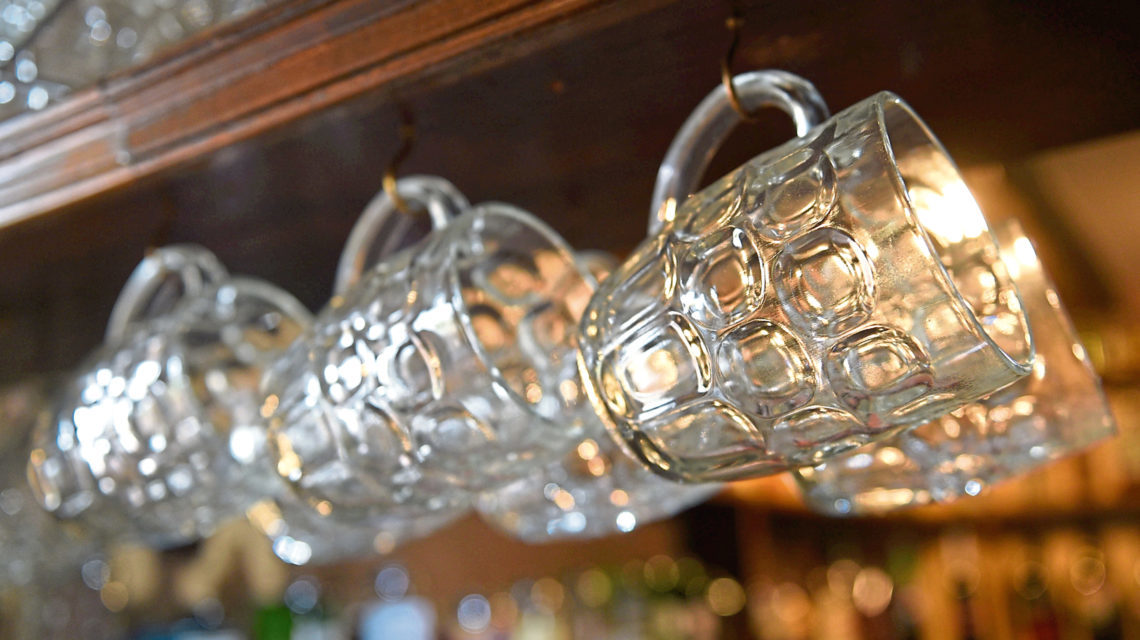 New ribbons of road are snaking across the Mearns, ready for the arrival of the bypass, but one route remains steadfastly the same.
The Netherley Road out of Stonehaven is still a winding affair through the hills and dales and it still passes one of the north-east's best-known spots, The Lairhillock Inn.
And that theme of being a still point in a world of change applies to the Lairhillock as much as the road which takes you there.
Nestling in stunning countryside that renews your belief we live in the most beautiful corner of the country, the place hasn't changed much in the 30-plus years since I first walked through its door.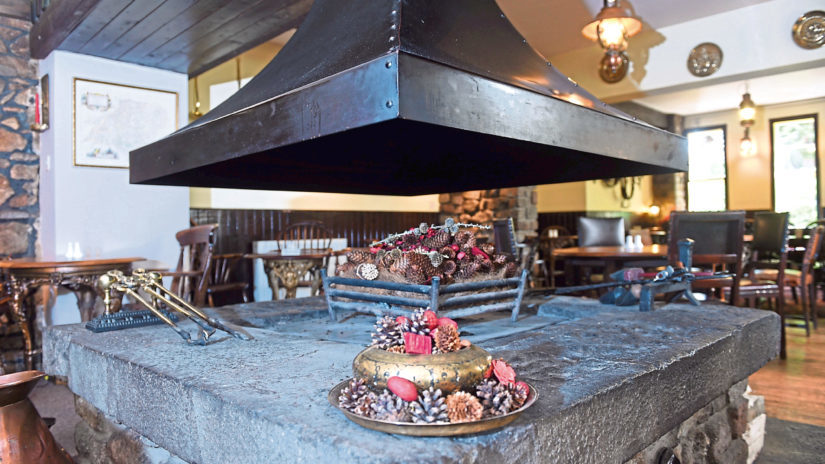 Unashamedly old school country inn, its dining room is all wood panel, wooden floors, a touch of roughcast and walls crammed with horse brasses, harnesses, bed pans, wildlife pictures and shelves holding stoneware. Everywhere you look there is something to catch your eye, from coach lamps to an ornately carved chair tucked away in a corner.
At the heart of all this is a huge open hearth, not needed on a summer's night, but an echo of cosy winter warmth.
Some might argue the Lairhillock could stand a wee update. For me, that old world air is part of the charm. It's not the sort of place you expect – or want – to see an Edison bulb, brickwork walls or steel plate bar.
Besides, if you want light and airy, the conservatory offers a bright space with stunning views. On the night we were there it was busy with families, with groups of friends, with couples. A nice eclectic mix that shows the art of the country pub is alive and well and thriving.
Given the choice between conservatory or main dining room, we decided to be in the body of the kirk with the shiny brasses for company, settling in with a Tennent's Heehaw alcohol free lager for designated driver me and a Bombay Sapphire Gin for my dining partner-in-crime (it was that or Gordons, a range that was a touch surprising in this world of local gin excellence).
---
The Food
While the fabric and furnishings of the Lairhillock might not have changed much over the years, its menu certainly has.
At first glance there are plenty of traditional, you could even say pub grub, favourites. But look deeper and you see the twist.
The stovies, for example, are made with rib eye of beef and a smattering of Stornoway black pudding. The chicken burger is panko-breadcrumb coated with a pesto mayonnaise.
And they nestle alongside some finer dining offerings, seared duck breast with a juniper red wine jus, lairies gambas – king prawns cooked in a lime, chilli, sweet pepper and coconut sauce.
I decided to give the chorizo, new potato and spring onion tartlet a whirl for my starter, while my dining partner kept the traditional theme with the Cullen skink.
And then we waited for them to arrive. And waited. Shall we just say the service was not exactly speedy and lacked the warmth and engagement we're all used to these days.
That became evident with the perfunctory arrival and departure of plates with little chat or feedback. If anything is in need of an update at the Lairhillock it's that.
That said, when the food arrived it immediately put a smile on our faces.
The tartlet was a treat. The quiche-like texture, topped with crispy melted cheese delivered a big flavour hit from the salty, tangy chorizo. The potatoes added body but the spring onions weren't turning up on my taste buds. The pastry, however, was crunchy then just melted on the tongue. A fine dish, with a well-dressed fresh salad to add variety.
On the other side of the table, the Cullen skink, served with a big doorstop of rustic bread, was disappearing rapidly.
No wonder. It was as perfect an example as you'll find in these parts. Creamy, but not cloying, the seasoning spot on and plenty of big chunks of fish. All of this came together to offer the sort of dish that makes you want to lick the bowl once you've spooned it up.
Our trepidation about when the mains might show up was unfounded. A few minutes after our starters were cleared, the waiter arrived with the star attractions.
I had decided on one of the specials of the day, grilled monkfish tails with a potato, mushroom and pancetta fricassee. It proved to be a wise choice.
Let's face it, monkfish only needs a few things to be sublime – a bit of butter, salt and pepper, a squeeze of lemon and a grill. So it was here. Tender fish with a meaty texture and a bold unadorned flavour.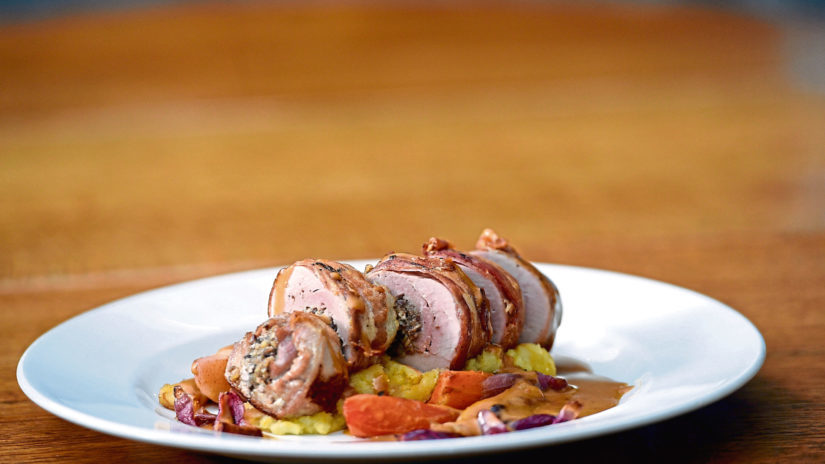 The fricassee was both a revelation and a perfect accompaniment to the monkfish. It had smoky notes from the pancetta, earthy flavours from the mix of mushrooms, chestnut and chanterelle, plus slightly crispy but still tender new potatoes.
They could serve this as a dish in its own right and I would be happy. What I wasn't so happy with was the choice of veg. Somewhat soggy mangetout that added absolutely zippo to what was going on on the plate. This was crying out for something big with a bit of bite, like tenderstem or asparagus. Meanwhile, my companion was loving her roasted fillet of pork. It came stuffed with haggis, wrapped in pancetta and smothered in a whisky sauce.
All of this worked in harmony, the slight crunch of the salty pancetta giving way to the tender pork which then surrendered to the rich haggis. The creamy whisky sauce was a light affair, adding piquance and sweetness.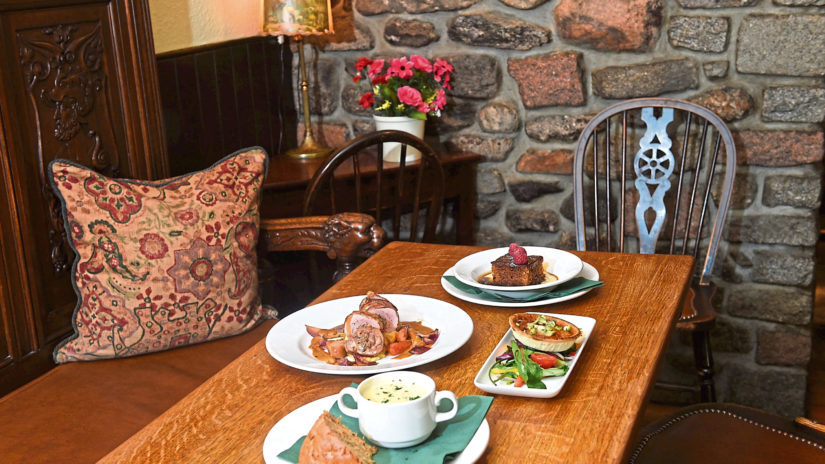 All of this was nestling on a bed of clapshot which was just like your mum used to make. Excellent stuff but, again, let down by pedestrian veg, in this case roasted carrot and parsnip.
Even though we were getting full, there was still space for sticky toffee pudding. There's always space for sticky toffee pudding – especially when it's home made, lush and gooey like this one, topped with fresh soft fruit. The sticky toffee pudding ice cream it came with was genius.
As a stop to not being gluttons we had asked for one pudding and two spoons. I admit now, I had the lion's share and relished the sugar rush that followed swiftly.
---
The Verdict
The Lairhillock Inn is a north-east favourite for a reason. It has charm as a venue, especially if a traditional coaching inn makes you a bit misty-eyed.
And you can't go wrong with the setting, all rolling hills and farmland – that agricultural theme reflected in the decor of the main dining room, while the conservatory allows views of the lush countryside.
The food itself is broad brush, from "pub fayre" offered with a thoughtful and classy take, to finer dining. What we had was very good indeed, if a bit lacklustre on the veggie front.
A bit more attention to customer care would be an idea. The cheery cheerios and thanks we got as we left would have been welcome during the course of our meal – especially when the arrival of the starters was latchy. But these are minor quibbles in what was an enjoyable experience.
---
Address: Netherly, Stonehaven
What we had:
Price: £68.50
For more information visit www.lairhillock.co.uk