Food review: The Garlogie Inn serves up flavoursome food in Aberdeenshire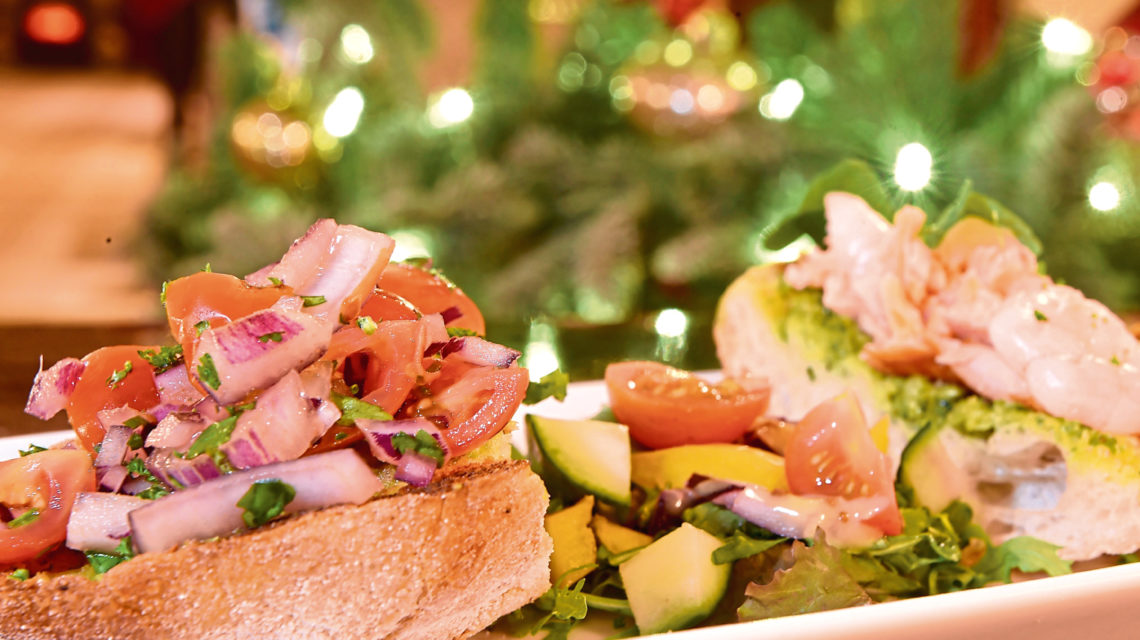 The Venue
What does one do when they are frozen to the bone? Seek respite in a warm, cosy place of course.
Last week after walking my family dog in the blistering cold and delivering him back home socially distanced, my boyfriend and I decided to head for the closest, warmest place we could think of, the Garlogie Inn.
A short drive from my family home, I called the wee country pub located in Garlogie, which, if you didn't already know is rather small, and popped along the B9125 to our warm respite. Luckily for us they had a table available.
Placing our masks on, we entered the venue which had a hand sanitising station at the front door, and followed the instruction on the large stickers on the floor. One of the floor staff team called us forward, confirming our booking and showed us to our table.
She passed us our menus, the festive one included, and asked us to sign in on the Track and Trace app with the QR code printed on the laminated menus.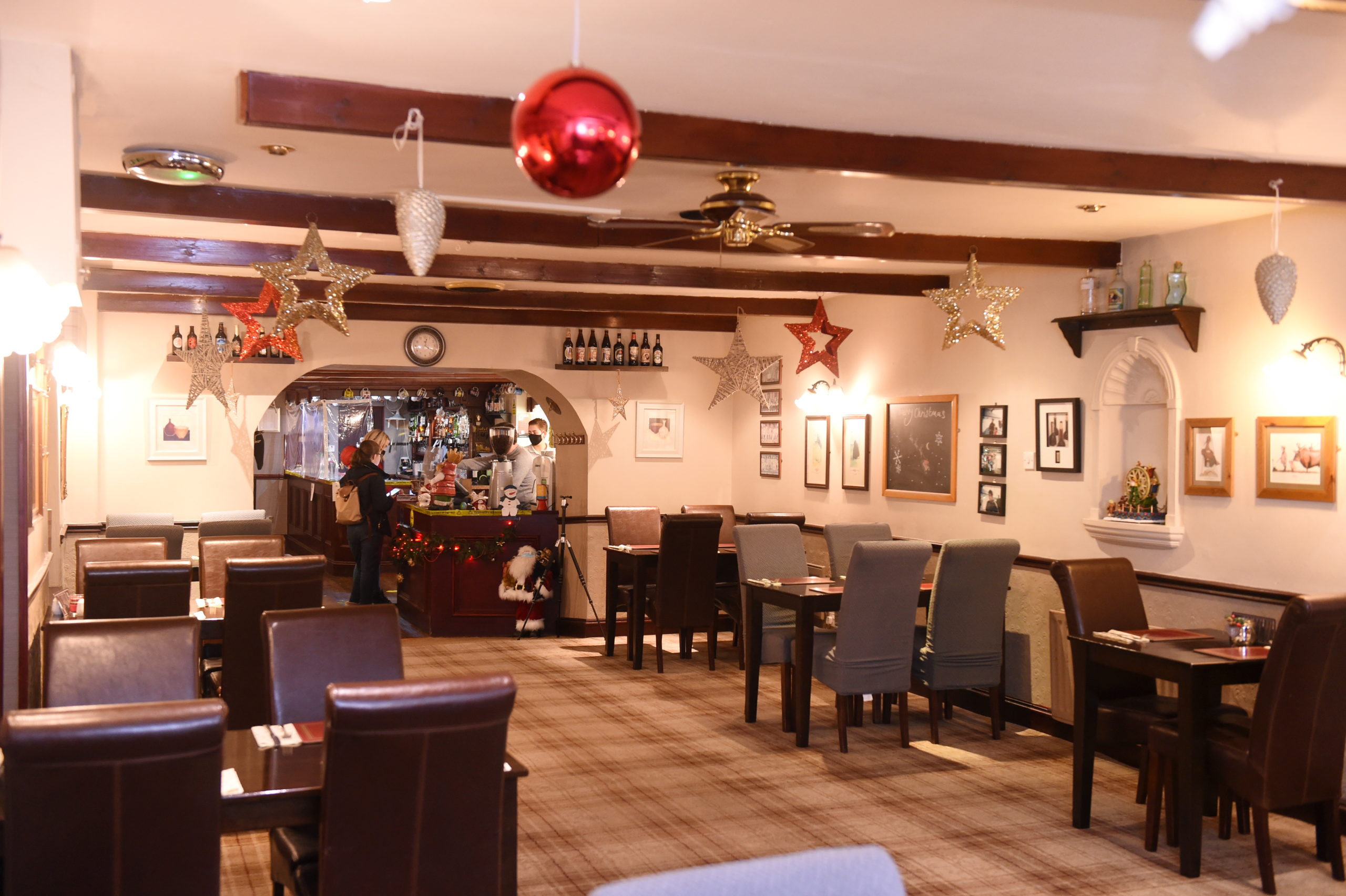 We did so, and placed a drinks order of two pints of Diet Coke to kick the night off.
The place was decked in Christmas decorations. From a large Christmas tree kitted out with baubles and garlands, to a miniature smiling Santa placed near the door and hanging stars, it was rather cheery indeed.
While our server was away, we studied the menu, unsure if I should get into the festive spirit or not given I don't have space for my own Christmas tree this year with thanks to our working from home set-up.
On her return we conferred with one another, but it was the waitress who in the end helped me make my decisions, guiding me on her recommendations and what she deemed "most enjoyable".
The country pub was steady, with tables drifting in and out throughout the evening.
Our server returned with our cutlery and left us to bask in the heat which was blasting from the electric fireplace under the mantlepiece. It was very welcomed and warmed us both right up.
---
The Food
---
It must have been around 10 minutes later that our starters appeared.
I'd opted for a number from the festive menu, the duck liver parfait, while my other half was keen to try out the duo of bruschetta.
While the parfait didn't look up to all that much, what it lacked in aesthetic it made up for in flavour. Rich and creamy the parfait was delicious, and although the cherry compote on top looked like it had smothered the parfait, there was good reason. This sweet yet chunky compote balanced the intense flavours of the duck, mellowing them out into a fusion of sweet meets savoury. The two thin sourdough croutes on the side were used almost as shovels, piling as much of the parfait on to them as I could. The side salad, which my boyfriend's dish also boasted, came topped with a mustard dressing.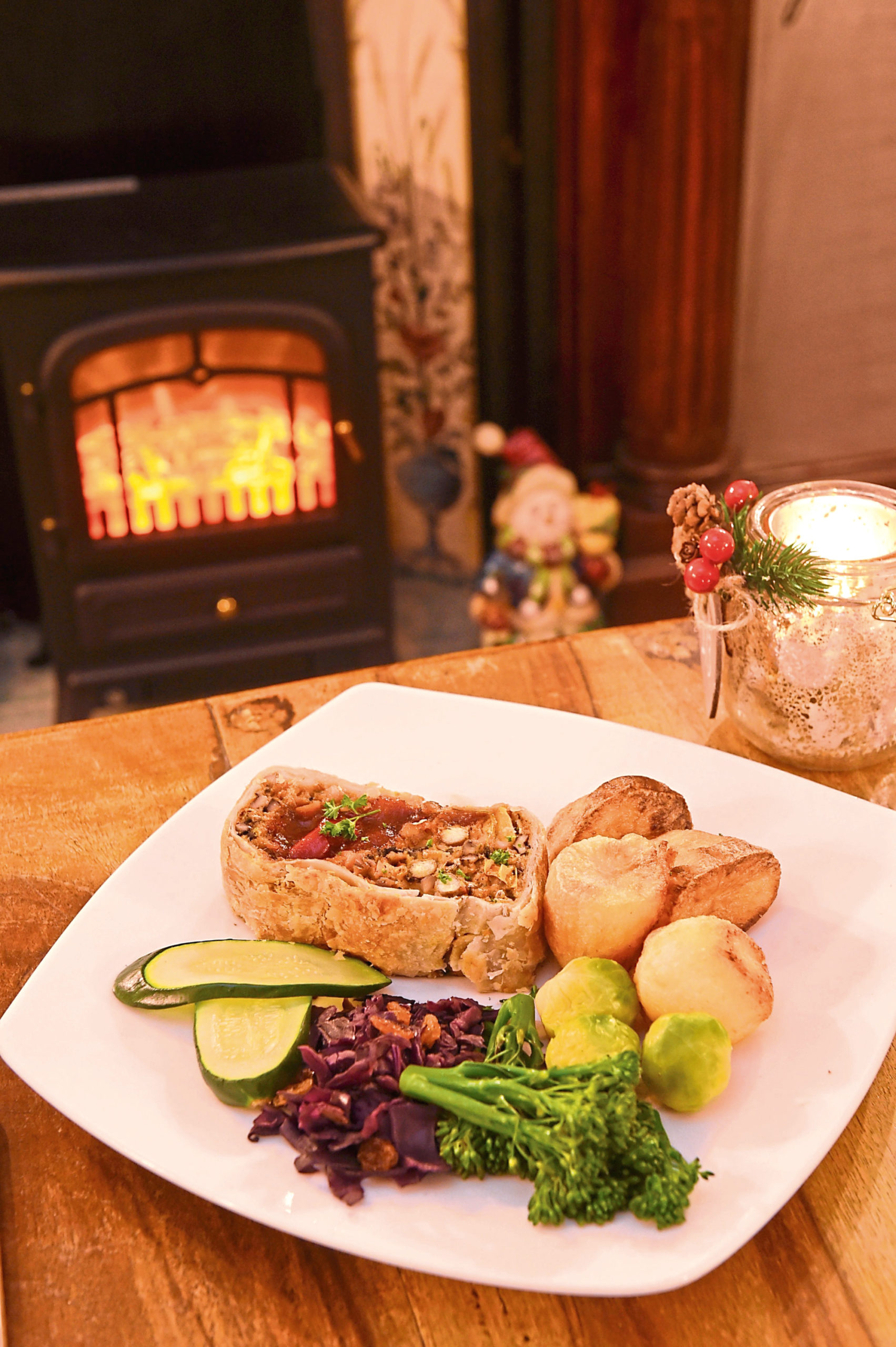 The bruschetta dish featured two different topping options, the first, king prawns with hot smoked salmon and coriander, and the other with cherry tomatoes, red onion and basil. The former was my boyfriend's favourite. The salmon was plentiful and full of flavour, and while the king prawns were smaller in size, they were lovely and juicy. On the other slice of the crisp bread was a more traditional bruschetta. The red onion was sweet yet bold in flavour, as was the tomato. The basil not only added to the flavour, but brought a herby smell into the mix.
We polished both dishes off easily and were looking forward to our mains.
Within the restaurant were all walks of life. Young couples, families, elderly friends meeting up for a bite to eat, and everyone seemed happy.
A mere 15 minutes later and voila, dinner is served.
I had stuck with the festive menu for mains as per our server's recommendation and opted for the vegan wellington slice.
My boyfriend went for the Garlogie Parma with chicken, which sounded like a big eat just from the description. It wasn't until we both saw it in its full glory did he realise what a challenge it may be. A large piece of chicken coated in breadcrumbs, it not only had bechamel sauce all over it like a duvet keeping the chicken warm, but it had a layer of mixed cheese which had been placed under the grill smothering it, too.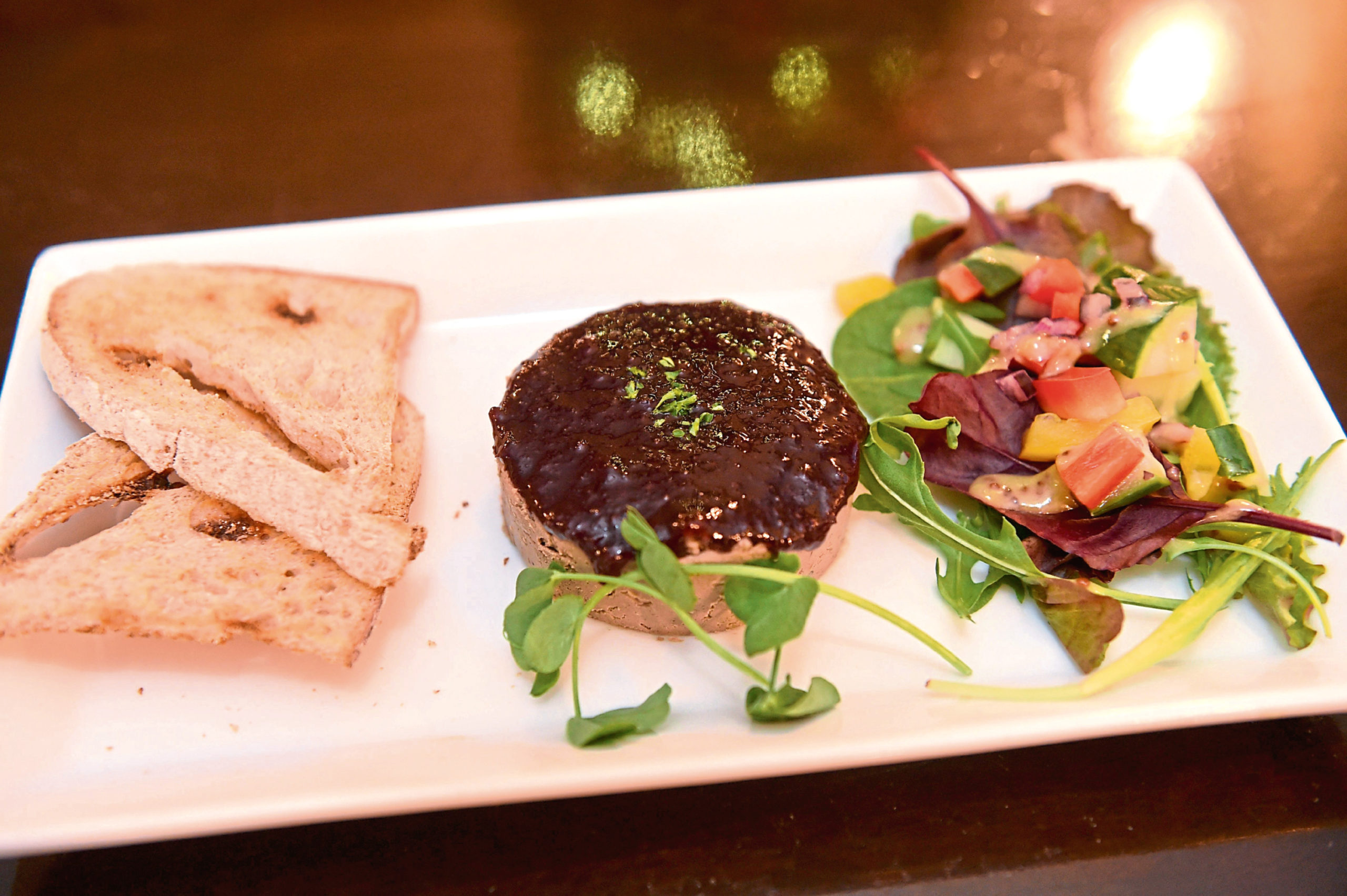 To top things off there was a side of boiled broccoli and carrots, and did I mention the portion of chips as well? His attention was mainly on the chicken, with the regular pub grub-style chips getting a look in from time to time. The cheese stretched from the chicken as his fork guided it to his mouth. I watched across from him salivating at the amount of gooey, melty goodness he was consuming.
My veggie wellington was lovely. Featuring a crisp pastry which held the smooth, soft inside together, there was a whole heap of goodies to be found in it from butternut squash to chopped walnuts, to chickpeas and peppers.
My boiled veg on the side was nice and consisted of Brussels sprouts and carrots. There was some pickled red cabbage in there too which was much sweeter than I imagined, and the roast tatties which were cooked in rosemary and garlic and were fluffy and crisp.
Managing to polish off the chicken (he left at least half of the chips) I was shocked when the request of a dessert menu left my boyfriend's lips.
Ordering a banoffee waffle tower, I wasn't sure how he was going to successfully finish it off.
The dessert itself wasn't shy in size and it was in fact a tower of sugary goodness. The sugary waffle came topped with thin slices of fresh banana, a large scoop of honeycomb ice cream with lots of crunchy pieces of honeycomb, a mountain of whipped cream all topped off with a drizzle of maple syrup poured over it. And that's not forgetting the tiny cubes of fudge sprinkled all over the plate.
He made a fair go of it, but I saw he was struggling so I made a go of it and helped him out with the additional spoon our server had left me.
Starting as we meant to go on, we settled the bill after somehow demolishing the dessert and headed back out into the blistering cold December night only to snuggle up at home with my new favourite thing, a hot water bottle.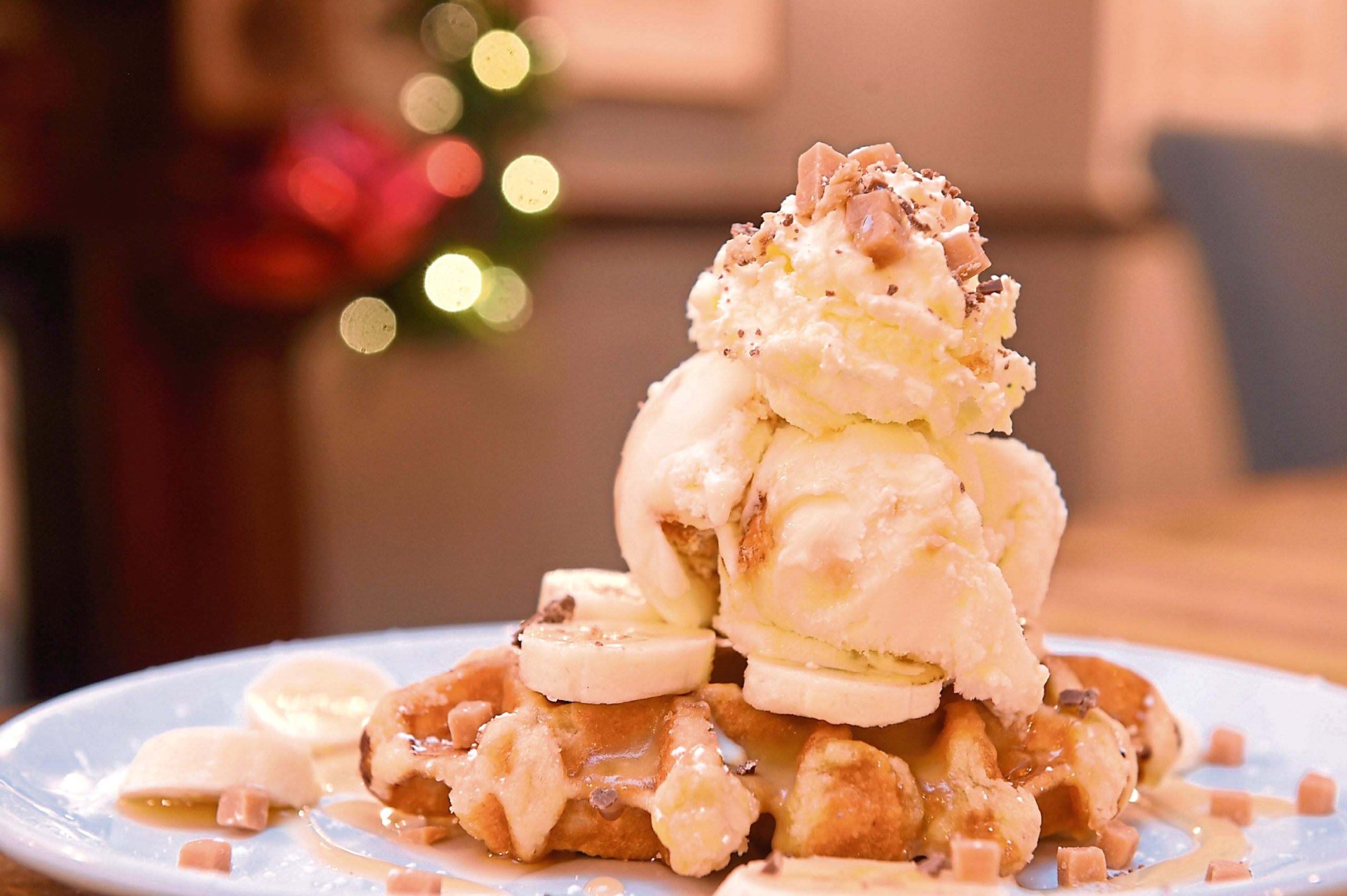 ---
The Verdict
For those looking for somewhere safe to dine out, The Garlogie Inn ticks all the boxes. With good practices in place, plenty of hand-sanitising stations, Christmas decorations galore and a hearty pub grub menu which doesn't just feature the classics but some other worldly dishes, too, it is a venue that all ages can appreciate.
While Garlogie itself may be small in size, the pub most definitely puts its name on the map. A big thanks to the kind, thoughtful staff who couldn't do more and essentially picked my dinner for me. Great choices all around.
Price: £52.35
Address: Garlogie, on the B9125 road, AB32 6RQ