Food review: Palki Indian Cuisine is a "wee gem" in Inverurie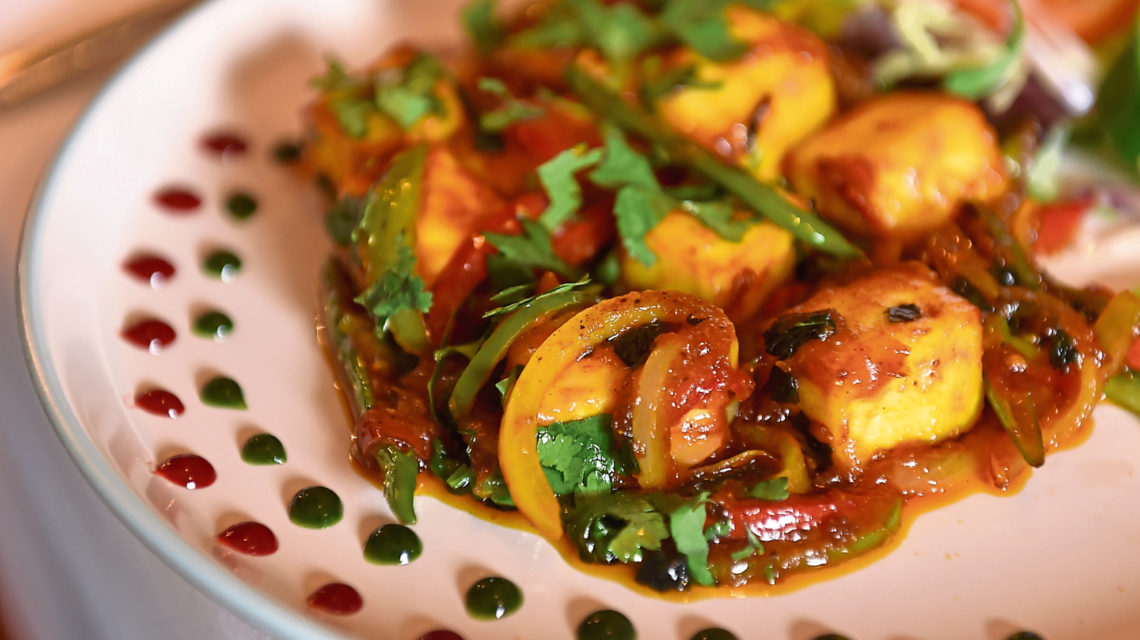 Some of my friends love nothing more than picking up the phone on Saturday night, ordering a curry and watching whatever the next "hottest Saturday TV show" is with their partners.
Myself on the other hand?
I very much enjoy venturing out to try new restaurants – avoiding curling up on the sofa at all costs.
Don't get me wrong, there's a time and a place to get a takeaway but when your boyfriend works away, the thought of sitting in, ordering more food than I can consume and watching rubbish TV does not appeal to me.
So I was quick to make a call to my sister when I realised my plans on Saturday night had been cancelled. Lucky for me, she was free.
Always on the hunt for new places to try, my recent trip out to Inverurie reminded me of a restaurant I hadn't been to before – Palki Indian Cuisine.
I called ahead that day to book a table for Saturday night, and luck was on my side again as they had one.
Picking my sister up after her work, we headed out to the town. It was only until after we'd hunted down a parking space on Market Place I realised the restaurant had its own customer parking.
Entering the venue, we were met with a sea of hungry faces staring at us. We squeezed by the heap of people queuing to pick up their takeaways and made ourselves known to the staff.
It took a few minutes for someone to come and introduce themselves but once they'd confirmed our booking we were taken to our table.
Palki's had a contemporary feel, with the interior boasting a dark woody wallpaper, cream walls, chain mail detailing which divided the booth areas, and aquas and burnt orange throughout.
A large pink carnation in the vase on the table blocked my sister from view when we sat down, so I quickly re-jigged things so we could see one another. Perfect.
---
The Food
A ritual for me, I ordered some poppadoms with the chutney tray for us to nibble on as we studied the dishes on the menu – and study it we did. There was a huge selection of dishes, making it hard to pinpoint exactly what I wanted. Intense spice? Creamy korma? Maybe something with a hint of heat? So many questions…
My sister suggested we shared which I was immediately on board with.
Attempting to order drinks, it took three times for us to get our Diet Coke and fresh orange and lemonade. Tucking into the poppadoms which arrived around the same time, I was hesitant to eat too many before ordering in case there was a wait.
By the time we ordered we had managed to nearly demolish them all – not exactly what I had in mind.
Waiting patiently for our dinners' arrival, trollies were flying around the restaurant delivering food left, right and centre. And it wasn't long until one brought us our starters.
I could have predicted my little sister would order the onion bhajis, while my choice, the chilli paneer, was something she'd never tried. Passing me one of her bhajis (we were doing what my colleague Scott describes as 'sharesies'), I scooped three pieces of the paneer onto her plate.
The bhaji was crisp on the outside and soft inside, crunchy, the raw chopped onion on top added some real punchy flavour. Sprinkled with coriander, there was a drizzling of sauce on top, too, which I was dying for there to be more of. The contents inside were very enjoyable, but it was the chilli paneer that stole the show for me.
The cubes of soft, spongy cheese were lathered in a sweet yet spicy sauce. It was made with fresh chillies which were hidden within the sauce, and the heat from them danced on the tip of my tongue. It was a hefty portion, and I was glad she'd offered to share. A first for my dining partner, she loved the dish just as much as I did.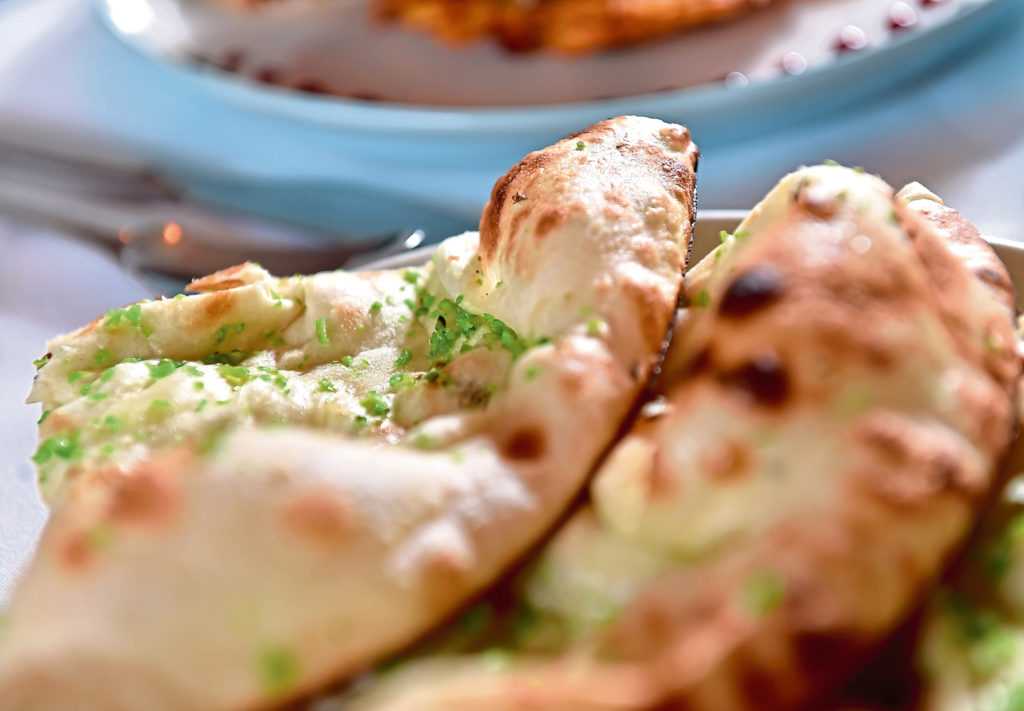 The squeaky trolley trundled back to the kitchen with our cleared plates while we ordered another round of drinks to accompany our mains.
By this point the takeaway queue had died down but the restaurant was very much filling up.
Watching the last of the bags of food make their way across the venue, I couldn't help but salivate over all of the delicious smells.
Luckily for me, our meal wasn't too far behind our starters.
We'd again decided to share and opted for a kashmeri curry with chicken and prawn chansi.
A cousin of the creamy korma, the kashmeri was a fruitier number made with coconut milk. Within its creamy sauce was a whole lot of chicken. Perfectly succulent, the tender pieces were easy to cut into.
Ordering a naan each – peshwari for her and garlic and coriander for me – we dipped them in frantically, mopping up as much sauce as we could with every bite.
My sister loves rice with her curry so we ordered a portion of the pilau, although the coconut, garlic, onion and egg fried rice had all sounded as equally appealing.
Labelled as "sweet and sour" on the menu, the chansi was exactly that. This north Bengali special was cooked in a medium sauce and boasted tiny pieces of warm mango. The sweet chilli sauce was tangy and had a kick to it. It was unlike any sauce I'd tried before. I usually opt for a creamy or tomato-based sauce but I have to admit this was one of the best I've tried.
The prawns were a reasonable size and so, so juicy. They hadn't been overcooked and were light, like the sauce, which meant the dish wasn't overly filling. That being said, the rice and the well-cooked garlic and peshwari naans definitely were.
Raising my white flag in defeat, I couldn't eat another bite. We both surrendered to the dishes and were feeling more than satisfied.
As with being seated, getting the bill, or the attention of staff, was a little challenging. However, we managed to get there and were seen out the door by three young chaps, each holding a door for us and politely thanking us for coming. If only the same service had been given throughout I would have been jumping for joy – or rolling in this case.
---
The Verdict
When it comes to picking a good place to go on a night out, it can be quite difficult with the vast amount of businesses in the north-east.
But if you're looking for a curry house that is guaranteed to leave your taste buds salivating and your stomach (as full as it may be) gurning for more, then Palki is the place for you.
Filled with charming staff, it's the food that will leave you talking about the restaurant for days.
The chefs clearly know what they are doing and it was great to see that even a busy Saturday night service, which includes a packed restaurant and lots of takeaway orders, clearly doesn't faze them.
All I can say is I'm glad I didn't stay in that night as if I had, I probably wouldn't have discovered this wee gem in Inverurie. So next time you go to pick up the phone to place an order, why not book a table instead.
---
Price: £46.80
Address: 56 Market Place, Inverurie, AB51 3XN