FOOD REVIEW: Lapping up good quality food at Maryculter House Hotel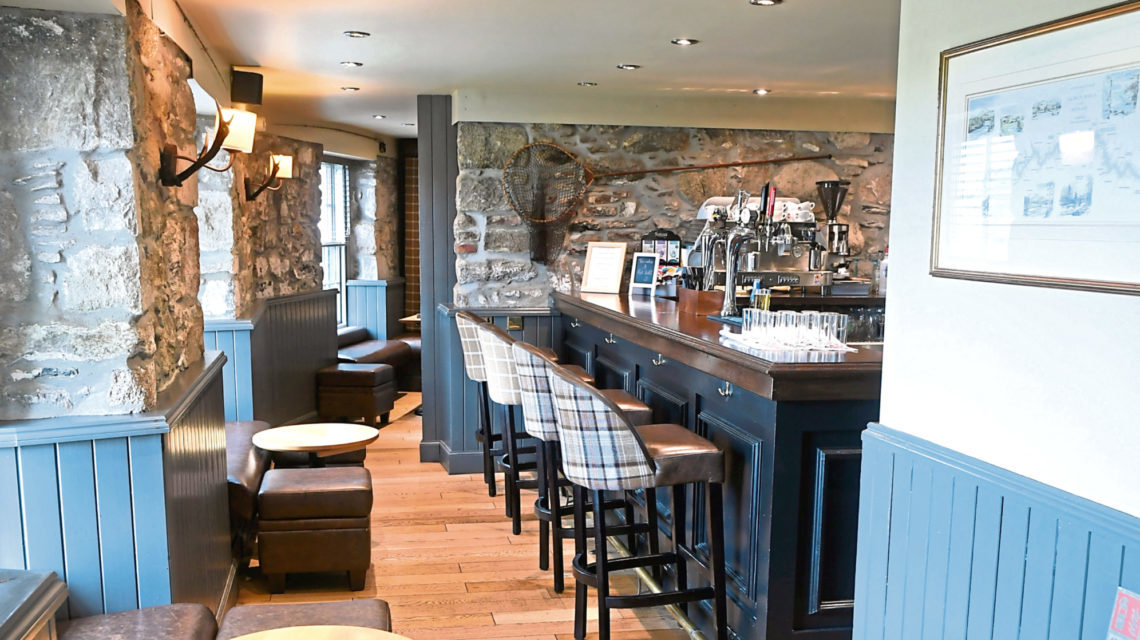 With Maryculter House Hotel being one of the top places to get married in the north-east, we decided to check out their food menu.
It seems when it comes to my friends and weddings the good old saying of "when it rains, it pours" very much resonates.
This year alone my partner and I have travelled to the town of Halkidiki in Greece, visited Falkirk for the first time to attend nuptials and I'm about to embark on two back-to-back weddings in the coming weeks, one in the quaint village of Crail and the other at a lavish hotel in Ayrshire.
Along with looking forward to seeing the bride and groom – which is a given – the next best thing for me has to be the variety of dishes you can now get at wedding dinners.
Venturing out to Maryculter House Hotel at the weekend – which is a popular choice in the north-east for brides and grooms –I should have expected we'd stumbled across a wedding.
Arriving at the hotel, the car park was busy. We were escorted through to the Poachers Brasserie, my friend and I took sanctuary by a window and watched as wedding guests arrived.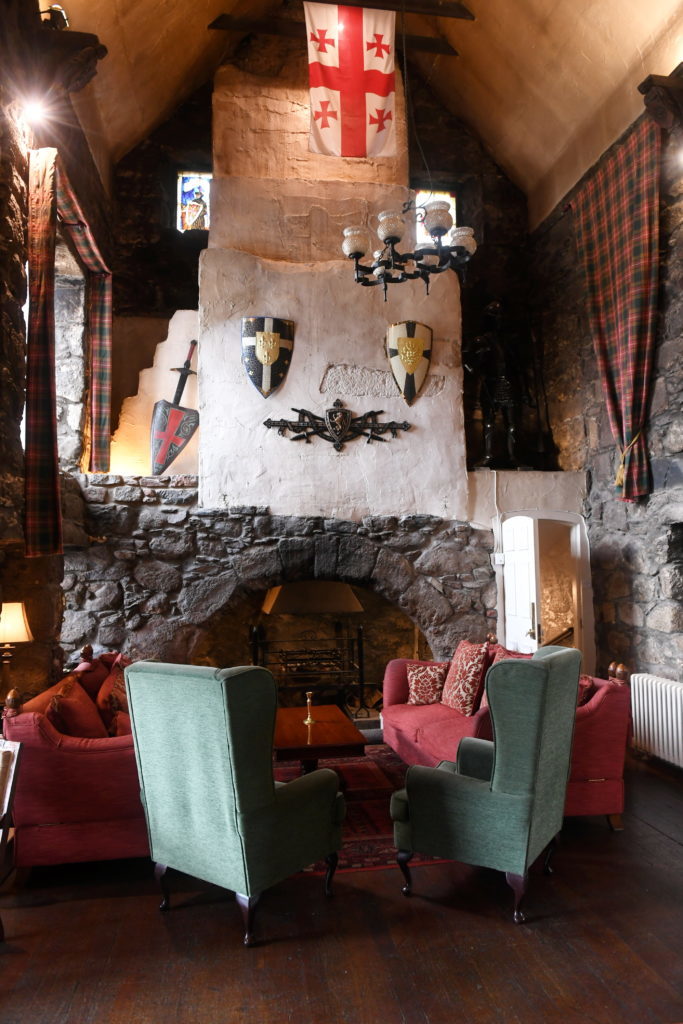 The restaurant, along with the hotel itself is elegantly decorated with hunting and fishing memorabilia, not forgetting the Scottish influences of lighter tartan patterns across the furniture.
Our server was quick, and it didn't take her long to fetch our menus from the bar and take our drinks order.
---
The food
Having gazed out the window after gushing over the wedding party's attire, it was time for us to place our order.
There's nothing I enjoy more about a wedding than the food offering, and chicken liver parfait is always a popular choice for me, so I decided on that.
My friend was looking for something light so the pan-seared scallops was the perfect choice for her.
Beautifully cooked, her dish not only smelled delectable, it looked it too. Half sitting on a bed of cauliflower puree, the three scallops were alongside three large pieces of black pudding and crispy parma ham. The black pudding was very rich and both it and the parma ham were very flavoursome. The chorizo oil the mouth-watering scallops had been cooked in was hard to miss. However, my friend decided to skip the cauliflower puree as this was not to her liking.
Meanwhile, I was busy fighting the temptation to lick clean the plate my parfait came on. It was absolutely outstanding and my favourite dish of the meal. The toasted brioche bread it came with was beautifully sweet and both elements melted in my mouth.
The parfait was soft, rich and packed with flavour. Its smooth consistency made it easy to lather the brioche with and the addition of chopped orange segments and tiny orange jelly cubes added a citrus element – not to mention a pop of colour. Plenty of it, I happily scooped every last morsel out of the ramekin.
While waiting for our mains a few more tables arrived, with a big 18th birthday party taking over the bar area. It was good to have more of an ambiance in the restaurant and we started to relax a little more.
When our mains arrived I knew I'd made a great choice. Staring at me, the large plateful of vegetables, chive and garlic mashed potatoes and steak pie looked delicious.
The Bourguignon steak pie featured huge chunks of beef and there was plenty of boiled asparagus, green beans and carrots which all provided a variety of flavours. The beef tore apart easily and was smothered in an appetising gravy. Ever so slightly over cooked, it still tasted very good, as did the small whole mushrooms which were hidden away in the pie too. They were soft and had a real juiciness which I relished.
The pastry was crisp and helped in soaking up some of the gravy, but it was the garlic and chive mash that stole the show. Creamy but packed with garlic, its buttery texture was heavenly.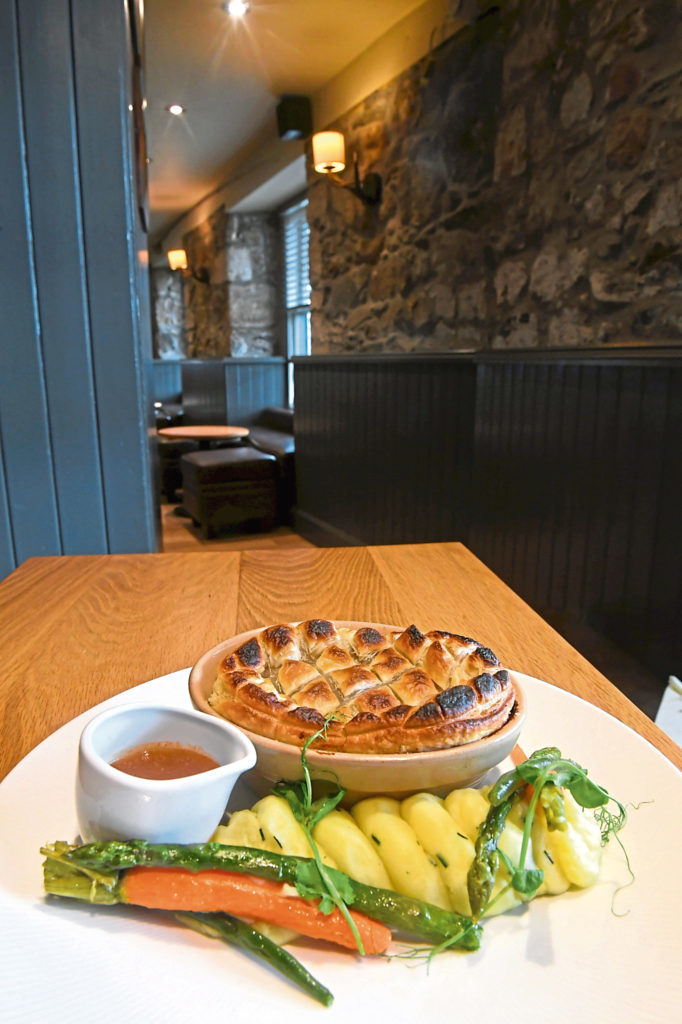 My friend was really excited about the pulled pork in the brioche bun special and when it arrived, she realised just how big it was.
Served with crispy skinny fries, a creamy coleslaw and a side salad incorporating a compilation of vegetables, it was quite a feed. She enjoyed her pulled pork bun, however, the meat itself was quite dry in comparison to what she had envisioned and the addition of the sweeter brioche bun didn't make matters better – as delicious as both elements on their own were.
The top of the bun had a light drizzling of sauce and had there been more of this sauce available I think she would have been able to eat more.
Nevertheless, she did enjoy the dish and the coleslaw helped in moistening up the meat.
Pretty full, I spied another wedding classic on the dessert menu and knew I had to try it. My go-to wedding dessert – sticky toffee pudding – was a must.
Ordering the white chocolate panna cotta for my friend, we sat patiently waiting discussing our dream wedding menu.
It didn't take long for the desserts to appear. A healthy helping of sticky toffee sat in a pool of hot toffee sauce that had begun to drown the cake.
It was light yet dense, sticky and rich all at the same time. The pudding had soaked up a lot of the sauce and made the cake lovely and moist.
The ice cream was light and creamy but due to its sheer size, I retired half way through.
The white chocolate panna cotta was much smaller than my sticky toffee and was demolished in minutes. Three blobs of tarte raspberry gel sat on top of it and it was finished off with some raspberries and strawberries. It was light and fluffy and the perfect sweet treat to round off my friend's meal.
---
The verdict
The sun had been shining which made it the perfect day for a September wedding – and a visit out to South Deeside for lunch.
The service had been quick and efficient and the food was rather enjoyable – as I mentioned, the parfait has to be one of the best I have enjoyed in a long time.
Maryculter House Hotel is a quaint establishment hidden in the countryside by rows of trees, making it a great place to get away from the business of the city. It's one of those places you'd happily spend all day lounging about in its comfortable surroundings and I can see why it's a popular choice for couples getting married.
The brassiere is cosy and homely and partnered with good quality local food, there's not much more you could ask for.
---
What we had at the Maryculter House Hotel :
Pan-seared scallops
Parfait
Steak pie
Pulled pork
Sticky toffee pudding
White chocolate pannacotta
Price: £57.40
Location: Maryculter House Hotel, South Deeside Road, Aberdeen, AB12 5GB
Click here for more food reviews, recipes and interviews with chefs.