Food review: Embracing meat-free eating at Grassroots at Inn at the Park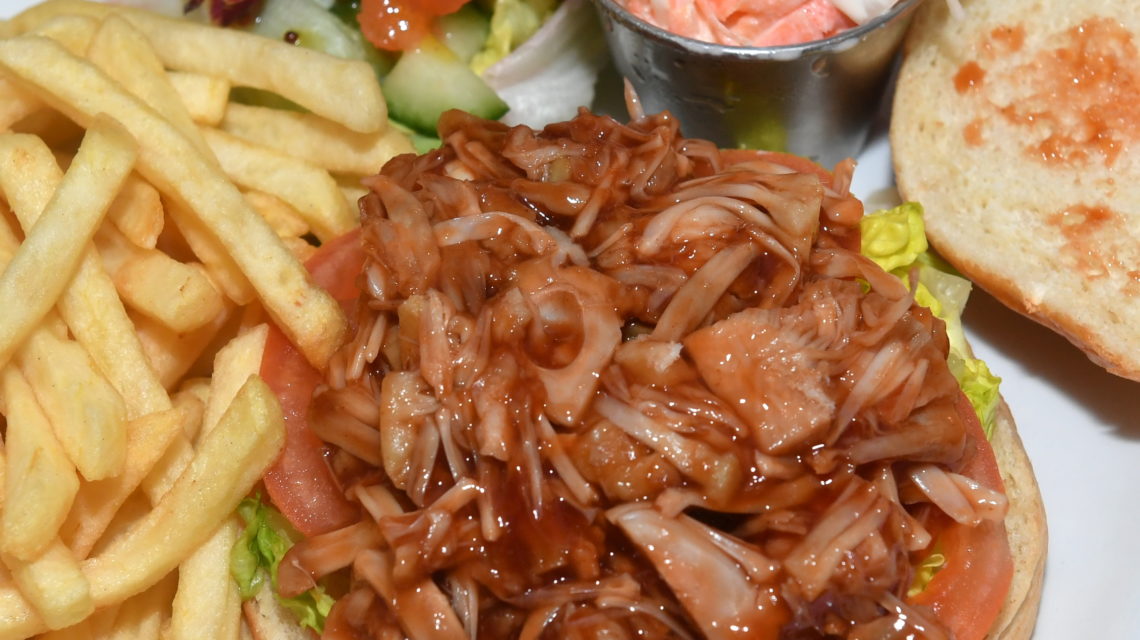 Veganism is everywhere I look just now. If it's not an advert on the TV then there's some sort of marketing promoting delicious-looking plant-based burgers to me on my walk to work – be that electronic bus stop ads or traditional flyers and posters.
Quite a few of my friends have now taken the leap to go fully vegan, while I'm still transitioning to eating 100% veggie (which is going surprisingly well, so far).
One thing I've always worried about, with regards to going veggie or vegan, is what I feel is a lack of eateries offering alternative dishes.
So often I'll see risotto, some sort of pasta, and of course the usual dessert of sorbet up for grabs. However, more and more eateries nowadays offer a real eclectic mix of dishes for all to enjoy.
Arranging a lunch date with my friend, who has now been vegan for around seven months, I decided to try out the meat-free offering at Grassroots at Inn At The Park.
After scanning the venue's menu online, I sent my chum a link and received a thumbs-up emoji in response. Our catch-up was on.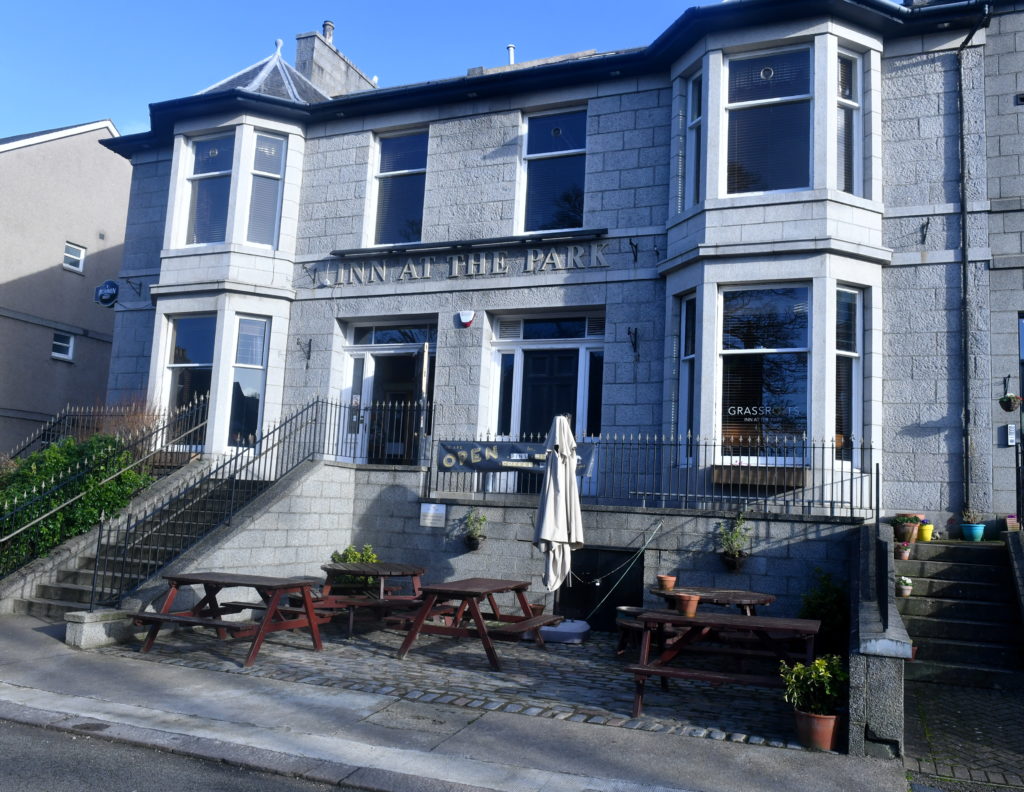 I booked a table for the following Saturday at 1pm and on the dot we arrived at the venue in the Ferryhill area of Aberdeen.
Greeted by one of the owners, he asked if we'd like to sit in the restaurant – which wasn't overly busy – or the bar area, which in complete contrast was packed with people.
We chose the latter (with the promise of the Grassroots menu being available) and took a seat among the rest of the diners.
We ordered two soft drinks and got to work with figuring out what to order.
There was a mix of folk in the pub, with regular drinkers, families and the odd couple scattered around.
The majority of people were tucking into the main pub menu, however this didn't put us off.
Our drinks arrived in no time and after discussing dishes, we decided to share a starter, dessert and enjoy a main each. Easy.
---
The Food
Like the drinks, it didn't take long for our bowlful of tempura cauliflower fritters to descend on our table. Served with a pungent and flavourful caper salsa verde drizzled over it, the battered florets were tender inside and a little al dente, giving them a slight crunchiness, which we both enjoyed. The batter wasn't too thick and it wasn't greasy either, so it made eating them with our fingers really easy. There was plenty for us to share and we were glad we'd just ordered the one between us as it was pretty filling.
Our mains took a little longer to find their way to us. My friend had opted for the appealing pulled BBQ jackfruit sandwich, while I was transfixed on trying the southern fried halloumi.
Placed in front of us, I was surprised to see the lack of colour on my plate – especially at an eatery which specialises in vegan and veggie food.
Met with a blanket of beige-y yellows, the crispy French fries and the deep fried halloumi dish didn't look as appealing as it had sounded.
However, looks can be deceiving and despite there being minimal colour on my plate, it was actually rather tasty.
Four thick slices of gooey halloumi were fried in a spicy coating, creating a crispy exterior with a molten soft cheese inside.
The creamy coleslaw served on the side was also rather enjoyable with crunchy pieces of shredded carrot, cabbage and onion throughout. There was also a ramekin of some of the best smoky barbecue sauce I've tasted – it was lip-smackingly fine and had lovely sweet and fruity flavours to it.
Both our dishes housed a mountain of chips. There were so many that neither of us could polish them all off. My friend's pulled jackfruit sandwich looked delicious and had I not opted for the halloumi, I'd have ordered it myself.
The same barbecue sauce smothered the jackfruit and also went down a hit with my friend. Hailing it "a great alternative to a pulled pork sandwich", she too commented on the lack of green she'd envisioned on her plate.
Service was beginning to slow down a bit with more and more people arriving to tuck in the venue's offering.
Having already browsed the menu at home, we ordered the chocolate orange tart to share as well as tea and coffee when our plates were cleared.
A short while later, just like that, our dessert was served. The most vibrant dish of all, it looked divine. The dark brown slice of chocolate tart was brought to life with a ball of vibrant orange sorbet, which almost looked like it would glow in the dark.
The tart itself was decadent and rich and was gooey and smooth in your mouth all at once. The buttery biscuit base was light, ensuring it wasn't too heavy, and the hazelnuts placed on top added a nuttiness, not to mention a crunch, too.
However, it was the tangy, zesty and more-ish sorbet which was the standout element of this dessert. Not sharp, but packing a whole lot of citrus, it was soothing and super refreshing. Pairing perfectly with the indulgent dark chocolate, my friend commented that it was "the best vegan dessert" she'd ever had.
Polishing off our third course, we realised our hot drinks were nowhere to be seen, so I decided to pay a visit to the bar counter to request them once again.
Very apologetic, the staff quickly saw to our parched needs and soon enough our drinks arrived.
We spent the next half an hour or so mulling in the pub people watching and conversing.
Thinking it was about time we moved on, we settled the bill and headed for Duthie Park, to walk off the enjoyable comfort food we'd just devoured.
---
The Verdict
Grassroots at Inn at the Park is a great place to test the waters if you're looking to try out some vegan and vegetarian comfort food.
Although we didn't actually eat in the restaurant area, I did peek my head in and it looks rather homely and comfortable, just like the pub.
With dishes including three bean chilli, loaded fries and nachos, sweetcorn lollipops, leek and red pepper romesco bruschetta, not to mention a Thai-style bad boy burger and a fine looking sticky toffee pudding, there's plenty to try out.
As well as the inside eating areas, the beer garden at the front of the inn looked like the perfect place to indulge in tasty food on a warm summer's day, too – which has been noted for next time.
---
Price: £45.10
Address: 3-4 Deemount Terrace, Aberdeen, AB11 7RX