Food review: Brunch at The Esslemont in Aberdeen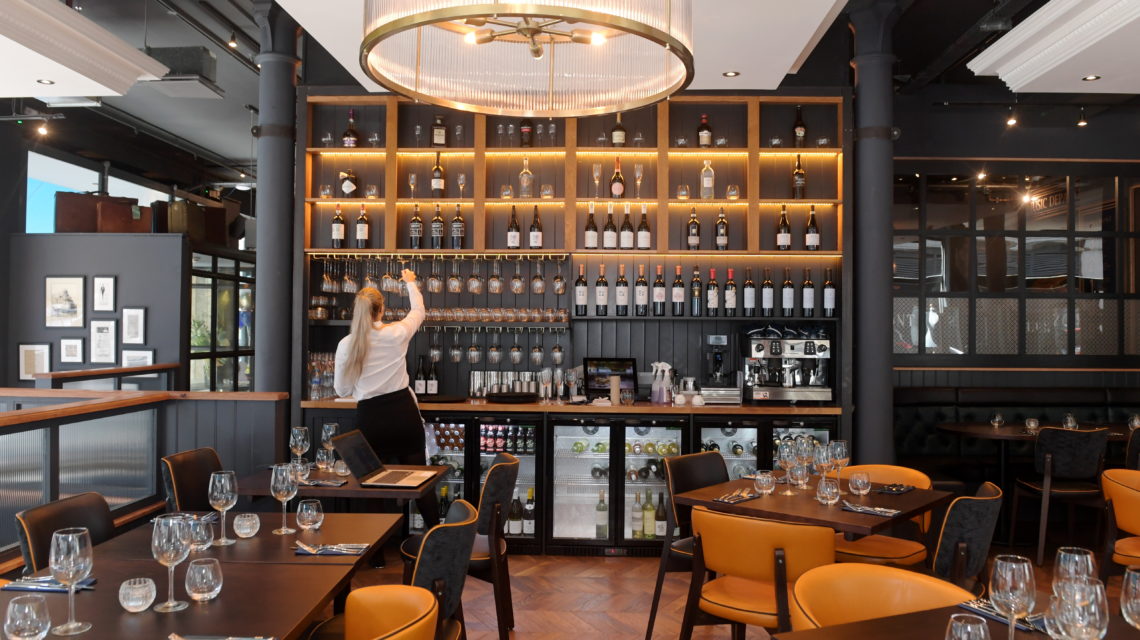 It has been forever and a day since I last enjoyed brunch.
Trying to stick to my routine during the week as much as possible, popping out for a spot of brunch at the weekends has more recently been swapped for hill walking and mountain hikes.
Taking a weekend off from exploring the north-east, I decided it was about time to get back on the brunch horse, so messaged my best friend and booked us in for a bite to eat.
Having never been to The Esslemont before, I insisted we paid a visit if anything for her to see the lavish interiors and 'that' bathroom – if you know, you know.
I booked on the phone – which was very easy – and outlined we were from two households before the member of staff even got a word in edgeways.
Booking for 11am I realised at the time that we may have been some of the first in the restaurant as it opens at 11am sharp on Sunday, but when we arrived a few minutes past the hour I was pleased to see a few other bodies seated who were obviously craving their brunch fix, too.
Outside on arrival, we put our masks on and entered. We followed the stickers on the floor, carefully identifying where we needed to navigate ourselves. At the front desk, a member of staff (who was also wearing his mask) greeted us and asked us to scan the QR code on the laminated document in front of us. It took two seconds to scan and fill out and was very easy to do. My friend's phone was playing up so he logged her details manually. There was also a website she could have entered, too, so there were plenty of ways to log customers going in and out.
I also noticed the hand sanitiser available to use on the desk, too, which we did.
Shown to our table, we were sat in the front section of the restaurant by the window, giving us plenty opportunity to people watch – a favourite pastime of mine when dining during the day.
There was also a laminated document which boasted information on how to dine safely, how to order and much more.
He took our drinks order, a fresh orange for me, and fresh orange and lemonade for her – plus her cappuccino – and advised the menu was available online and on the new app McGinty's Group has created. Instead of downloading the app I ended up scrolling on The Esslemont's website as their menus are always really up to date on there, too.
The Food:
Having both had a look at the offering beforehand we'd already made up our mind. Buttermilk blueberry pancakes for her, and eggs beneduck for me.
While I was tempted by the veggie break-feast which came with a courgette, nut and cheese roast, smokey beans,
tomato, mushroom, veggie sausages and a choice of egg, I couldn't resist the thought of pulled duck.
On his arrival with our drinks, we placed our food order and toasted (socially distanced of course) to a lovely morning out.
Dribbles of people began to spill in after we'd ordered, some celebrating birthdays and others meeting up with a friend for the first time in a while.
It didn't take long for our brunch (and our cutlery) to make its way to our table.
Both dishes looked the part, but the fluffy pancakes looked enormous and had me in a tizz not knowing if I had made the right decision.
Alongside the stacked fluffy pancakes was a big jug of maple syrup. You could smell the sweetness from her dish immediately, circling around our table, teasing me with its aroma.
The two huge pancakes were topped with a blueberry compote, which has been masterfully hidden under two large rashers of bacon. The pancakes housed an array of blueberries within the batter, some larger than the others, and the smoked bacon brought a saltiness to the party, with little to no fat found on the thick rashers. An eclectic meeting of sweet and savoury, the added maple syrup was incredibly sweet – and most importantly, there was plenty of it. As she ate her way through each layer, she added more and more, lathering it in the rich sauce.
Her only criticism, if it is one, would be that the bacon was a little undercooked to her liking in comparison to the well done, crispy version she makes at home
The eggs beneduck was equally as enjoyable and suited my more savoury breakfast/brunch palate.
Sitting on top of an English muffin, which had been cut in half and toasted, was a range of things. From the bottom up there were peppery rocket and leaves of iceberg lettuce topped with pulled duck which had been made in the most gorgeous sweet barbecue sauce, boasting a hint of saltiness to it, bringing those sugary notes down a bit, a poached duck egg and a very light hollandaise sauce.
The muffin itself was beautifully toasted – not too crisp, and not too soft – and the salad brought a nice pop of colour to the dish. While the duck egg yolks were a little overcooked and didn't disperse all over my plate as envisioned, they were still enjoyable and very creamy in texture. But it was the pulled duck itself, of which there was a healthy amount, that stole the show. It melted in your mouth and was so juicy and flavoursome that I could have eaten the dish again and again.
The sauce wasn't how I would usually visualise a hollandaise sauce – thick and creamy – but it didn't need to be as the duck really did need to show off its full potential here.
Not too big, it was the perfect amount for me and I easily cleaned my plate – unlike my best friend who struggled to polish off her last pancake.
My friend's cappuccino was nice and frothy and came served with a piece of fudge on the side. Homemade, she cut the soft, delicious fudge in half for me to try. It melted in my mouth almost immediately, and the creaminess of it was just divine. I wanted more, and would happily have left with a bagful if the opportunity had presented itself.
We asked for the bill, paid by card and settled up. Following the guidance and marking on the floor, we bid adieu to the staff and headed out the door.
The Verdict:
Overall I was very impressed with the attention to detail on all Covid-19 procedures The Esslemont has in place. From apps to order via, to all of the staff wearing masks, not to mention hand sanitiser stations throughout the eatery and the signs dotted around the place.
Even going to the Instagrammable bathroom with a flower wall was a breeze, with one way systems in place and the entrance doors being left open so there are fewer touchpoints for guests to touch throughout their time in the venue.
The practices have been carefully thought out, and don't intrude on the overall dining experience, something many venues are beginning to master more and more as we navigate our way through this period of time.
For those who love a spot of brunching, The Esslemont will not disappoint. There's also an Arnold Bennet omelette made with smoked haddock on the menu which has my name on it.
Address: 38 Union Street, Aberdeen, AB10 1BD
Price: £23.20
---
For more food reviews…
Food review: Aberdeen's The Braided Fig offers high quality restaurant food at affordable price
Food Review: Roots Catering's Roots at the Beach is 'always a winner' when looking for vegan food fix