Food Review: Brewdog Castlegate offers a wealth of burgers as well as stellar vegetarian options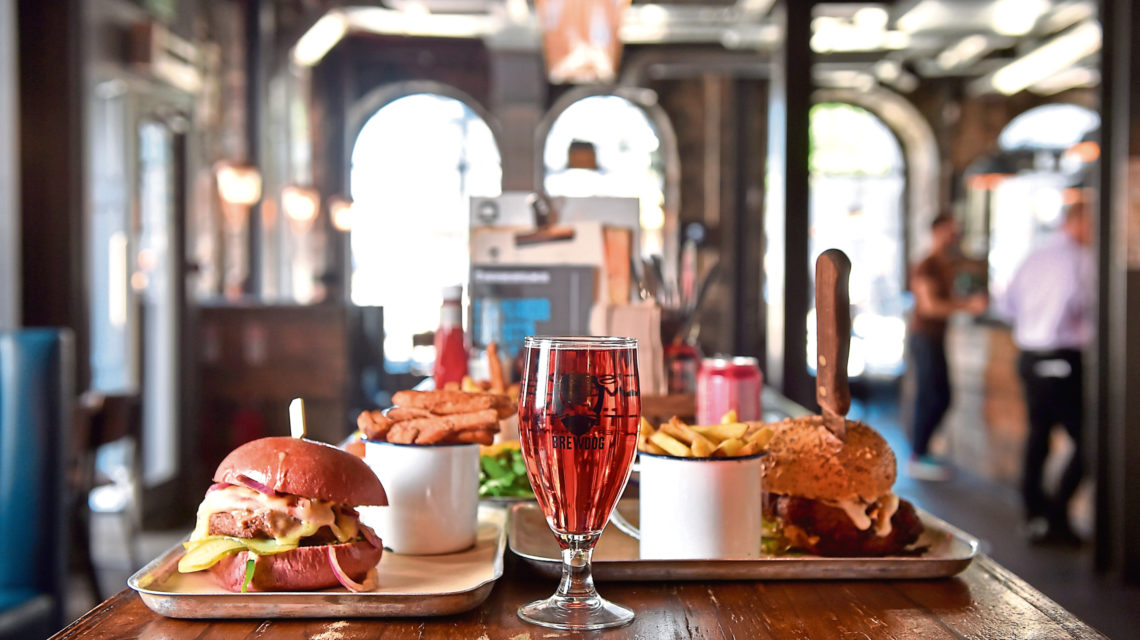 Sometimes there are no words to describe just how good something tastes, only noises.
So I apologise to the diners who were sitting nearby because noises were exactly how my colleague and I expressed our joy at the delicious dishes we ordered from BrewDog's Castlegate bar when we paid it a visit.
With lots of um-ing and ah-ing throughout, it was very clear to those around us that we had definitely enjoyed our meal.
Situated on Union Street, the two-floor bar and restaurant sits within the former Snafu venue and is practically located for those pre-cinema meet-ups – exactly why we were visiting.
I'd booked a table a few days in advance, aware the eatery can prove rather popular with folk from all walks of life descending for a brew and some grub, especially around prime lunch and dinner times.
Asking for a booth on the online ticket, I was pleased our request had been met on arrival.
Instead of making a beeline for our seats, we decided to check out what beery goodness was on the board. Highlighting breweries from all over, my eyes were drawn to a few of the fruity and sour beers.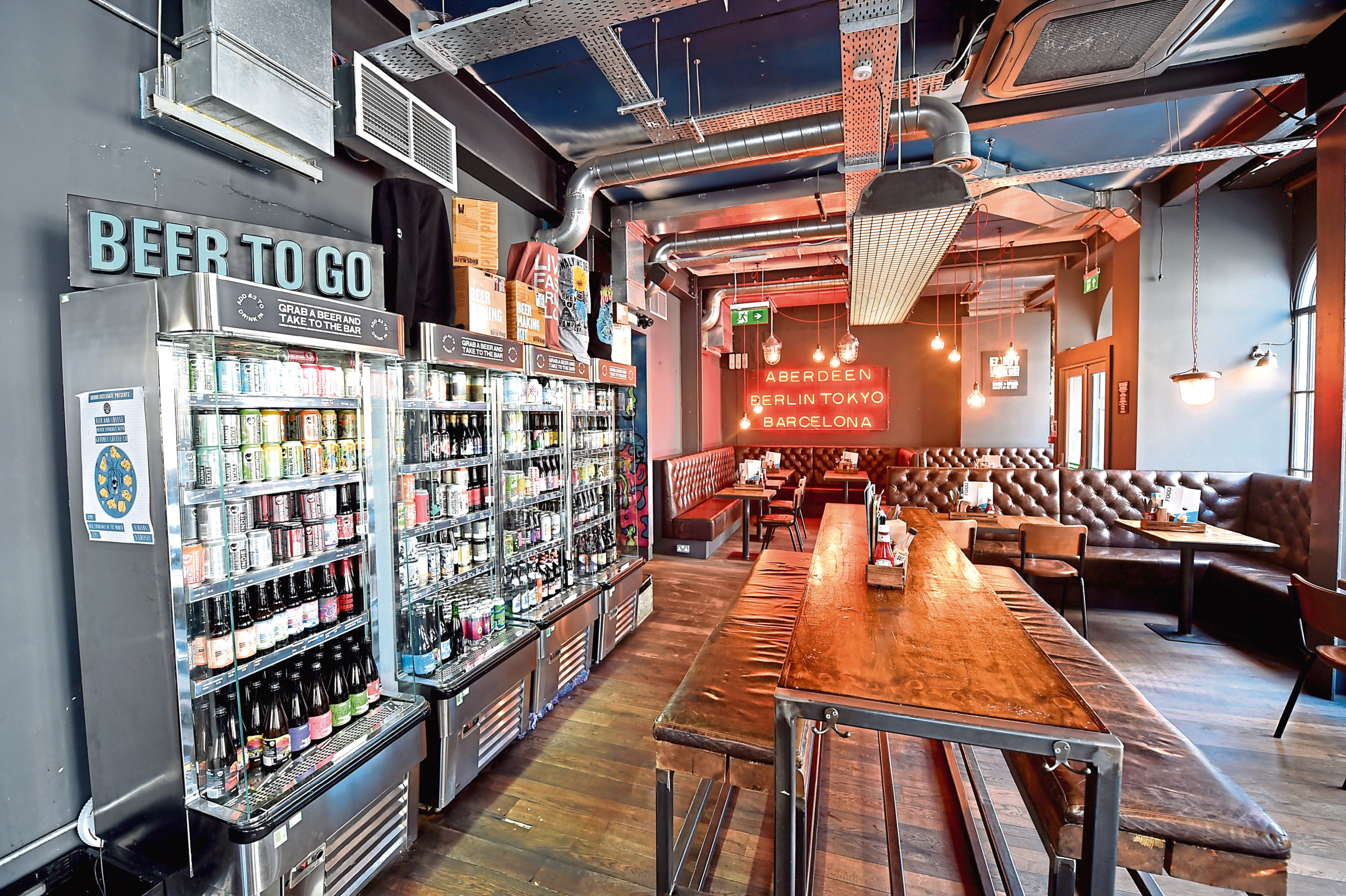 My colleague was driving so she decided to try out a non-alcoholic beer – a first for her. She was recommended a can of BrewDog's 0.5% Raspberry Blitz, which looked magnificent when poured into the branded schooner. Better still, it tasted just as good as it looked.
The refreshing beer with its raspberry finish was too tempting to pass up, so I decided to order the same.
The eatery boasts a rustic-meets-industrial vibe, with electric blue leather, wood and metal finishings throughout. Its grungy, yet funky look with neon lighting and beer boards harks back to the punk-esque attitude the company is famously known for.
Our booth, which had a view of Castlegate, made for the perfect people-watching spot.
Browsing the menu, there was plenty of choice and a healthy range of burgers on offer.
Open for brunch, lunch and dinner, the all-day menu suited us perfectly. Our servers introduced themselves and were very relaxed about the steady flow of custom coming in and out.
Sparking my interest were the Cluck Norris and the buffalo chicken burger. Having had both before, I knew I could only decide by putting it to a toss-up. My colleague, who is vegetarian, decided to try out the Beyond Meat burger – which, she informed me, was made with a brand of meat-free products endorsed by Snoop Dogg.
Placing our order, we caught up about life and chatted about our big birthday plans – although thankfully, neither of us were hitting a milestone, yet.
---
The Food
As well as ordering our burgers, we decided to pig out and get the veggie sharing super stack. Featuring an array of deep fried, pickled and other goods, this was just what we needed to fill a hole, having missed out on lunch.
It didn't take long for our food to arrive, which was great as we were pretty ravenous. My buffalo chicken burger looked phenomenal – with the hot sauce and honey glaze dripping down it as it was placed in front of me on a metal tray. A huge knife stabbed into it held the whole monster together.
The Beyond Meat burger looked very similar – knife and all – but the beetroot bun was a pretty purple colour instead.
Everything fell silent for a while, and all I could hear was the two of us making ridiculous noises of satisfaction.
I was incredibly impressed with the quality of my buttermilk fried chicken. It was crunchy and crispy on the outside, and the tender chicken inside was just perfect. The sauce was the stand-out – packing a slight tangy kick with a hint of sweetness. Add a dollop of gorgonzola sauce into the mix, some baby gem lettuce and you're on to a winner. The poppy seed brioche bun rounded off the tasty burger very well.
My colleague was equally as impressed with her vegan dish. The Beyond Meat patty was topped with vegan chipotle coleslaw, vegan gouda cheese, roasted red peppers, baby gem lettuce and pickles. The beetroot bun had a slightly sweeter taste to it and made the other ingredients layered on top of the patty pop.
The tray of goods which we'd ordered to accompany the burgers included crispy onion rings, buffalo cauliflower – which is the best cauliflower I've ever tasted – Cajun corn on the cob, fries, sweet potato fries and two dipping sauces, blue cheese and smoked garlic aioli.
We both loved the Cajun corn on the cob. Succulent and incredibly sweet, the grilled corn was "out of this world" according to my colleague. It melted in your mouth as soon as you took a bite, and it got better and better.
The soft buffalo cauliflower came in at a close second for me, smothered in a tangy hot sauce and honey glaze. Dipping it into the creamy blue cheese sauce gave it a completely different taste – but it was just as good as it was on its own. I could happily eat the hot sauce, and the deep fried cauliflower by the bucket. The pickles had a tartness about them and were great for snacking on while deciding on what to tuck into next.
We didn't really make a dent in the two cups of chips because the staff treated us to a portion of the veggie loaded fries. Topped with grana padano cheese, truffle oil, garlic butter and coriander, with onion crispies on top, they were just sublime. The huge plateful was far too much for us to share and we'd not got too far through it by the time we both put our hands up in defeat.
We had toyed with the idea of ordering a milkshake or dessert, but that quickly dispersed as we both looked at each other and then at our plates of half-eaten chips and burgers that had been torn apart.
"Not today," I said to my colleague.
Our server cleared our table quickly and we decided just to hang around a bit and blether before departing to walk down to the cinema.
---
The Verdict
BrewDog may now be a global firm but, with its headquarters in Ellon, it's still very much involved in the local scene and its bars accommodate a wide range of tastes. Not only that, the bar's food menu champions vegetarian and vegan options, and is one of the only places I've actually contemplated ordering a vegan burger over my favourite, chicken.
The staff were friendly and couldn't have been more accommodating.
It's a place where you could easily pop in on your own for a bite to eat, or make a night – or day – of it with friends, ordering different things to share.
If you haven't had the chance to try out the eatery yet, it's definitely worth a visit. Or, if you're a pizza fan, why not head to BrewDog's flagship venue just around the corner at Gallowgate.
Address: 5-9 Union Street, Aberdeen, AB11 5BU
Price: £40.70