Food review: Step into a little corner of Tuscany at Da Vinci's Restaurant in Aberdeen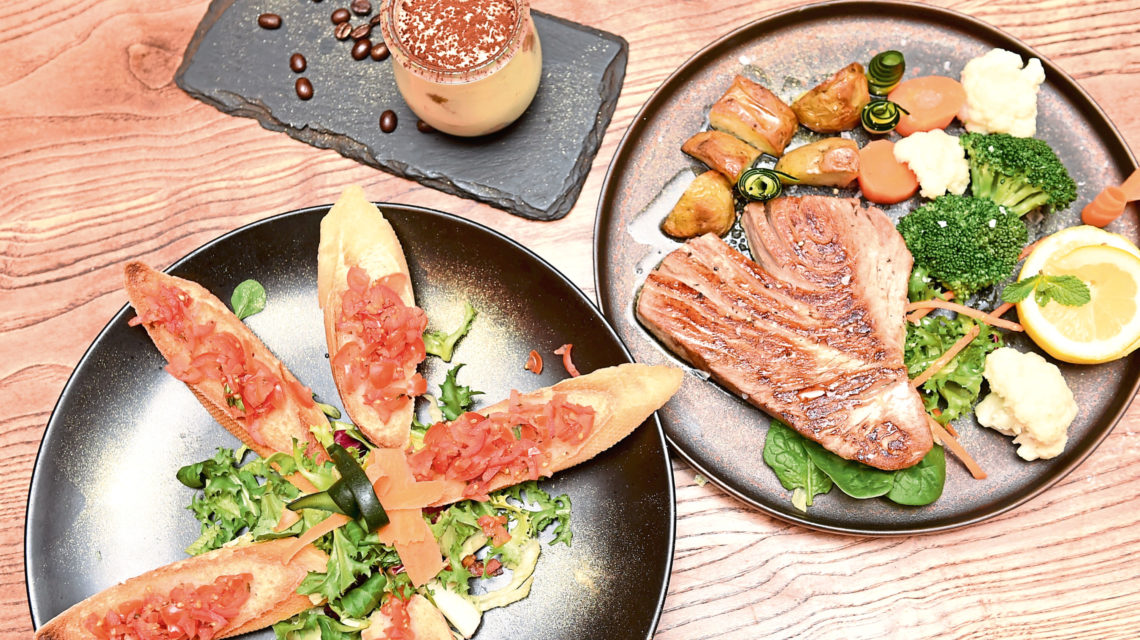 It's been a while since I was last out for an Italian, and it's been even longer since my boyfriend and I paid a visit to Da Vinci's Restaurant.
A hop, skip and a jump from our home, we figured it was about time we revisited our local eatery for a date night last Friday.
We'd booked a table at the rustic eatery on Alford Lane for around 7.30pm but, starving after a long day's work, we called ahead to ask if we could pop in an hour earlier – which to our delight, was not a problem.
From the restaurant's vestibule, not much seemed to have changed from the first time I had been, other than the addition of a Christmas tree dressed in festive decorations and dried pasta and chillies, of course. However, as soon as we stepped into the dining area, that was a whole different ball game.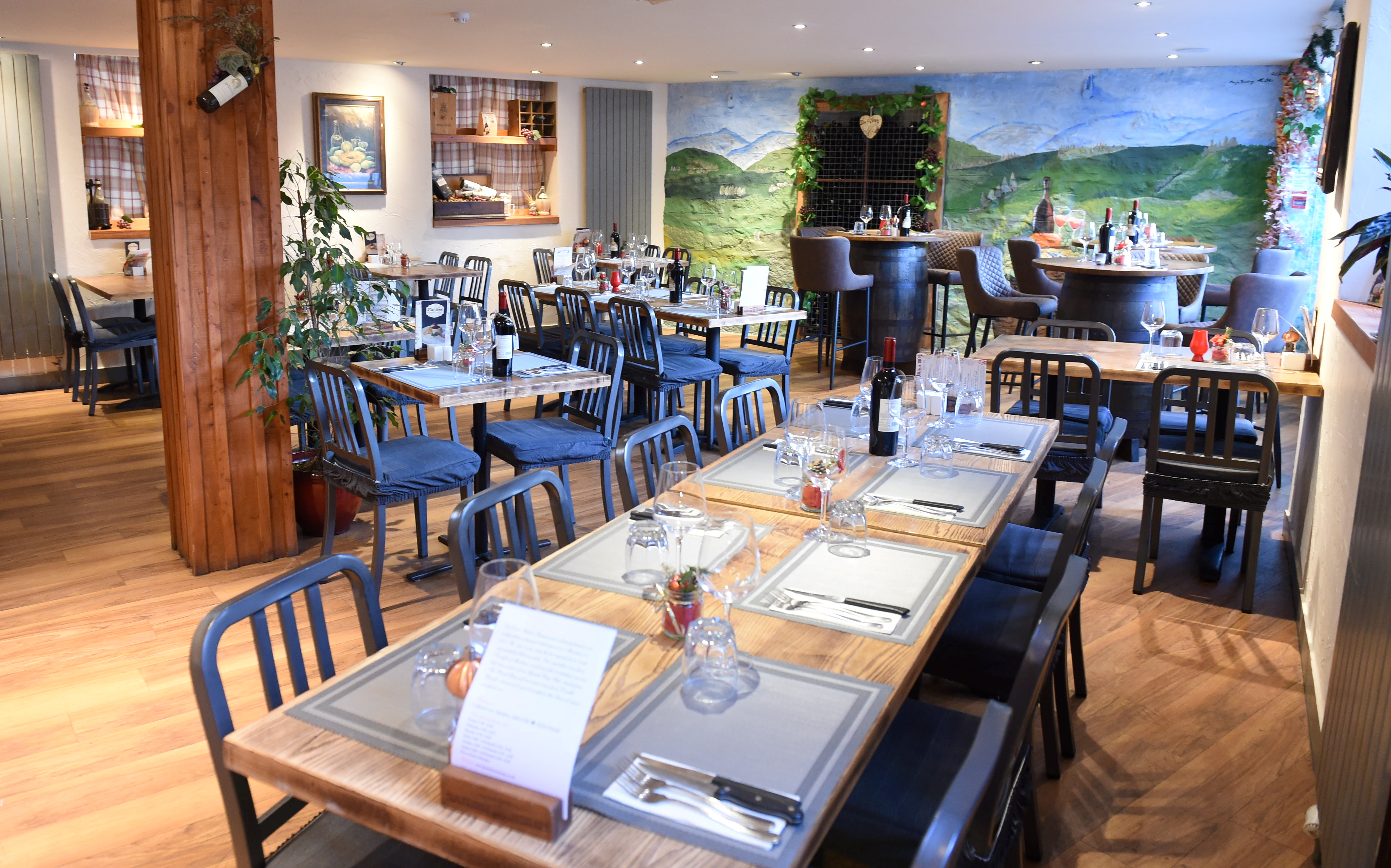 The first thing I noticed was the beautiful artwork on the rear wall of the restaurant. Once bare, a stunning picture of the rolling Tuscan countryside now graced it. The blues, greens and warming yellows of the picture filled the wall space and almost immediately made me forget the cold, horrible weather we had left behind.
Another notable change was the seating. Three huge barrels stood at the back of the restaurant – now acting as tables – with three comfortable bar chairs surrounding each. Playing on height, they brought a whole new look to the room and also added to the slightly more rustic feel the eatery boasts.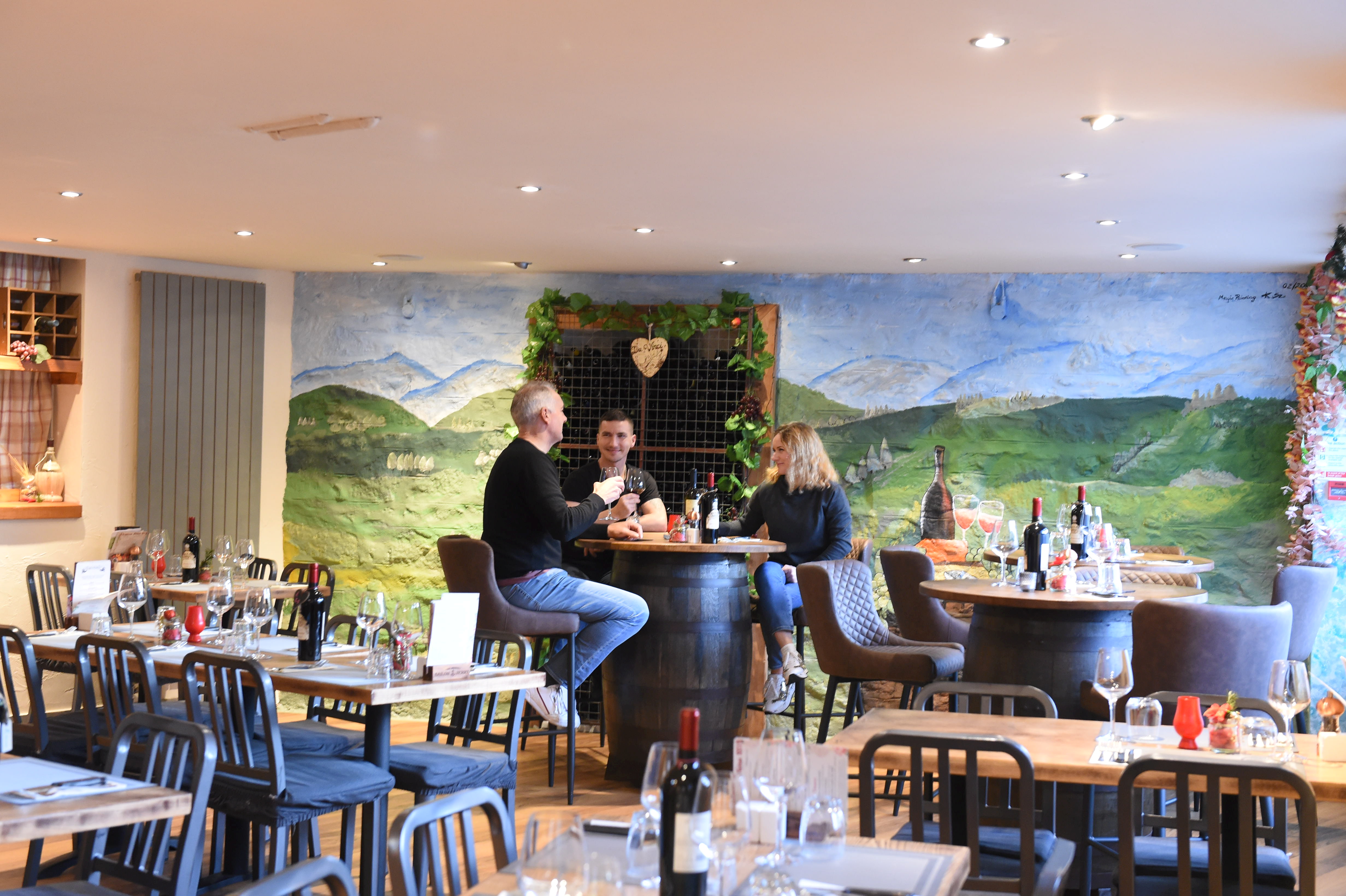 Inspired by owner Elena Ionascu's home of Tuscany, the offering is hearty, homely and well… Italian.
Shown to our seats, we were delighted to be heading toward the barrels.
Seeing the restaurant from a different perspective this time, I could tell our experience was going to be very different from our previous one.
---
The Food
Offering up a range of Tuscan-inspired dishes, it's authentic food you can expect to find at Da Vinci's. There's even homemade olive oil available to purchase if you desire.
Scanning the menu, I knew I was going to struggle with the vast number of dishes staring back at me.
I'd been craving bruschetta for a while now, so that was a given, while my boyfriend was enticed by the Olive Ascolane – in his words "the Italian version of a Scotch egg".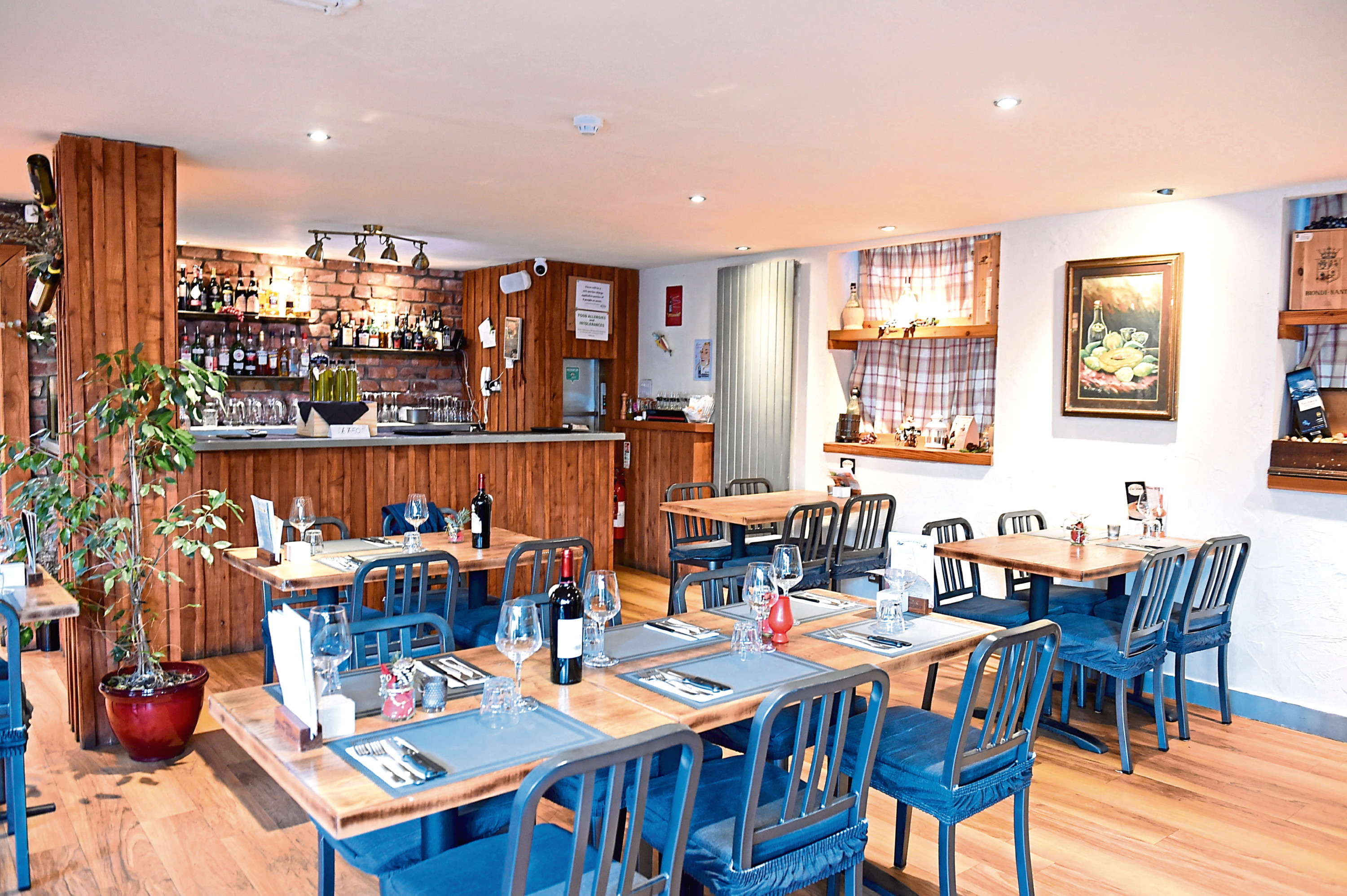 But my main was where I knew I'd hit a stumbling block. Pasta or seafood? That was my dilemma. He decided on a pasta dish which in turn encouraged me to try out the seafood offering. Gnocchi Rustici Al Sugo for him, and Bistecca Di Tonno for me.
Placing our order and with drinks in hand, we toasted to a wonderful night and sat back in the bar stools.
It was steady, nothing the staff couldn't handle and the drinks were flowing with tables ordering lots of bottles of wine.
Behind us was an empty cellar front which boasted more than 200 empty wine bottles in it – clearly someone had been having a good time here.
Our starters took little to no time to arrive.
Breaded and fried, the meat-stuffed green olive really did look like a miniature version of a Scotch egg. Crispy, the tender meat inside was packed with flavour, and the olive itself brought a saltiness to the meaty dish.
My bruschetta was incredible. Five pieces of Mediterranean bread were topped with fresh chopped tomatoes, which had been tossed in olive oil and fine basil. The bread also boasted a little oil over the top of it, softening it ever so slightly.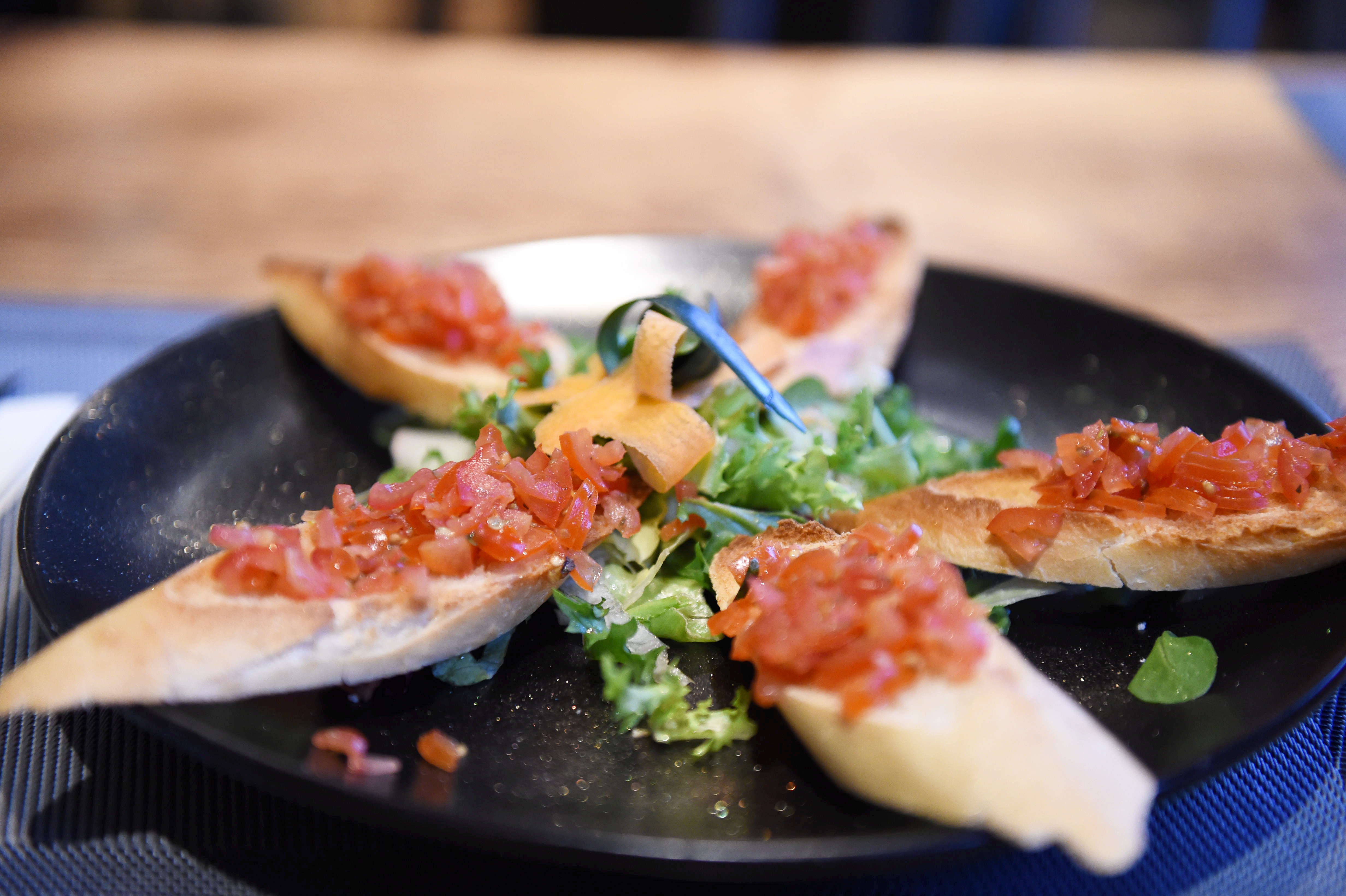 Mixed herbs were sprinkled over and the balsamic glaze brought a beautiful sweetness. I could have eaten it again and again.
Up next were the mains.
My partner's tomato-based gnocchi dish arrived piping hot and was straight out of the oven in the dish it was cooked in. Mozzarella bubbling away on top, I wanted to stick my fork in it immediately. Drowned in the cheese and bolognese sauce, the potato gnocchi was soft, but held its shape beautifully, no matter how much it was prodded. The sauce itself was incredibly sweet and rich, and the minced meat had been well seasoned. It was a dish we would both order again.
My tuna steak looked equally appetising, but nowhere near as gooey and melty as the stringy cheese my other half had been removing from his chin.
The first time I'd ever had tuna steak, I was pleasantly surprised at how delicious it tasted. Cooked to the chef's recommendation, it melted in my mouth. Served on a bed of salad with small roasted potatoes, that had been cooked in olive oil, on the side of the plate, it was the green sauce which first caught my eye. Intrigued, I dipped my fork into it and tried the zingy pungent concoction.
A tart garlic flavour engulfed my taste buds, giving me an instant hit. Packing an earthy punch, this sharp sauce didn't mess around. While nice, the garlic-heavy and parsley sauce left me feeling slightly cautious of how much I would spread on to my fish.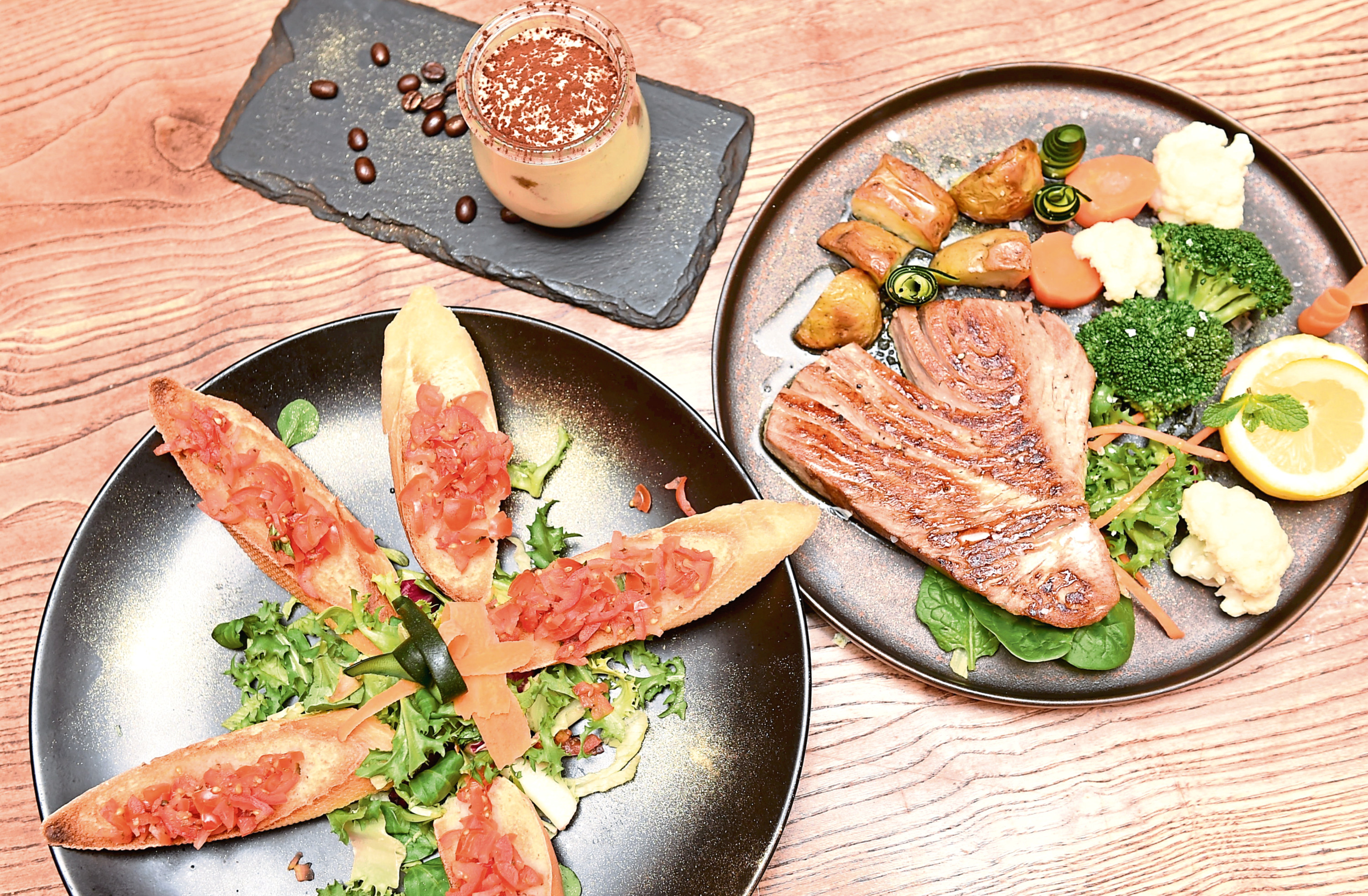 The chewy yet crunchy and fluffy potatoes were baked perfectly and balanced out the light, yet heavy-on-the-taste buds sauce.
A very reasonable portion, I was more than satisfied with my dinner.
Our server brought us the dessert menu but as we we were both pretty full, we figured we would pass. That was until we saw a statement so bold it couldn't be ignored: "The best tiramisu in town" it read.
And just like that we ordered desserts – tiramisu for him and a custard-like bonet for me.
By this time the restaurant was pretty busy and the two servers were under pressure to keep everything running smoothly, which didn't seem to faze them one bit. Our desserts soon arrived and both looked particularly pleasing.
My bonet was a piece of art, beautifully decorated while his tiramisu plate had been sprinkled with edible gold glitter and coffee beans. On top of the thick layer of cream was a dusting of cocoa powder. Two thick layers of cream and ladyfinger biscuits later, his was completely gone. The biscuits, which had been soaked in fresh coffee and left to dry out slightly, were delicious. Paired with a mountain of thick mascarpone, this was one hearty and tasty dessert.
My bonet – a popular Italian dish – had more of an almond flavour to it with the Amaretti biscuits used to top the thick chocolate custard which had a rum and coffee kick within. More jelly-like than a runny custard, it was sticky, but piped cream on the side of the plate made it easier to digest. Lines of chocolate sauce and cocoa powder were used to decorate the plate, showing off the chef's skill set and creative side. The Amaretti biscuit which topped it was crunchy and brought a lovely texture to the dish. Full up, we called it a night, asked for the bill and clambered off the comfortable high stools.
---
The Verdict
The restaurant very much pays homage to owner and head chef Elena's Tuscan heritage and it is clear that she and the staff are proud to offer up such tasty, moreish food.
An Italian feast for sure, the eatery also offers Cicchetti – Italian tapas-style dishes that Elena recommends you eat with your fingers. Perfect for those looking for a snack, or to enjoy as their dinner or lunch, the varied menu means you can try a host of options for a great price.
The main restaurant menu is equally good and its choice is just as vast.
Having noted a few other dishes (I'm looking at you pasta in truffle cream – and that pasta dish with the mixed cheese and pear with sage and pecan sauce), I already know what I will be ordering next time.
If you're looking for a bit of escapism from Aberdeen and the colder weather then be sure to head here.
Price: £66
Address: 1 Alford Lane, Aberdeen, AB10 1YD