Food review: quality and comfort is what The Bieldside Inn does best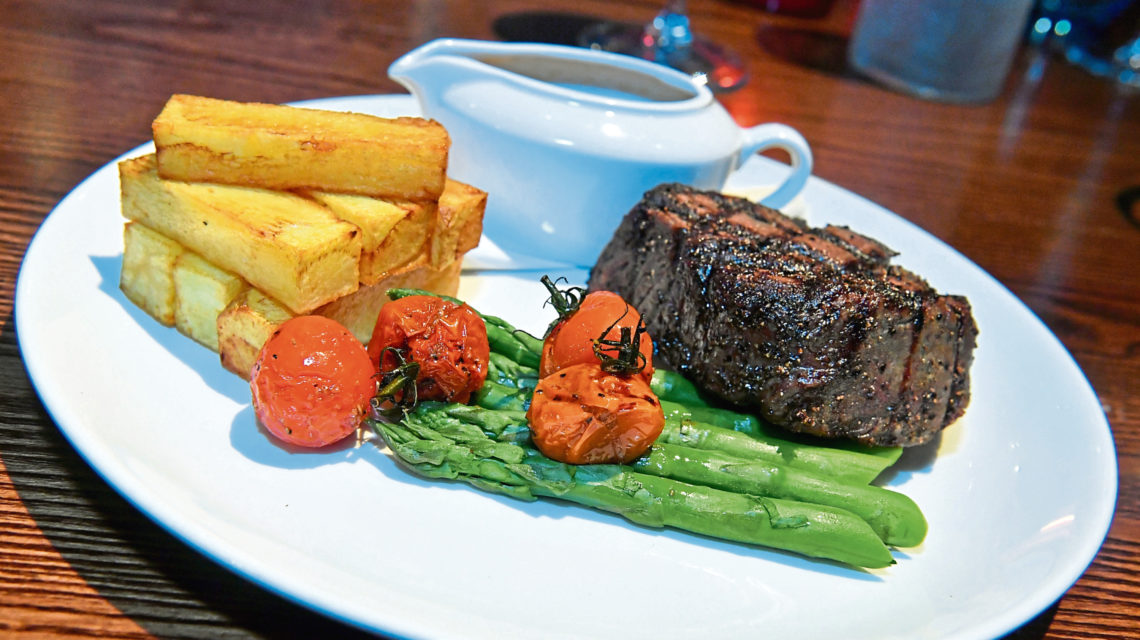 What do most people do when it's horrible weather outside? Stay in.
What did I do when the heavens opened and flooded half of Aberdeen? I went out for dinner, of course.
Don't get me wrong, had we not been going on holiday the next day and actually had food in the house, that most certainly would not have been the case.
But when empty cupboards are staring at you and there's little inspiration from the what I call "necessities" in the fridge, there's only one thing for it.
It almost seemed a little too cruel and unfair to ask a poor Deliveroo rider to cycle half way across Aberdeen getting absolutely soaked in the process just so we could enjoy some food.
Instead, we grabbed our jackets and decided to brave the storm ourselves – you're welcome Deliveroo riders…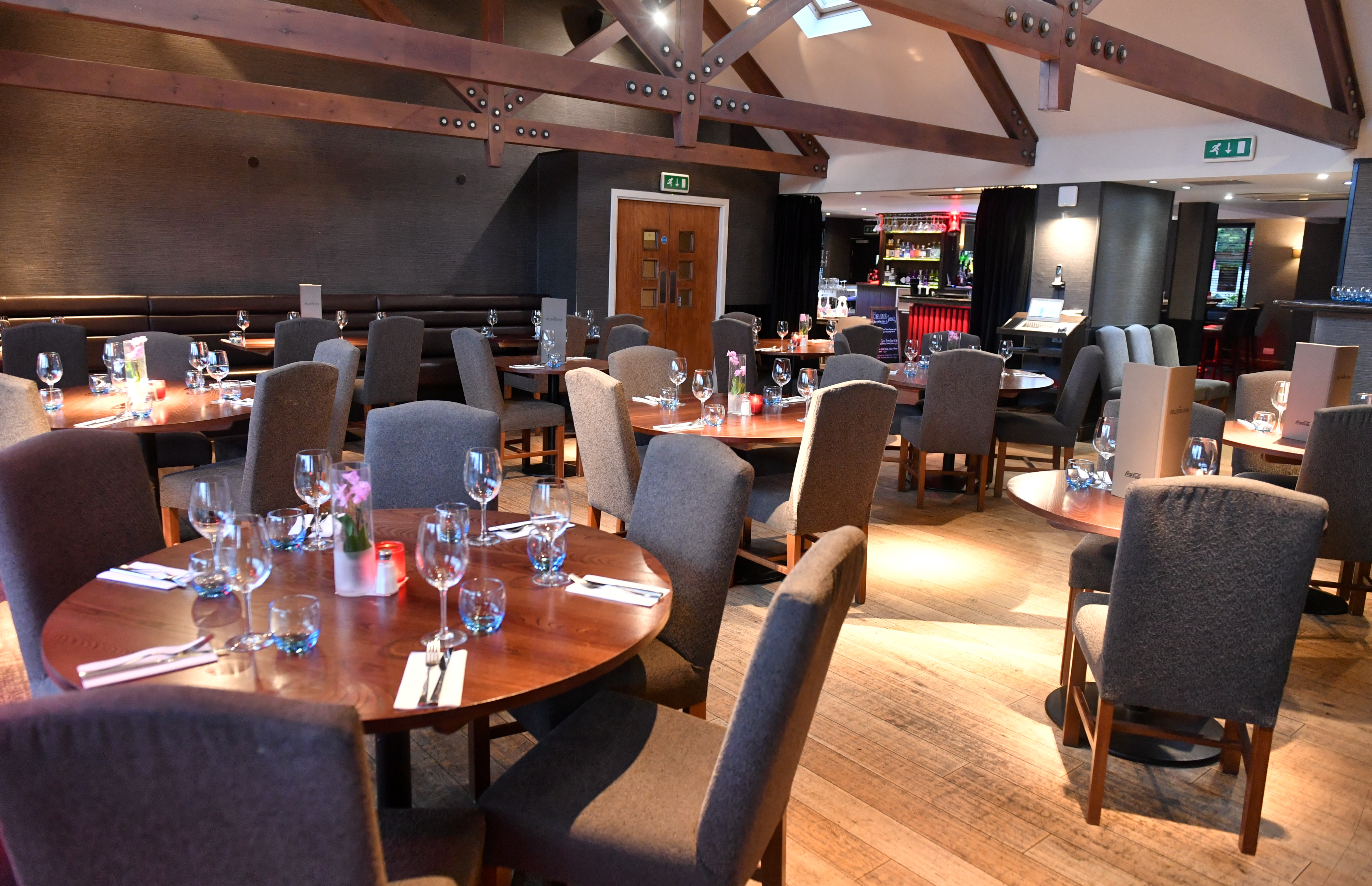 In search of somewhere that wasn't too far away, had parking (the logic being a quick bolt running from the car would ensure minimal soaking) and guaranteed a good feed, there was one place that sprung to mind – The Bieldside Inn.
Situated on North Deeside Road in Bieldside, the outdoor seating area round the back where the car park is didn't look so appealing in the stormy weather.
Heading indoors, it was clear we weren't the only ones who had the same idea. Opening the doors to an already busy restaurant, I was surprised to see so many people enjoying drinks and dinner.
The first thing that hit me was the heat. It was cosy and there was a mountain of umbrellas piling up in their dedicated brolly area. Our polite server took us to our seats and asked if we would like to see the specials, and see the specials we did.
I have to say this was the first time I had been left with a huge chalkboard strategically placed on one of the empty seats at our table for my boyfriend and me to review.
Turning to the menu itself, a few dishes stood out but I could tell by the look on my dining partner's face that he'd spied the steaks.
The 'Bielder' – how my friends and I refer it to – offers homely cuisine with a worldly twist. Ordering soft drinks, we had plenty of time to digest the offering and were ready to order on our server's return.
---
The Food
There's something about comfort food which is, well, comforting. It's simplistic food with no fuss and that's exactly what we experienced at The Bielder.
To commence our dining venture, I figured a traditional Scotch egg wouldn't go amiss.
Surrounded by a thick Stornoway black pudding mix, the large individual Scotch egg was served sliced in half, revealing the bright yellowy-orange yolk.
Coarse and chewy, the black pudding was intensely rich and oh-so indulgent. The egg itself was cooked well and was very soft, while the outer shell of the large bon bon wasn't overly crisp but had a slight snap to it.
Served with a homemade brown sauce, it was more of a puree scraped along the bottom of the plate rather than a sauce. A few strands of microherbs sat on top of the two halves, bringing a vibrant green colour into the mix.
My only nit-pick, I'd have loved some more of that brilliant sauce.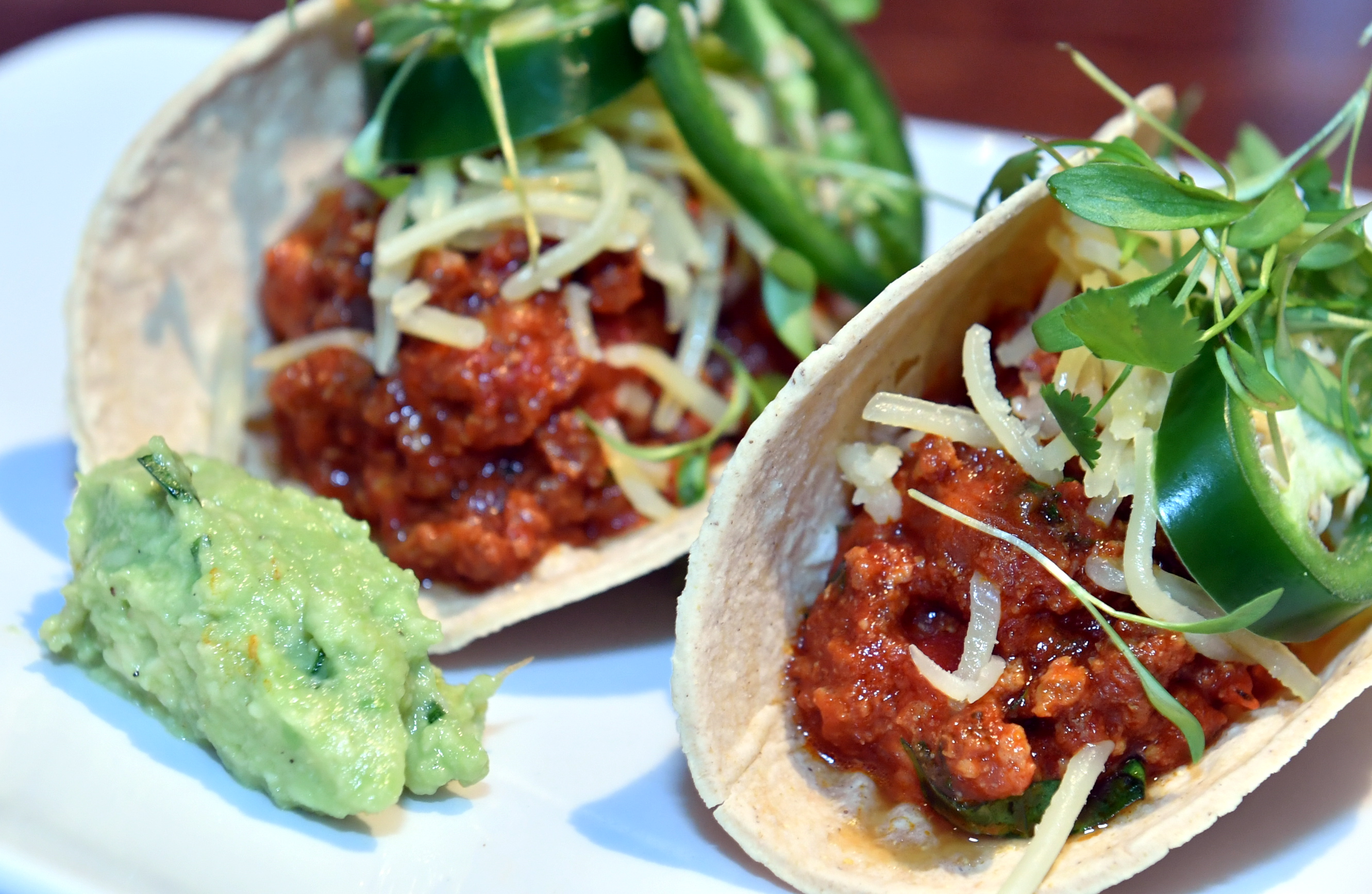 On the other side of the table sat the beef chilli tacos. The pair of crispy shells stood perfectly in place thanks to two discreet splodges of guacamole on the bottom of each. Covered in melted white cheddar and topped with a few rogue jalapenos, my boyfriend devoured them. A lover of spice, he was happy to see the jalapeno peppers incorporated, bringing a subtle heat to the dish.
The mince itself also had a kick to it. He started with his hands but by the end resorted back to using his cutlery as the tacos were piping hot.
The taco seemed to be flour-based and, as in the traditional Mexican style, was more like a smaller tortilla moulded into a taco than a taco shell itself. Licking his lips, it was obvious with the clean plate he had very much enjoyed his starter.
By this point, more waves of people had trickled in out of reach of the horrid weather outside.
Some time had passed and we started to question where our mains were. And, as if by magic, they appeared. A rare fillet steak for him and rotisserie roast duck for me.
Seeing my dish and how it was presented I was sure I'd picked the perfect main. Tender pieces of smoked duck breast sat on top of a bed of kimchi salad and a duck spring roll chopped in half graced each side of the plate.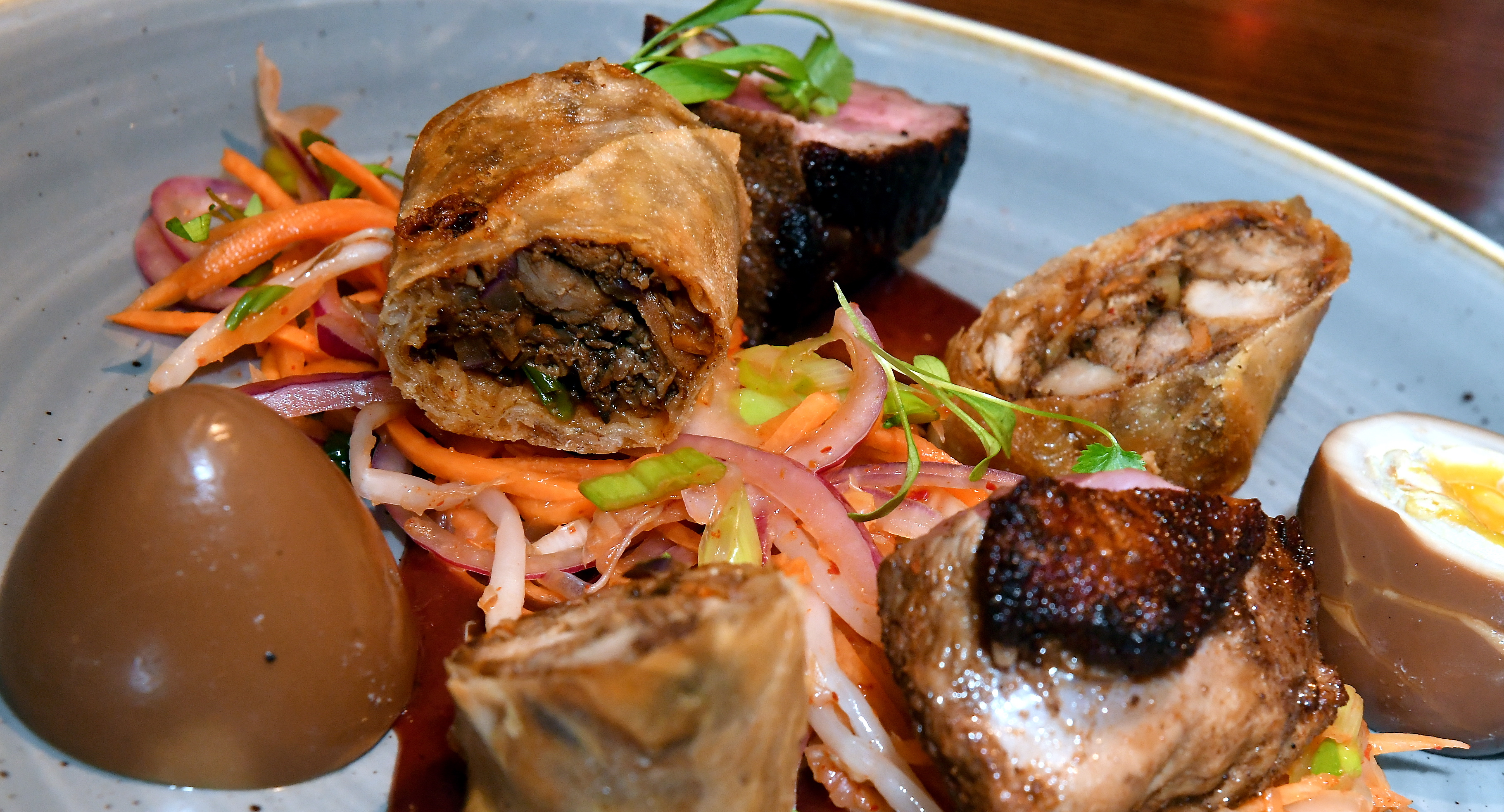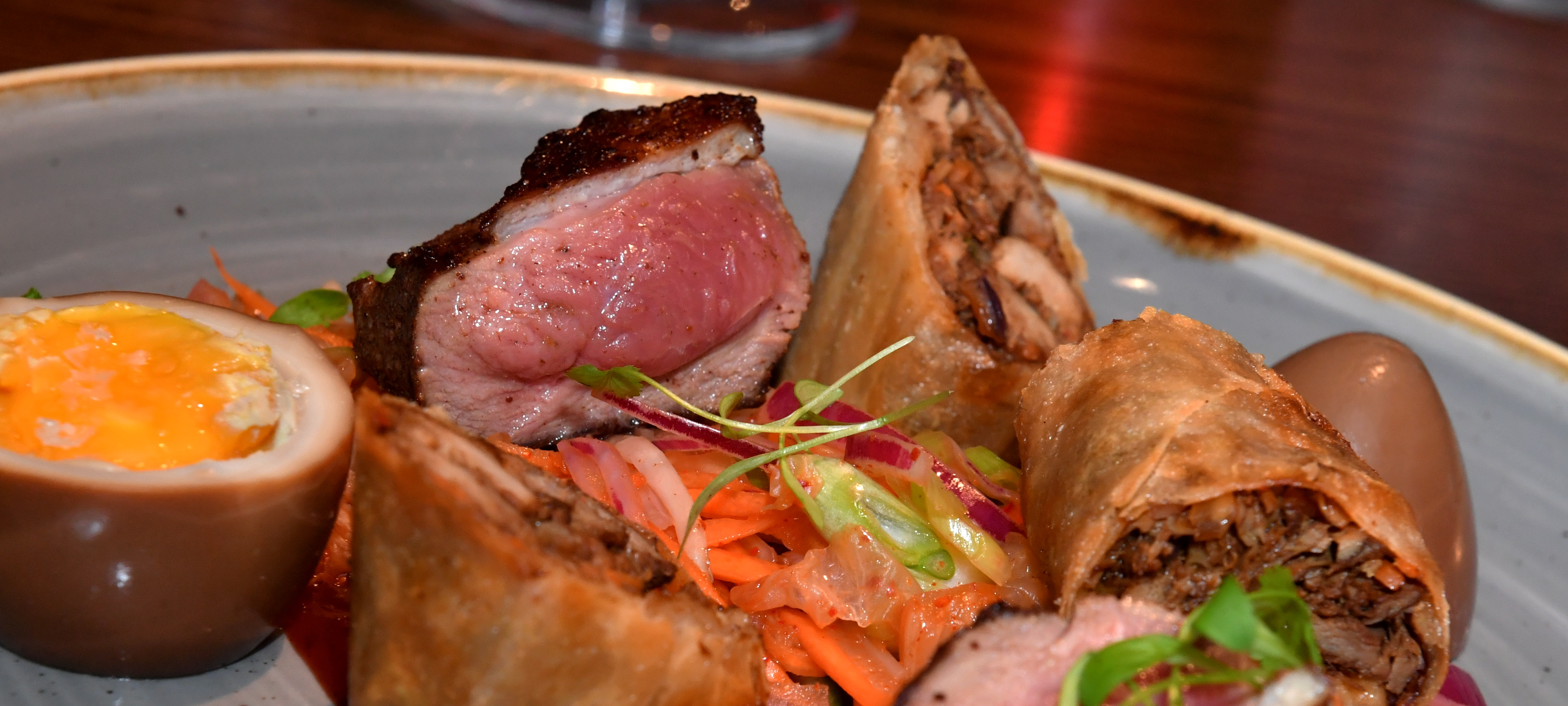 The tea-stained egg it came with was chopped in half, with one side baring its yellow, runny centre. The smoked duck breast had a cherry flavour to it and was beautifully peaty. The spring roll was piping hot inside, the shredded duck and vegetables married perfectly together. Served with a thick pickled plum hoi sin sauce, the explosion of Asian flavours just got better and better with each forkful.
The 200g Bannerman Butcher fillet steak was nearly gone by the time I looked up. Rare, it was cooked to perfection. Seared on the outside and juicy and succulent on the inside, it melted in his mouth. Served with peppercorn sauce, triple-cooked hand-cut chips, balsamic tomatoes and grilled asparagus, the whole dish came together with every flavour complementing the next.
The chips were thick and stacked like Jenga blocks. Crisp on the outside they were light as a feather inside and lovely and fluffy. Adding a peppery and spicy touch, the peppercorn sauce was thick with a slight sweetness to it. He poured it all over his steak and cleaned it up with his chips.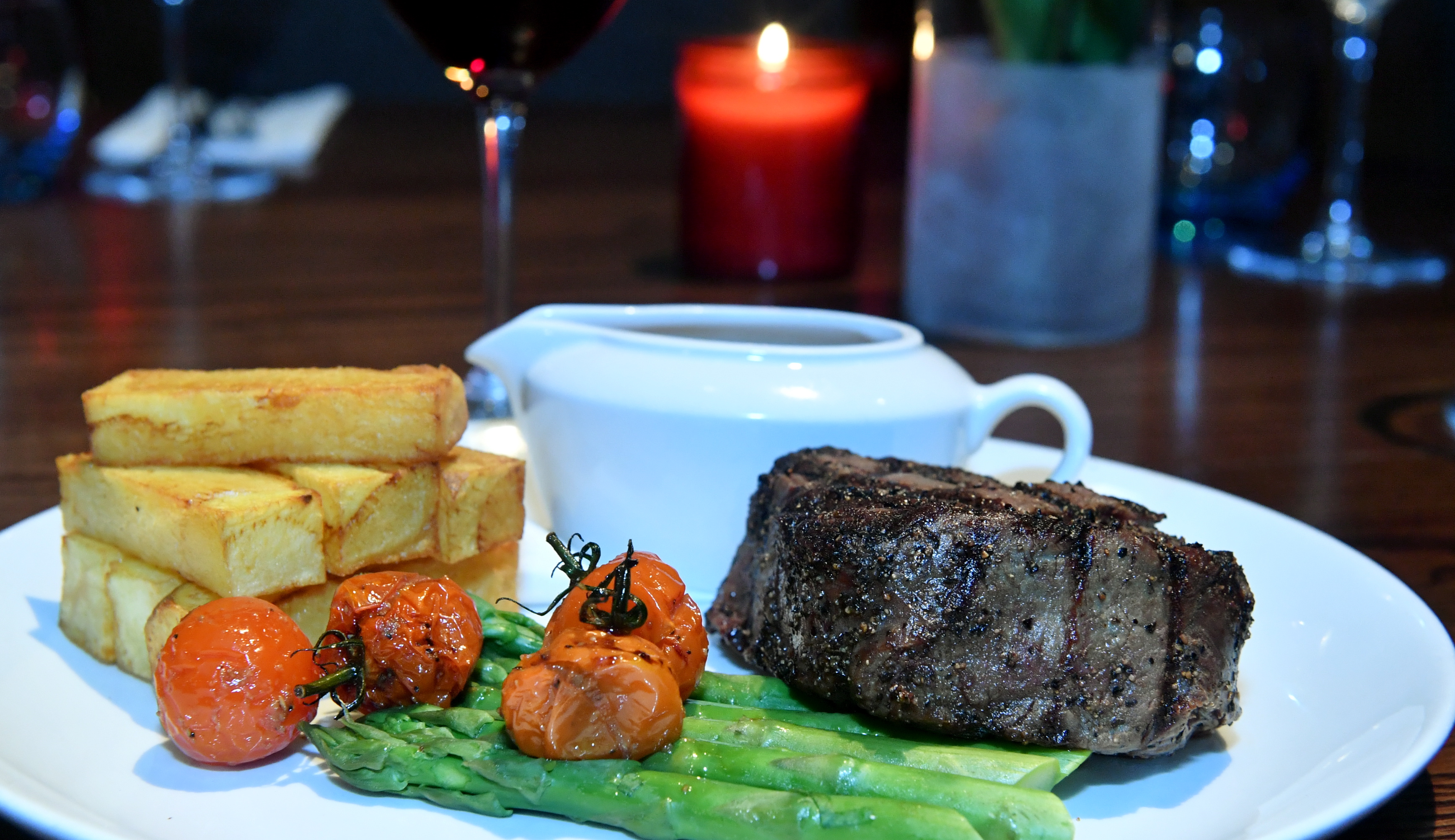 The asparagus was cooked al dente with a snappy crunch to it while the vine cherry tomatoes were sweet yet acidic and balanced everything out.
Being greedy, we ordered a sticky toffee pudding to share to end our meal on a high. "Anything with banana ice cream just has to be tried" – so said my other half.
Shortly after, our dessert arrived.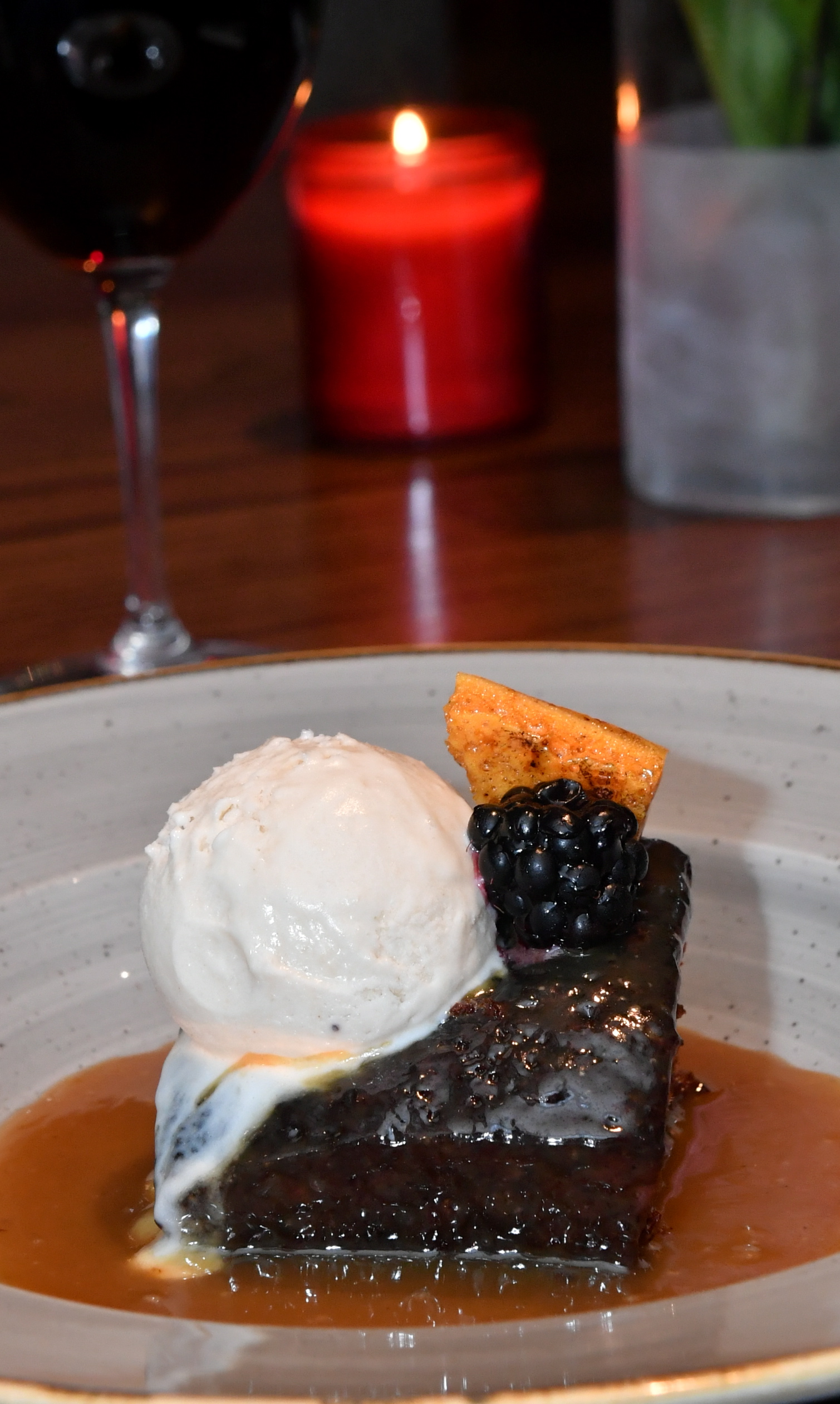 Covered in a delicious toffee sauce, which I could easily have licked straight from the plate, the pudding was fluffy and moist on the inside and one of the best I've had in a long time. The banana ice cream was incredibly creamy and was finished with a blackberry perched on top. The whole thing had arrived and was gone in around the space of 30 seconds.
Full to the gunnels, it was time to grab our brolly and head back out to the stormy weather, which thankfully had calmed.
---
The Verdict
My visit to The Bieldside Inn reminded me just how good the establishment really is.
The perfect place for drinks in summer, or a cosy intimate dinner in winter, it's no wonder this versatile venue is so popular.
A testament to its popularity was highlighted with the amount of people who would brave a storm, flooded drains and closed roads just to get a bite to eat.
Price: £77.50
Address: 37 North Deeside Road, Bieldside, Aberdeen, AB15 9DB