Food Review: North-east eateries dish out decadent afternoon tea delights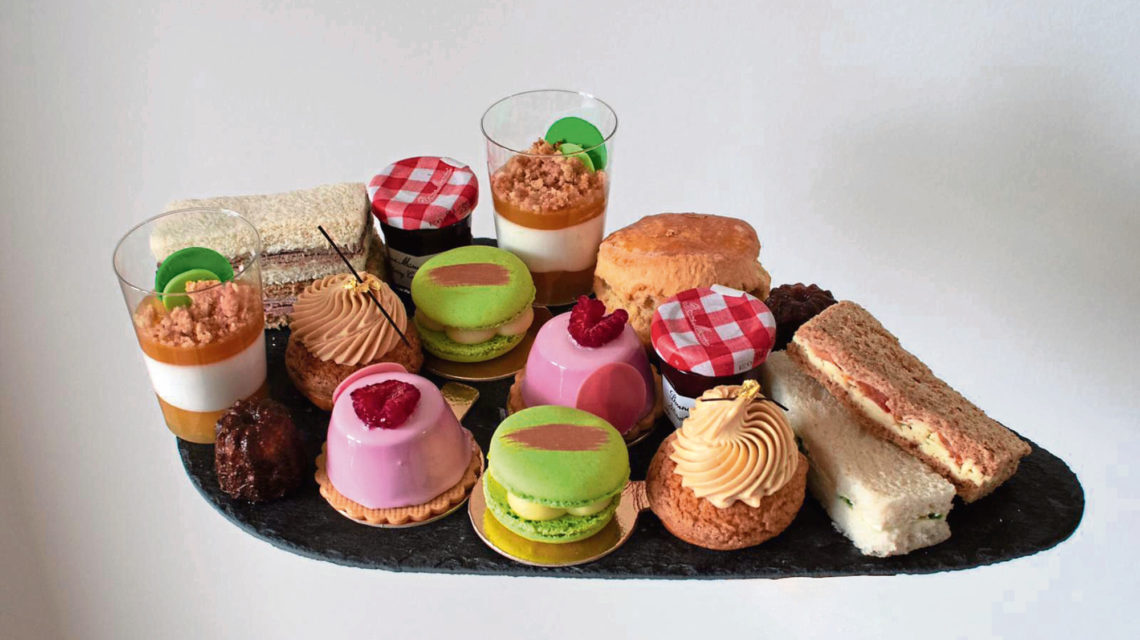 The Society team reviewed afternoon teas created by four north-east businesses. Check out what we thought below.
---
Corner Tree Cafe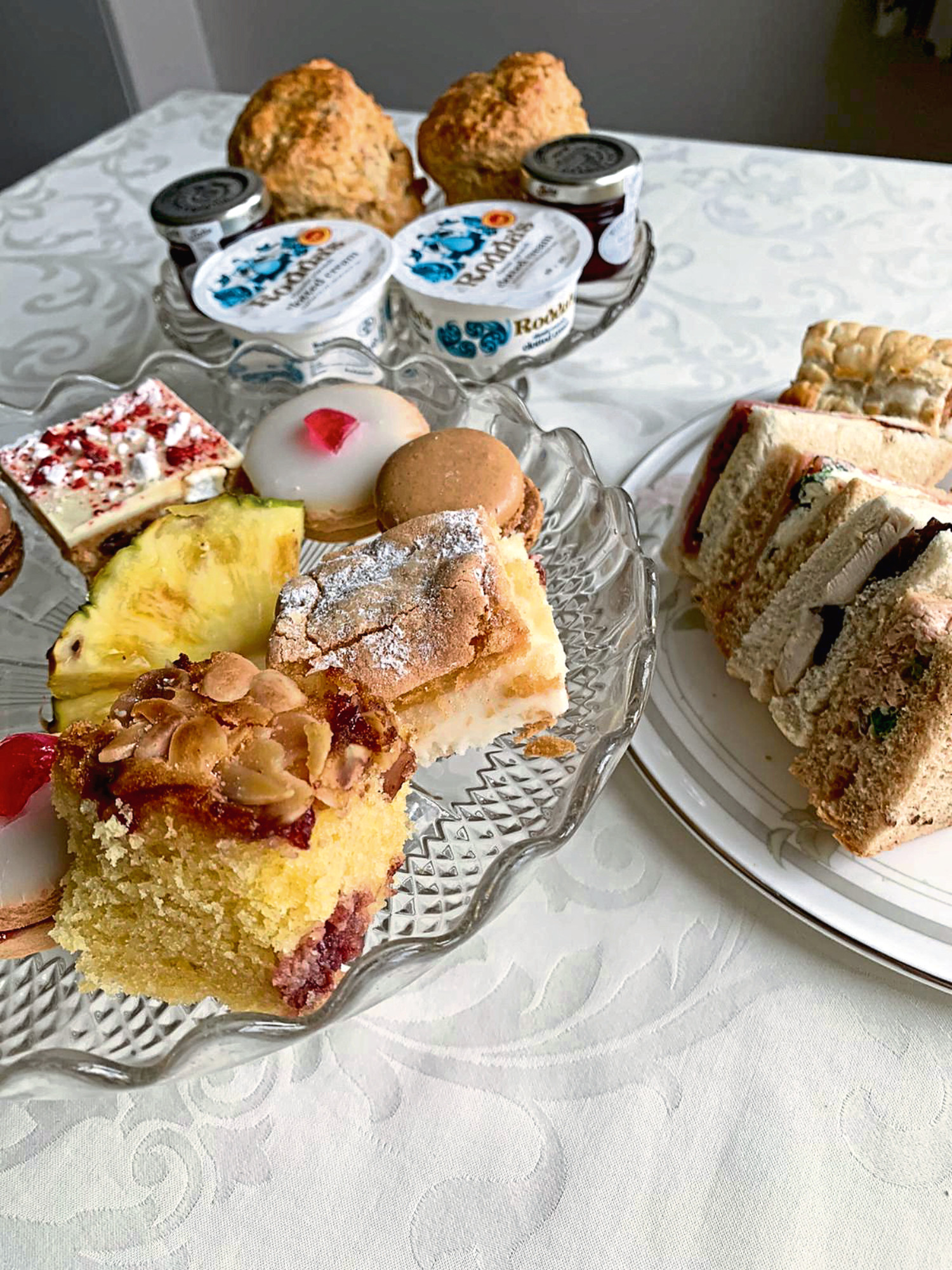 With lockdown days merging into each other, my daughter and I reckoned we should organise a mini event to make one of them memorable, and decided on an afternoon tea.
The Corner Tree Cafe in Aberdeen, with its array of sweet treats, seemed the ideal option – and ordering online was easy.
We chose a regular and vegetarian option, asked to have them delivered and were advised delivery would be between 10am and 2pm. Our goodies arrived shortly after 10am, and we'd to resist the temptation to break into the boxes early.
After dressing for the occasion and setting the table with the best china, we dug in to discover the delights in store.
The fresh sandwiches – including smoked salmon and chicken Caesar salad ones for the meat eaters, cheese with pesto, and hummus with roast veg for the veggies, along with homemade sausage rolls (one of them non-meat), were a lovely savoury opener for the tempting array of sweets.
Delicious cakes included crumbly empire biscuits, sweet and chocolatey macarons, moist sponge and almond cakes and a white chocolate and strawberry traybake.
The highlights for us both were the magnificent, well raised scones, delightfully paired with clotted cream and jam.
A nice touch was the addition of two fruit teabags with each serving, and the berry brew was the perfect complement.
Two helpings were really enough to feed more – though we were more than happy to have delicious leftovers.
Price: £15 per box. Collect for free from Cafe Ahoy in Beach Boulevard or £3/£3.50 delivery charge up to five-mile radius.
---
Almondine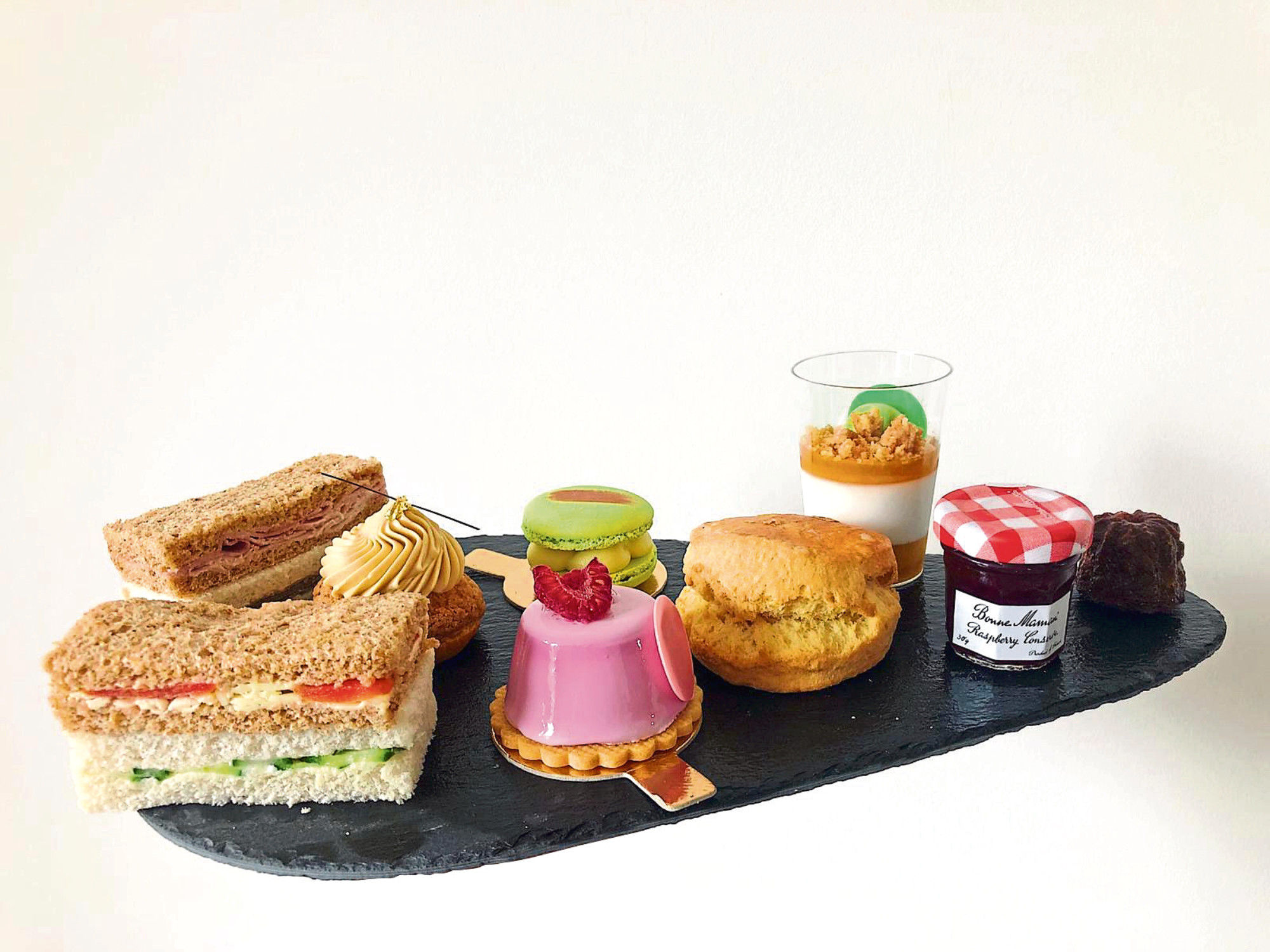 It's been a while since I've had something to really look forward to.
And I most certainly am not the only one. Classed in one of the high risk groups, lockdown has proven a challenge for my boyfriend's granny, with many weekly social engagements cancelled.
To give her a pick-me-up, we set a date and decided to order afternoon tea. Almondine, on Thistle Street in Aberdeen, was my first choice. However, as it was fully booked, it was nearly a month after ordering until the box of goodies came our way. Immaculately presented in Almondine's signature duck egg-coloured bag, most of the cakes had been lovingly secured with a branded sticker to ensure they didn't move around. We dropped off granny's box and set up FaceTime at home to enjoy the occasion together.
First up was the perfectly rectangular sandwiches. From a meaty beef and horseradish to a tangy cheese and fresh tomato, not to mention the juicy, sweet ham and mustard one, and the refreshing cucumber and cream cheese version, all were scrumptious.
Every cake was a work of art. The boozy vanilla and rum canele looked small in comparison to the huge scone which came with clotted cream and raspberry/strawberry jam. The pretty raspberry petit gateaux housed a runnier raspberry coulis centre and the key lime macaron was as vibrant in taste as it was in colour. The coconut and pineapple verrine (also boozy) was a layered delight of various flavours, but it was the chocolate and hazelnut choux bun with the decadent filled chocolate centre which stole the show for all three of us.
"Truly first class" were granny's thoughts, and I agreed. It was definitely worth the wait, but be sure to book in advance.
Price: £21 per person.
---
The Kastille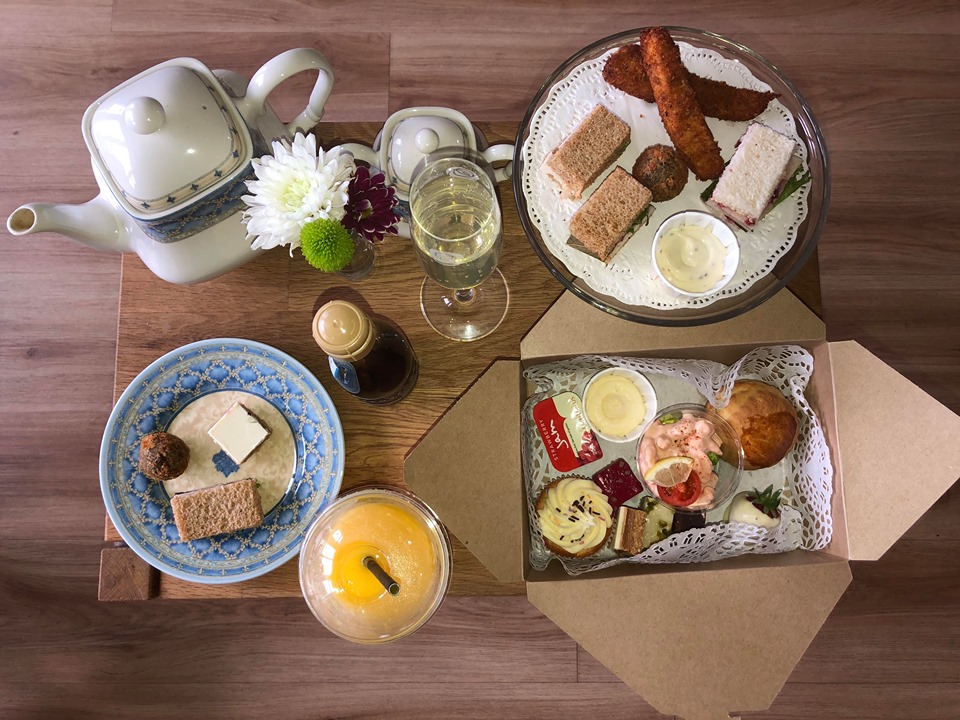 The takeaway afternoon tea concept has been booming across the north-east in recent weeks.
With families confined to their homes during the lockdown, food has played a huge part in spacing out our days and providing some much-needed comfort. And that's exactly what my decadent afternoon tea from Turriff-based The Kastille did for me and my family.
On collection, the aromas of my package filled the air. But it wasn't until I arrived home that the four of us could really appreciate its contents to the full.
Ordering two boxes – so there was plenty to go round – they were filled with both sweet and savoury treats alike. We removed each indulgent item one by one in high anticipation.
From a selection of finger sandwiches, haggis bon bons, chicken goujons and prawn cocktail, to cream scones, brownie bites, cupcakes and chocolate covered strawberries, we were in foodie heaven.
To top it off, the eatery even offers the option to add on a miniature bottle of prosecco or frozen cocktail to your order – with no additional charge.
For me, this was a game changer. And we decided to go for one of each.
Overall, my first takeaway afternoon tea from The Kastille – which is available Friday to Sunday from noon to 3.30pm – was fantastic.
The venue's customer service is exceptional and I was well informed on when, how and where to pick up my foodie package.
The team even made the effort to avoid using mayonnaise in our sandwiches – as requested – which enhanced the experience even more.
Visit The Kastille on Facebook here or call 01888 563838 to place an order.
Price: £12.95 per box.
---
Arduthie Tea Rooms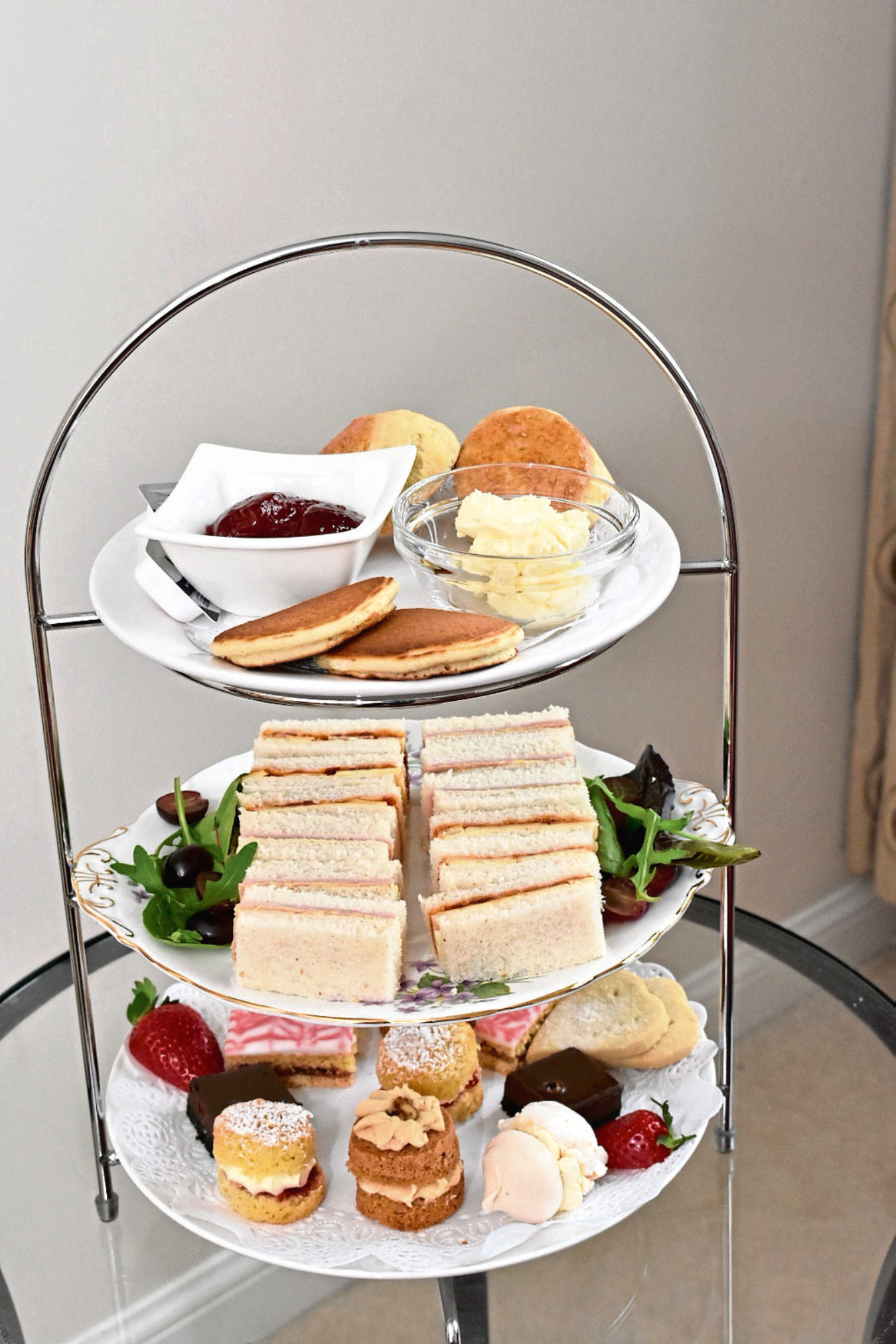 Afternoon tea is a ritual. It's as much about the look and presentation as the food. The cake stand, the delicate china, the little cups with handles you can't loop a finger through.
Arduthie Tea Rooms in Stonehaven understand that. Which is why their afternoon delivery includes all the cups, saucers and sideplates you need.
Oh, and the food, of course. Plus the tea itself in those charming little Suki teapots.
So, after popping on to their website to choose our sandwich fillings then making a quick phone call we were all sorted for afternoon tea on Saturday at 2pm.
There was a sense of occasion and excitement about the delivery arriving.
In the box was far better china than has graced our table for a while, delicate and floral.
The cake-stand itself held an array of treats, which we worked our way through from the top down. The homemade scones and pancakes were sublime, especially with the rich strawberry jam and whipped cream.
We had two fillings on our sandwiches, beautifully presented, crusts cut off with precision. The ham and mustard ones carried a superb fiery kick, while the cheddar cheese and sweet chilli chutney brought real tang to the proceedings.
The cakes were delicate little things and plenty of them. The little Victoria sponge was light and sweet, while the walnut and coffee sponge added a depth of flavour. I couldn't decide on a favourite between the Bakewell tart and creamy meringue, but neither lasted long. There was a chocolate concoction that was delightfully dense.
All of this, plus a delicate Earl Grey Blue Flower tea for my wife and a hearty breakfast blend for me. This was a lockdown treat that we can't recommend highly enough.
Price: £14 each, plus £1 each for tea.