Food review: Family-run Christos Greek Taverna is a hidden gem with delicious, traditional food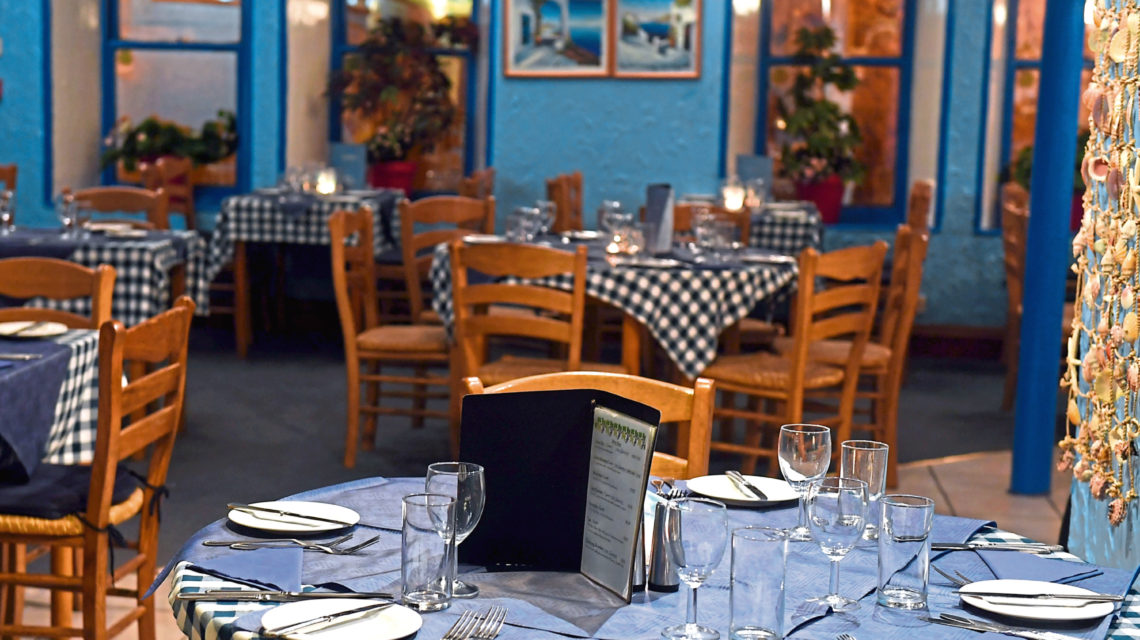 When a restaurant has been open longer than you've been alive, you know it's got to be good.
Withstanding the test of time for the past 27 years, Aberdeen's only Greek restaurant is not an easy find.
Tucked away on John Street just across the road from the North East Scotland College, Christos Greek Taverna's entrance is masked by a canopy of beautiful flowers.
Follow the narrow lane that lies underneath and you'll soon come across a door that will lead you to the restaurant downstairs.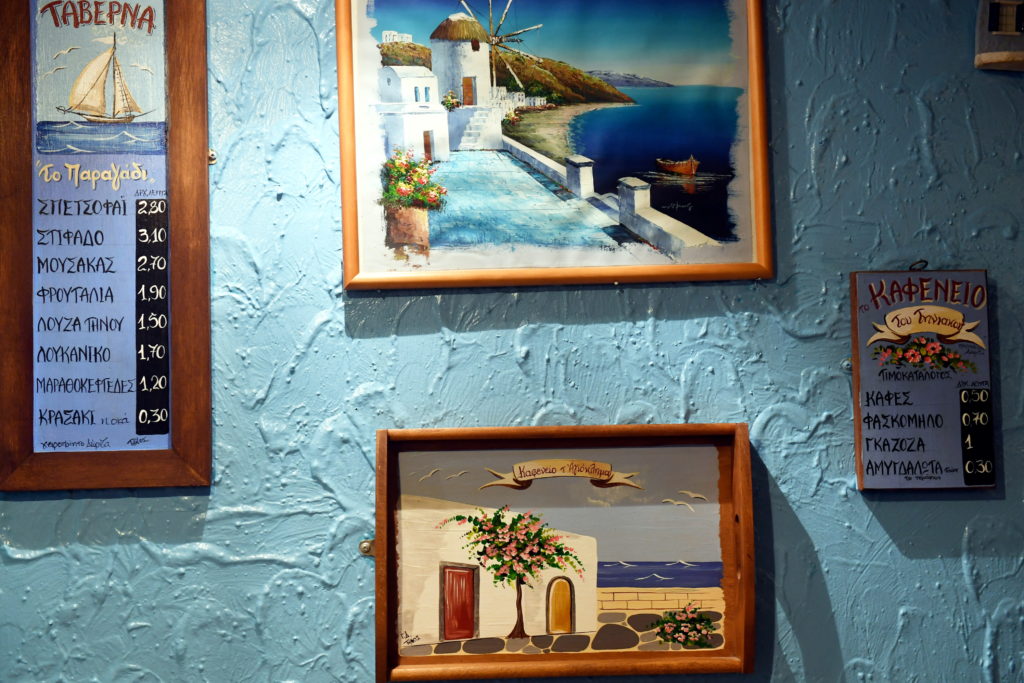 Walking in late on a Saturday night we were greeted by a sea of eyes in between the blue and white hues of the restaurant and were immediately shown to one of the last available tables.
It was heaving, but there was a calm, relaxing atmosphere about the place.
It's a vibrant space and it's apparent the owner Christos and his family have ensured the restaurant nods to their roots.
The Greek flag subtly imprinted in your mind, having been incorporated into the ceiling, a variety of Greek mythological artefacts sat as decorative pieces. Paintings, copper plates and statues all played a part in setting the scene.
Specials were listed on a black chalkboard behind the bar and I noted the halloumi fries starter.
Nothing was too much to ask and the laidback mood made us feel like we were dining in a restaurant on the Greek coast. It was a welcome change to the usual rushed, fast-paced UK dining culture.
---
The Food
Ordering, I was reassured by our server about my choices, putting the fate of my dining experience into the hands of a stranger.
The smells of aromatic herbs and herby tomato dishes filled the air. We sat salivating at the thought of food.
Arriving shortly after our drinks, our starters almost took up the whole table.
I'd decided on the halloumi fries, having received a text from a friend who had spied me in the restaurant earlier. "Halloumi fries for your starter" it read.
My partner ordered the garides yiouvetsi – prawns in tomato sauce – and we also ordered the melitzanosalta special, a family recipe dip.
Six chunky golden-brown fried breaded halloumi sticks sat perfectly on the plate. Beside them, a large square bowl full of Greek yoghurt which had been mixed with honey and mustard sauce.
The salty cheese was brilliant. The fried sticks were slightly crisp on the outside with a gooey interior. I tried the stringy cheese fingers with the dip which had a beautiful taste of savoury honey to it, and the mustard sauce brought a slight tanginess to the creamy Greek yoghurt. Boasting a slight hint of mint, a sweet profile was added into the mix.
My partner's tomato prawns were also excellent. Three big prawns sat among four big chunks of creamy feta cheese which were swimming in tomato sauce. Made with fresh tomatoes, the sauce was quite sweet and piping hot. The tail-on prawns proved a little difficult to eat, but once dismembered, were succulent.
Enticed by the secret family recipe, we had to try the melitzanosalta special. A cold starter, it was served with two warm pitta breads. The dip was made with chopped and diced aubergine blended with cucumber, tomato, onion, garlic, Greek yoghurt, olive oil and vinegar. The juicy tomato pieces burst in my mouth and the lovely hint of basil at the end of every mouthful made it even more appetising.
The vegetables, especially the cucumber and onion, were very pungent throughout and the Greek yoghurt partnered with the oil and vinegar brought a creamy, oily texture to it. There was plenty of it for the both of us to lather our pittas in.
Taking a breather, a group of people entered the restaurant, cake in hand and candles lit. A moment of confusion, we quickly realised it was the owner Christos' friends coming to wish him happy birthday.
The whole restaurant sang his best wishes and cheered. A testament in itself, it says a lot about the customers and the friends who visit this restaurant frequently.
Shortly after the celebrations died down and everyone took their seats, our mains arrived.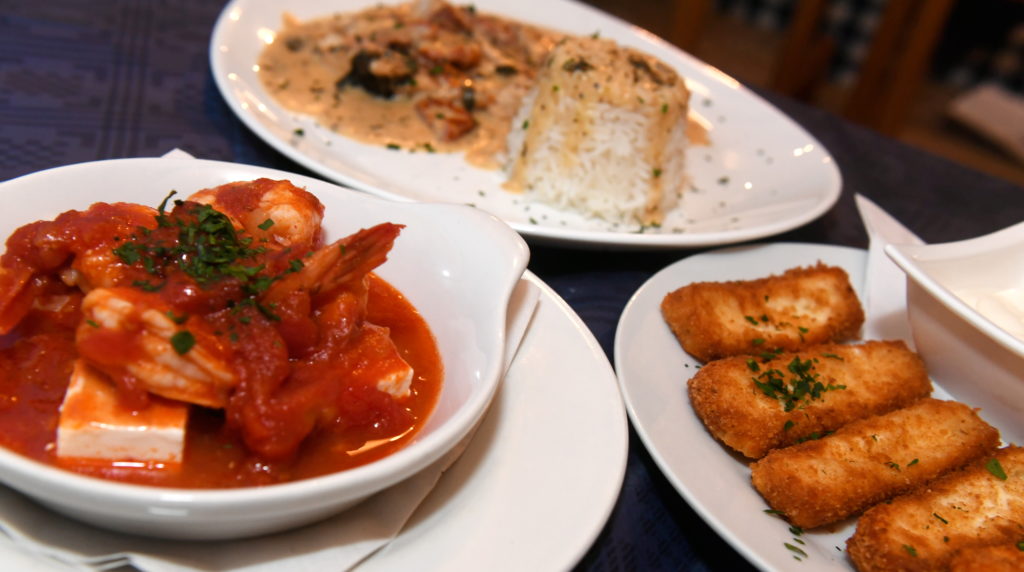 Not my usual, I decided on a lamb-based tomato dish called araki kokkinisto. Tearing apart with the swipe of my fork, the three pieces of super succulent lamb were packed full of flavour. Bringing a richness to the offering, the meat sometimes overpowered the sauce too much which, on its own, was outstanding.
Cooked with tomatoes, cinnamon and white wine, the cinnamon immediately hit me when there was less meat on my fork. The one flavour to really carry through until the end, it added a sweet nuttiness to the dish and counter-balanced the tangy tomato and succulent lamb.
My partner's kotopoulo me saltsa kerfalotiri – a chicken fillet in a creamy kerfalotiri cheese sauce, sun dried tomatoes and an aromatic blend of fresh herbs – melted in his mouth. Super creamy, the sauce was full of flavour and light. Four strips of tender grilled chicken were drowned in the sauce which had large bits of sun-dried tomato in it adding a subtle sweet earthiness to it.
Both dishes were served with a healthy helping of rice and we also both received a second plate of roasted potatoes and fresh salad on the side.
The roast potatoes were excellent and still moist inside. Boiled and then flash roasted with a splash of olive oil on top to finish off the flavour, they were sublime. We didn't eat much of the salad, having filled ourselves up with the abundance of meat on each plate.
Searching for something sweet to finish the meal off, we chose baklava. A parcel of filo pasty soaked in syrup with walnuts and almonds hiding inside, it was light and sugary and hit the spot. Two dollops of whipped cream with syrup and a scoop of clotted cream sat aside the traditional Mediterranean dessert which was a brilliant way to end the evening.
Before leaving, Christos made the effort to speak to every guest and presented us with a glass of ouzo on ice. We signed the night off by raising a glass to him for his birthday and said our farewells.
---
The Verdict
Christos Greek Taverna serves up proper good home cooked food. These are dishes I could imagine any family – whether in Greece or Aberdeen – would enjoy sitting down and eating together.
A family run business, it was humbling to know his wife and sons were still involved, working away in the kitchen as Christos manned the fort with his small, pleasant front of house team.
Forever smiling, this is one man who takes pride in making an effort with every single guest. So much so he makes you feel at home almost immediately.
Christos Greek Taverna is a hidden gem that everyone should know about and definitely take time to visit.
---
Address: 14-20, John Street, Aberdeen AB25 1BT
What we had:
Melitzanosalta Special (family recipe) – cold starter
Special – Halloumi Fries
Garides Yiouvetsi (prawns in tomato sauce)
Araki Kokkinisto (lamb dish)
Kotopoulo Me Saltsa Kerfalotiri
Baklava
Price: £56.50
For more food reviews click here.