Food review: Book your table in advance to get a slice of Aberdeen's Miller & Carter
Patience. That's one thing you need when trying to secure a booking at steakhouse Miller & Carter.
Having tried to bag a table for almost a week, I was on the verge of giving up when I finally, finally managed to get one for a Sunday afternoon.
Opening in spring last year, the restaurant, on the corner of Union Street and Broad Street, boasts a beautiful view of the Town House – providing you get a window table of course.
The venue is located in the former Esslemont & Macintosh store. A grand space, the burgundy red and mahogany wood finish was the perfect fit for the luxurious restaurant.
Falling into the New York jazz club meets high-end restaurant category, it was heaving when we arrived – and at 1.45pm on a Sunday in January, may I add.
"The next availability is in an hour," said the hostess to the deflated gentleman walk-up in front. Thank God I wasn't going to meet the same fate as him.
Servers raced around the restaurant which immediately sent alarm bells ringing. Would we get our drinks at a reasonable time? Would our food take forever? These were all questions I was about to have answered.
The Food:
Having dined at Miller & Carter previously, I was looking forward to tucking into one of their delicious, juicy steaks.
Scanning the menu, we toyed with the idea of ordering the Butcher's Block – a board featuring three different steaks and a range of sides – but, decided a steak each would be more than sufficient.
Drinks ordered, it took mere minutes for them to arrive. The speed of service was impressive for how busy it was, so I was intrigued to see if they could keep up the pace in the kitchen. Our waitress was so efficient that later on when my boyfriend had mentioned about ordering more drinks she was immediately with us.
What I love about Miller & Carter is that your sauce and chips are included in the price of the steak, as is a complementary gem lettuce wedge.
I'd ordered my quartered wedge of lettuce to come topped with honey mustard and bacon and my boyfriend opted for the buttermilk ranch with croutons. It usually comes quite quickly, but this time arrived moments before our steak, which meant my attention was quickly taken away from it.
The wedges were nice, good sauce consistency and lots of toppings, but it needed the sauce throughout, not just drizzled on top in my opinion.
As I said, I'd had a few mouthfuls of the wedge when our steaks arrived, so retired immediately from the lettuce side and focused on what I was there for – a mouth-watering steak.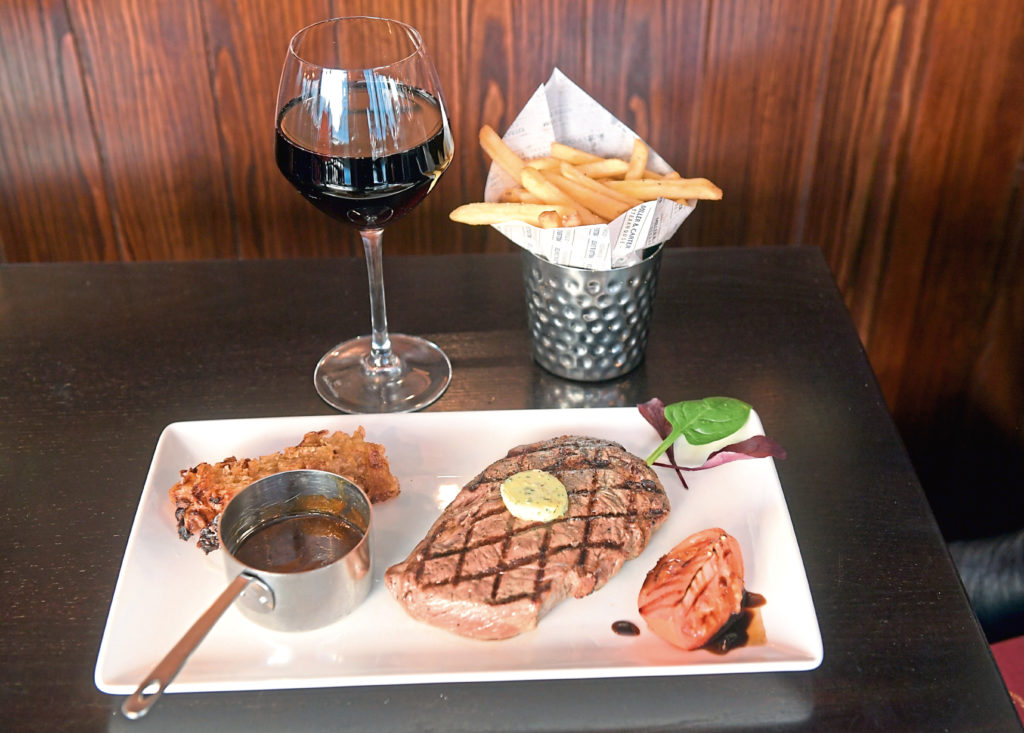 Ordering a ribeye, the tender, slightly fatty steak was cooked exactly how I liked it, medium rare.
My boyfriend sneakily changed his chips to Millers loaded beef barbocoa fries, which were topped with pulled beef in a tangy barbecue sauce and melted cheese to accompany his rare fillet, which he drizzled with peppercorn sauce.
Both 50-day aged steaks were cooked to perfection and melted in our mouths. The fillet was tender while the ribeye was juicy and succulent. The huge steak knife slid through the fillet of beef and we were met with a beautiful pink/red middle. Juices running, the beef was extremely soft and the ribeye slightly chewy due to the fat on it.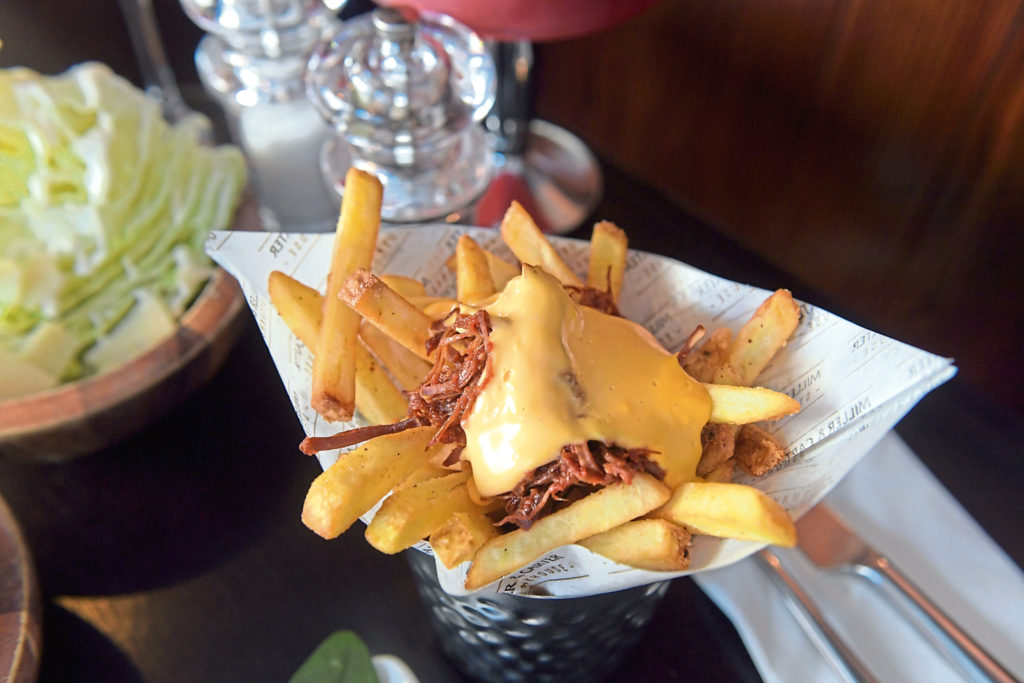 Served with a parsley butter which began to melt when it arrived, both steaks not only looked good, but tasted it too. A slice of the restaurant's famous onion loaf accompanied the dishes, which was basically a deconstructed onion ring made into layers.
The peppercorn sauce had a good spice to it, bringing out all the flavours of the fillet. My beef dripping sauce was incredible. Served in a small silver serving pan that sat beautifully on my plate, the dark, rich gravy-esque sauce complemented my ribeye beef exceptionally.
The chips were extra crisp on the outside and fluffy on the inside. I'm certain they'd been cooked in the fryer twice just to give them that extra flavour.
We ordered a side of lobster thermidore mac and cheese to try out, which boasted a healthy helping of meaty chunks of seafood throughout. The macaroni pasta was soft and squidgy and the melted cheese engulfed the whole lot. It was the ideal size for sharing and added a nice creaminess to the whole gastronomic experience.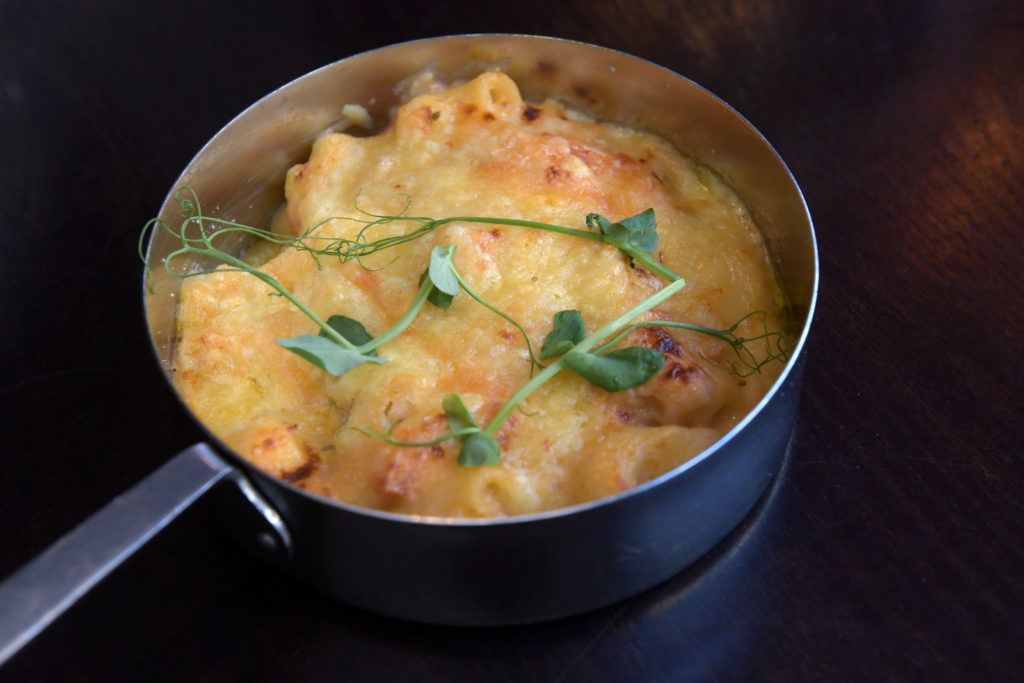 As if we hadn't had enough to eat, we sweetened the deal and ordered the indulgent sharing platter for dessert.
A board of sweet treats and some fruit to balance it out, it didn't take long to arrive.
On the board lay two giant glazed marshmallows, salted caramel profiteroles, raspberry sugar mini doughnuts, chocolate brownie, fruit skewers and toffee and chocolate sauces for dipping everything in.
Demolishing the fruit as quickly as possible, I was focused on the goodies more than anything. The brownie – my favourite – was sticky in your mouth and incredibly rich, with dark chocolate. The doughnuts had sour dehydrated sugary raspberry pellets on top which reminded me of Nerds sweets. The giant marshmallow was too sweet for me and proved a messy eat.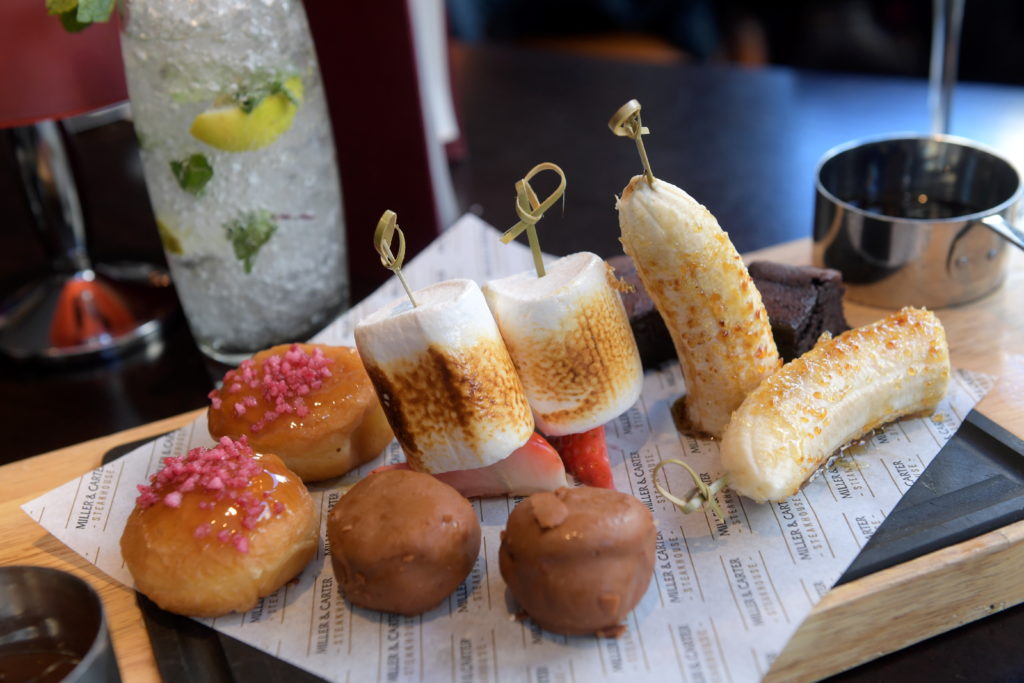 The profiteroles were wrapped in a layer of salted caramel chocolate and the filo pastry was thin with a beautiful Chantilly cream inside. I would have happily eaten a bowl of them alone. Complemented with the sweet, buttery caramel and dark chocolate sauces, it made a great sharing dessert with a little bit of everything.
The Verdict:
It's no surprise that Miller & Carter is fully booked most nights, especially when the venue is producing food at such a high calibre and the waiting staff handling the busy restaurant flawlessly.
A little pricey for a lunch date, I think the steaks are reasonably priced in comparison to the Aberdeen market rate. The fact your sides and sauce is included makes it excellent value.
If you're going out for a special occasion and fancy steak, this is definitely a good place to frequent. With a varied wine and drinks offering, there's plenty of options. Just don't forget to book – and the sooner you can, the better.
Make sure you ring the big bell in the restaurant on your way out if you've had a good time to give your compliments to the chef.
Address: 26 Union Street, Aberdeen, AB10 1BD
Price: £76.30