Food review: North-east platters to take you to cheese heaven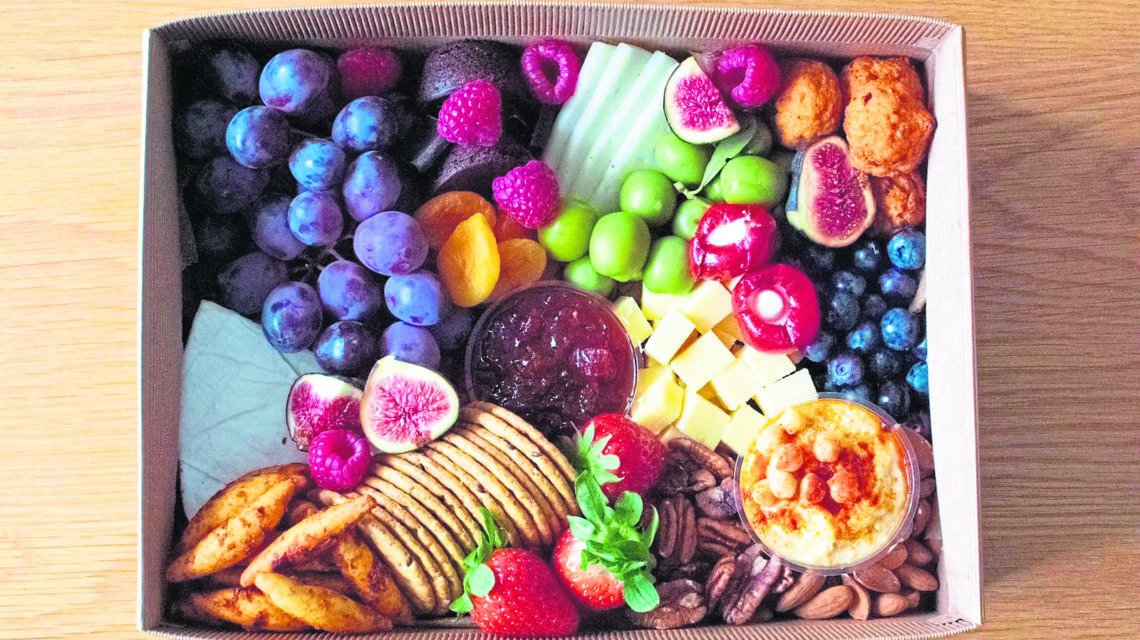 The Society team reviewed cheeseboards created by three north-east businesses. Check out what we thought below.
Platter
You know those meals that almost look too good to eat? The ones you just stare at in amazement?
That's what north-east grazing table and cheeseboard specialist Platter, which delivers to homes across the region, is offering.
If the aim is to provide "ooh" and "ahh" moments, then that's exactly what happened when a platter box (the firm's fancy name for cheeseboard) arrived at my door.
Ordering through the new website, my experience couldn't have been easier. Payment was done and dusted quickly and within minutes I had a confirmation email. Perfect.
It had assumed Saturday's platter box would come later in the afternoon as deliveries were starting in Banchory that day.
But receiving a call earlier, I nipped down to our front door, picked up my platter and waved off our friendly delivery driver.
Saving the delicious spread for the evening, it was hard not to rip the bow that sealed it.
Insisting he helped (as if I was going to eat a cheeseboard for two on my own) my boyfriend grabbed two plates, an array of knives and got ready to dig in.
The platter itself was bulging with goodies. From crackers to houmous, not to mention three different cheeses, an array of fruit and nuts, chocolate, mini tomato breadsticks and more, we dived in, picking at everything in sight.
The tomato chutney was one of the best things I've ever tasted. Lovely and sweet, the big chunks were perfect for smothering the crisp, seeded crackers. It could be topped with either the salty, sticky Brie, the chopped cubed creamy cheddar, or the light, milky manchego; the options seemed endless.
On the fresh fruit front, a rainbow of grapes, raspberries, strawberries, dried apricots, blueberries and juicy figs sat alongside non-pitted salty green olives, crunchy walnuts and silky almonds.
The sweet potato falafel with chilli was a great addition and melted in the mouth, but the favourite for both of us had to be the piquant, soft cheese-filled peppers. With just two up for grabs, we savoured every second of the little flavour-packed veggies. The houmous had been sprinkled with paprika, was topped with soft chickpeas and roughly blended. The deep pot took a while for us to work our way through, and was great for dipping the tiny breadsticks in. Finishing on a high, we devoured the mouth-watering brownies and chocolate squares, a sweet end to an excellent cheeseboard.
Visit byplatter.com to place an order.
Price: £34 (including delivery)
---
The Pier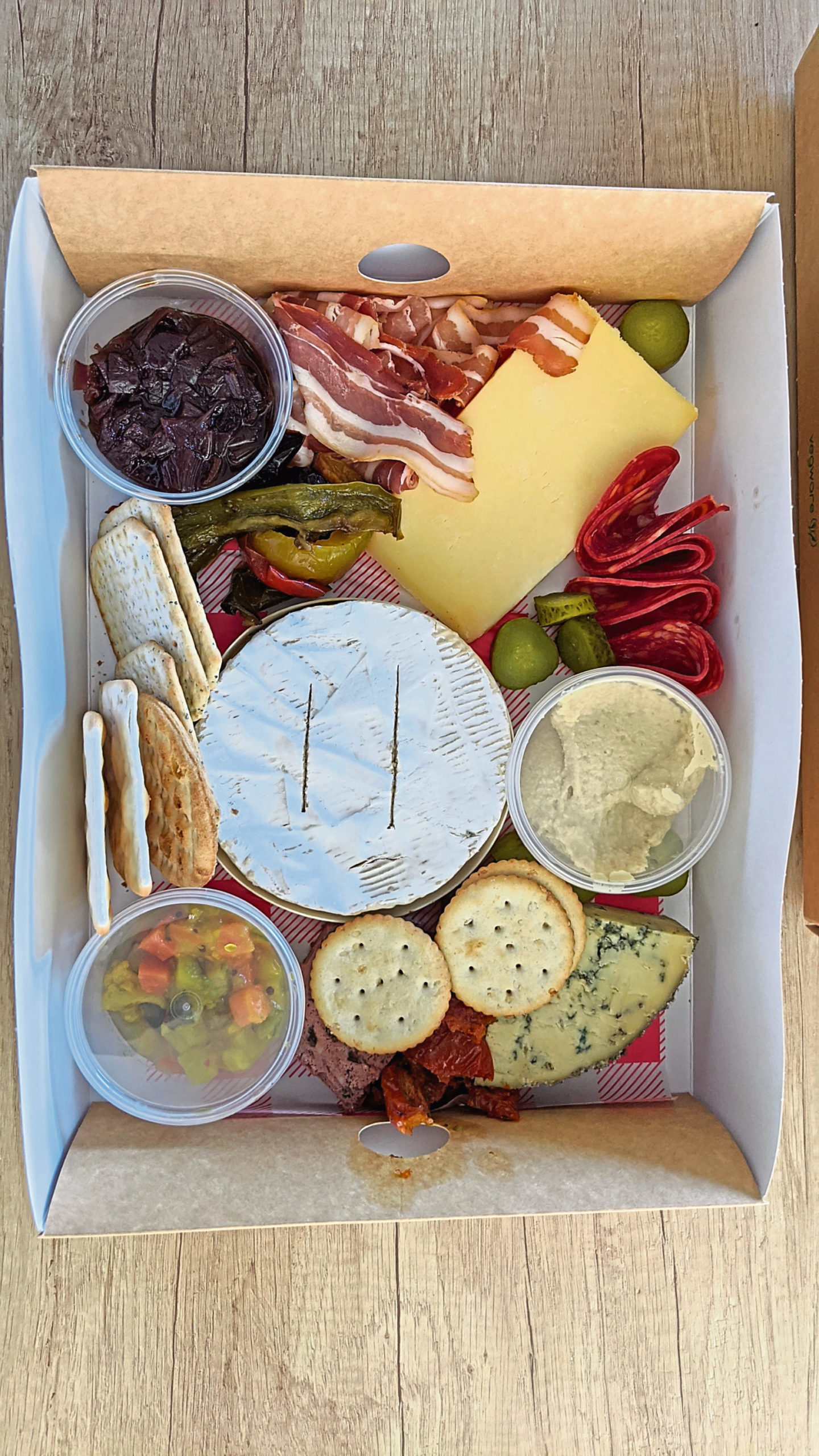 A cheeseboard is one of life's joys. What could be better than a bit of good cheese, with some nice meat and a selection of fine garnishes? Plus it can be delivered direct to your door to enjoy during lockdown.
This one, from the Pier, will set you back £22 including contactless delivery and promises three cheeses, chutney, houmous, and cured meats along with crackers and roasted peppers.
Each week the cheese varies, but finding my box on the doorstep with a complete Camembert staring up at me through the plastic lid was exactly the boost I needed for a Friday afternoon.
Alongside every cheese lovers favourite oozy treat was a generous wedge of smoked applewood and a nice Stilton.
The applewood had that delicate balance of smoke and sweetness you'd expect, with a creamy salty Stilton.
The chutneys were excellently paired to match the week's cheeses; the sweetness of the onion chutney working with the blue, and the little spiced golden beetroot piccalilli matching the smoked cheddar beautifully.
Of course, the Camembert was the overall star. Warmed in our oven until perfectly oozy – the only thing missing from the box was a nice chunk of bread for dipping. But thankfully lockdown bread-making is very much a thing in our household.
The hidden star for me was the chicken and wild mushroom terrine. Beautifully smooth and rich, it again worked well with a little bit of gherkin and the chutney that was also included.
Alongside the terrine was a portion of delicious smoked pancetta and some rich smoky chorizo.
The use of a vegware box for the platter was a nice touch, meaning the entire thing could be recycled once we had finished.
Overall this platter delivered exactly what was promised, The Big Cheese has a strong focus on great-sized portions of the main event.
For me, a few more crackers wouldn't have gone amiss but overall, enjoyed with a glass of wine, this was a perfect home delivery treat to enjoy on a Friday night.
To place an order, go to www.watermeloncatering.co.uk/collections/delivery/products/the-big-cheese
Price: £22 (including delivery)
---
Melt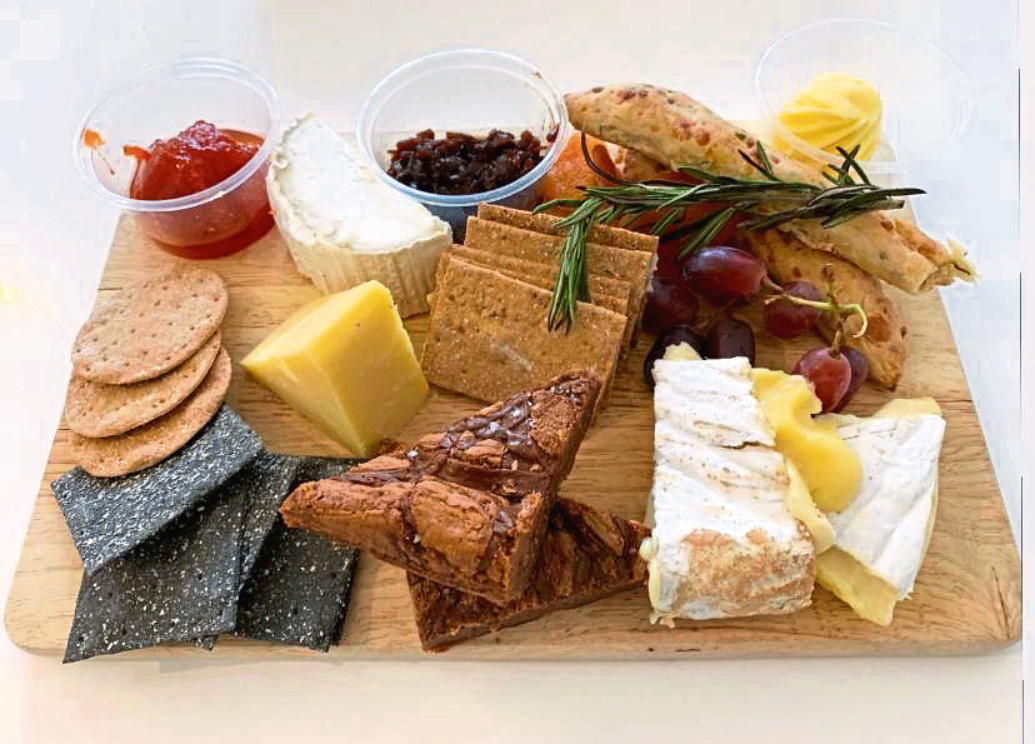 Could anything be better than a cheeseboard? Well, one with brownies thrown in, of course.
And you can find said heavenly savoury and sweet combination at Aberdeen's cheese restaurant and takeaway, Melt.
A cheese superfan, I couldn't resist picking up the platter of treats from the Belmont Street eatery, which is currently only operating as a takeaway due to the ongoing pandemic.
Having already booked my collection slot to pick up a separate Melt order (hi, my name's Samantha and yes, I'm obsessed with cheese), I spied the cheeseboard and decided I just had to have it.
I knew I'd be sharing with my other half at home, but luckily there was plenty to go round.
Included in Melt's offering: plentiful crackers, one bunch of red grapes; a handful of dried apricots; chutney; garlic butter; chilli jam, a whole goat's cheese, and generous slabs of both Brie and cheddar.
Also tucked inside the box was home-made grissini, and, of course, two mouth-watering home-made brownies.
In my eyes, Melt's offering was a real bargain buy, considering how much had been packed into one recyclable cardboard box.
After placing some of the goodies on my own wooden board, I didn't really know where to start – there were so many potential combinations to choose from.
Smooth, creamy, crumbly goat's cheese, to pungent Brie with a smoky aftertaste, and a sharp-tasting cheddar…I lapped them all up.
The crisp, slightly salty crackers, made for a strong base, and on top of the cheese I piled the tangy chutney. Like a buttery, thick pizza crust almost, the grissini was a highlight of the cheeseboard and perfect for dipping into the scoop of butter.
Balancing out the savoury, the grapes and dried apricots provided sweet refreshing bursts in between each cracker creation.
To finish off, I indulged in one of Melt's famous brownies. Packed with a rich, chocolate taste, the bake was soft, chewy and absolutely delicious.
To place an order with Melt, email thebigcheese@meltaberdeen.co.uk.
Customers will be given a specific collection time to pick-up their cheeseboard from the eatery on Aberdeen's Belmont Street.
Price: £20