Aberdeen's Yen Thomson Cakes creates stunning sweet treats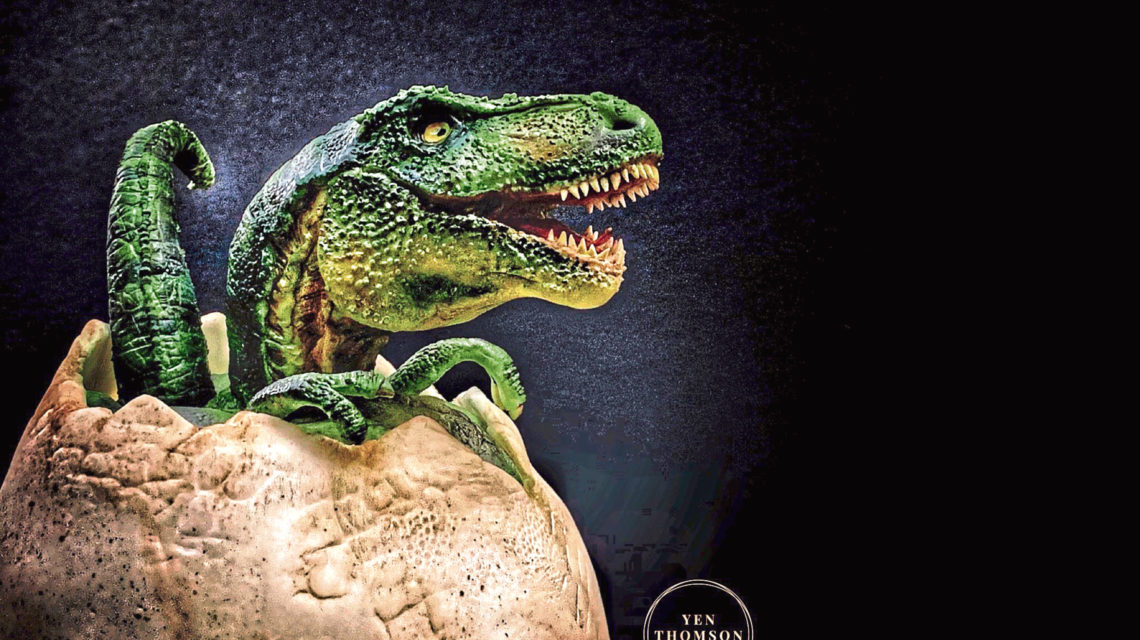 Following her career as a flight attendant, Yen Yee Thomson is proud her cake business successfully took off two years ago.
Yen launched her award-winning sugar sculpture company Yen Thomson Cakes with her husband from their Ferryhill home.
Known for her attention to detail, Yen creates eye-catching cake designs which always impress her loyal customers.
We caught up with Yen to find our more about her small business and what it takes to be able to make such stunning cakes, cupcakes and other sweet treats.
Had you worked in the food business before setting up Yen Thomson Cakes?
No, I am originally from Malaysia and I worked as a flight attendant with Malaysia Airlines. I spent 13 years living out of a suitcase and constantly on the move.
I loved my job, meeting people and enjoying the sights, sounds and flavours from around the world.
Having met my husband while he was working in Malaysia, we got married in 2010 in Kuala Lumpur and then relocated to Aberdeen.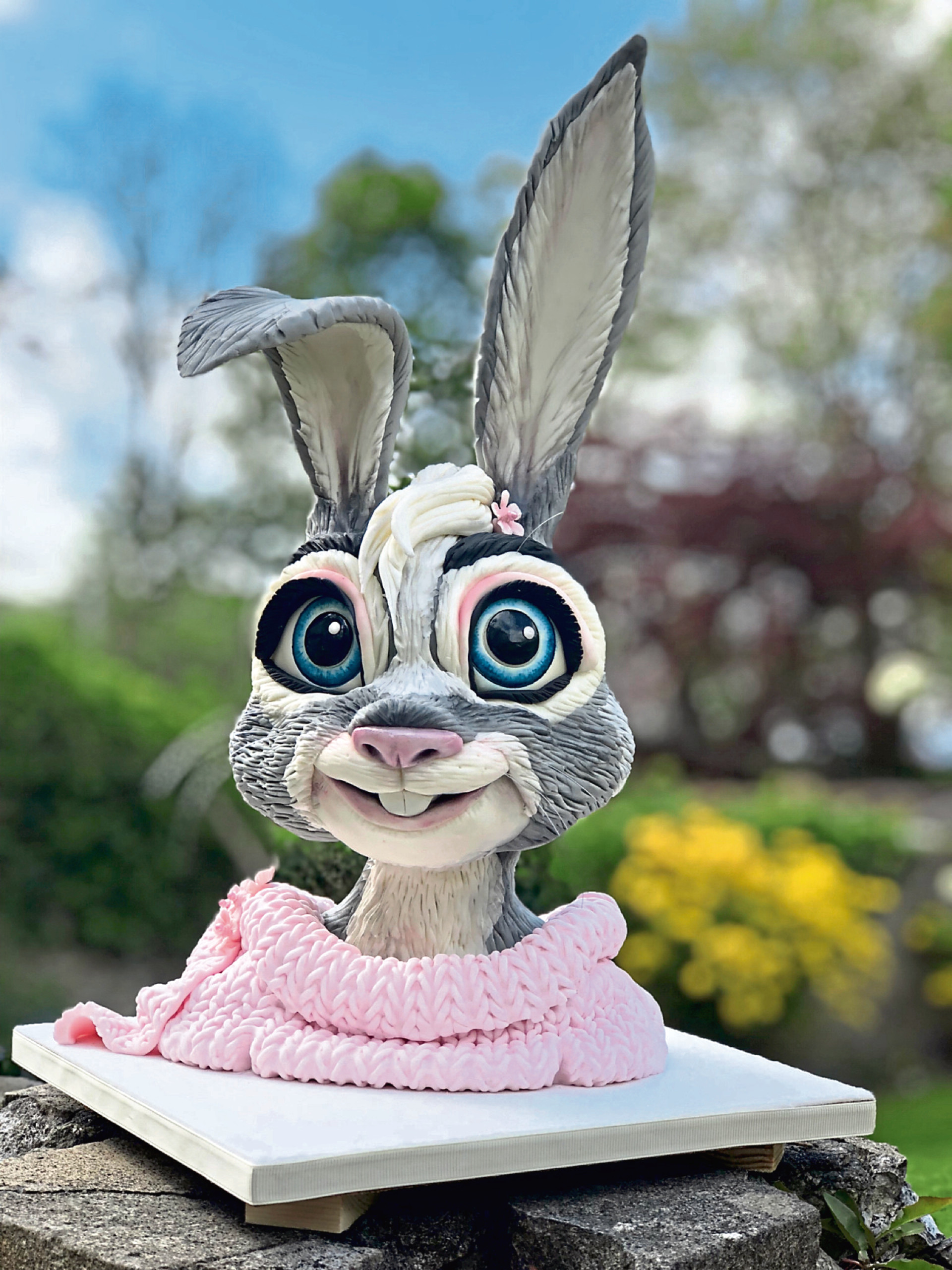 ---
So when did you start toying with the idea of launching a cake-making business?
Having spent a few years making cakes for friends and family, and starting to work out my early design ideas, I started posting them on Facebook. I got such a great response, both from friends and people I didn't know, and when they started asking if they could order them, the seeds of the business idea began to take root. They continued to grow until I realised I could take my hobby and turn it into a successful business. Yen Thomson Cakes was born two years ago.
---
That's fantastic! What kind of cakes do you offer?
We have several flavour and size options, which form the basis of the design conversation, but essentially each cake is unique. Taking the customer's design ideas, I then add my own creative style and techniques to deliver the finished piece of art. We have done some wedding cakes, however our core business is currently birthday or celebration cakes. We have, however, also seen an increase in bespoke cupcake orders.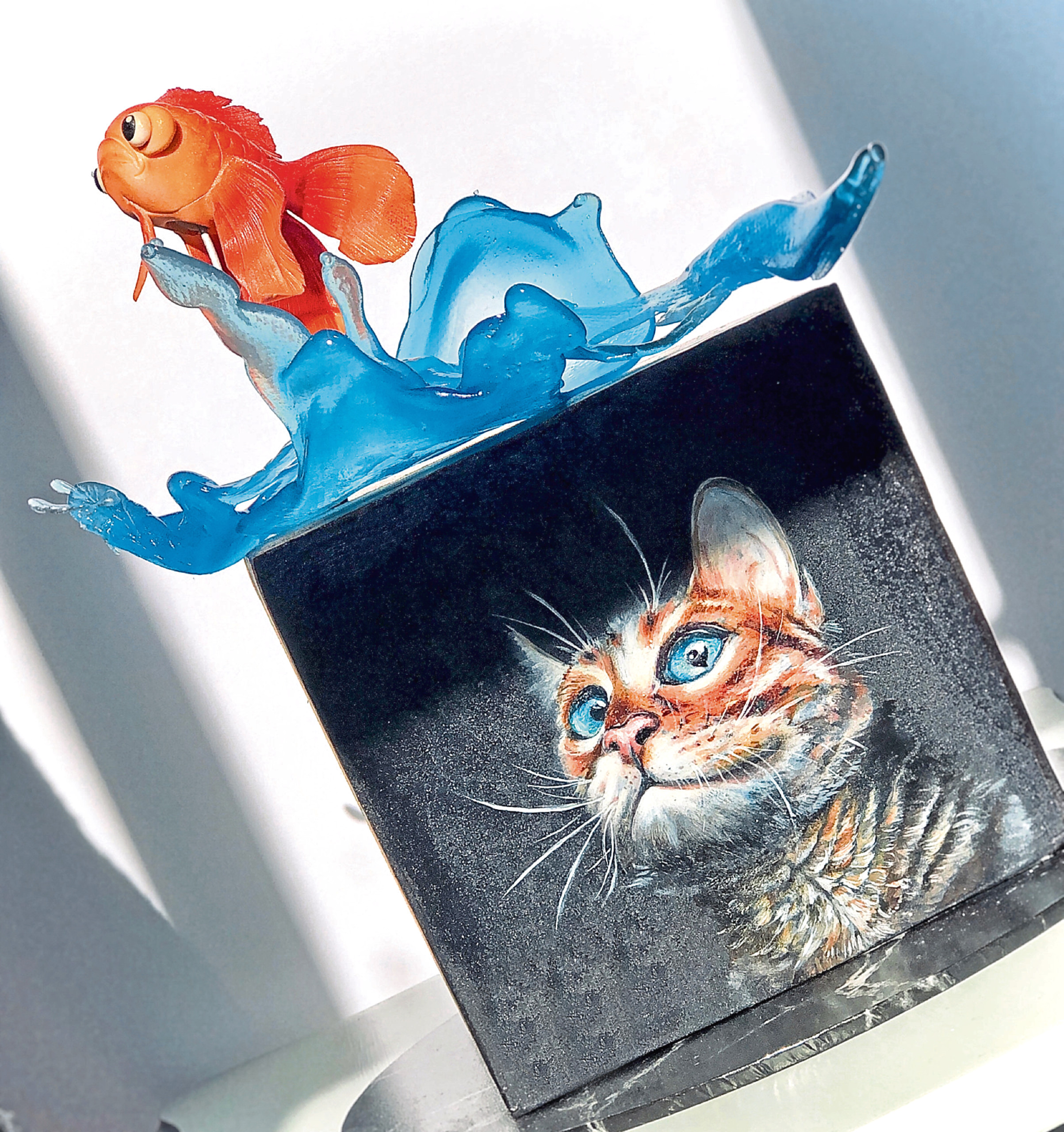 ---
You often post really eye-catching cake designs on your social media. Can you name some of your favourites?
I love different cake designs for different reasons. The bake, the client and the design make each commission unique. I particularly liked the barbecue chicken cake that I made recently for my husband's birthday. The lockdown has been tough for everyone, though many have had it tougher than us. On the few days where it hasn't rained, it has been good after working, baking and home schooling to have some time together outside in the garden with some al fresco BBQ diners.
Another one I loved was the hatching baby T-Rex cake. This is the only design I have made twice. With so many dinosaur-themed cakes out there, I enjoyed working with the customer to come up with an innovative design that delivered a real wow factor.
It is always a thrill to see friends' and customers' faces light up when they see the finished design. Our design process typically allows for a lot of my creativity and so the first time the customer sees the cake design is upon its delivery.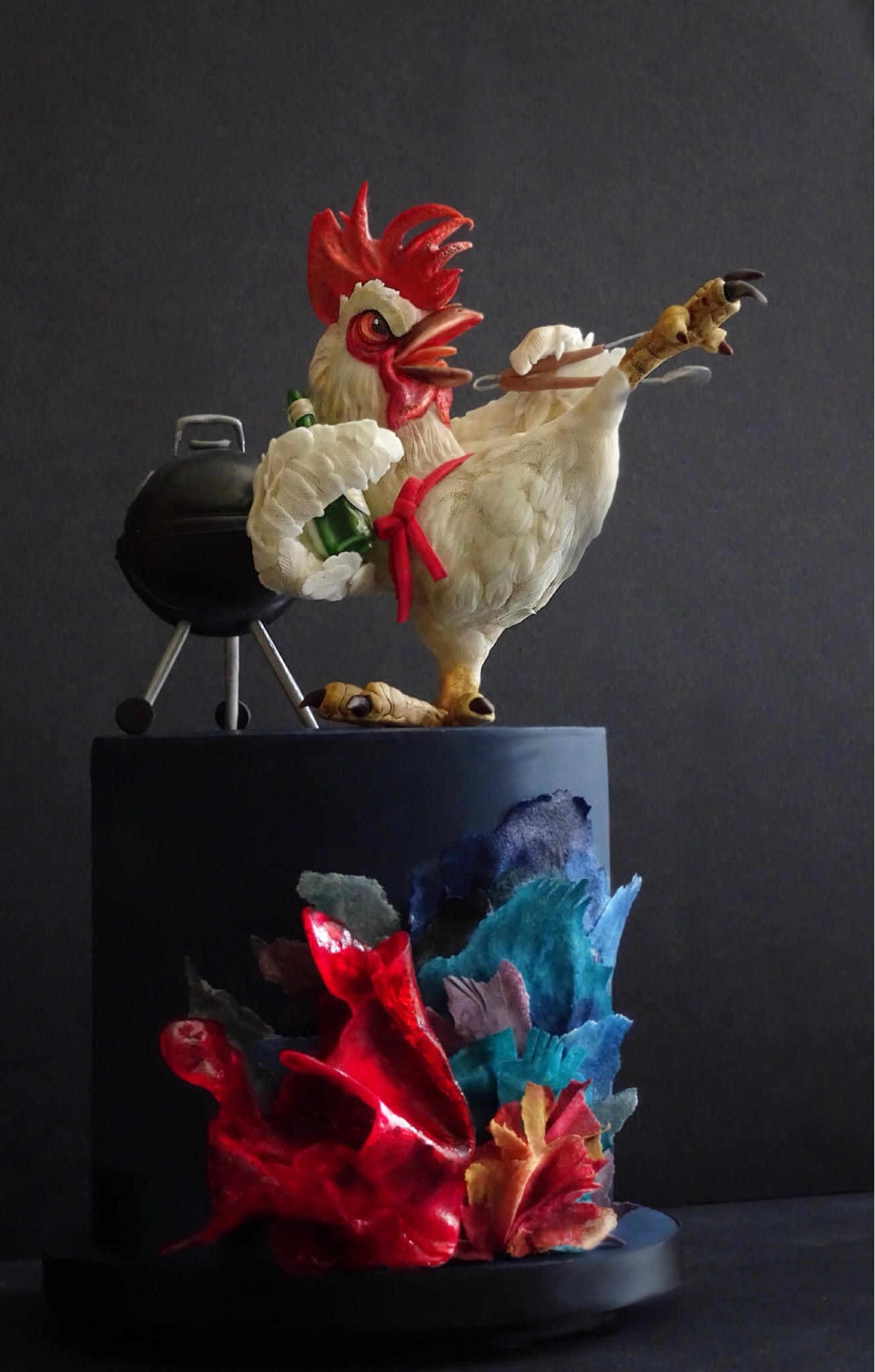 ---
Most of your cakes feature very intricate details. How long does it usually take you to bake one cake?
The fun for me is in the creative design part of the job, but I appreciate the importance of the cakes themselves tasting great. It's important for me that the cake tastes as good as it looks. Over the last couple of years I have become more efficient through the baking, assembling and ganaching stages, but the decoration part can vary considerably, complicated figurines and new techniques can take longer. There is also more work involved in sculpted or 3D cakes. Most cakes are completed over several sessions. Our preferred minimum order time is an agreed design idea to have been completed two weeks before the cake delivery date.
---
Where did you learn how to design really complicated cake toppers and figurines?
I started experimenting with fondant and other mediums such as chocolate. I had to learn all the technical skills from scratch and I'm still learning new things all the time. I prefer to keep pushing myself to learn new skills. I'm self-taught and my style is still evolving and will continue to do so. I love modelling and hand-painted cakes, with animals and figurines being my favourite. I try to make my cakes different and special each time. A lot of time and love is put into each creation, so it's wonderful to see and hear when that's appreciated.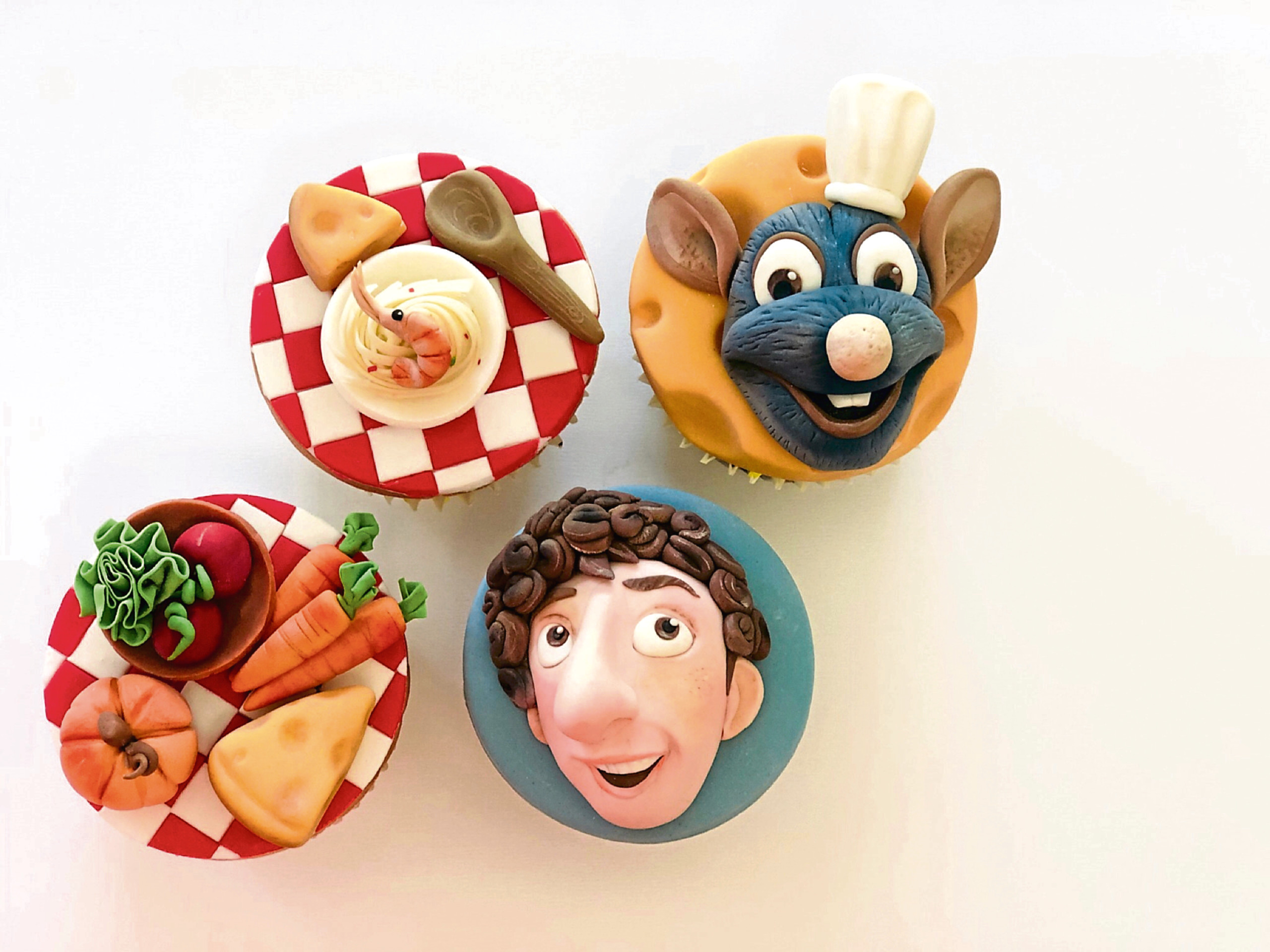 ---
We also loved your Ratatouille sweets – the resemblance was striking.
My creations are pretty spontaneous, so there is not much technical or planning work involved. We watched the movie one evening and next day with the DVD in hand, I just eyeballed the colour and replicated the character into cupcake topper size. We have watched plenty of cartoons during the lockdown and there are numerous potential ones that I would love to create – it's quite exciting!
---
Where do you source ingredients from?
Most of our ingredients come from Europe. Our fondant comes from Switzerland, modelling paste comes from Italy and chocolate comes from Belgium. However, we do get our boxes locally from Happy Planet Food Packaging here in Aberdeen.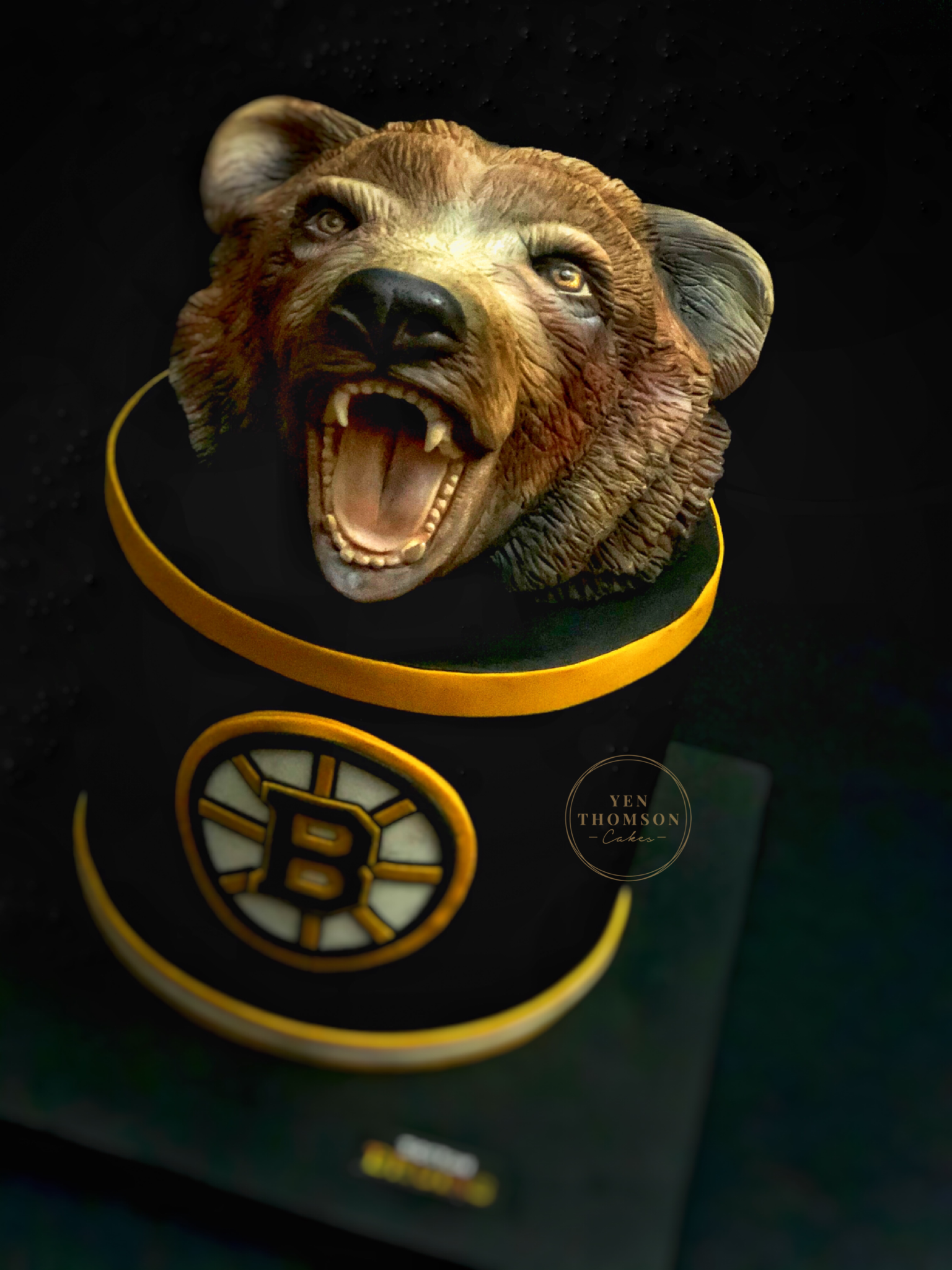 ---
Can anyone approach you with a quirky cake design idea? How does this process work?
Absolutely. I love creating different styles and applying different techniques, but we naturally all have our own style, so working closely with the customer is key. They typically send me pictures of friends or family that they are looking to be captured as a figurine. Or, for cake designs, examples of their desired theme, as they have seen in other cakes online. While we can incorporate ideas from other cakes, our designs are all unique and vary markedly from other online examples.
---
Would you say you have loyal customers?
My favourite part of my job is when I hear how much my customers love their cakes. Yes, we have several repeat customers and are always appreciative of the very kind reviews given by both new and returning customers.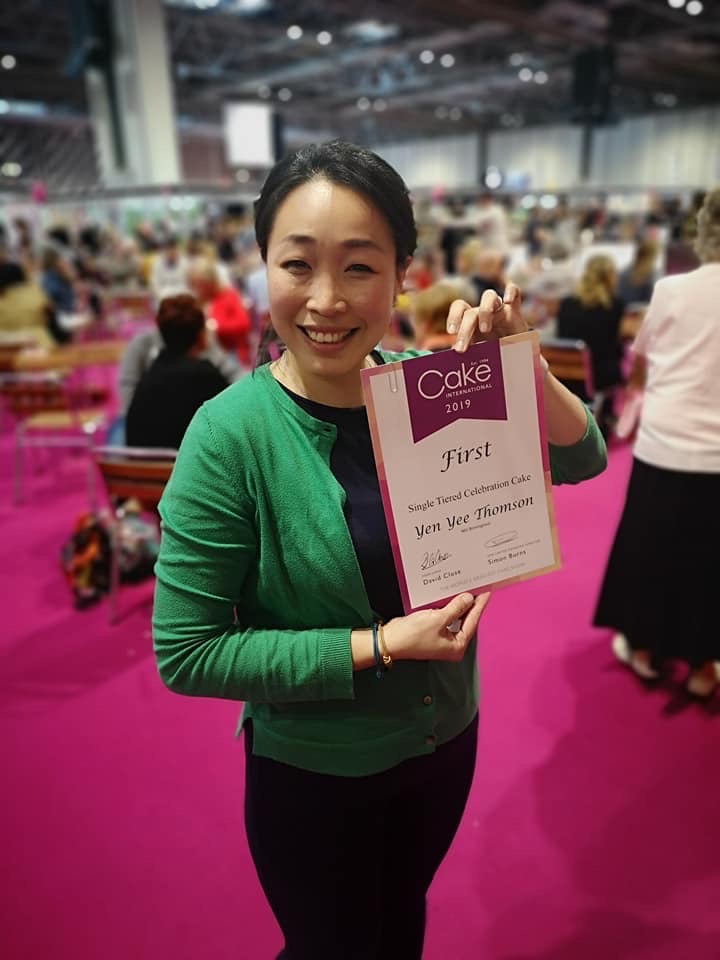 ---
But it's not only your customers who appreciate your work – you have won numerous accolades since setting up your business…
I have received several monthly cake awards from both online tutorial schools and from modelling paste suppliers. However, my greatest cake decorating triumph to date would be receiving a gold award and subsequently best in class in the celebration cake category at Cake International in Birmingham 2019. Being ranked first out of more than 50 competitors from all around the world was a real thrill. Seeing my work next to some of my cake idols was a real honour.
Visit www.yenscakes.co.uk for more information