Aberdeen Restaurant Week: Three-course dinner menu @ Ferryhill House Hotel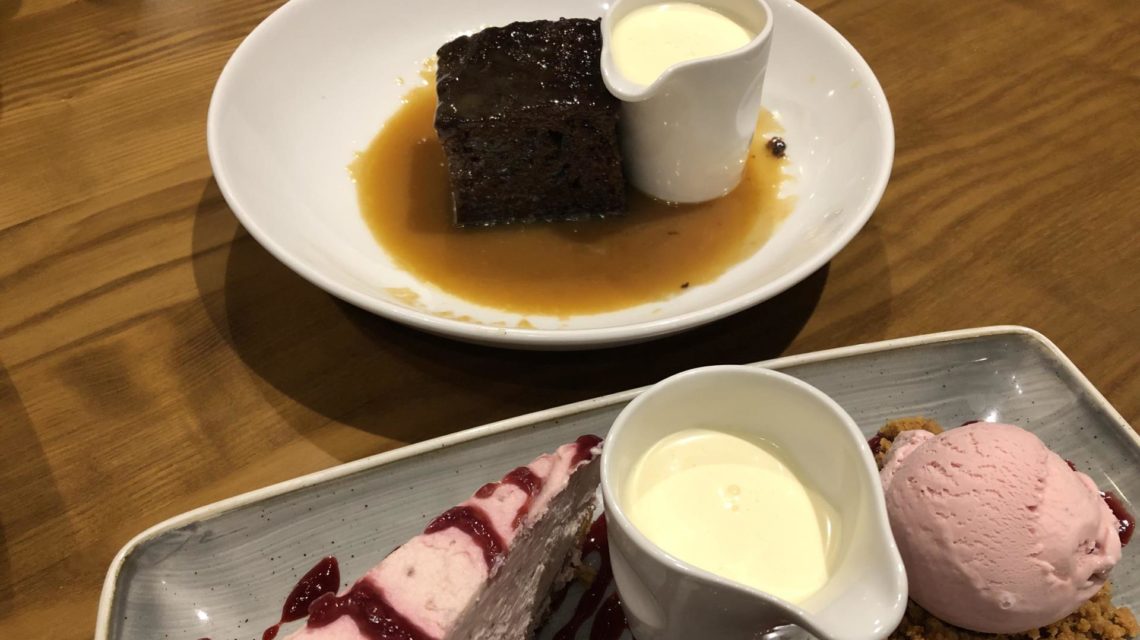 There's something I love about Ferryhill House Hotel and its ability to make even the coldest of nights a cosy one to remember.
With their Aberdeen Restaurant Week boasting a feast of comfort dishes, it was the perfect place to meet up with a a friend (and colleague) for the first time in forever.
Booking with the venue directly, we both arrived and waited patiently outside in the socially-distanced queue separately to get into the venue.
It was a bit chilly outside, but we didn't have to wait long to be chauffeured inside – we left those brave enough to enjoy al fresco dining in November to do just that.
Inside was warm and there was an ambient atmosphere, too. It was so lovely to see someone from work having not been in the office since March, but also knowing my date was as passionate about good food as I am.
We were both in the mood for some home comforts so the menu fitted our mood to a T.
---
The Food:
There's a choice of four starters, six mains and three desserts on the dinner menu, with a vegetarian option available across all three courses. My dining companion had picked what she wanted long before even arriving at the restaurant, so it was just me we were waiting on.
Our server took our drinks order – two Diet Cokes – and was off in a flash to retrieve them. Back in no time, I had made my decisions so we grabbed our drinks from her tray and fired away.
For starters it was going to be the vegan cauliflower hot wings for my friend and the tempura king prawns for me.
On arrival I must admit the cauliflower looked the part, with massive florets covered in a tangy dark orange hot sauce. Served on the side was a ramekin of garlic aioli which was descried as "a soothing, cooling element" of the dish by my friend. The cauliflower was super soft inside the crisp batter it had been deep fried in and was easy to cut into, too. The rocket on this occasion was ignored to make room for more eating of the cauliflower.
My tempura prawns were succulent and a good size for there being five of them. Lightly fried in the thin tempura batter, they weren't greasy in any shape or form and the prawns inside has been perfectly cooked meaning they were juicy inside. I used the peppery rocket to help balance the sweet yet spicy sweet chilli and coriander sauce on the side. There was plenty of it and I dipped my prawns in one by one, polishing them all off.
Sticking to seafood, it was the Ferryhill haddock and chips that took my fancy right at the end. I had toyed with the panko breaded chicken katsu curry, but it was the fish supper that was screaming at me.
Beautifully cooked, the large fillet of haddock was cooked to perfection. As I cut into the fish I could hear the crispiness of the batter crumble as my knife slid through it. The soft fish flaked away inside and steam bellowed out of it showing just how freshly made it was. It was perched on top of a bed of thick chips which has been fried to my liking, too. Fluffy on the inside and firmer on the out, I lathered the fish and the chips in the sachet of vinegar the server provided me with.
The same rocket as before also featured, and I also sprinkled some of the fresh lemon over my fish by juicing it across it. The peas were a little over cooked and served in a small bowl on the side of the plate, and the tartare sauce was also served this way, but was incredibly delicious. I couldn't stomach the whole thing knowing we had a third course to come.
My friend's mac and cheese was just as hefty a portion as my fish and chips. Served straight out of the oven, it came with a warning from our server advising not to touch the dish on the plate. The veggie option was a homely go-to for my friend and she enjoyed how stringy the cheese was when trying to assemble it onto her fork. The pieces of pasta themselves were very large and the cheese had completely engulfed every crevice of it. The chips were this time in fact skinny French fries which were a little crunchier than my fluffy hand cut ones, but equally as delicious.
The garlic bread was also enjoyable, although by around half way through she too realised we still had a another course to do.
Taking a breather from our food, our lovely, charming server took our plates away and got us a second round of drinks.
I felt it was only right to order the cheesecake of the day as my dining companion has expressed her interest in the sticky toffee pudding. I love STP, especially when it comes with far too much butterscotch sauce, which hers did, and is as fluffy and gooey as the one she enjoyed was. Opting for pouring cream instead of ice cream, she poured it all over the lush dessert and was delighted with her choice.
Our server had informed me the cheesecake of the day was white chocolate and raspberry and also sorted me out with a scoop of strawberry ice cream and pouring cream. Jackpot. The cheesecake was so soft and fluffy, it was almost light as air which I was appreciative of, especially after a heavy main course. The raspberry coulis drizzled on top added a nice tart element to the dessert, and balanced out the sweet white chocolate flavours rolling in on my taste buds at the end.
---
The Verdict:
Family-friendly, this eatery is the perfect place for an al fresco lunch with drinks or an intimate dinner date with your partner or friend. Ferryhill House Hotel is a comfortable, welcoming establishment which makes you feel like you're at home right away.
The staff are charming and polite and can't do enough for you, constantly checking in on you and ensuring you have everything you need.
If you're struggling for places to eat out and are looking for a taste of hearty home cooking, Ferryhill House Hotel is the place to be.
Address: 169 Bon-Accord St, Aberdeen AB11 6UA
Aberdeen Restaurant Week offering: Ferryhill House Hotel is offering a two-course lunch menu for £10 and a three-course dinner menu for £20.