Aberdeen Restaurant Week: Menu review @ Sneap pop-up at So Aberdeen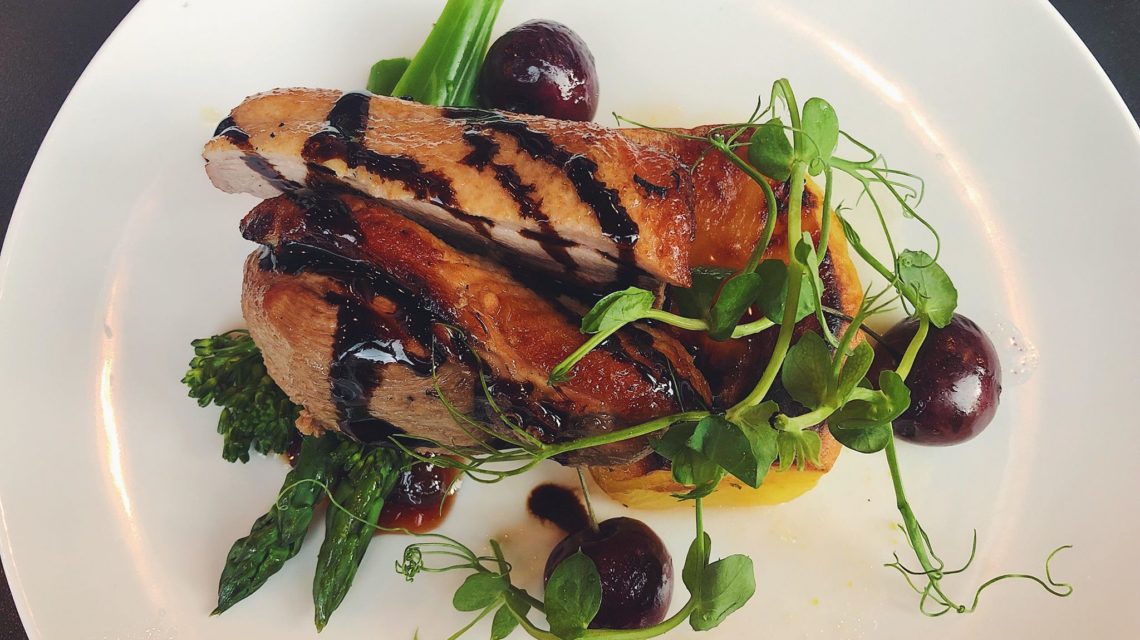 Aberdeen Restaurant Week is a celebration of every cuisine imaginable.
Hosting a unique pop-up event, food consultants Sneap are taking that celebration just one step further by creating a bespoke menu every single evening this week.
Setting up in Union Street cafe So Aberdeen for five nights, no experience will be the same. And it's entirely up to the chef what you will be enjoying, giving diners no choice but what's on the menu.
Carefully sourcing and handpicking high quality produce from an array of local suppliers, Craig Byiers, founder of Sneap, has developed menus inspired by the earth, air, field and sea. The themes echo the brand's slow and sustainable ethos, which champions local, organic produce.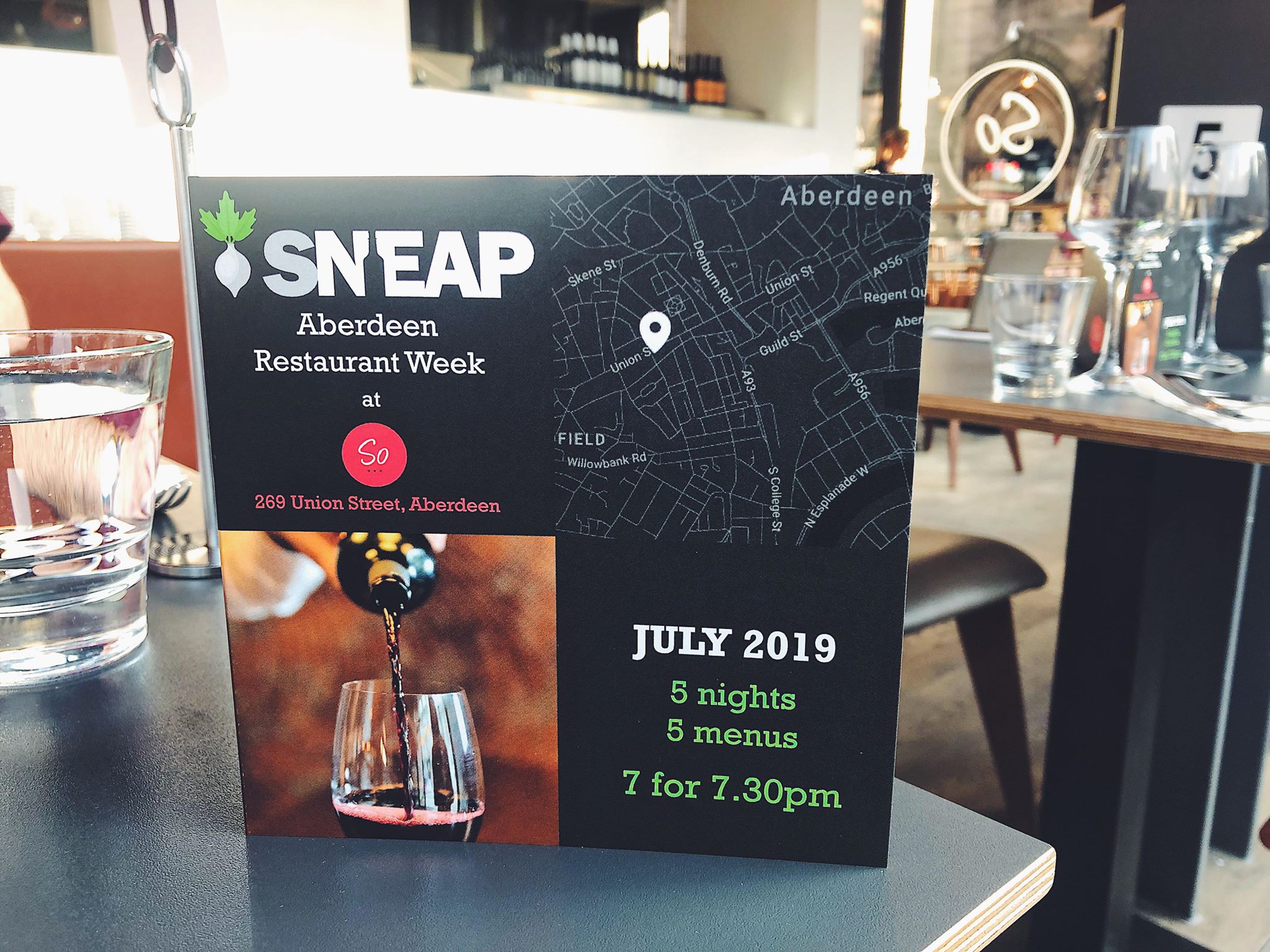 I popped along to the opening evening on Tuesday which showcased air. Arriving sharp for 7pm, we were greeted by the charming front of house staff and shown to our tables. Deciding not to opt for wine, we ordered two diet Cokes and scanned the menu.
Seated at the perimeter of the eatery, my date had a great view of Union Street – the perfect people-watching spot.
Our drinks took no time to arrive and it was a case of just waiting for everyone else to turn up for 7.30pm to get the show on the road.
It turned out we were the only two not drinking. On offer were wines specifically chosen by local drinks specialists Rutabaga – a white Cataratto or a red Nero D'Acola from Fabrizo Vella in Sicily, Italy.
One of the tables ended up running a little late, so it was a toss-up to find out if the food would be served before they arrived, or if they would get there just in time. Thankfully for them it was the latter and the first dish was served as soon as they were seated.
The Food:
First up was wood pigeon breast with peaches. I presumed this dish would be served warm – it was not – however, this unexpected twist was the first of many throughout dinner.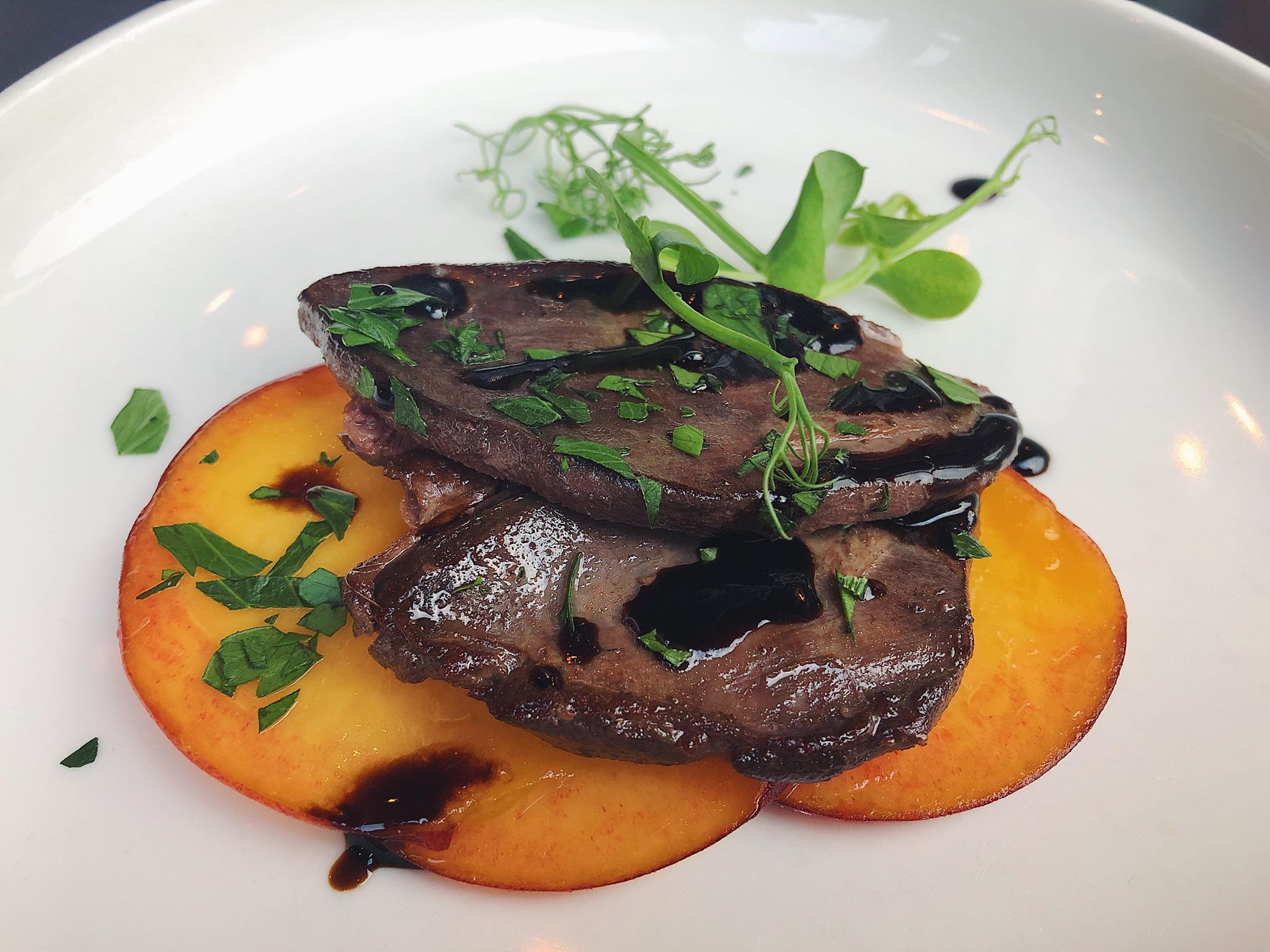 The pigeon breast was meaty and succulent and had a real liver pate taste to it. It was pink in the middle and a little chewy, but I'd never had pigeon before so I'm unsure what it should be like served cold. The thin slices of ripe peach were trapped underneath and brought a tart sweetness to it. Balsamic glaze had been dripped onto the breast and added a vinegar element which was rather enjoyable. Topped with micro herbs, I polished it off in no time.
With their slow food ethos, taking your time and the chefs showcasing the produce used in the best way possible is fundamental to the experience.
Up next was to be the peat-smoked duck with cherries and potato.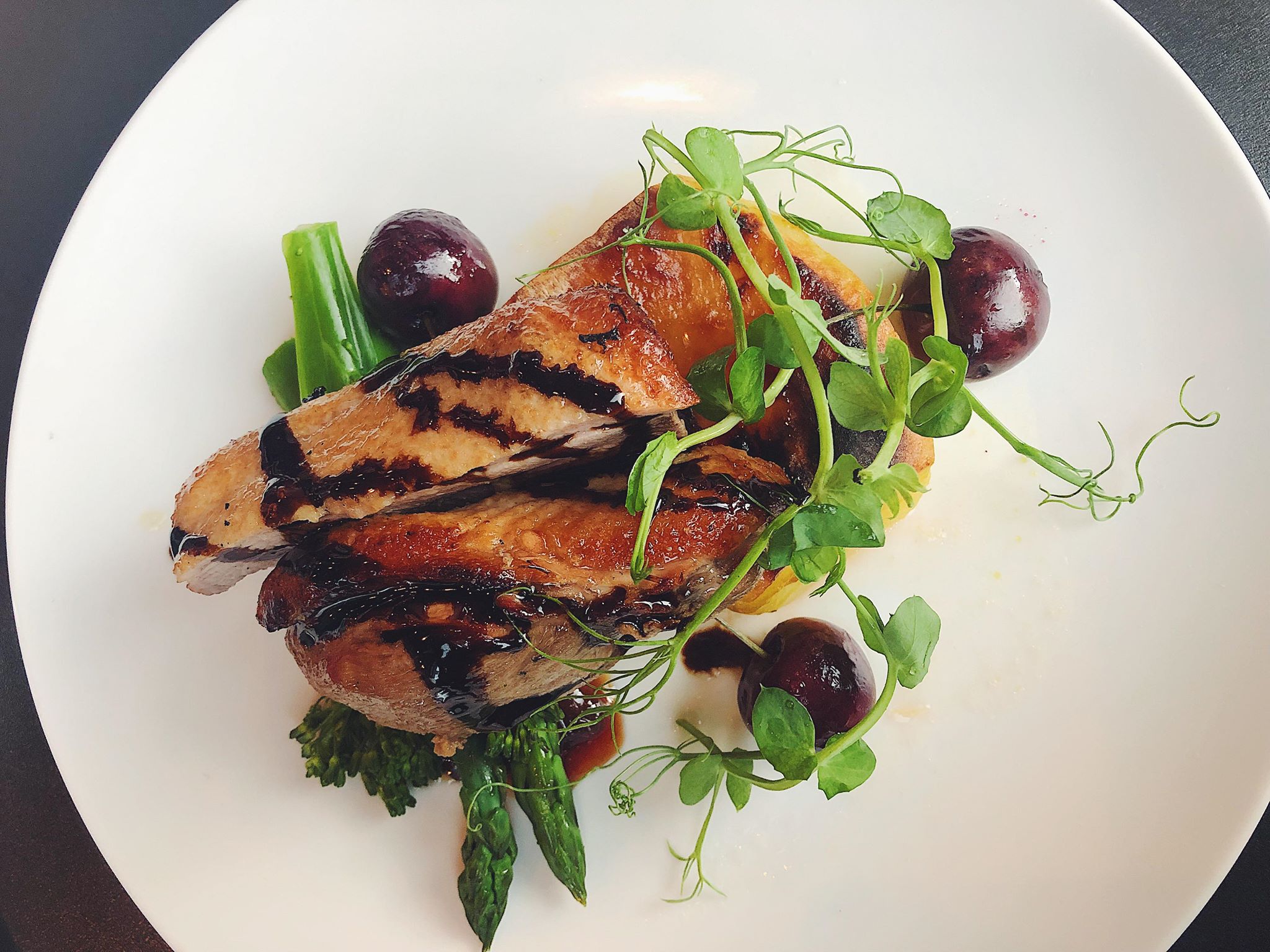 This, by far, was my favourite course.
It was a lovely dish to look at – breast of duck sat among cooked cherries and potato fondant  and I could smell the peatiness even before it arrived. The first mouthful revealed a beautiful smokiness to the duck, that wasn't too apparent or overpowering. However, it was a flavour which grew and left a lasting smoked peaty flavour on my tastebuds. Even after I'd finished I could still taste it.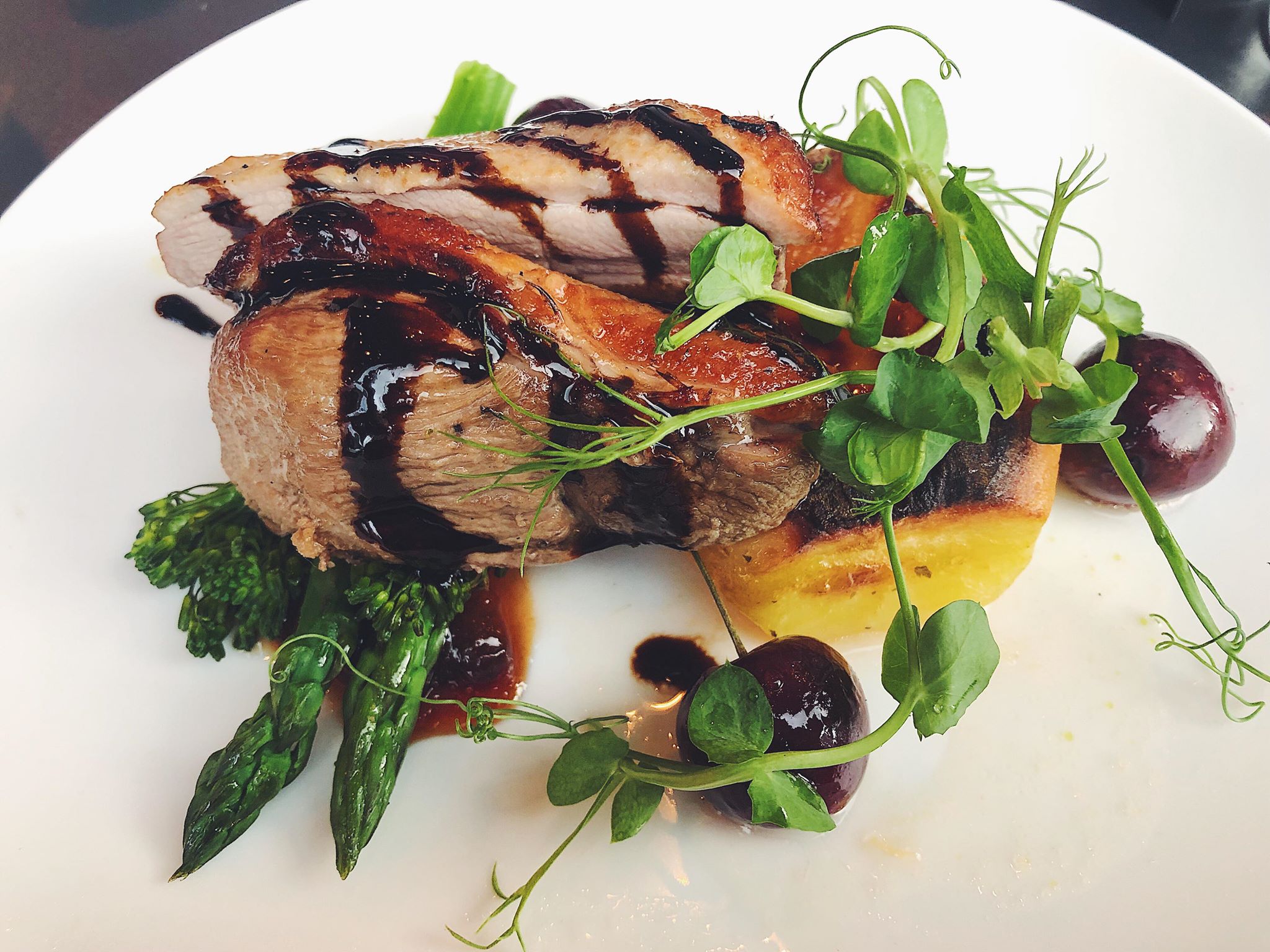 It was a large portion and the fondant potatoes were buttery, sweet and very soft. The cherries were also tender, made it easy to fish the stone out. Boiled, the greens were cooked well and had a slight al dente snap to them. The duck was ever so slightly overcooked, however that is based on my personal preference of enjoying meats like steak medium rare. A dollop of cooked shredded peaches sat at the side and added a caramel sweetness, whereas the balsamic glaze on top assisted with the acidic flavours. Again, it was topped with micro herbs and was presented beautifully with every element placed precisely.
The final course was a raspberry cranachan with toasted pinhead oatmeal. This was my date's favourite. Loaded with sweet cream, our mug, which the dish came served in, was the perfect size to house the dessert. Layered, with raspberries, cream and oats all playing their individual roles, combined, it was an explosion of flavour and textures.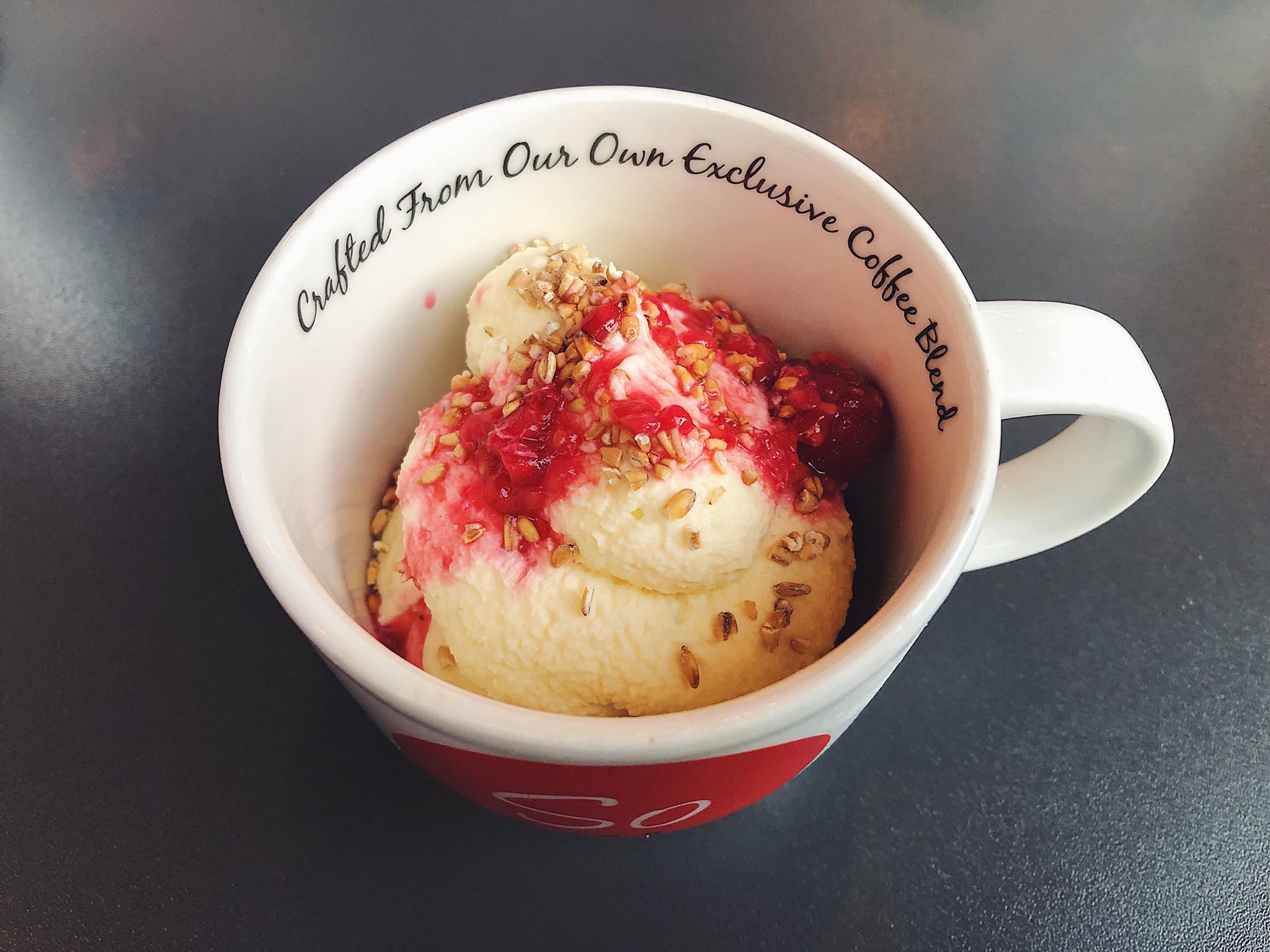 The toasted oats added a crunch to the smooth creamy cranachan and it was a lovely contrast to the incredibly sweet cream and tart berries.
All in all, this is one dessert we could have enjoyed over and over.
The Verdict:
Featuring sky, earth, air, field and sea-inspired menus, the Sneap offering truly presents a unique experience during Aberdeen Restaurant Week. Its individual daily menus have been carefully crafted, lovingly made, and the fact the team have been handpicking some of the produce and gathering all of the ingredients themselves says a lot about the chef's passion.
All of the food would have been well accompanied by the chosen wines, and having got chatting to the couple beside us, we were well assured they paired extremely well.
If you do one thing this week, make sure you pay a visit to Sneap's pop-up.
And just so you know, that cranachan is on Thursday and Friday's menu and is well worth a try! Don't forget to check out the five-course organic wine tasting dinner on Saturday evening, too.
Address: So Aberdeen, Union Street, Aberdeen
Aberdeen Restaurant Week promotion: Three-course dinner for £20 or five-course dinner on Saturday for £55 with paired wines. Click here for the menus.