A round of questions with the owner of The Wandering Bartender Mark Herbert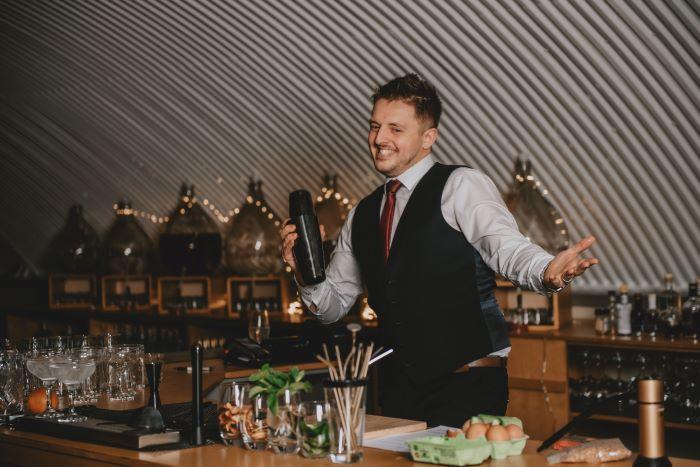 Well known for hosting cocktail masterclasses all over the north-east, it's hard to believe Mark Herbert only set up The Wandering Bartender last year.
Find out how he got on in our round of quick fire questions below.
What's your customer icebreaker?
No matter what time of day it is, I always say "good morning" – it gets customers off guard and makes them think and I find then that they are more engaged.
---
It's the end of your work day – what do you pour yourself?
To be honest, I love an ice cold beer, nothing too strong, just a nice easy and refreshing drink.
---
Most unusual drink request?
A little girl once asked me to make a drink with her sweets. I accepted the challenge and it was successful. So much so the whole wedding started bringing me strange things to make cocktails with. She wrote me a note when they checked out asking me to come to her birthday party.
---
What would the theme song to your average work day be?
Don't Stop Me Now, by Queen.
---
What's in your drinks cabinet at home?
A lot of gin, Diplomatico Reserva Exclusiva, a range of liqueurs and a bottle of wine my grandad left me just before he died nine years ago.
---
Best food and drink pairing?
Any of my cocktails and a platter from By Platter.
---
If you were stuck on a desert island, what three drinks are there with you?
Water – to make ice – gin and tonic.
---
You have to make a drink to represent Aberdeen. What would that be?
Well, as Aberdeen has the best floral representation, it would have to be something quite floral, maybe a garden martini.
---
Your favourite superhero/celebrity is sitting at the bar. Who is it and what do you serve them?
I would probably say Thor, just to see how many cocktails he could drink before getting drunk. I would make him The Wandering Pearl just because it's my creation and it would be cool to see him drink it.