A round of questions with Mike Stuart of Inverurie Whisky Shop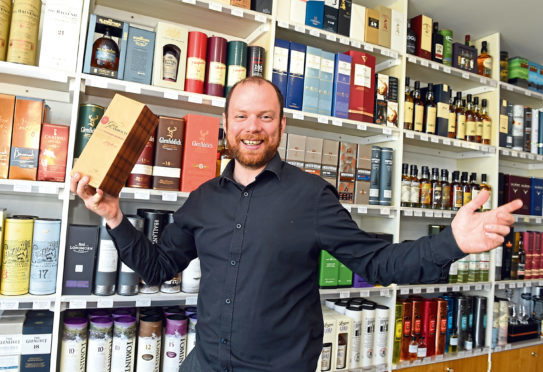 Opening Inverurie Whisky Shop almost five year ago, co-owner and director Mike Stuart is proud his store offers a wide range of spirits from all over the world.
Find out how he got on in our round of quick fire questions below.
What's your customer icebreaker?
If we know them, it's usually something like 'You haven't finished that last bottle already?' For new customers, we look to find out what they like so we can guide them early to what they would appreciate.
---
It's the end of your shift – what do you pour yourself?
Lately it's been a cup of tea! But seriously, something comforting, such as the local GlenDronach. It's a good easy drinking whisky which I don't have to think too much about to enjoy.
---
If you were a drink, what would you be?
My fiancée tells me I'd be an Old Fashioned – I'm not sure how to take that!
---
Most unusual customer request?
To visit New Zealand during my honeymoon to host a tasting for a group we catered for in February!
---
What would the theme song to your average working day be?
Each day is different but it would be something by the Whisky Bard – Robin Laing. Or perhaps Whisky for Breakfast or Special Sipping Whisky.
---
What's in your drinks cabinet at home?
I always have a staple source of GlenDronach and GlenAllachie. My gins are The Teasmith and Little Brown Dog and I'm really enjoying the Devil's Point Sherry Cask rum just now.
---
Best food and drink pairing?
A peated whisky with Roquefort cheese is simply divine.
---
If you were stuck on a desert island, what three drinks are there with you?
Whisky, rum and gin. If I had to be specific, then it would GlenDronach 18 year old, Diplomatico Reserva Exclusiva Rum and The Teasmith Gin.
---
You have to make a drink to represent Aberdeen. What would that be?
A Smoky Old Fashioned using GlenDronach Traditionally Peated. It's traditional and slightly sweet, but with coastal and rugged elements to highlight our mountain to coast terrain.
---
Your favourite superhero/celebrity is sitting at the bar. Who is it and what do you serve them?
Al Pacino and I'd serve him a John Daniels – fans of A Scent of a Woman will understand.