Yoga skin is the new beauty trend you need to know about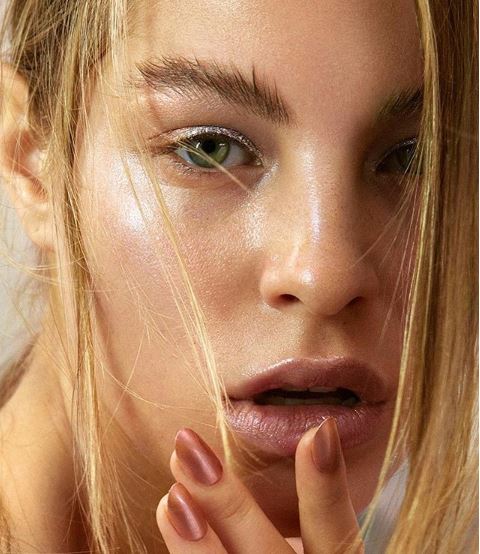 To kick off the new year in style we're jumping on the band wagon and trying to achieve the beauty industry's latest trend, yoga skin.
Created by Scottish makeup artist Sara Hill, who runs The Academy of Makeup in Aberdeen and Glasgow, this is one trend which will leave your skin looking flawlessly radiant, super hydrated and healthy.
The quick and easy natural look will leave you with the most glowing skin ever – and when we say ever, we mean it.
How to get the look:
Step 1 – Cleanse and prep your skin as normal and let your skincare absorb fully before adding the next step.
Step 2- Apply a small amount of primer (silicone free) and take 3-4 Pumps of your favourite foundation liquid (preferably sheer/medium and water based –  no full cover) and one drop of your favourite skincare facial oil and one drop of strobe cream or liquid highlighter (golden tones work best) and massage into your skin using your hands.
For super shine you can add one small drop of glow drops, but this is optional.
Using your hands does many things. It gets the circulation flowing, relaxes you, de-puffs, and it makes the base sit better too.
Step 3 – Build up in layers on top until you are happy with the coverage created. Sara recommends leaving some time between layers to allow it to fully develop.
Step 4 – Add a small amount of liquid concealer only in the areas you wish more coverage, like under eyes, spots or around the nose. It is important to not overdo this step. You can lightly powder to set concealer.
Step 5 – Add cream blush and cream bronzer if you wish, and you can set your face overall with powder too – use a small fluffy brush to do this or puff and keep the powder to a minimum and sheer (no baking please). If you wish to use setting spray make sure it's alcohol free to give further hydration.
Products Sara uses to create the look:
Foundation – Chanel
Facial oil – Kiehls UK
Highligher liquid – Kevyn Naucoin
Glow drops – Revolution Pro
Cream Bronzer – Chanel
Cream blush – Glossier
Powder – Mac Cosmetics Blot powder
Set Spray – Pixi Beauty
Sara's top tip:
If this all seems to complex don't panic! Just add a little facial oil into your base keep everything looking sheer as possible.
For more beauty articles click here.