True blue will give you extra sparkle this winter at Tiger Lily Boutique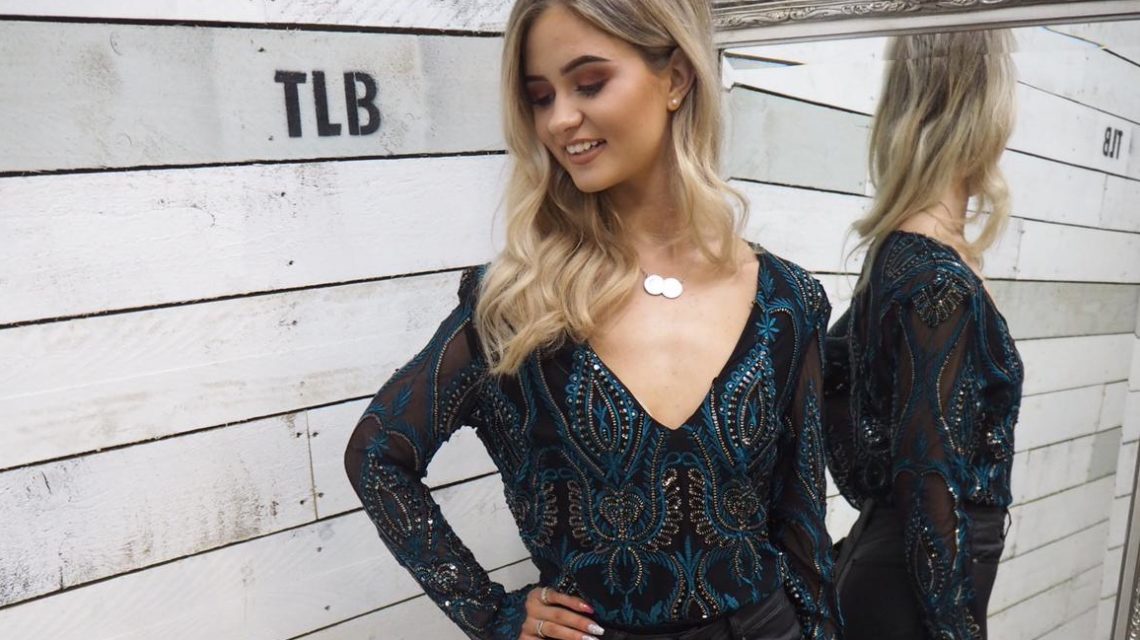 The festive season is all about glitter and sparkle.
From gorgeous dresses to glamorous tops and bodysuits, as well as cosy jackets, this season it's all about dressing up and rocking sequins and embellished garments.
Independent womenswear fashion store Tiger Lily Boutique, which is located on Chapel Street in Aberdeen, knows a thing or two about making women feel and look their best.
Celebrating its second year in business next March, the store opened in the city following the success of its sister branch in Broughty Ferry, which opened eight years ago.
The brainchild of sisters Debbie Brash and Melissa McArthur, the store prides itself on customer service and its personalised shopping experience.
Picking out some must-haves for the festive season, Melissa says the best part of her job is "styling women who are looking for that wee confidence boost and ensuring they will leave feeling amazing".
So whether you want to dress up or dress down, Tiger Lily Boutique has something to suit all.
Sparkly dresses
Bringing a little sparkle into the festive season, a sequin dress is a staple in every woman's wardrobe at this time of the year.
"Sparkle and glitter is right on trend for the festivities. We have a lot of customers who love midi dresses and the Gracie dress is perfect. It works so well and is extremely classy and the glitter just adds a nice sparkle.
"The Suri sequin dress is really playful and can be worn with stylish stilettos or dressed down with a nice pair of boots. Accessories are also great for these kinds of dresses as we've pinched it in at the waist of this dress which helps show off your figure more.
"The belt just finishes it all off and it's been one of the main selling points of the dress – even though both pieces are sold separately, so many people have bought both items."
All the blues
One of the top colours of the year, Melissa says blue won't be going anywhere any time soon.
"Blue has been really popular recently and we've got lots of different dresses in store in various shades of blue," said Melissa.
"This royal blue Lorena jumpsuit is perfect. Cobalt and royal blue is one of those colours that you can wear all year round – people love items like that and this jumpsuit is perfect for a winter or a summer wedding. It's a very versatile piece. Navy is a classic colour too and is really big just now.
"The one shoulder and open arm of this piece adds a more glamorous feel, and the wide leg trousers is a nod to the 70s which again is very trendy. Everyone loves a wide leg – it's very classy and will also keep you warm."
Stylish tops
If dresses aren't your thing, then a fashionable top or bodysuit is perfect for going for drinks in.
She said: "If you're looking for something stylish but don't want to wear a dress or a jumpsuit, cute tops are definitely the way forward. The Fendi-inspired geometric print top is so different and anything that looks like a designer piece, people absolutely adore. We've got Valentino-style shoes that are £45 and people go mad for them because they look so similar. The pussy bow finish adds cute detailing to it and it comes in a little at the bottom, making it a great staple piece.
"Bodysuits are also really great items and easily incorporated into an outfit. Bodysuits are very 70s but everyone's loving them – it looks like a top but works great with a pair of jeans and heels. They're perfect for lunch with the girls and it's one of those items that can be taken from day to night quite easily. The sequins adds that glamour to it and the fringed finish is amazing."
Full-on glam
For those who are looking for full-on glam for their Christmas parties or for Christmas Day or New Year, embellished dresses are the perfect little number.
"We have plenty of fabulous dresses that will turn heads," said Melissa.
"The Devon dress is full-on glam and has such beautiful detailing across the whole dress. The sleeves are even detailed right down to the end of them which just emphasises how much time the designers have spent on it. It's a shorter dress and people love it because its super embellished and looks very expensive but is actually very affordable. Style it with a nice wee clutch bag and a pair of heels and you're good to go."
A cosy jacket
If you're heading out, you want to be cosy. Wrap up warm with a trendy jacket and keep the cold out.
She said: "Animal print has taken over just now. It's all over the high street and every woman of every age is wearing it. We've got a wide clientele from younger women to more mature women and it's great, as pieces like this are suited to all.
"There's so many different prints like tiger, zebra, snakeskin too, but leopard is still most popular.
"This aviator jacket is a beautiful soft, puffy suede make and it's super cosy, which is perfect for winter and for Christmas nights out. It's much warmer than a leather jacket as it's nice and insulated with the faux fur detailing too – it will definitely keep you cosy and is a great piece to invest in."
Jewellery
And to finish off any outfit, accessories and jewellery are a must and can completely change the overall look of an outfit.
"The two-coin necklaces we have, we've sold them since my sister started the business in Dundee," said Melissa.
"Holly Willoughby has one and she wears it all the time on This Morning so it's really taken off since then. We have them in gold, silver and rose gold and just mix and match with whatever works best with each outfit. It goes with everything and can be worn on any look. We've got a small selection of costume jewellery and people love picking them up to go with their outfits."
Keep up to date with Tiger Lily Boutiques latest collections on their Facebook page, Instagram and website.