Stef Macari creates bold and beautiful scarves in Aberdeen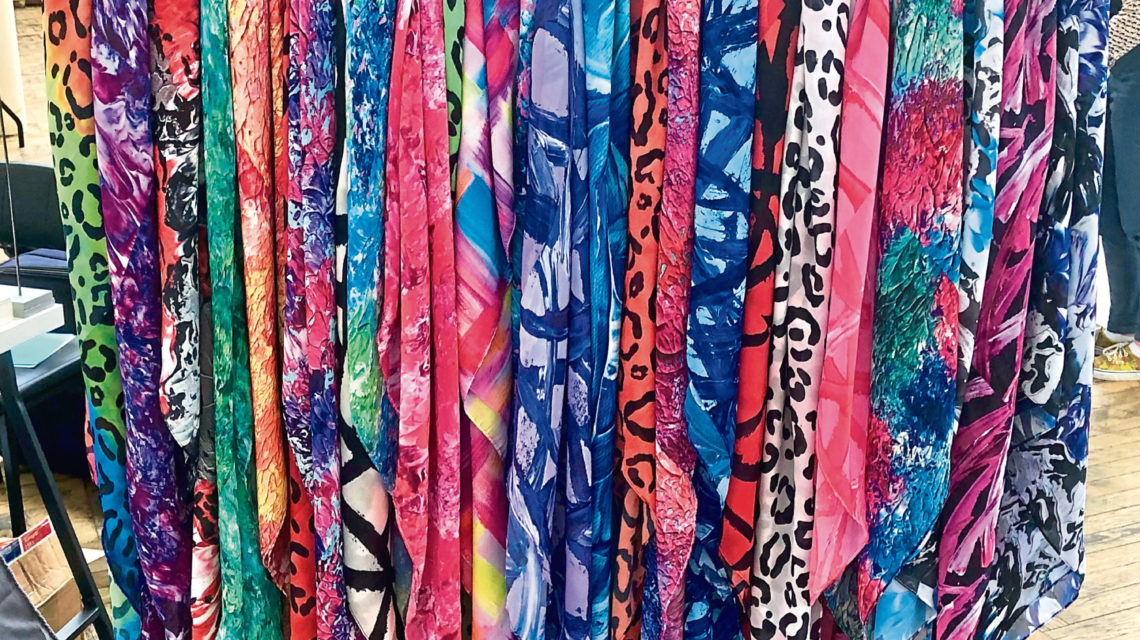 Experiment with your fashion style this summer by injecting bold colours and prints into your outfits with Stefanie Macari's textured scarves.
Stefanie, also known as Stef, said her small business Stef Macari Art started as a hobby in 2018. After gaining a degree in sociology and psychology from Robert Gordon University and working in a legal office for a number of years, Stef decided to take the plunge and focus on her creative business full time in January 2019.
She said: "I had been painting a lot before and thought it would be really cool to have my artwork printed onto items that I could use in everyday life.
"Originally, I started with greeting cards to send to my friends and family.
"They turned out really well so I decided to have my artwork printed onto a few notebooks and pens.
"I was delighted with how great my artwork looked on them so I wanted to see if anyone would like to buy them. The reaction from my friends and family was so positive that I put them up for sale on Etsy."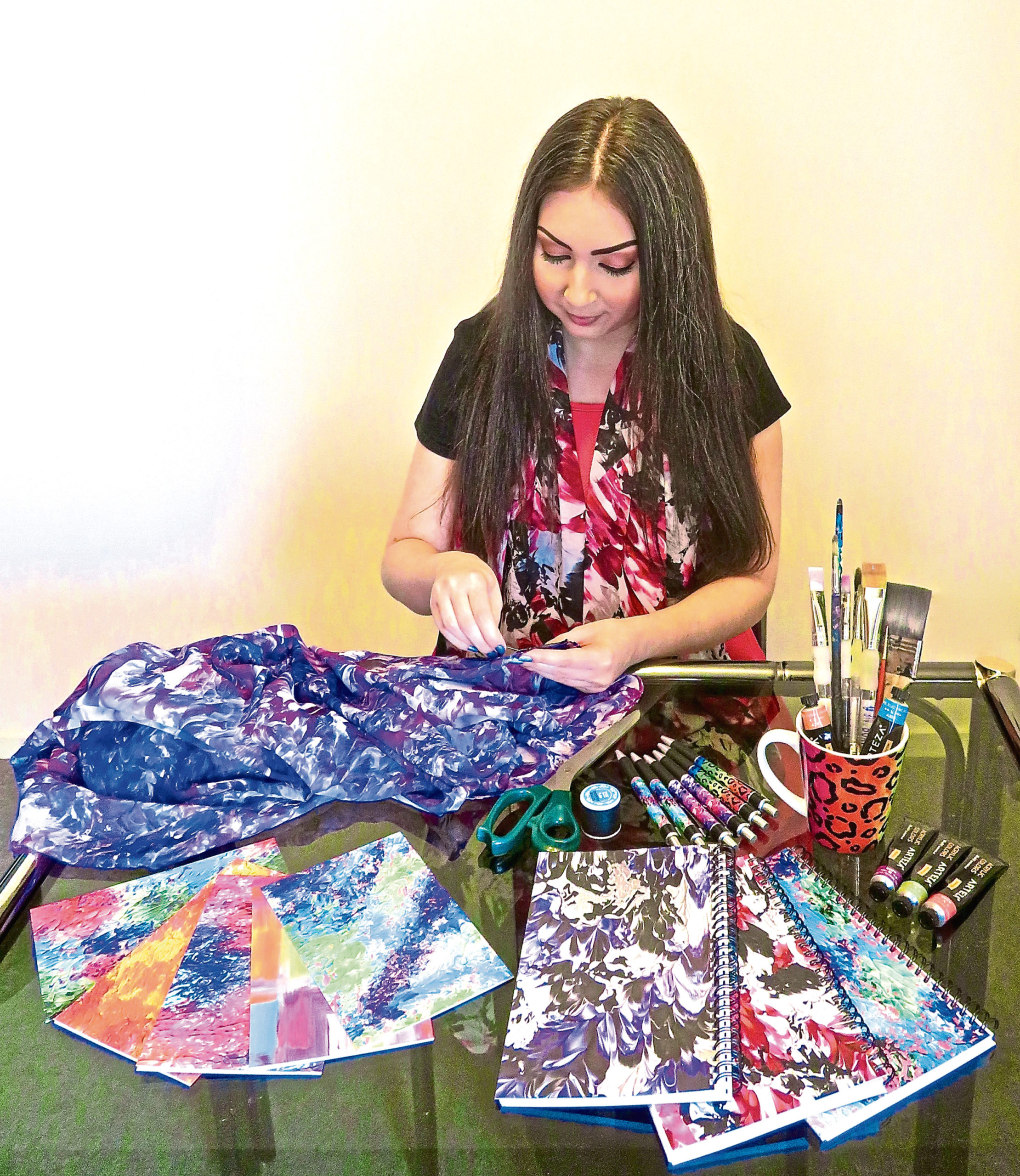 Following the success of her stationery, Stef thought it would be amazing if she could wear one of her designs too.
She said: "When I received my first sample scarves in the post, it was incredibly exciting to see my own original artwork on a beautiful material.
"I feel so proud to wear my own scarf designs every day.
"When I see other people wearing them and enjoying them I can't quite believe it."
Mainly utilising bold and vibrant hues in her work, Stef's scarves can easily add a pop of colour to any outfit.
She said: "I wanted to create art which was expressive through colour and texture.
"I think that colour can brighten up the monotony of everyday life.
"My scarves are an easy way to introduce colour into an outfit and lift your spirits all day at work.
"And having a vibrant notebook might help cheer you up while you are revising for exams.
"A piece of colourful artwork in your home can brighten the mood. If you really love that piece you will admire it every time you catch a glimpse of it."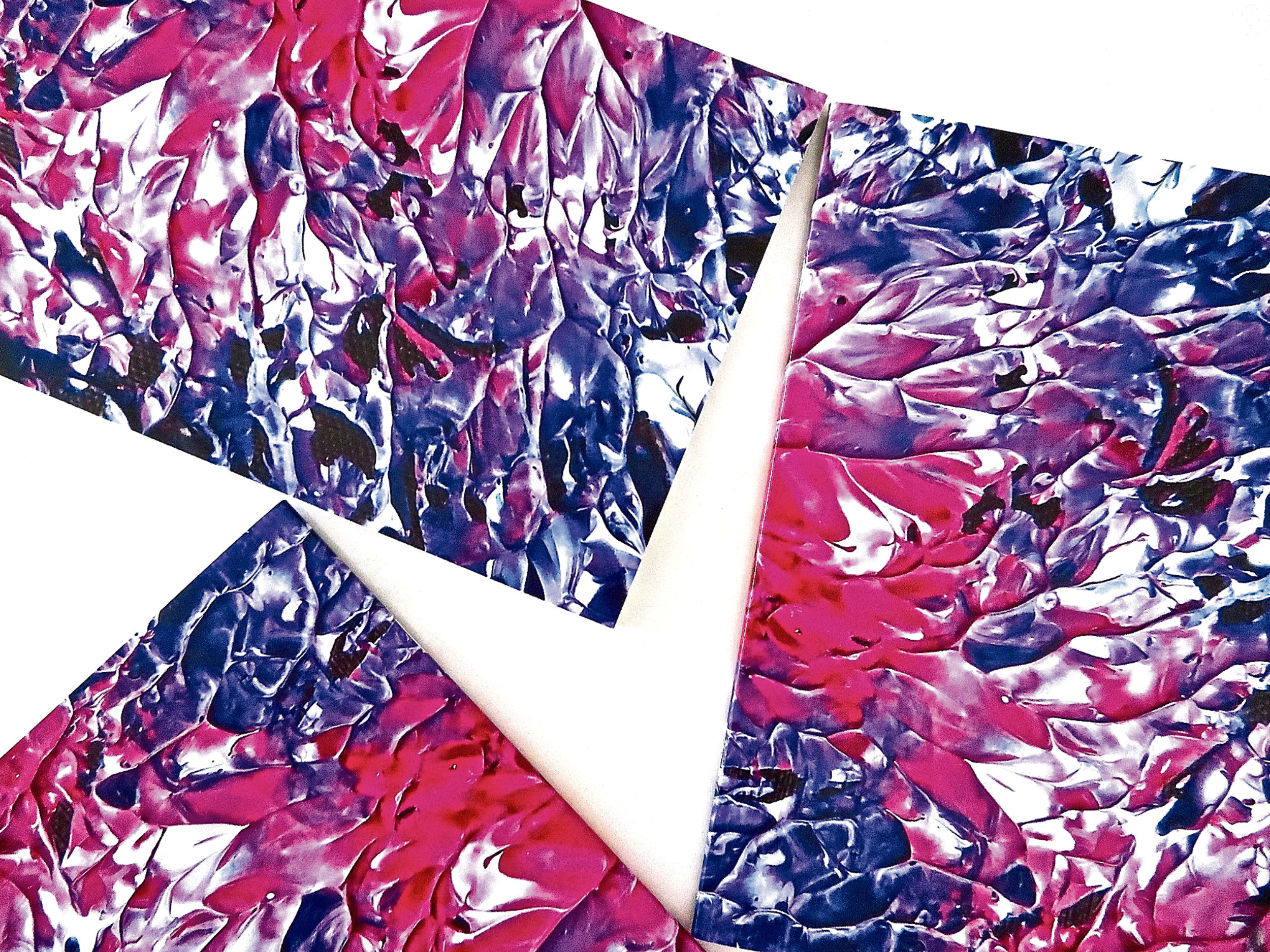 Stef often refers to her products as "artworks" because all her scarves and stationery start off as acrylic paintings.
She explained: "Once I've created the painting, I then take high-quality photographs of them and have my artwork transferred onto my products.
"At first, I was focused on creating my paintings, but recently I have been thinking more in terms of what kind of colours and designs I can develop for a scarf or a notebook."
Since Stef doesn't have a designated studio space at the moment, she brings her ideas to life in her Aberdeen home.
She said: "All of my original artwork is created from my kitchen table.
"I don't have a studio just now but I am hoping to have one in the near future."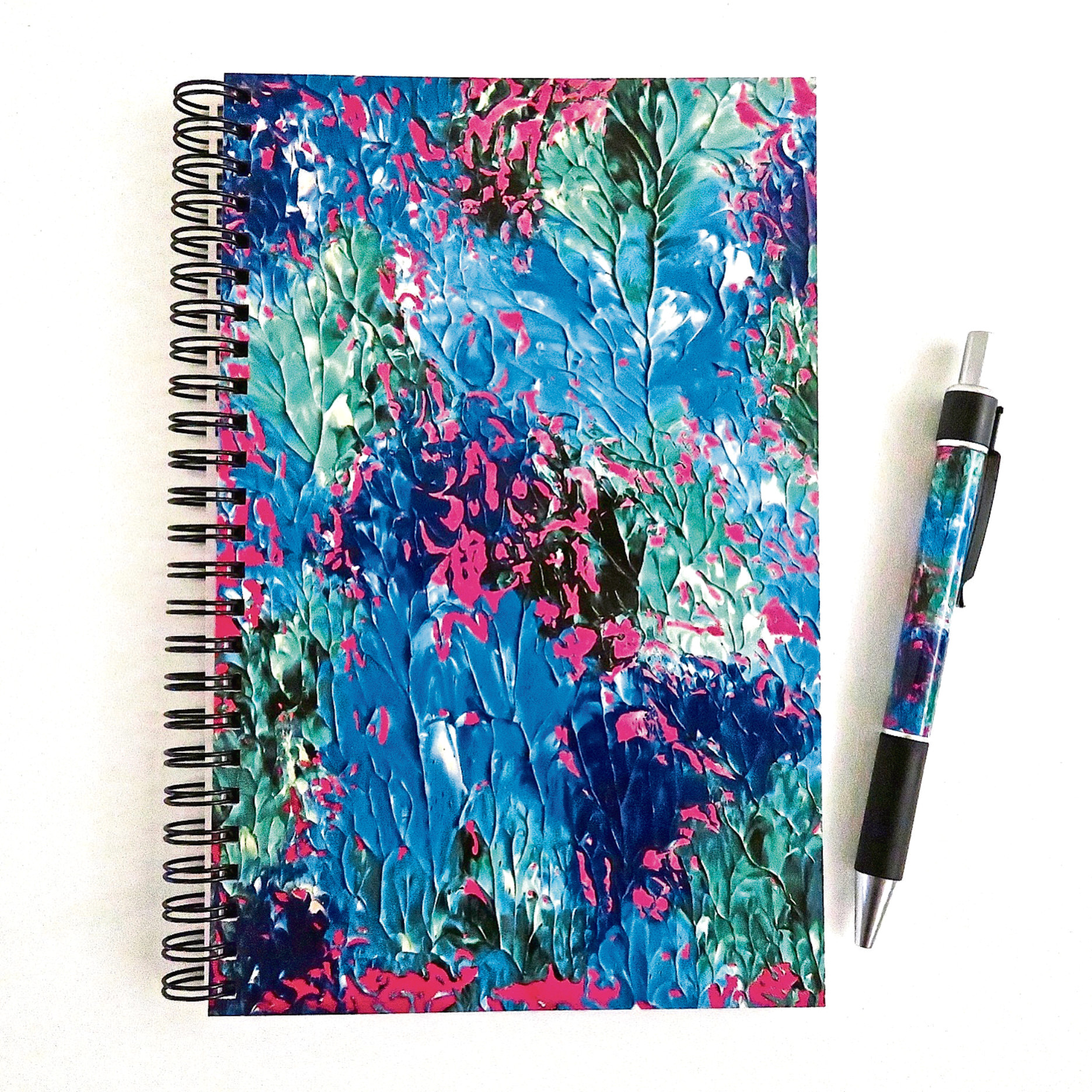 All Stef Macari Art's scarves and most of her notebooks are printed in the UK.
Stef said the "freedom of being an abstract artist" really inspires her.
She stated: "There are no rules for or limitations on what I can create.
"My artwork can be as colourful and as textured as I want it to be and I revel in that.
"I felt that when I was at school my artwork had to be so structured and that there wasn't much creative freedom."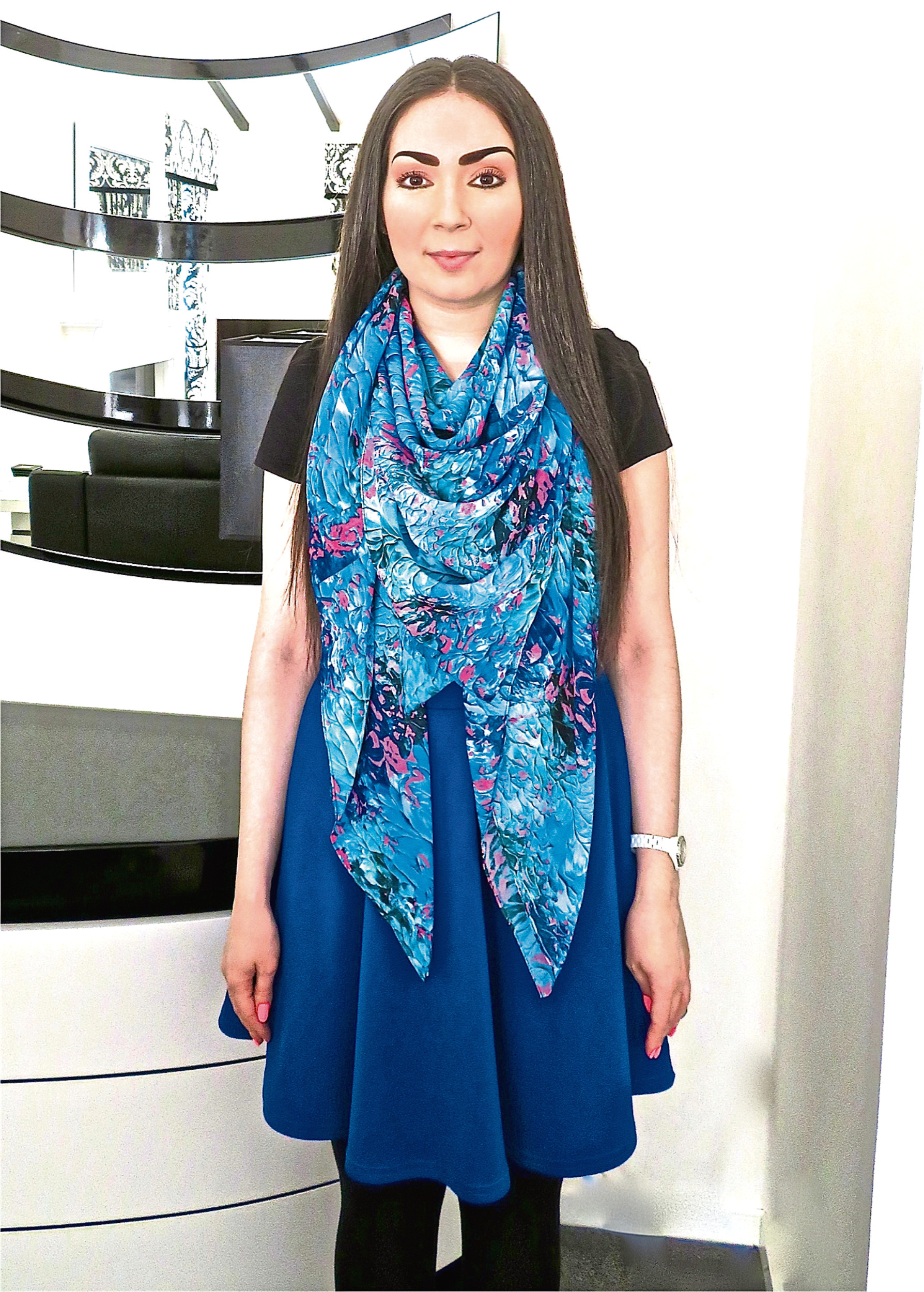 Pre-coronavirus, Stef could be spotted selling her products at a range of north-east fairs and markets.
She said: "I regularly attended the brilliant Aberdeen Ministry of Crafts monthly fair.
"I also took part in Etsy Made Local craft fairs, which are amazing.
"There is always such a sense of joy and excitement from both the makers and the shoppers at the Etsy fairs.
"Seeing how happy one of my scarves can make people feel inspires me to keep creating new artwork.
"At one craft fair a little girl used her pocket money to buy herself one of my notebooks and told me that she wanted to be an artist when she was older.
"Such enthusiasm for art also inspires me to create more."
Visit www.etsy.com/uk/shop/StefMacariArt for more information and to shop