Bringing the 70s back with Ornate Revival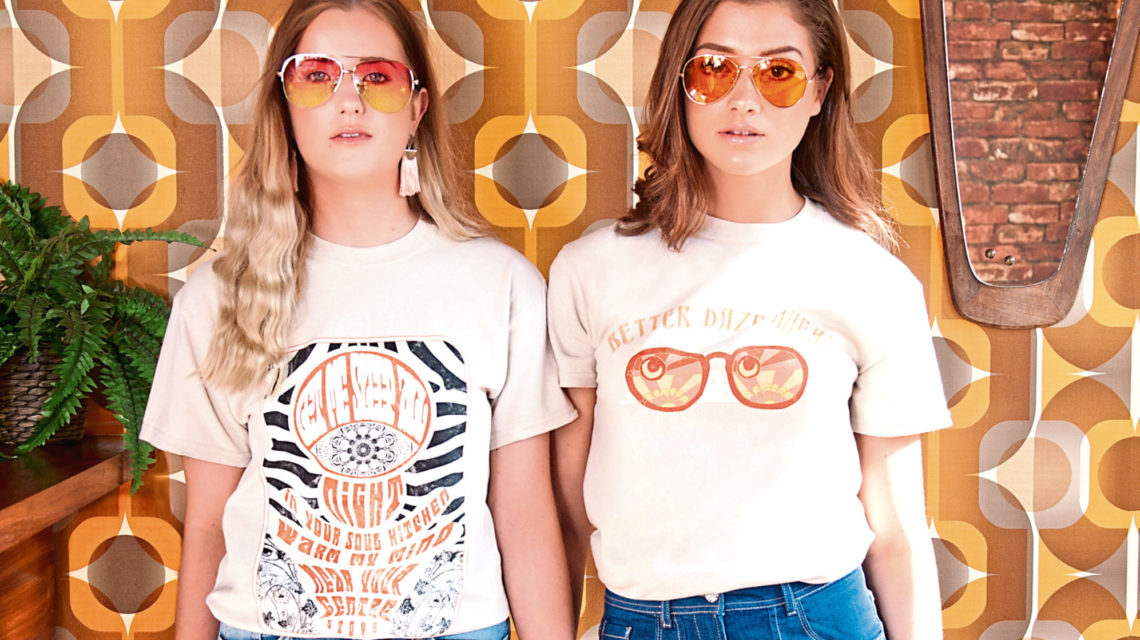 What happens when two 70s obsessed fashionistas who love the bohemian lifestyle and rock 'n' roll muses meet and immediately form a strong friendship?
They start a business of course.
At least that was the case for Kirsty Bain and Purdey Lines, two young entrepreneurs who now run their own fashion business Ornate Revival.
Launched in November 2017, Ornate Revival is a unique business which specialises in sourcing beautiful pieces which are mainly from the 70s and styling them in creative ways to bring them into the modern age.
Not only do they source and restyle these stunning garments, they've also created their own line of slogan T-shirts which they released to the market in May this year.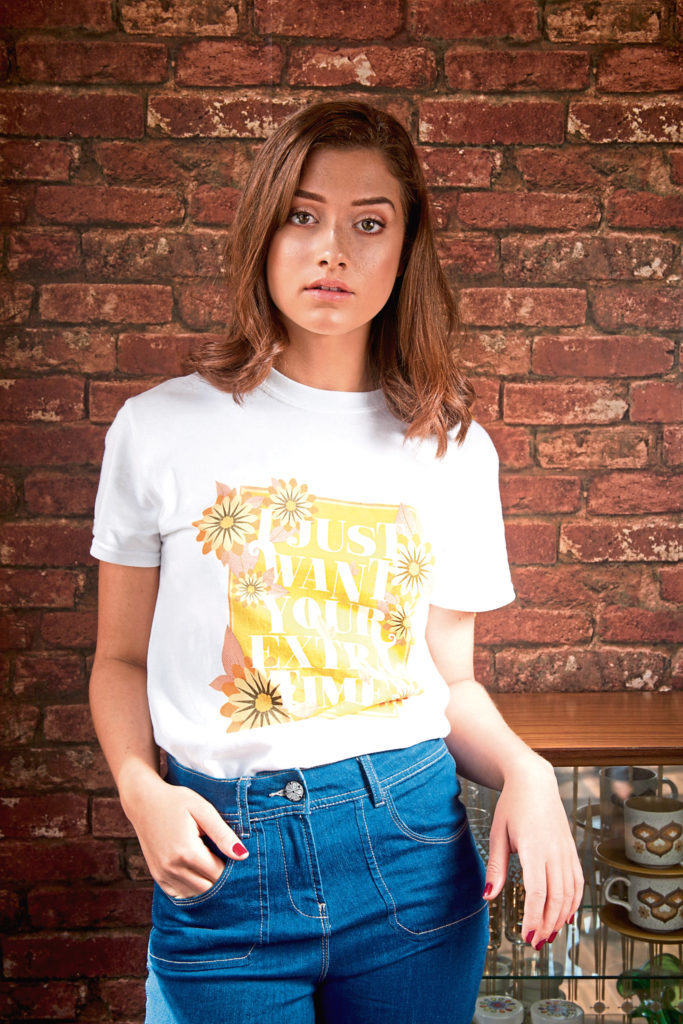 Having met when Purdey moved to Aberdeen a few years ago, the pair realised they had a lot in common and started throwing around ideas of how to start and build up their own fashion business.
Still both working full-time, Ornate Revival is a side project for Kirsty and Purdey who have high hopes of growing it into a bigger brand in the future.
Getting together regularly at their homes to source one-of-a-kind items and design their unique T-shirts, the pair take a lot of inspiration from online and have their eyes firmly set on securing opportunities with local boutiques to showcase their work.
Lets start from the beginning, how did you two lovely ladies come to be best friends and business partners?
Kirsty: We met at a bloggers event I'd organised for the store I work at in Aberdeen. I'd organised it to showcase the items we had in store and Purdey had just moved to the area and thought it would be a good way to meet new people.
Purdey: Yeah, I'd just moved here and was looking to meet new people. I wanted to see what the event was about and from there we kind of just hit it off. We realised Kirsty's boyfriend had studied in Southampton where I'm from and we just got on really well from there.
So how did the fashion brand idea come about?
K: We realised quickly we were both mad into fashion and we'd both spoken about wanting to start a business but we didn't want to do it alone. The more we spoke about it the more we thought it would be good to partner up.
P: It was good to have someone to bounce ideas off of and have someone who understood what you were trying to achieve but also have someone with completely different ideas. Having different imaginations and a variety of design concepts it allowed us to create a range of cool designs. We complement each other well.
K: We tweak each other's work all the time and we build the designs up together. It's a very collaborative process.
Have you both always been into fashion then?
P: We're both really into it. I studied fashion marketing at Southampton University so I've always wanted to do something in fashion. I work for a PR company now and although it's not fashion focused I get to delve into it outwith working hours.
K: We both love the jobs we have but this just allows us to escape and get really creative. We're all about creative freedom and we like to put things out which are a little different. It's a lot of fun! We're really honest with each other and it's a good balance.
And where did the name Ornate Revival come from?
P: It's funny because names for things are something people really struggle with but I feel like we came up with it pretty quickly.
K: We both originally wanted it to be music related and a lot of the names we liked we found were already taken. We started looking at words that would describe the brand well and we came up with one word each and played around with it and loved the sound of it. We put the two together and it rolls off the tongue and says exactly what we do.
P: Our brand is all about bringing back those colours and prints from the 70s and reviving older trends. There's a lot of minimalism and monochrome trends just now and I think we much prefer more vibrant pieces and patterns from the 70s and stuff. Ornate Revival really encapsulates that.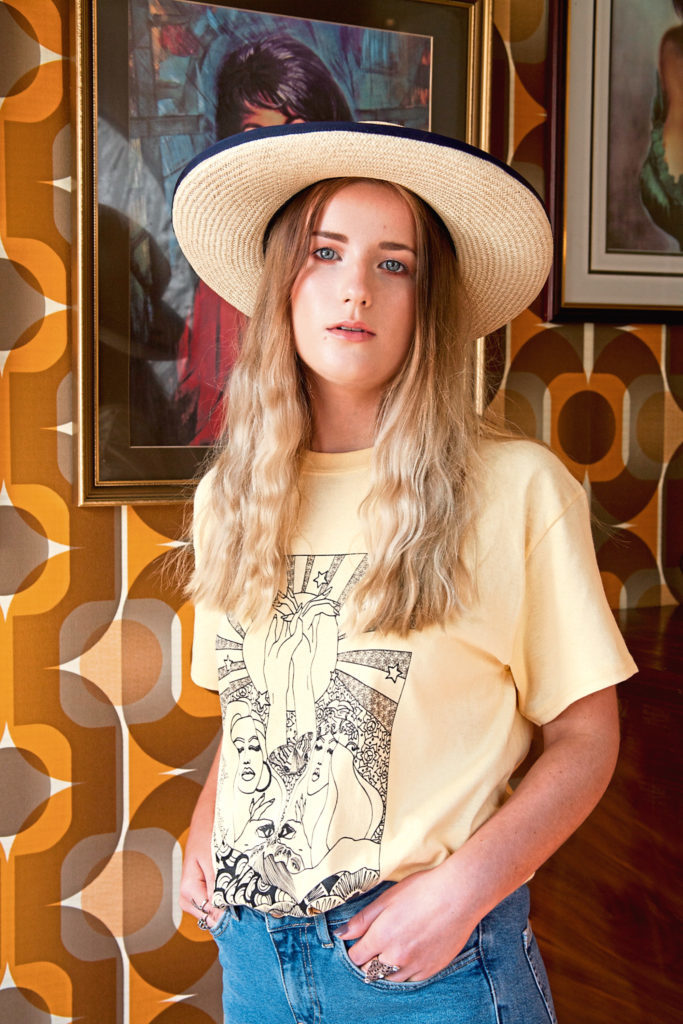 Fashion is forever changing, where do you get your inspiration from?
K: It's a real variety of things. We love Pinterest but I love old album covers, old posters and old gig flyers from the 70s and 80s are really cool. There's a lot of contemporary artists we like too, so we just take the bits we like the best and combine them together.
P: I think when it comes to the vintage and the second-hand pieces we find, although they might be vintage from the 70s, what we focus on is how to bring them into the 21st Century and styling them up to be something people would want to wear today. Rather than people disregarding it. For the T-shirts, when we draw we mix old and new throughout our collections. It's all about the perfect pieces and styling them correctly. Sometimes just adding a modern belt or accessories can change an outfit.
So you've now designed these awesome T-shirts, was it important for you guys to have your own pieces as well as the vintage garments available?
P: It's something we wanted to do but to start we focused on the vintage clothing. We always had the vision that we wanted our own brand and have our own line, but it was a good way to transition. We wanted to push sustainable fashion and T-shirts were a good way to push the brand forward. T-shirts are timeless too so that's why we chose them.
K: We want to be able to release our own pieces eventually but starting with the T-shirts has been great fun. We've got 14 T-shirts now, 13 different designs and one is available in black or white.
Does it take time to design the T-shirts?
P: Some designs take no time, and some take a long time. The Heart Full of Soul tee illustration was a lot of both of our ideas coming together. Hand-drawing each element and putting it together on Illustrator and Photoshop is a long process and takes time to perfect. It's built up of individual smaller designs so it took a little while.
K: Our Dazed and Confused tee has been really popular and it's a little more simplistic but still really captures that 70s look. When we work together we get stuff done a lot faster, but it's all about building each piece up.
Sustainability. How important is it to you?
P: The tops are 100% heavyweight cotton but the ink we use is non-toxic and non-hazardous. The company we work with in England for all the printing and T-shirts is all about sustainability so we chose them for that reason to be in line with our ethos.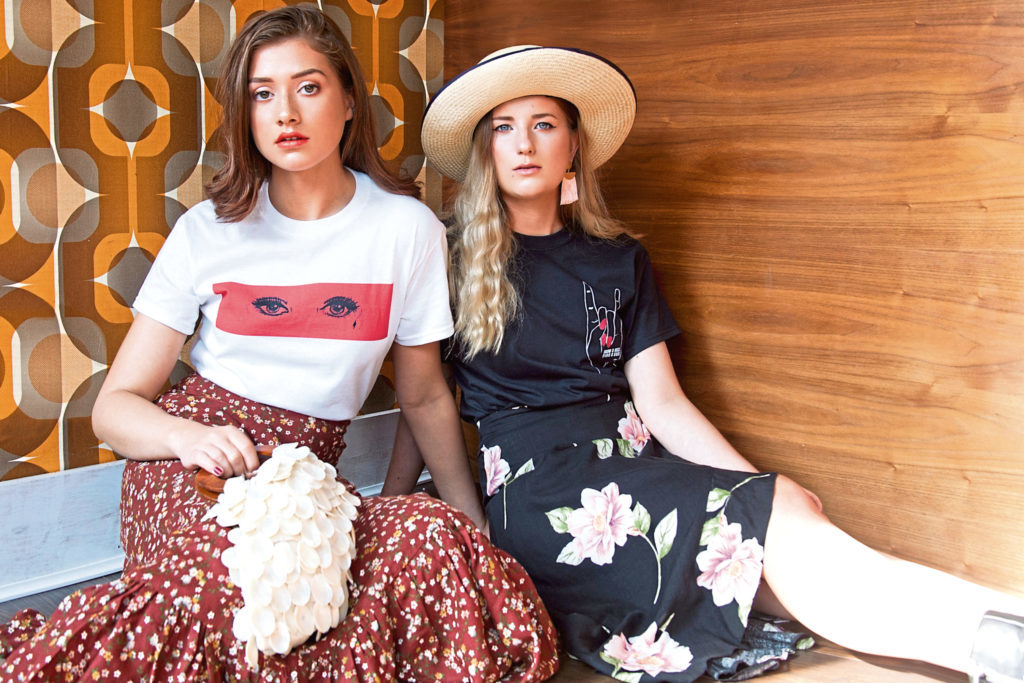 You also support the Cyrenians charity in Aberdeen – do you donate your clothes or how does it work?
K: Consumers are a lot more conscious about the environment and sustainability nowadays and we want people to feel like they're doing something good when buying from us. When we sell an item of clothing we donate an item of our own clothes to the Cyrenians. It's really important for us on a local level and that's why we've chosen the Cyrenians to support. We know exactly who we're supporting and the consumer knows their purchase will make a difference.
And for the vintage pieces you sell, how do you go around picking those?
P: It's a real mix for the vintage pieces – we get them from eBay, local charity shops and Depop. We have specific items we're looking for and with this creative outlet we can showcase the items and clothing we want to.
K: When we first launched it was in the lead-up to Christmas and the party season so we really played on that and put a 70s twist on it while keeping it modern and edgy. We've also got some 20s style pieces in there – the gold sequin dress is a great example, it fitted in perfectly and looked contemporary with the styling.
So what's next for Ornate Revival?
P: We both work full time so it's difficult to move quickly so we're really just focusing on the T-shirts at the moment. We love them and we've had some great feedback so we're hoping to get them into local boutiques.
K: We really want to have our own pieces and design our own stuff. We both have a sewing machine so we make samples all the time. It wouldn't be a large collection, but a few pieces for sure.
For more fashion and beauty news click here