Fashion is a unifying force at RGU & NESCOL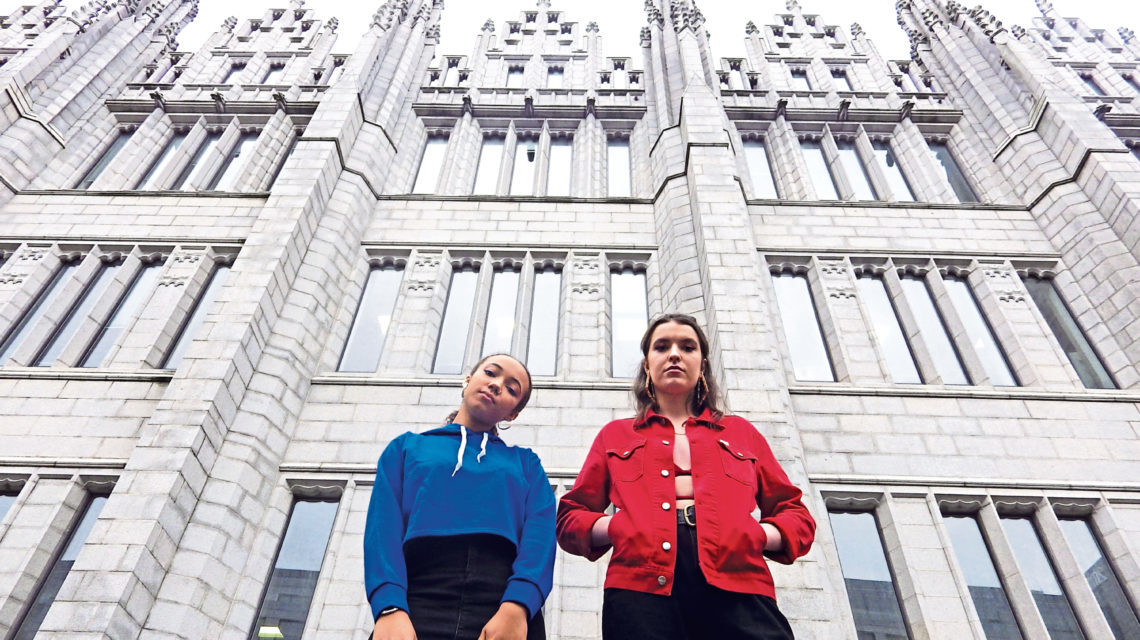 Collaboration is certainly the key to success for Robert Gordon University (RGU) fashion management students who have created the university's ninth fashion magazine.
Named To The Nines, the ninth edition of the second year students' magazine wouldn't have been possible without the fundamental collaboration the university has with North East Scotland College (Nescol) and a variety of local businesses too.
Fiona Blunsdon is the editor of the magazine and the module co-ordinator for fashion communication. She has worked at RGU for seven years, taking on the editor's role five years ago having been the sub-editor for one year prior.
Working tirelessly to pull the 180-page magazine, which showcases the stage 2 BA (Hons) fashion management students' work, together over a period of three months, Fiona has a tough job on her hands selecting the final pieces to be featured in the finished article.
She said: "I like seeing what they do with the brief. They have to produce a product page, a front cover, a contributor profile and an editorial piece. There's eight different components and online tests too so they're producing a lot in a short space of time. The brief is really open and it's their imagination that brings it all to life.
"It's challenging pulling together the best pieces for the 180-page magazine, but it makes it so interesting, and only one person gets the front cover too which is a very difficult decision to make."
Starting the process when the students arrive for their first semester, they have just 12 weeks to come up with their shoot ideas, create, style and photograph a shoot, edit it all, write an article and a products page and compile it together in time for their December deadline.
"It's a 12-week block in a semester and the students are introduced to it during their induction week where we show them the previous year's magazine. It gives them something to aspire to and they know what they're working to produce," said Fiona.
"They write an article and present it how it would be in the magazine with images, they write their own fashion blogs which have to have 10 professional posts, and they create a fashion spread too."
Collaborating with an array of individuals, Nescol has been a fundamental contributor to the magazine, providing much-needed photography students who give up their free time to help the RGU students out by photographing their shoots.
Fiona said: "The collaboration between us and Nescol has been fundamental to the magazine's success. We've worked together with the photography students since the beginning. The way their timings work, the project isn't part of their timetable but quite a lot of them get involved and dedicate their own free time to the project. It's really great. Steve Smith (photography lecturer) has been fantastic in facilitating everything.
"Many of our students have gone on to work with the Nescol students on other projects too which is really nice to see.
"The photography students get to use it for their portfolio too so it's a great introduction to each other. The students organise it all and can also use the RGU or Nescol studios which is good. It becomes this collaborative opportunity to network too."
And with the north-east boasting beautiful countryside and various stand-out landmarks, there's plenty of locations to choose from when it comes to making a statement with their photo shoots.
"The students all get to explore Aberdeen and also Aberdeenshire to find the perfect places for their shoots. If they have a location which is local we try to showcase it as much as possible – we try to ensure we mention it in the contributor section.
"There's no budget – apart from the printing budget – for this project so we're very grateful for all of the support we get from local businesses. We've had shops donate garments to the students so they can take photos. Slaters helped one of my Parisian students, Bon Accord and St Nicholas Centre have helped in the past too – there are lots of local people who get involved.
"Students have taken pictures in Mar Lodge, Marischal College and they sometimes get access to really incredible spaces. Someone even borrowed a motorbike from a local company too. We're very lucky to be able to work with so many different businesses."
Working individually or in small groups, the students get the opportunity to showcase their creative flair in a variety of ways by styling all elements of the shoot.
"We encourage them to work in smaller groups like twos or individual working," said Fiona.
"Some people like the autonomy of working on their own and others prefer the security of a group. The Erasmus students from abroad usually prefer to work with someone else as they're not as familiar with the city."
And with around 45 students, including around 10 Erasmus students too, there's definitely a wide variety of ideas that are put forward for submission.
"Having so many diverse personalities in the class is brilliant. One student from Canada focused her blog on 10 different charity shops in Aberdeen, showcasing the clothes she had bought and shining a light on the charities themselves too which was very clever. She wore and styled them herself and had someone taking photos of her – it was a very well thought out approach.
"There was another local student who re-created 10 subcultures too and found outfits for them all – it was really fantastic.
"It's amazing what the students produce and it makes my job marking them and picking a front cover a lot of fun."
With work submitted in time for Christmas, Fiona spends three months pulling together the magazine, sending it to print in April just in time for distributing in May before the students finish.
She said: "Everyone's photo shoots are featured but there are only certain articles that make the magazine due to space. It's a beautiful article that every student gets and is a great portfolio piece. We get some great feedback on it and the students are all very proud of it."
In addition, you can also see all Society's fashion and beauty articles here.