Amy Alexander has cleaned up with soap sales success with launch of north-east skincare business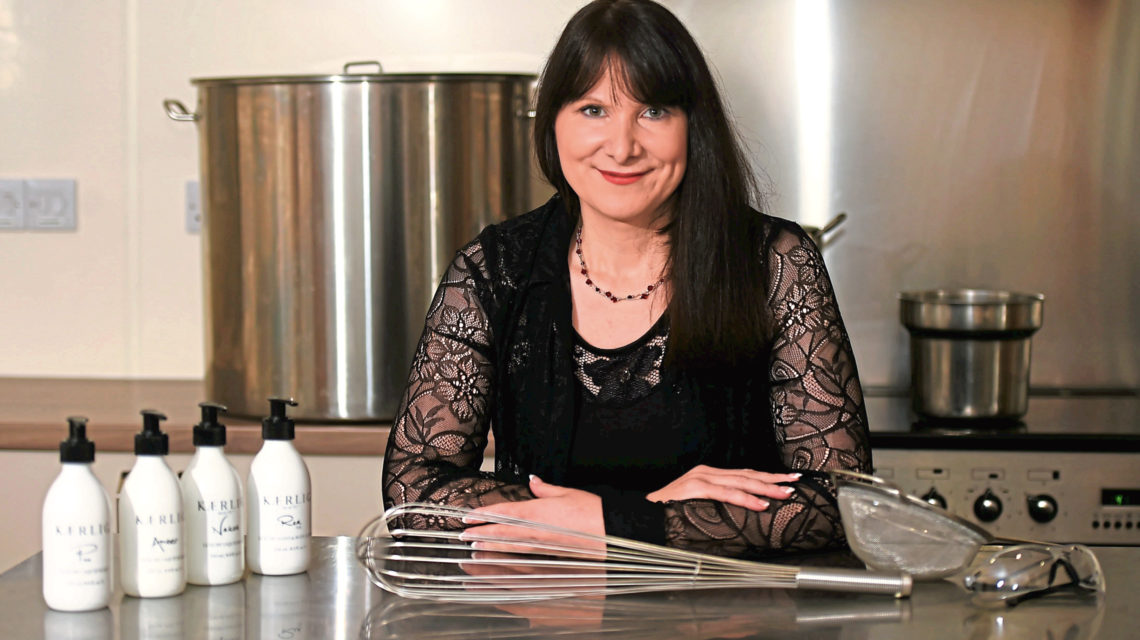 It takes a strong individual to fight cancer, but to start and develop a successful new business during that time takes the definition of being a survivor to a whole new level.
Three years ago, Amy Alexander was diagnosed with cancer, which she found in her right breast.
With a battle on her hands, she fought hard, and for the past few years has been living life to the full, teaching her two teenage sons valuable lessons along the way.
Amy's business, Kærlig Beauty, has grown from strength to strength since it launched in March last year, and it can now be found in every Harvey Nichols store across the country.
Building her business to show her teenage boys that hard work, determination and a positive mindset would do them all well, Amy, who now also works part-time as a modern studies teacher at Turriff Academy, has worked tirelessly to make it a success.
She said: "I found a lump in my right breast and it turns out it was a really aggressive breast cancer.
"I was so shocked as I'd just been made redundant six weeks before that and I have two teenage boys on my own. I just kept thinking I'd be leaving my boys behind and that they wouldn't have a mum – it was a very sobering time.
"Very quickly I had chemotherapy and radiotherapy. My hair fell out and my skin was cracking and bleeding and it was in terrible condition.
"I had to keep focusing on being mentally strong for my boys. My long-term boyfriend, Neil, was extremely supportive but I needed to find some way to treat my skin and to stay positive mentally for my family. The three things all came together and when I was going through chemotherapy, I decided to make some bars of soap.
"I'd never done anything like it before. I was making something that we as a family could use.
"The ingredients in the soap were really good for my skin and I began to make soaps for other people as gifts and it developed from there really."
Developing six liquid soaps and three hand creams, Amy has created a variety of scents to ensure there's something that will suit all tastes, and has developed a Naked version for those with sensitive skin.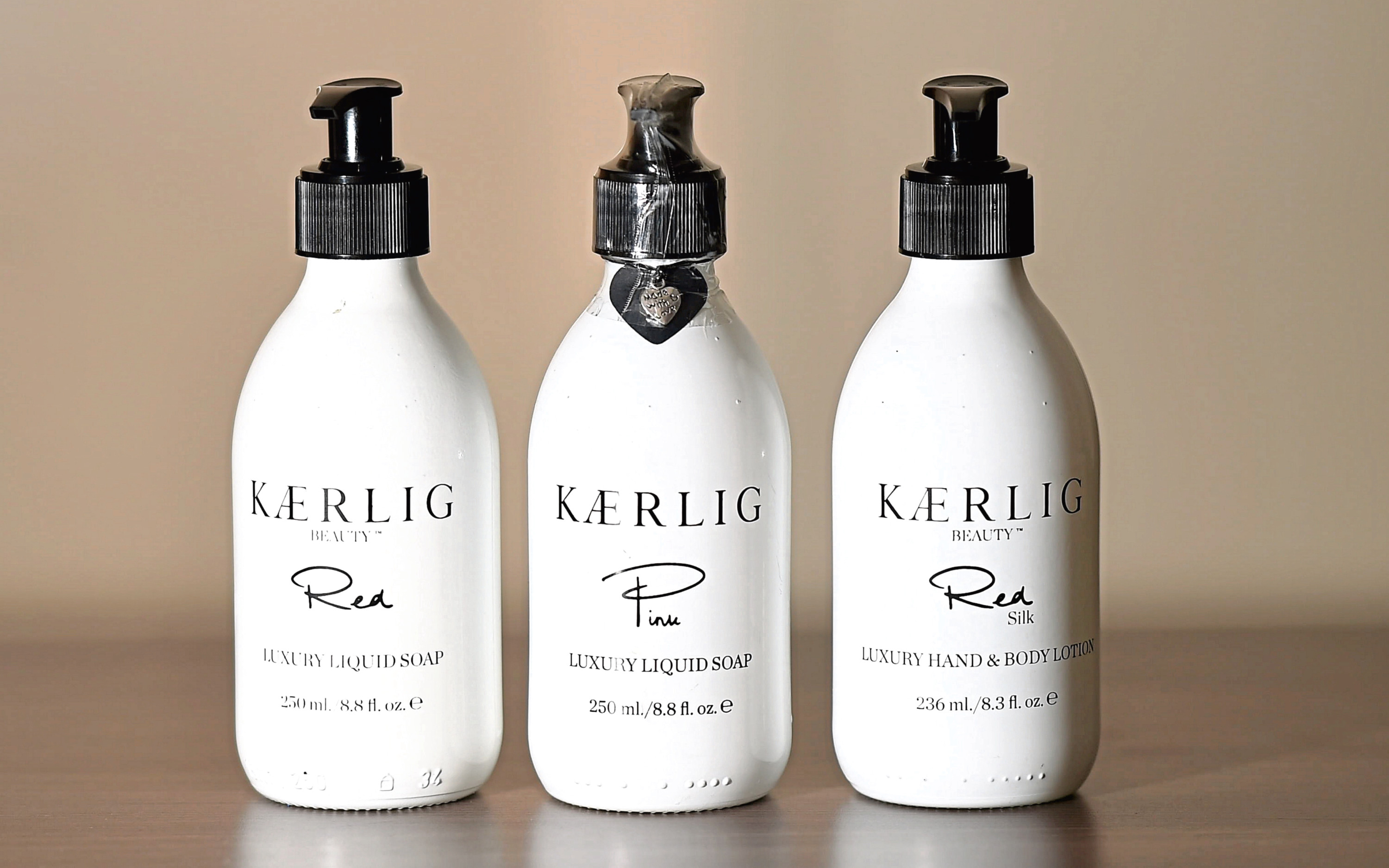 "I have a diploma in organic skin care," she explained. "I have no background in business or making soap but I enjoy doing it. My first efforts were not particularly pretty but smelled lovely and as I practised, I got better and better. I was showing my boys that perseverance does prevail.
"The idea for using colours as the names of the products came from one of my sons.
"When he smelled the different soaps, I asked him what it made him think of and he started stating colours. I decided to try to get a connection with colour without using any colours.
"When you smell the Blue soap, it should smell like how you think the colour would smell – it's fresh, clean and slightly citrus with lemon-and-lime blends. Amber smells of patchouli, sweet orange and pine, Pink is sweet rose and lemon, Red is grapefruit and bergamot and Black is cedarwood and raspberry. Naked has no fragrance at all and is ideal for people with skin conditions as it's so gentle."
Loaded with glycerine, jojoba oil and coconut oil, the soaps and lotions are packed with skin-friendly ingredients that are enriching and moisturising but also, most importantly, cleanse the skin.
"It's got all these ingredients which are very soothing and moisturising and the soap element cleanses the skin too," said Amy.
"They smell really good and I've had a lot of great feedback about the fragrance blends and how soft the lotion leaves the skin feeling. I've been thrilled that people have been using them. It's incredible that people all over are enjoying the products.
"I love showing the boys that even though things have been really tough, we've managed to make something positive out of everything."
Starting off by making the products in her utility room in her home in Strichen, Amy has now secured premises in the village where she can work in a professional kitchen two days per month.
She said: "They were produced in my utility room, which I called my lab. It's a hybrid lab and was kitted out to make soap. I've now just secured a deal with Ritchie Hall, where I can use the professional kitchen two days a month, which is very exciting."
Built on the foundations of family, caring and sustainability, Amy called the business Kærlig Beauty to tie all these elements together.
"I wanted the business to be about caring and that's where the name Kærlig came from as it means caring in Danish. I love everything that goes with it.
"I wanted to care for my sons, and leave something behind for them to show them how much I love them. It was also about caring for my skin and myself. I knew that I wanted it to be very luxurious and sustainable.
"My whole ethos is all about caring so I had to have a product that cared for the world too. It had to have ingredients that were good for skin but also for the environment.
"The products are in glass bottles that are refillable and I do refills so that the glass bottles last. This made us stand out a bit as only a few other luxury brands were doing this when I launched."
Selling her products in one of the leading department stores, Harvey Nichols, Amy's products can also be found in a variety of local stores as well.
"It's a small business and we're selling in Harvey Nichols and some local shops too. It's in all of the nine Harvey Nichols stores across the UK and I also sell on Etsy. I ship across the UK and my main sales have come through Facebook.
"Locally I have Nourishing Insights, a number of local pharmacists, and The Gift Alley in Turriff and Maitlands in Fraserburgh will be selling my products soon too."
Looking to release her next new product in February, Amy is excited about what the future holds for Kærlig Beauty.
She said: "I would love to see the brand grow organically and I plan on bringing out my first face cream called Define.
"Abertay University have been involved in with helping me carry out research on face creams and their anti-ageing properties. I would also like to release a shampoo and conditioner this year.
"I've also just been awarded funding from The Robert Gordon Startup Accelerator, which has been designed to help entrepreneurs set up their business models.
"It started as something to leave my boys with, but with growing health I'm hoping to be around to enjoy life with my family, friends and the business. I owe everything to the Aberdeen Royal Infirmary breastcare team, they saved my life and I'll be forever grateful."
Click here for more beauty news and features.