Aimi Cairns is doing a sterling job in Aberdeen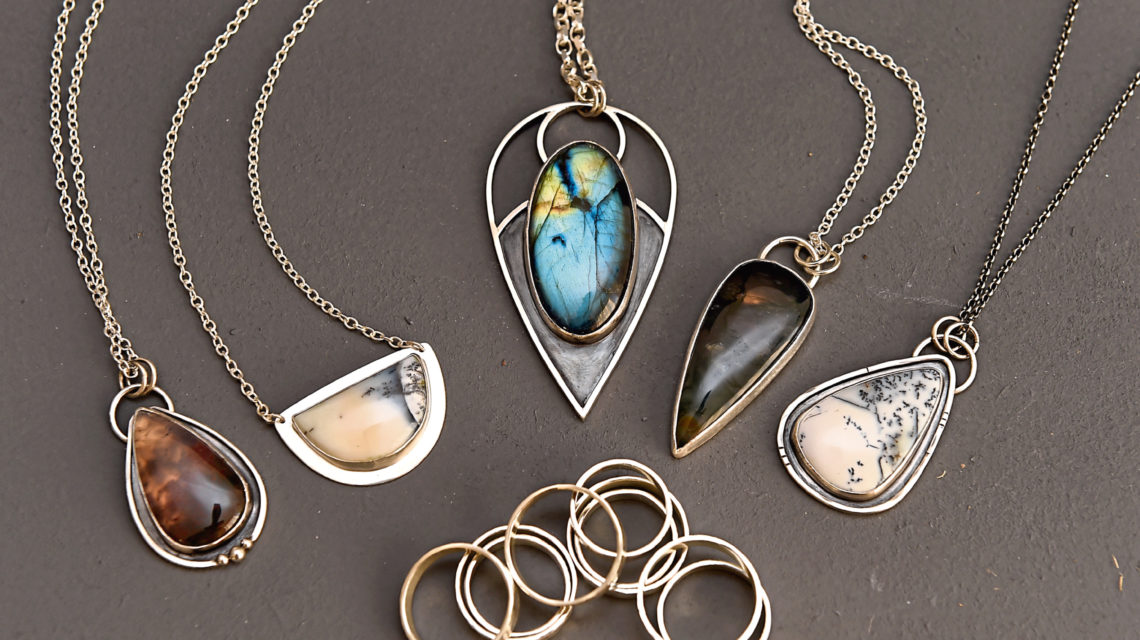 Combining sleek geometric shapes with detailed decorative elements, Aimi Cairns creates bold and feminine statement silver jewellery in her Aberdeenshire home.
While she set up her business – SilverZoo by Aimi Cairns – after becoming a mum in late 2014, the designer has been creating jewellery for more than a decade.
Despite having a degree in accounting and finance, Aimi said she has always had a creative side, too.
"When I was an undergraduate student I really needed a creative outlet so I enrolled in Gray's School of Art jewellery-making short courses," she said.
"I was instantly hooked and stayed to complete all three years on offer. That was around 2007 and, looking back, I can remember every detail of my jewellery courses and not a single thing about accounting! I have really found something I'm passionate about.
"Jewellery is such a vast subject and I'm constantly learning and evolving my practice.
"And I really wanted to be at home with my children when they were little so I decided to turn my hobby into a small business."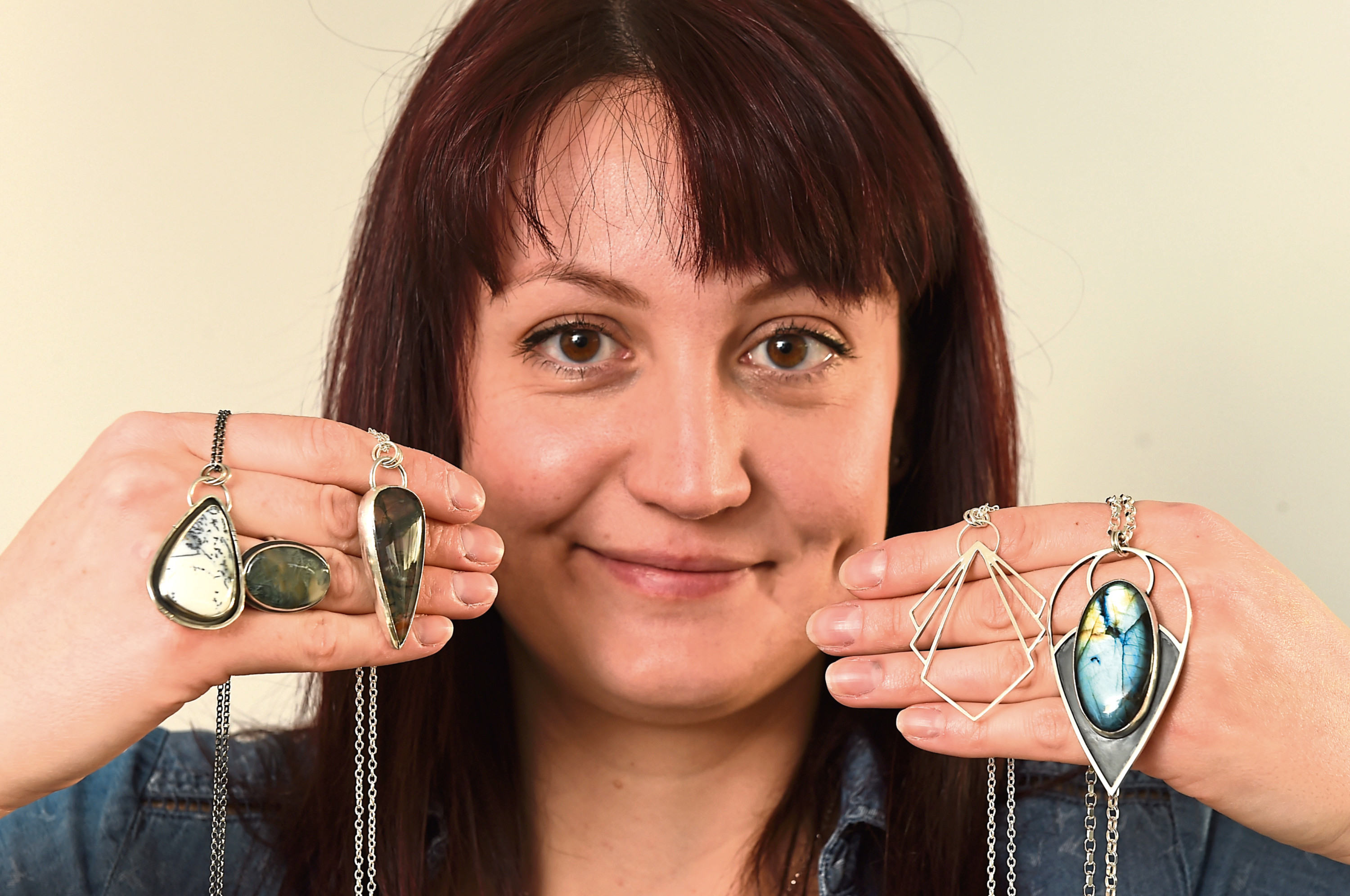 The talented jeweller offers a wide range of rings, earrings, necklaces, bracelets as well as stunning limited edition pieces.
She said: "I try to create jewellery that is timeless and simple, yet well made. I like that silver is a relatively affordable material so I can create really big statement pieces as well as smaller, more delicate items too."
While most of her jewellery is made from sterling silver, Aimi also isn't afraid to add a pop of colour to her pieces.
She said: "I love adding flashes of colour to my jewellery with semi-precious stones.
"Most of my one-of-a-kind pieces feature semi-precious stones and I allow the stone to dictate the design. My favourites stones are turquoise, labradorite and moss agate – but there are many more I love.
"No two pieces are ever the same – I like to look for asymmetrical and unusual shapes."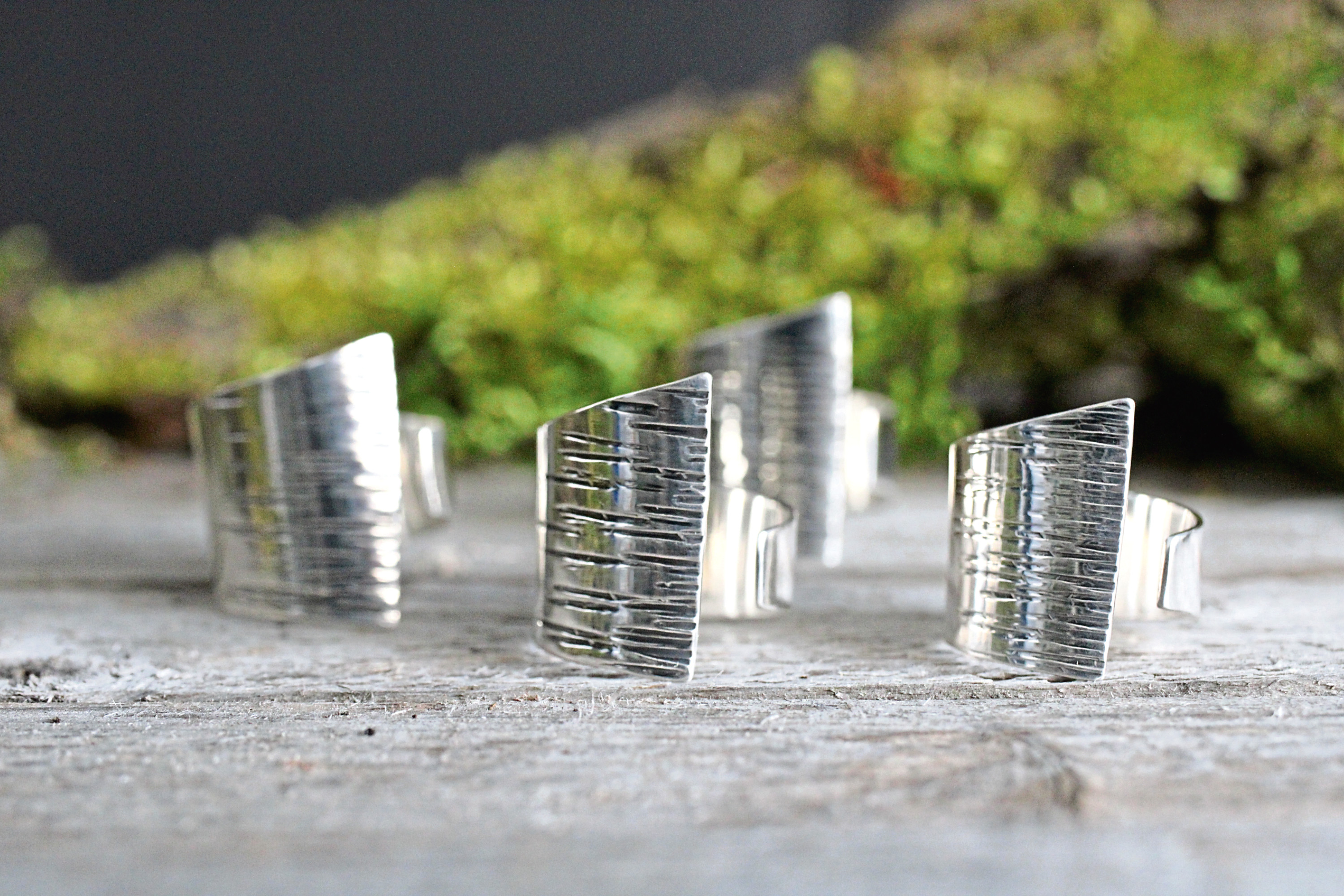 One of the things Aimi loves most about her job is working with her loyal customers on bespoke designs.
She said: "It's so satisfying to develop ideas and work out how to translate them from a sketch to a physical piece of jewellery.
"When it comes to designing something bespoke, sometimes the customer has a very clear idea of what they would like and other times a specific stone might influence the whole design.
"I have a growing collection of beautiful stones customers can choose to have made into a unique piece."
All of Aimi's jewellery items are created in her studio in Portlethen.
She said: "My business started as many other creative businesses do – at the kitchen table. I also had a work bench in the shed which was uncomfortably cold and damp and resulted in a lot of rusty tools.
"Now I'm lucky enough to have a beautiful studio in my house. It's a real suntrap and looks out on to my garden, making it a very tranquil place to work. It's definitely one of my favourite places to be."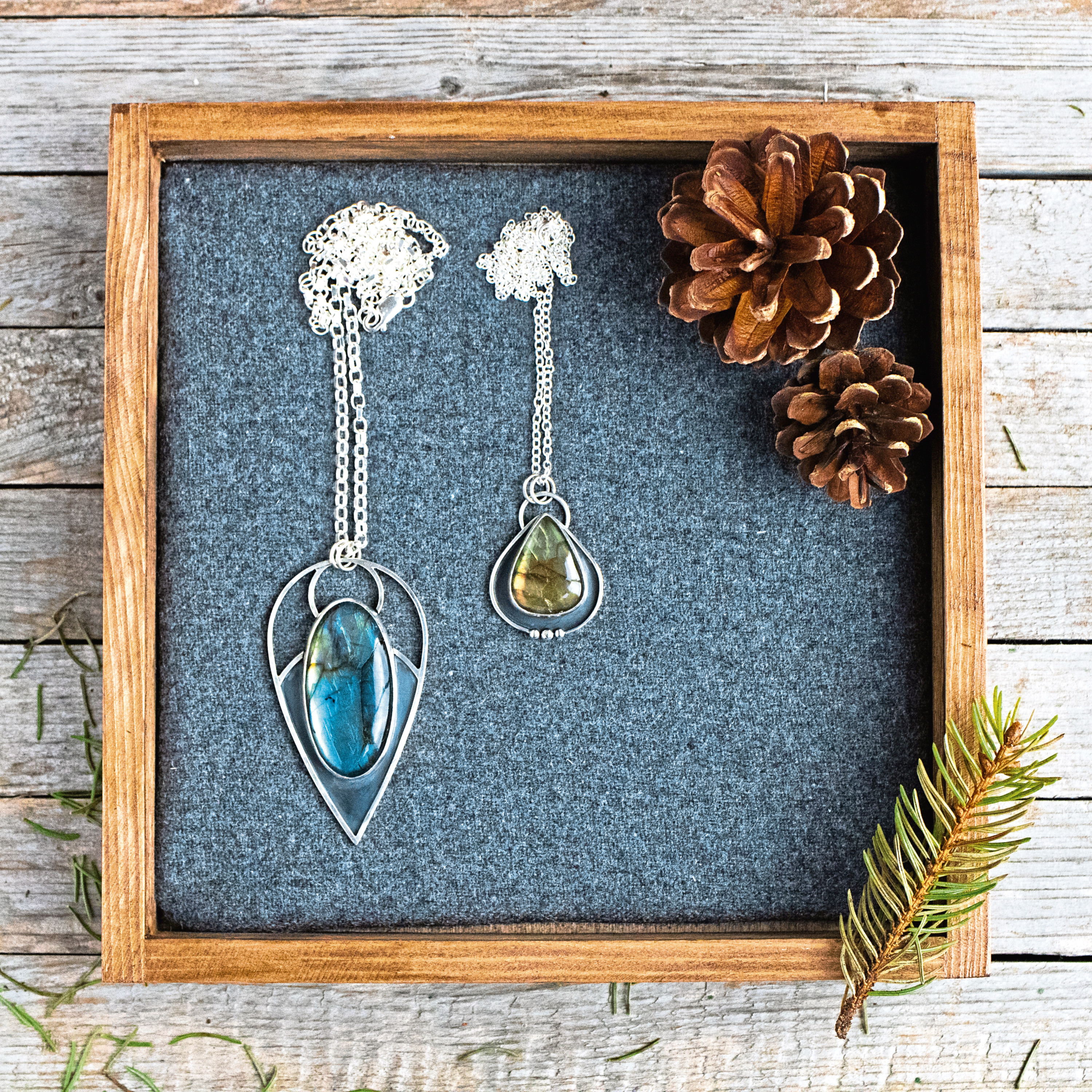 Aimi mainly uses traditional silversmithing techniques to create her eye-catching jewellery.
"Each piece of jewellery starts as a length of silver wire or a piece of silver sheet and it's cut, bent, shaped, hammered, soldered, filed, sanded and polished to transform it," she said.
"I use a variety of hand tools and also a jeweller's pendant drill – not too dissimilar from a dentist's drill – and polishing motors to finish my jewellery."
In addition to selling her jewellery online, Aimi also attends various craft fairs in the north-east. Her jewellery is also stocked in a few gift shops across Aberdeen and Aberdeenshire.
She said: "Most recently I've had my work stocked in the newly re-opened Aberdeen Art Gallery gift shop and also in FOLD at The Barn in Banchory, Everlongart Studio & Gift Shop in Alford and Mearns Art House in Stonehaven."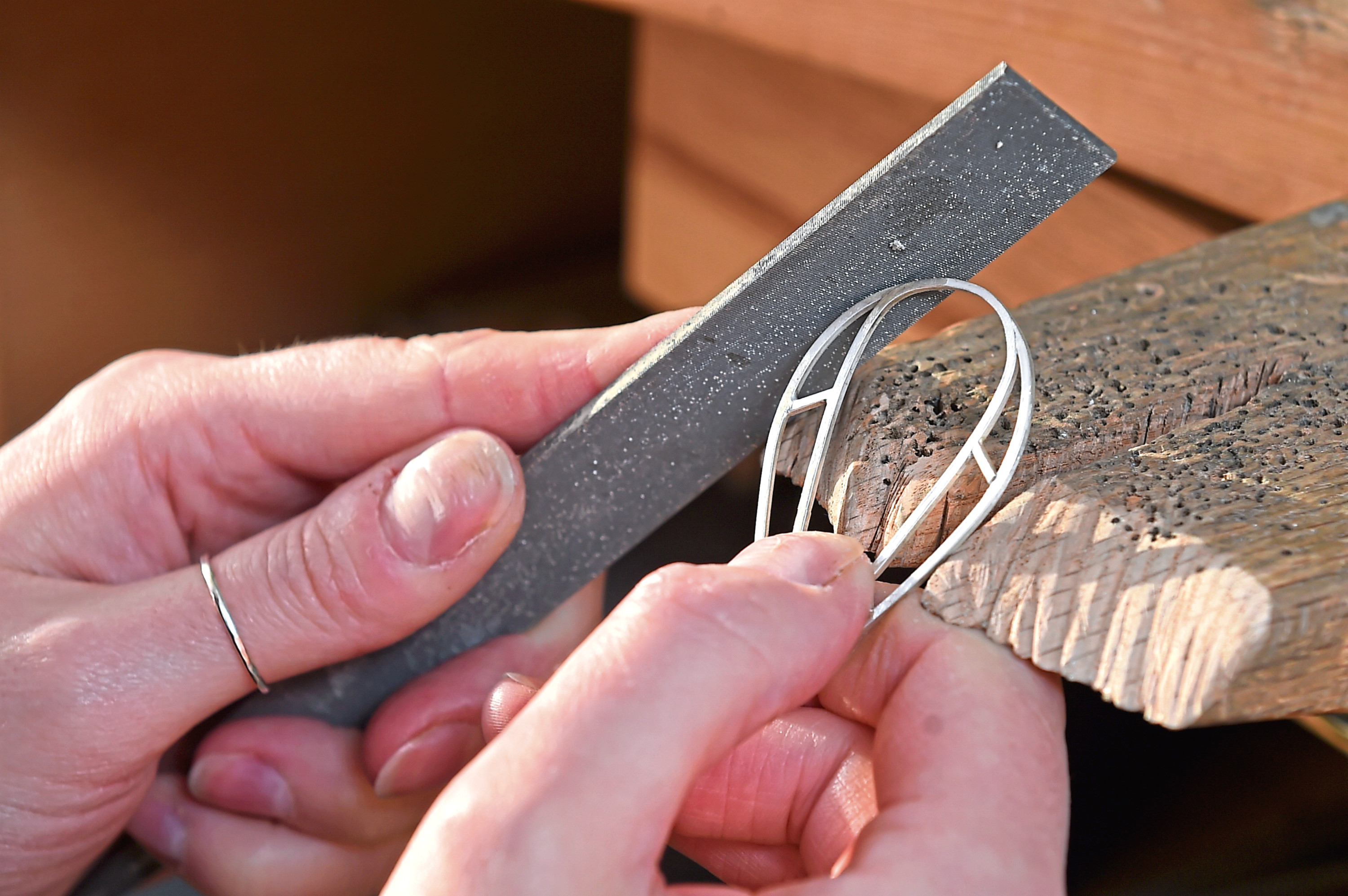 Since Aimi always loved meeting her customers at events and chatting to them about her jewellery-making process, she decided to start hosting workshops to give her clients a chance to make their own pieces.
She said: "I have been running jewellery-making workshops since January 2018.
"The events, which last two to three hours, cover making rings, earrings, bangles and spinner rings, and are ideal for beginners or anyone looking for an introduction to jewellery-making.
"I have a few public workshops and also some private events lined up in 2020. All my upcoming events can be found on my Facebook page."
Visit aimicairns.com for more information and to shop Aimi's jewellery