Aberdeen's Lindsay & Yoshi offers stunning silk scarves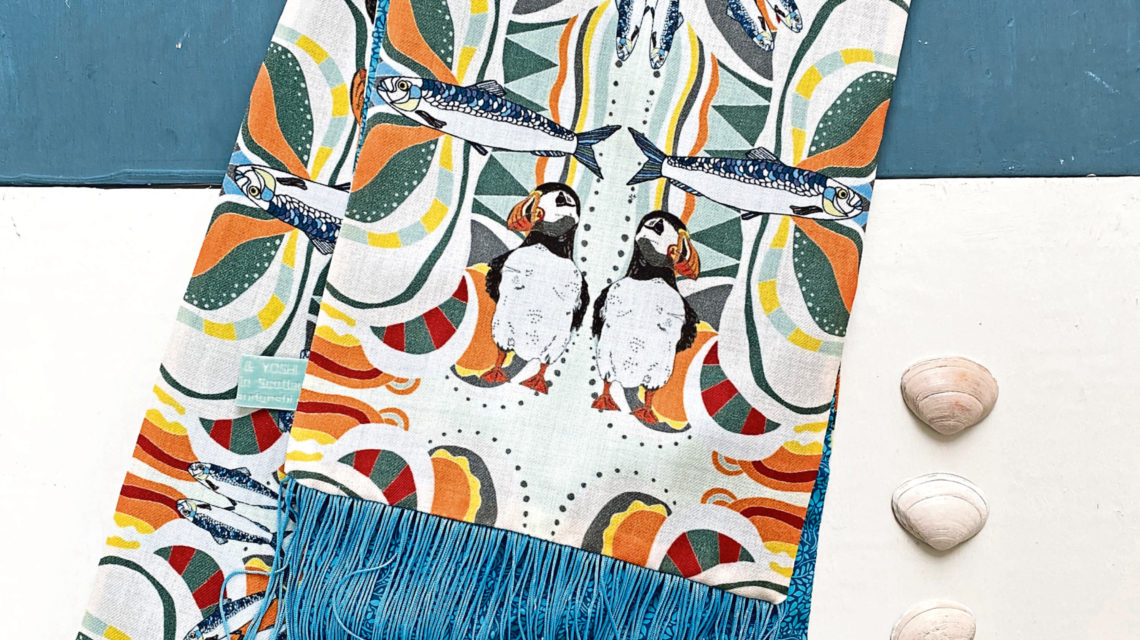 Inspired by the magical scenery in the north-east, Lindsay Johnston creates stunning silk scarves and pocket squares as well as quirky homeware accessories.
Growing up, Lindsay would spend hours drawing illustration of her pets. So after studying graphic design and graduating from Gray's School of Art, the talented creative wanted to combine her two passions.
She said: "Creating patterns and prints from my illustrations that could be applied to just about anything seemed like the perfect solution."
The creative launched her first Lindsay & Yoshi collection of silk scarves in 2011.
And while many customers think there are more designers working behind the profitable small business, Lindsay & Yoshi is actually a one-woman venture.
Lindsay said: "I have tried to keep a little mystery over who Yoshi is – some people thought it was a Japanese girl, but Yoshi is actually my dog.
"I had to include him in the name since he was the inspiration behind some of my designs.
"I still find it funny when I see his name on the business banking!"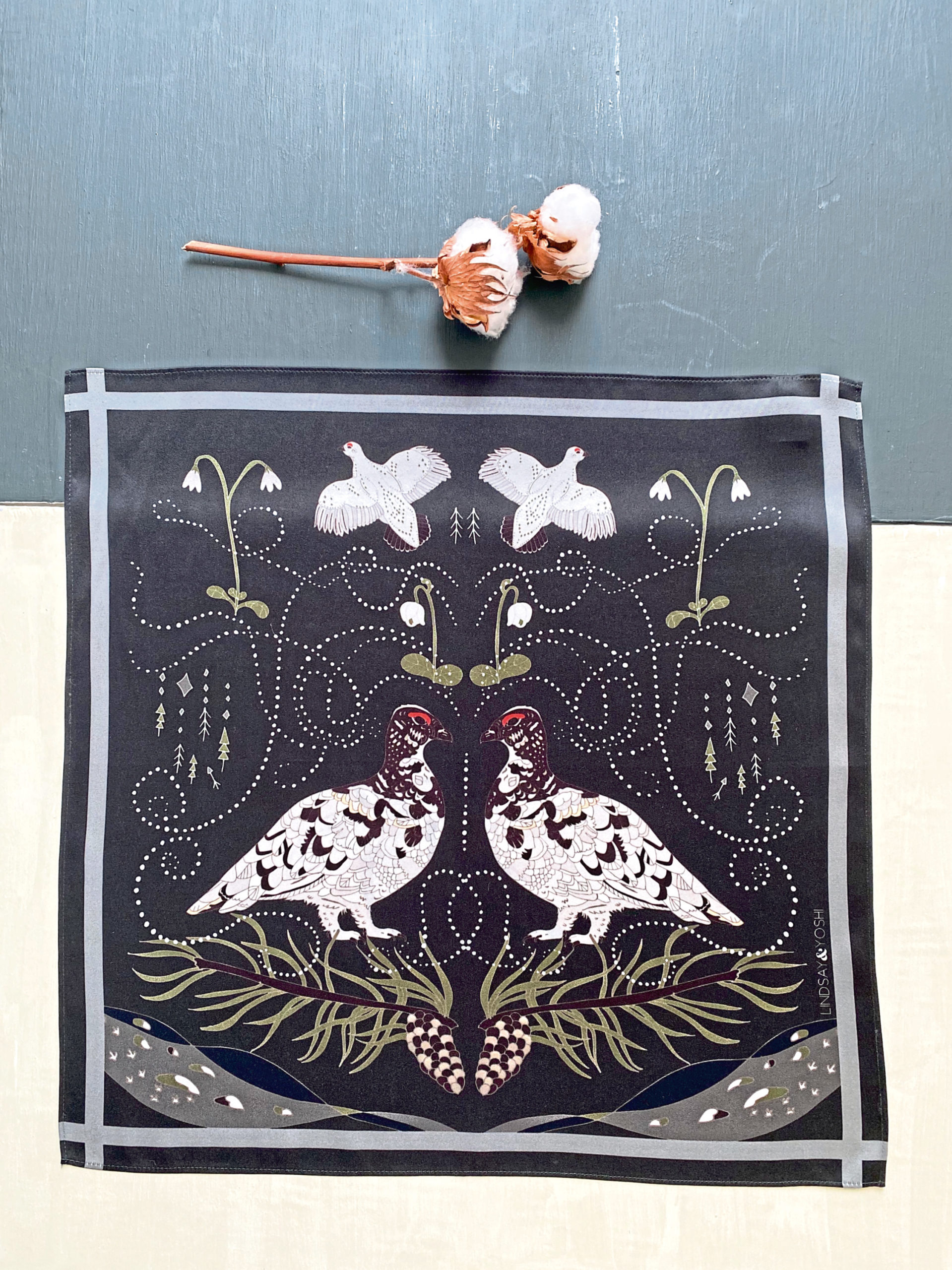 Most of Lindsay's designs are inspired by animals such as puffins, owls, crabs and snakes.
She said: "Since moving to a cottage near Fyvie, I have been lucky enough to see a lot of wildlife.
"I remember one day when a water vole was swimming in the pond – it outsmarted Yoshi and made a sharp exit along the burn.
"A pheasant sits on our fence, we see barn owls in the evening and there is also a partridge gang which hides under the gooseberry bush in bad weather.
"They are so endearing and I imagine them to have their own unique characters.
"I think my love of wildlife stems from Beatrix Potter's tales.
"I would love to create my own illustrated books one day."
Lindsay's work is also influenced by her love for the great outdoors.
She said: "Growing up in the north-east has definitely inspired me. Childhood memories of trips to Aberdeen Beach and seeing jellyfish along the sand, walks along the River Dee and visits to Royal Deeside have all stayed with me.
"The scenery is magical – being out in nature gives me so much joy and I try to capture this in my designs.
"When I spot a bird for the first time or find a wildflower I've never seen before I like to document this in my work.
"Yoshi and I watched a spectacular display of the Northern Lights one evening so that inspired my Husky silk scarf."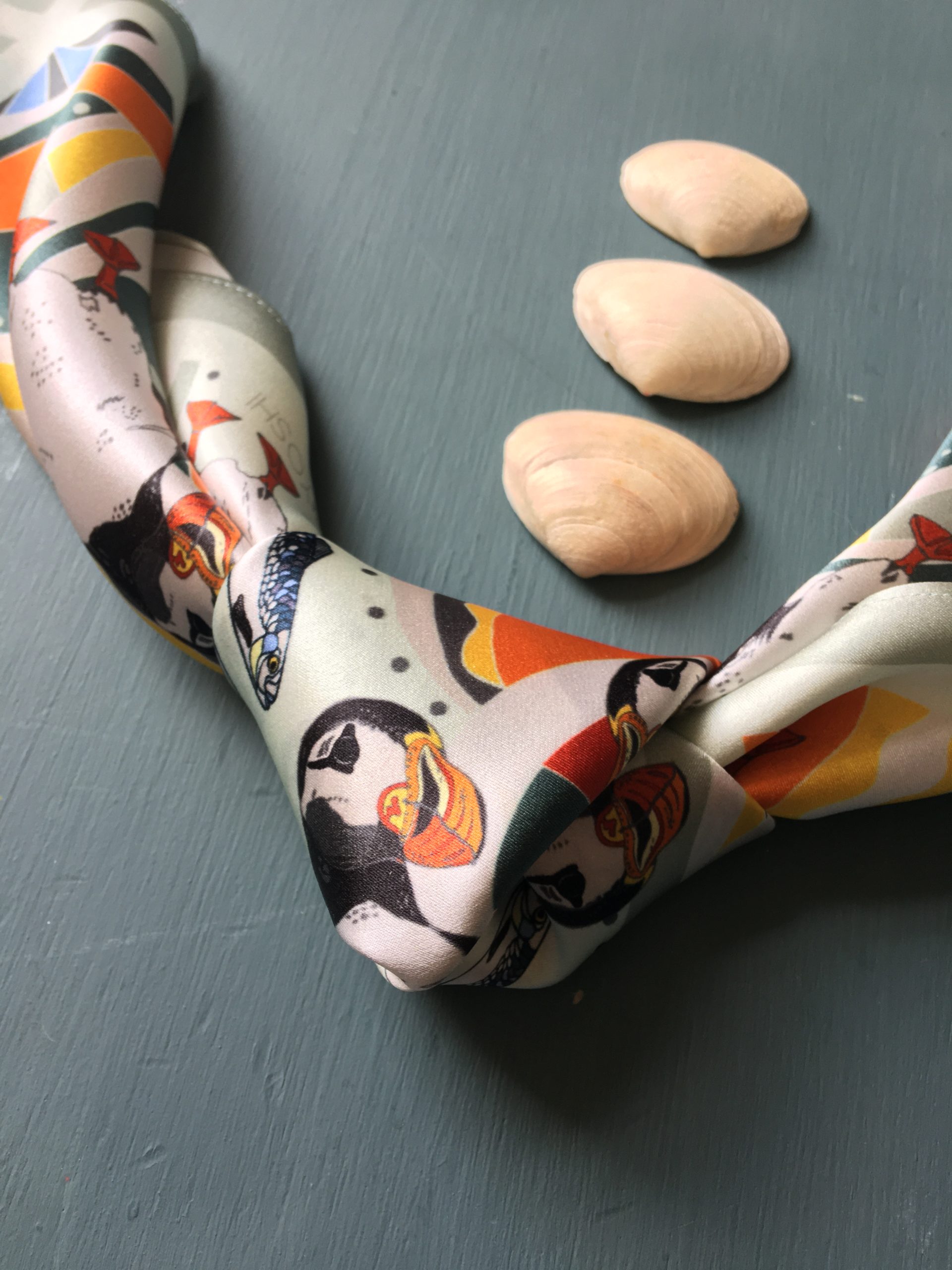 The creative works on her designs from her home studio near Fyvie. She said: "I have a little room kitted out with my drawing desk, computer and a sewing machine. All my scarves are draped on rails and I have a little wrapping station, too.
"My studio window looks out to our back garden and I often see the big heron stealing frogs from our pond – I just love living in such a rural location."
Lindsay's design process begins with a lot of research and mood boards. Then, she starts sketching out drawings in pencil.
She added: "After that, I trace over my drawings on a fresh sheet of paper with black ink.
"I scan each illustration into Adobe Illustrator, which allows me to scale and arrange the layout.
"I mix my own colour palette digitally and add colour to each part.
"When I am happy with the design, I send the artwork off to digital textile fabric printing specialists here in the UK."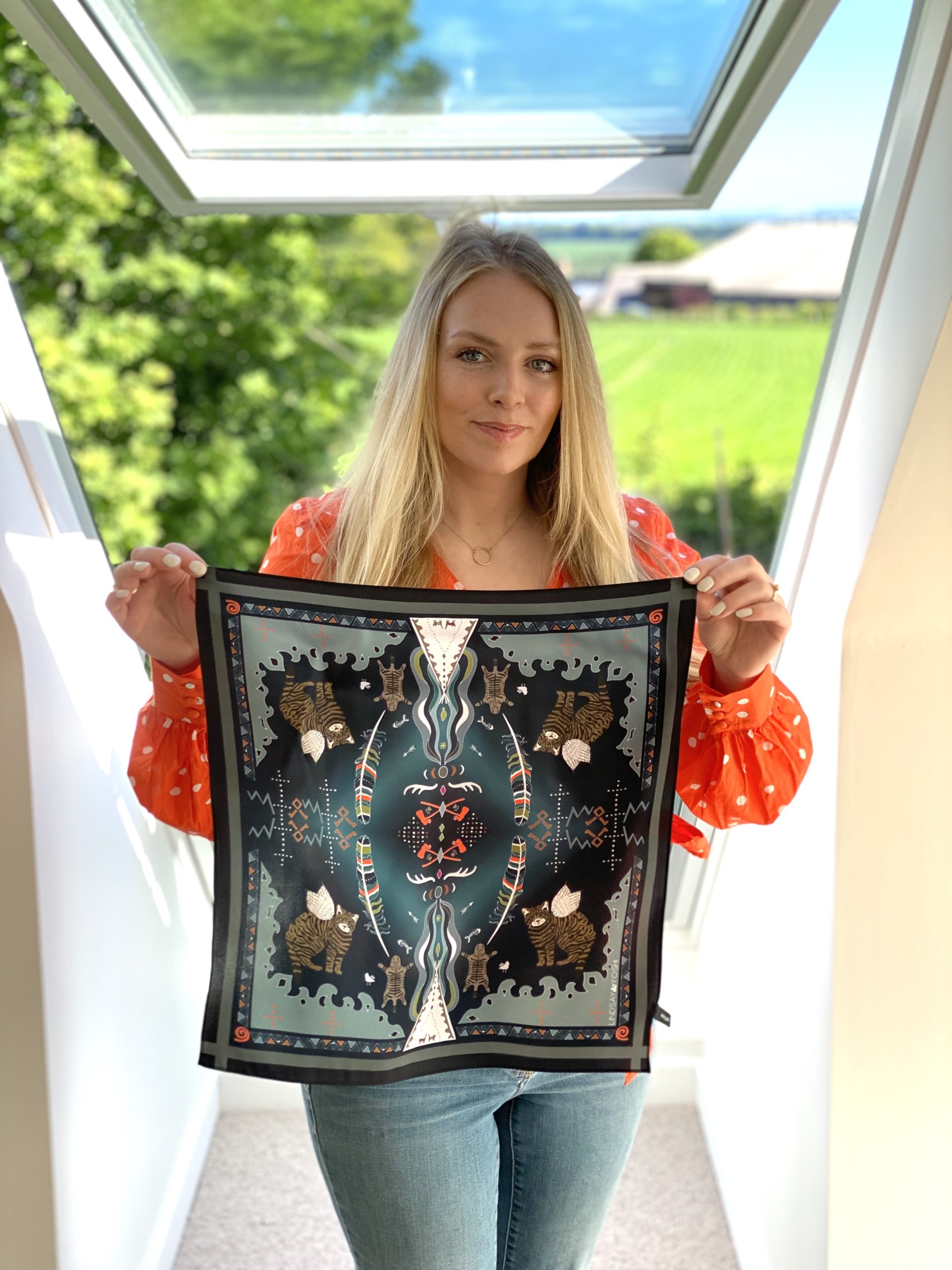 While she has experimented with quite a few different fabrics over the years, silk satin remains Lindsay's favourite thanks to its beautiful pearl lustre.
She said: "The colours seem to melt into the silk and create a luxurious finish."
She said sustainability is at the heart of her business. "I try to use every last inch of fabric. I fill up spare areas on the fabric roll with artwork so I can turn them into miniature cushions for cats that are stuffed with catnip.
"I have a new range of North Sea-inspired catnip toys launching later this year. They are always a big hit at design fairs."
In addition to scarves and pocket squares, Lindsay offers a range of greeting cards.
She said: "My cards began as little miniature versions of my scarf designs.
"I loved the square format and thought it was quite nice to be able to gift a silk scarf with a matching greetings card.
"I think it's so lovely to receive a handwritten card in the post with lovely stamp."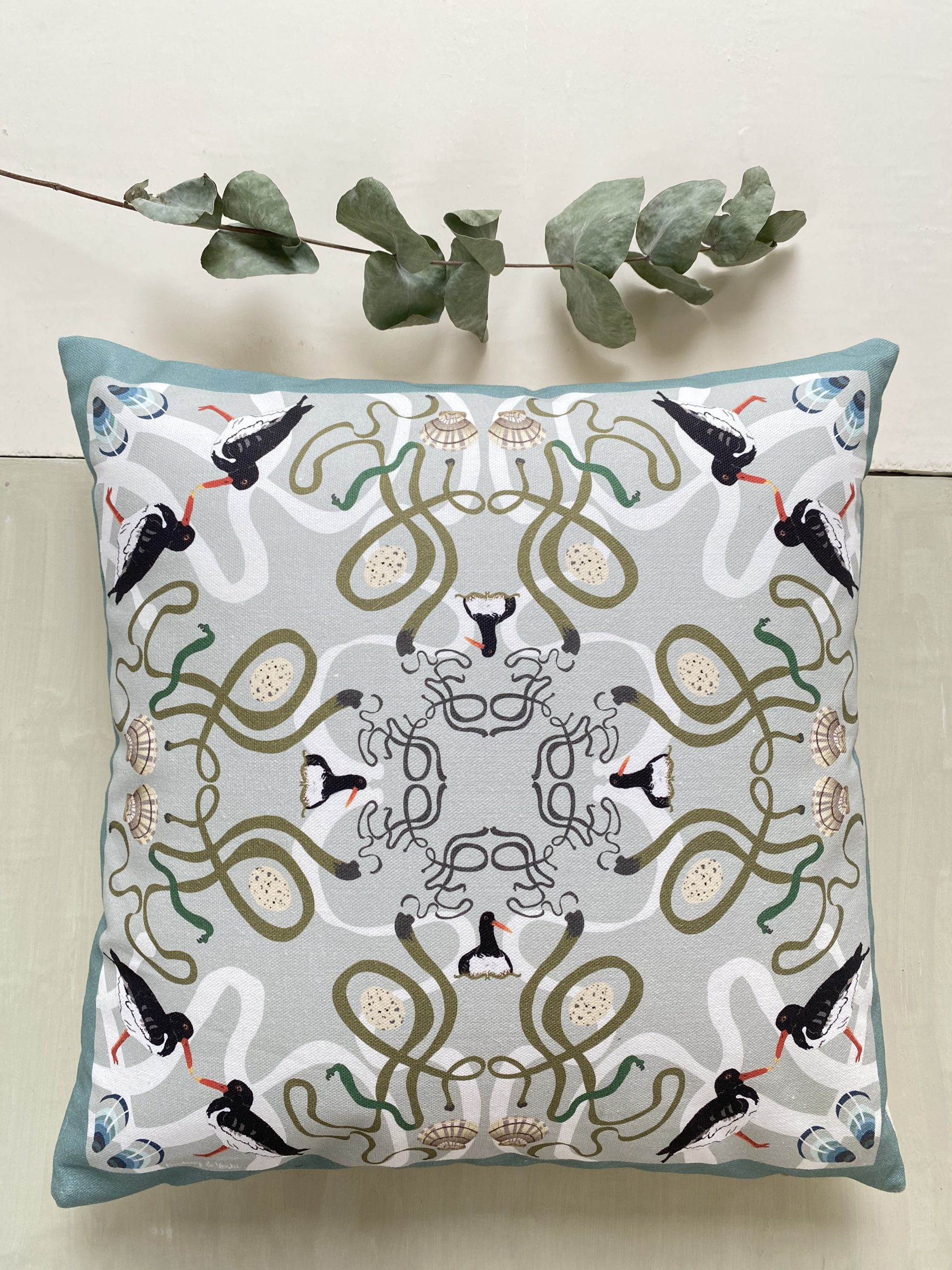 Lindsay has also reworked her scarf designs into colouring pages.
She said: "Since lockdown began I have been trying to find ways to keep my three-year-old son Harris entertained so I created the colouring pages.
"He loved them so I decided to try to spread a little cheer and put them on the Lindsay & Yoshi Facebook page as free downloads.
"I had such a great response so I ended up creating more free downloads in the form of phone wallpapers, bunting and a printable rainbow."
Visit www.etsy.com/uk/shop/LindsayAndYoshi for more information and to shop the collection