Aberdeen MUA creates epic spooky sea witch look for Halloween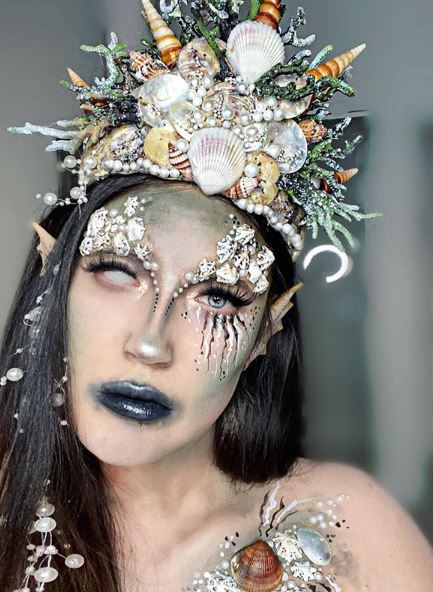 An Aberdeen make-up artist has created an incredible Halloween sea-inspired look.
Marcia Wilkes who works at Chez Dean on Queen's Lane South in the city centre, designed the spooky sea witch look which took her around five hours to develop.
The talented creative, who specialises in bridal, occasion and editorial looks, has been working as a make-up artist for almost three years.
She created the sea witch look as part of her 'under the sea' inspired looks in the lead up to Halloween.
She said: "All in all it took about five hours. I got a wee princess tiara from Claire's Accessories and wrapped it in twine to hide the colourful plastic. I had ordered some fish tank coral, broke it apart, spray painted it and glued it to the hair band. I ordered a variety of seashells from eBay so I stuck the larger ones down first then filled in any gaps with smaller shells.
"I used to do a lot of 'festival' style make-up looks so already had a lot of gems/pearls to add more detail and texture and really bring it to life. I made the crown the day before so it had time to set overnight.
"For the makeup I used print stick to hold down my brows and then used liquid latex to stick down the shells and pearls to really bring the look together.
"The make-up itself was actually quite basic as I just used a really light foundation and contoured with some green/teal shadows and added some Tatti Lashes. I also got the wig from Liberty Beauty in the Aberdeen Market.