Aberdeen's Helen Ruth Scarves takes inspiration from Scottish folklore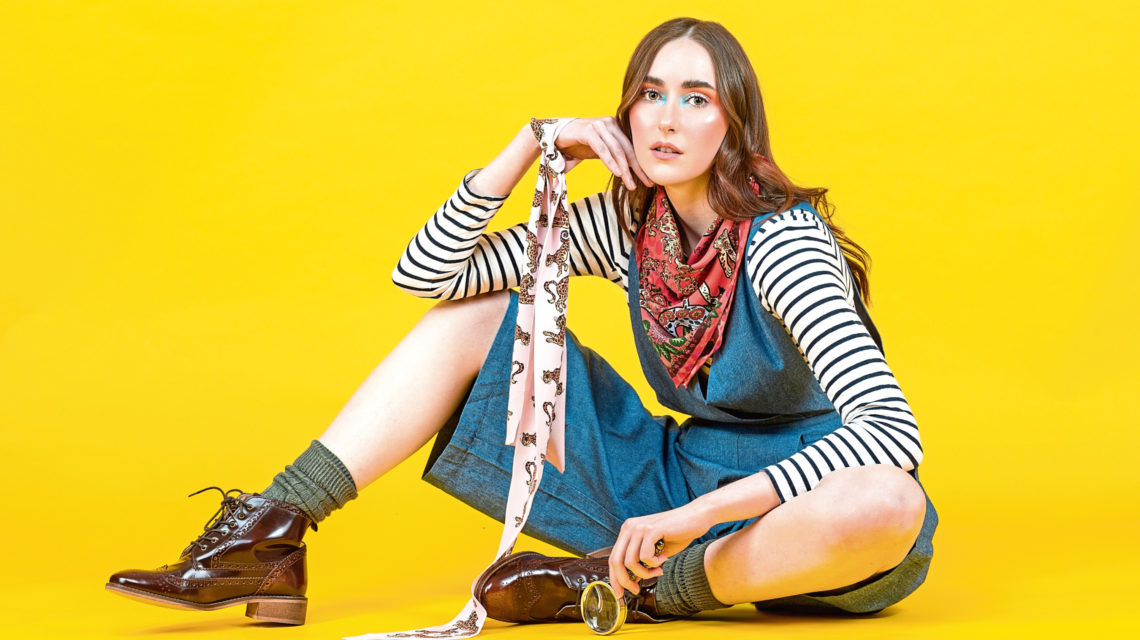 Taking inspiration from fairytales and folklore set in the wild Scottish landscape, each Helen Ruth scarf tells its own story.
Whether it's a well-known tale, an old saying or a personal memory, Helen Greensmith, the owner of Helen Ruth Scarves, wants her customers to have an emotional connection to her pieces.
The thing she loves most about making scarves is "creating an element of surprise".
She said: "I like that scarves are functional and wearable.
"I love colour, pattern and fabric and want to make the most exciting and vibrant scarves for people to wear.
"On the surface you are drawn to the bright colours and interesting pattern, but when you look more closely or open up the design, there will be something unexpected.
"And when you are wearing it maybe it's only you who knows that it's there."
Helen set up her luxury accessories label in her studio at her Aberdeen home 10 years ago – two years after graduating from Gray's School of Art.
She said: "I always loved art and it was by far my favourite subject at school.
"There was nothing else that I really wanted to do next but go to art school. I had thought I would do jewellery, but the minute I saw the textiles workshop at Gray's, I knew that was for me.
"I ended up specialising in printed textiles."
Helen said each scarf design begins with original hand-drawn illustrations, usually in pen and ink.
She said: "I start by doing loads of drawing.
"Sometimes I'll have a clear idea of how I want the finished design to look and other times I just have a theme or a rough idea that I'm interested in.
"I then scan the drawings into Photoshop and use this to create almost digital-like collages of the imagery.
"I layer up the different motifs and elements to create patterns and compositions.
"Once I'm happy with the layout and colours − which is the part that always takes the longest − I send the files to my printers in Glasgow to be digitally printed."
One of the designs Helen is most proud of is one she called Blood Moon.
She said: "It's inspired by stone circles and Pictish history and intermingled with the wild Scottish landscape.
"It's a big red wool square and it just looks so rich and warm when wearing it.
"And there are many little details to discover in the illustrations."
Helen also loves receiving commissions for bespoke scarves.
She said: "One of the most exciting ones was to design a scarf for the gift shop at Glenfiddich Whisky.
"I learned all about the family history of the brand and then translated it into my own style and design.
"But over the years, I've done all sorts of commissions. I even designed a print for a wedding dress."
When asked who she would love to see wearing her scarves, Helen said: "I'm going to aim high here – the Queen.
"She always looks excellent in a head scarf!"
While she is mainly known for creating silk and woollen scarves, Helen also offers other accessories as well as stationery.
She said: "It's mainly scarves that I do − I am just naturally drawn to this format.
"But scarf designs translate really well into other accessories such as ties, bow ties, neckerchiefs and cushions.
"So it seemed a good idea to broaden my product range, because not everyone is as obsessed with scarves as I am!
"Recently, I've also added silk covered notebooks to my range which use the off-cuts and remnants from the print process.
"It's been really nice to be able to use these pieces of fabric and turn them into something functional."
Helen is also very passionate about ensuring her business can be made as sustainable as possible.
She said: "I'm interested in sustainable practice.
"All my scarves are printed and finished in the UK with the idea being that I keep my production as local and ethical as I can."
In addition to running her own business, Helen also works for a bridal wear designer, Nina Edge Designs.
She said: "It works quite well as we tend to be busier with the bridal work over summer and my scarves are busier over the winter.
"I think it's quite a good balance. I would say on average I'm dedicating about eight to 10 hours a week to my business."
Helen, who predominantly sells her scarves through her own website, also offers her range of products in multiple stores around the north-east.
She said: "I sell my scarves in Curated Stories in Aberdeen as well as in The Barn in Banchory and the Larks Gallery in Ballater.
"I do quite a few selling events through the year as well.
"I enjoy meeting customers face to face and telling them the stories behind how I produced the scarves. It's also good to get the feedback and reaction directly to what I'm doing."
The talented printmaker and designer hinted that she's currently working on an exciting new project. So, keep an eye on Helen Ruth Scarves on social media channels to find out more.
Visit www.helenruth.co.uk to purchase Helen Ruth Scarves' stylish products.
Click here for more fashion news and features.