Look Again at a love letter to Aberdeen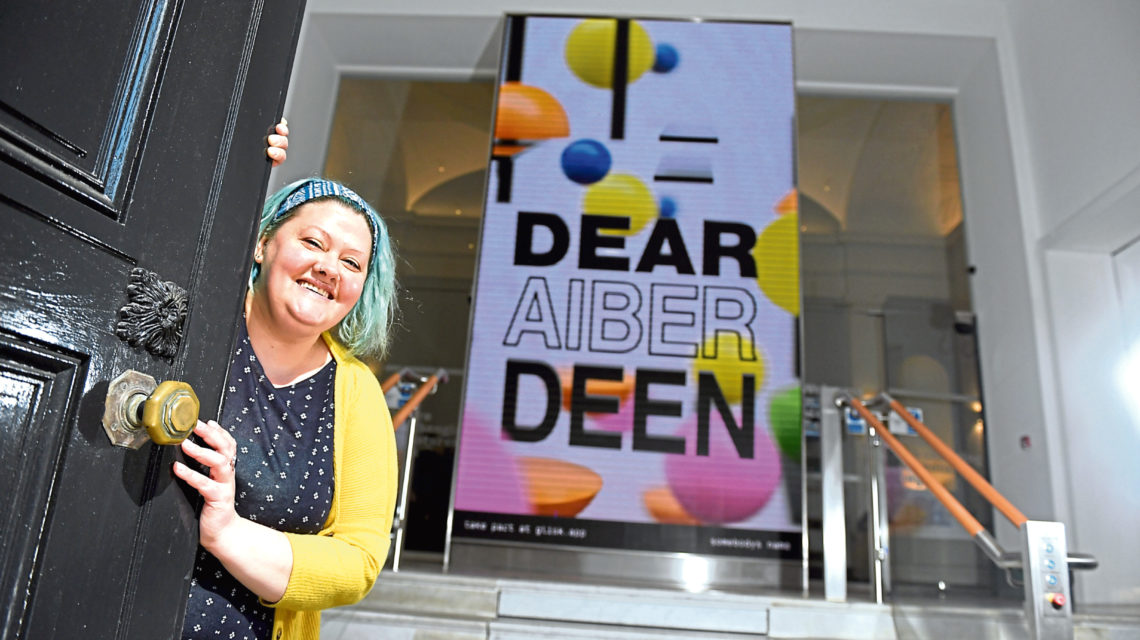 It's an unmistakable love letter to Aberdeen and romance… written in massive, neon letters right in the heart of the Castlegate.
"It's probably the largest scale I'm ever going to see my poetry in," said the Granite City's own Doric performance poet Jo Gilbert.
Two of her works feature in a hugely colourful and bold piece of large-scale art installed in the Castlegate as part of the city's Look Again festival, which kicks off tomorrow.
Love At First Sight is artist Morag Myerscough's tribute to her parents, who met and fell in love in Aberdeen, as well as the city itself.
Jo worked with Morag to create new Doric poems for the installation, which is part-pavilion, part-stage, encircling the Mercat Cross.
Jo said: "I think it is amazing. Morag's work is absolutely incredible and I feel so fortunate to be a part of it."
Jo wrote her poem Love At First Sight, inspired by the romantic story of Morag's parents. She also staged a workshop at the city's Multicultural Centre where people were asked what they love about the city and what they would change and the patchwork poem Dear Aiberdeen came out of that.
"Some of it is my work, some of it is the lines of other people – I hope they will know their own lines even though they have been translated into Doric.
"It is definitely a love letter to Aberdeen. When you hear the perspective of people who are not from this city…they see the beauty in things more than we do because they don't take it for granted."
It won't just be written work that features at Love At First Sight. Jo is curating a range of performances from Aberdeen's thriving arts scene.
"On the Saturday and Sunday of both weekends we will have comedians, spoken word artists and other performers doing little sets," she said.
"There is such a great scene going on at the moment. There are all these new performance nights springing up, so I want to showcase some of that local talent. I will also do a set as well."
Jo's work also features in Glisk, a mix of the artistic and technical by Design And Code which will see Doric words and phrases contributed by the public displayed on the Music Hall's large digital screen in its imposing doorway.
And she's more than happy to explain what being a performance poet is all about.
"I use the phrase 'spoken word artist' now because it sounds a bit fancier," Jo said, laughing.
"Performance poetry has been around for a long time but in the past few years it's been getting really cool. There has been an internet explosion of poets like Kate Tempest.
"The more traditional idea of a poet is where they are writing for the page and meant to be read out in a very quiet setting or read quietly from a book.
"Performance poetry is much more about the performance elements. A lot of performance poems wouldn't make sense on a page because you can't convey the context. It's about the actions and how you are pronouncing it. Performance poetry is more entertaining, it's like poetry and theatre almost."
Jo, who runs the Art Room project for the Grampian Hospital Arts Trust and works with the Silver City Surfers, said she first became interested in spoken word performance while studying at university.
And having been raised with Doric as her cultural background – "my mum's side of the family are toonsers and my dad's side of the family are teuchters" – it seemed natural to use that as her poetic tongue.
"And I think there's something a bit rebellious about writing in Doric and that's just how it comes out in my writing. I want to sound natural."
Jo isn't one of those who fears Doric is a dying language. In fact she sees a renaissance going on, both in education and even the fact many people now have predictive text on their phones full of Doric phrases.
"It's not dying out, but if we want to keep it as a living language I think there has to be more contemporary work in Doric, to encourage younger people to speak it."
She also believes it has helped her stand out in the world of spoken word performance after winning national slams, or poetry competitions, often dominated by central belt voices.
"I think it's important Scotland has a range of voices and not just everything coming from Glasgow and Edinburgh, so I think I was something a bit different and novel."
For the time being, all of her attention will be on Look Again – a festival which she sees as hugely important. It will offer a dizzying array of installations, events, talks and performances across the city centre for 15 days following its launch at the Music Hall tonight.
"It is a fantastic festival. It has a lot of gravitas. The work they are doing this year is really pushing boundaries which is hugely important," said Jo.
And she is encouraging people to embrace Look Again as it runs in various venues until June 16.
"Just come and have a look. There is something for everybody this year with the different types of things going on."
For more information on Look Again visit lookagainaberdeen.co.uk